NHL DFS Man Advantage for Monday 11/15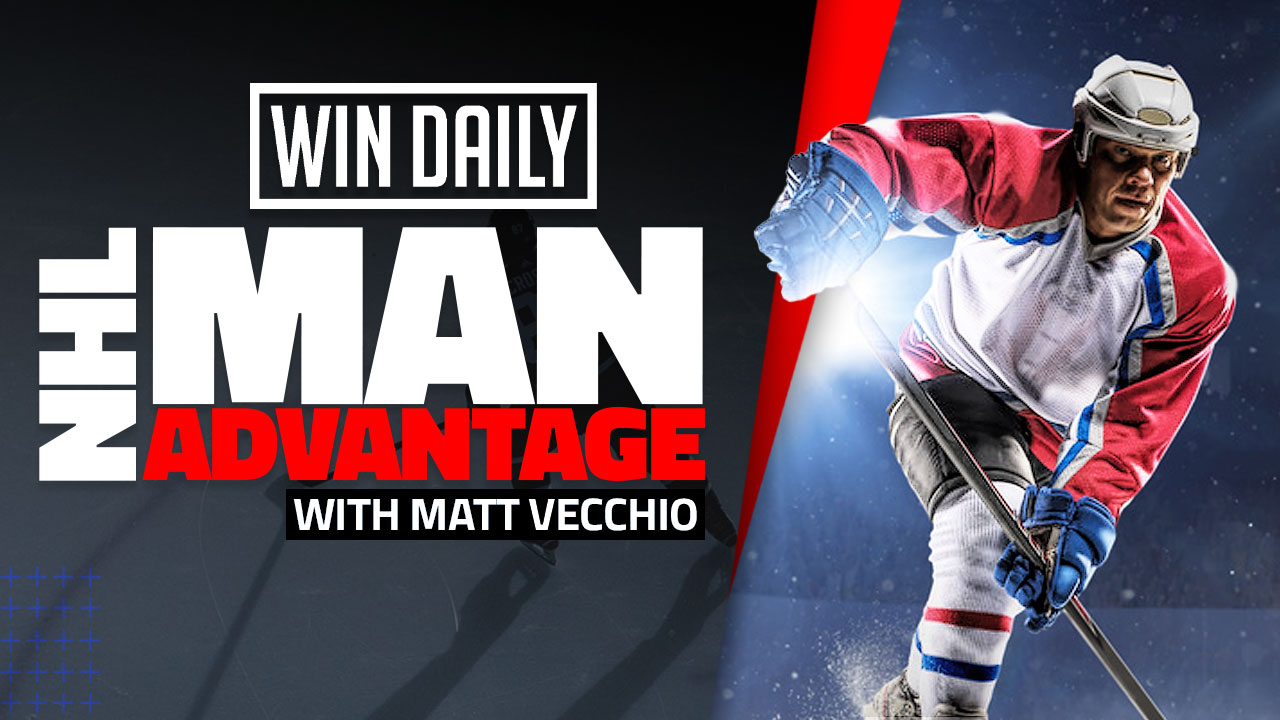 Welcome to the NHL DFS Man Advantage for the 2021-22 season.
If you are new to my articles, NHL, or WinDaily Sports then I will tell you that my articles are not going to give you the chalk plays or the obvious plays. I try to dig in and find ways for you to build lineups for GPP contests. I will always point out those top plays to help you build cash but that is not the point of this article.
Mini-Slate on a Monday
As is usual with Monday slates, this is a small slate with only two games on it. Since there are only two games on this slate, I will go over both games briefly and then give a little synopsis of the strategy I may apply to my lineups on Monday night
Both games start at 7 pm EST, so this slate will be over early, which is nice. In the "big" game, we have a rematch of a Stanley Cup semi-final when the Islanders traveling to Tampa to take on the defending two-time Stanley Cup Champions. In the second game on the slate, we have, well the exact opposite, two of the league's bottom-dwellers in recent times with Detroit on the road in Columbus.
NHL DFS: Slate Overview
New York Islanders @ Tampa Bay Lightning
Goalies:
DraftKings priced all four goalies on this slate under $8K which is nice. I think this could spread out ownership with my favorite goalie on the slate coming in at potentially the lowest ownership on the slate. Ilya Sorokin should get the start for the Islanders. Sorokin has been stellar this season with a .933 save %. Tampa is a good offense but they aren't as scary without Kucherov in the lineup. I anticipate that we see both goalies in the other game as the popular plays but neither of those two is as talented as Sorokin. Andrei Vasilevskiy has been no slouch either this season, but I think the Islanders win this game so that limits the ceiling for Vasi. New York does shoot a lot, so there is plenty of upside in Vasilevskiy. In their last five games, the Islanders have averaged 33.2 shots on goal and are coming off a 42 shot output.
Skaters:
Both team's top units will most likely be where people start their builds, especially if they using either of the goalies from the other game on this slate. I am interested in one of these lines more than the other, but to try and be different I may look elsewhere in this game, especially if you're only building one lineup.
New York Islanders
I will start with the Islanders' second line on Monday. Both Brock Nelson and Anthony Beauvillier have been hot of late and will cost you less than Barzal and Lee from line one. Nelson has five goals and an assist in his last five games to go along with 17 shots on goal. As for Beauvillier, he has a goal and three assists with 16 shots in the same five games. Now, there is a way to get line one exposure with these guys, and that is Zach Parise. Nelson centers the second power-play unit for the Isles with Parise. He has similar output as Kyle Palmieri but Parise's price is substantially less, especially on DK (almost $2k difference). While Nelson is on PP2, Beauvillier sees time on the top unit. If you want to run a four-man stack (which I will do on this small of a slate), both Noah Dobson and Scott Mayfield would be the defenseman of choice. Lastly, Oliver Wahlstrom is another piece from New York that has been playing well. Wahlstrom has two goals and 16 shots on goal in his last five and sees time on the second power-play with Nelson and Parise.
Tampa Bay Lightning
Steven Stamkos is priced up on both sites on Monday, but we should have the salary to roster him, especially on DK. Stammer has not been the Lightning's best player of late though, that distinction belongs to Brayden Point for me. Point will cost you between $700 and $1K less than Stamkos and has been more productive recently. In the club's last ten games, Point has nearly a point per game (5 goals, 4 assists) and is averaging 2.3 shots per game. Point also sees a full minute more of ice time over Stamkos. Skating on the Lightning's top line with Point is Ondrej Palat who has a goal and three assists in Tampa's last five games. Anthony Cirelli is the last man on the top unit and he has four points in his last five. All three of these guys play with Stamkos and Victor Hedman on the top power-play unit and Cirelli sees time on the penalty kill as well. Outside of those five players, Ryan McDonagh and Jan Ruuta would be the only other two I would consider tonight.
Detroit Red Wings @ Columus Blue Jackets
Goalies:
Like I have said, I expect these goalies to be popular on Monday, so I prefer the goalies in the previous game. With that being said, I plan on building multiple lineups and will have some exposure to them. Detroit has been alternating goalies for the last few games, so this game should be Thomas Greiss' turn. Either way, Detroit has been getting great goaltending allowing two goals per game in their last four, and have won four of their last five. The Red Wings also have been allowing plenty of shots on goal, 34.2 per game, in their last five. Whoever starts for Detroit appears to be a solid option in net. I expect Elvis Merzlikins to get the start for Columbus on Monday and he has been nearly unbeatable at home this season. In six starts, Merzlikins is 5-1 with a 2.15 GAA and a .936 save % on home ice. In reality, all four goalies are good options on Monday, so it comes down to which site you are on and what stacks you want to run.
Skaters:
While I will focus on the top two lines for these teams with my builds, there are some players who offer some great upside for cheap. Some min-priced guys (DK) like Eric Robinson and Sean Kuraly (CBJ) and Sam Gagner (Det) are guys I will be considering. Vladislav Namestnikov is also a nice cheap play from Detroit to consider.
Detroit Red Wings
I want to start with the top line for Detroit when building lineups on Monday. All three of Tyler Bertuzzi, Dylan Larkin, and Lucas Raymond are great plays on this slate. This line has combined for seven goals and eight assists and thirty-eight shots on goal in the Wings' last five games. FanDuel actually has Bertuzzi priced down, so he is the best option from this line there. Moritz Seider is my favorite defenseman from Detroit, and like Bertuzzi is way too cheap on FD. If you can't afford Seider on DK, all three of Nick Leddy, Filip Hronek, and Danny DeKeyser make for great substitutes. My personal favorite is Hronek. Gagner and Hronek see time on power-play two for Detroit, while Seirder is on power-play one with the top line.
Columbus Blue Jackets
Similar to the Islanders, I want to stack the Blue Jackets' second line over their top line. Now, there are pieces of the top line I will be using. Both Cole Sillinger and Jakub Voracek are inexpensive pieces from the top line I will pair with Zach Werenski or some pieces from line two for a power-play one stack. Oliver Bjorkstrand is a little overpriced, but he is the Blue Jackets' best player right now and should be where you start your Columbus stacks. Bjorkstrand has two goals and four assists as well as seventeen shots on goal in his last five. Boone Jenner has four points and 20 shots on goal in his last five games and is the last piece for a power-play stack. Like with Detroit, Columbus has three other cheap d-men to use in place of Werenski to save salary. Jack Bean is the best of the bunch as he plays on the top pair with Werenski and sees over 22 minutes per game. Bean has three points and eleven blocked shots in his last five. Gavin Bayreuther and Vladislav Gavrikov are both cheap options I have an interest in. Gavrikov sees time on the penalty kill with Kuraly and Robinson which makes for an odd, but extremely low-owned stack.
NHL DFS: Final Word
This is an interesting but odd slate. My preferred build will be to run four Islanders with Sorkin in net and then pick pieces from the CBJ/Det game to pair with them. Usually, I try to deter people from playing four skaters from one team, but on a small slate like this, I change my build strategy. I will probably have some builds where I run one skater against my goalie. Again, this is a strategy never use on larger slates, but with only two games strategies are different.
Thanks for reading this article on the NHL DFS Man Advantage for today. Make sure you head to the Win Daily Sports Discord for up-to-date info and help directly from our pros! Head over to Twitter and give the @WinDailySports account and me (@MVecchio81) a follow for all things Fantasy Sports and make sure to check out WinDailySports.com for more money-making content.