NFL DFS Week 2 Cash Game Checkdown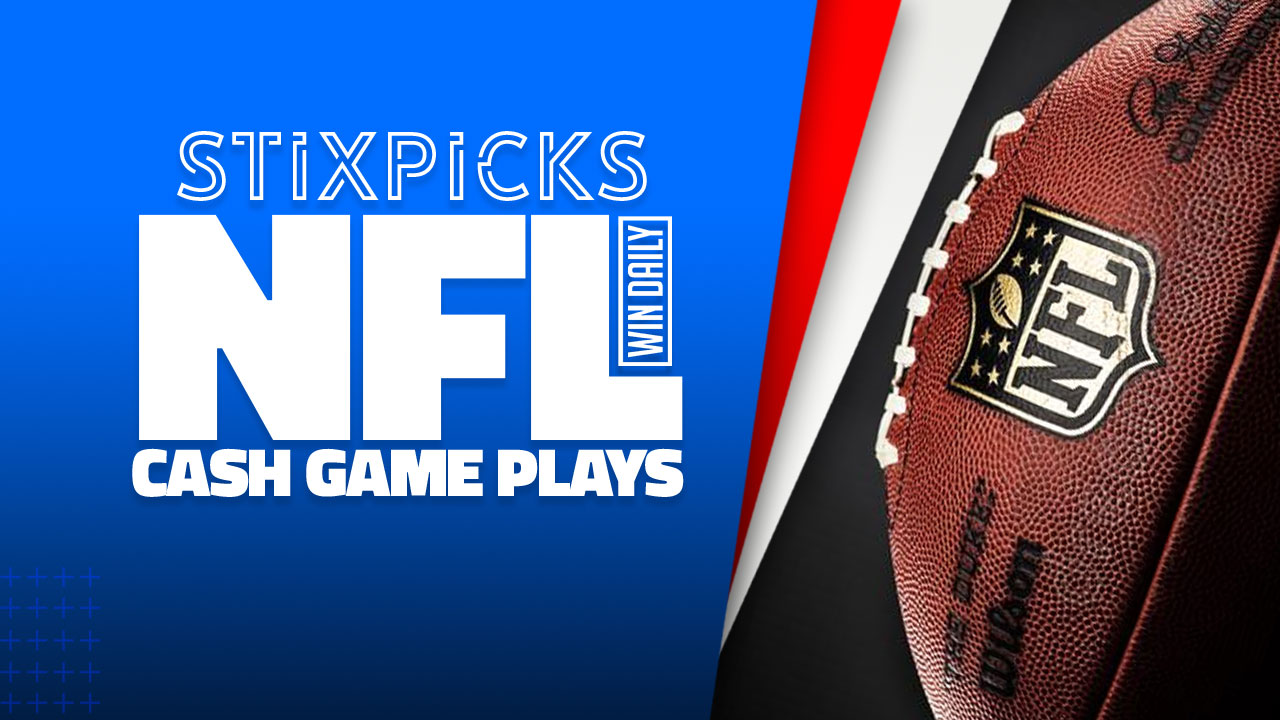 What a start to the NFL DFS Cash Game Season! It was a pleasure to see all of the green-screens on Twitter and Discord last week. Everyone seemed to have smashed their cash games and we're here to do it again in Week 2! The purpose of this article is to identify my top plays for a NFL DFS cash game lineup on DraftKings and FanDuel Sunday Main Slates (also known as a double-up). Players in this article are usually a mix of the following:
High-floor/high-volume "safer" players (players with a very low bust-rate)
VALUE PLAYS
NOT part of a stack – Stacking is great for GPPs, but if you stack in cash games, your lineup is entirely too dependent on said stacked team. If that team does poorly, your whole lineup does… Not a risk we need to take in a cash game. QB/WR pairing is fine, but unless there's extreme value in a 3-man stack, let's keep it to QB/WR or QB/TE.
Extremely chalky for the week… in GPP's I'll usually always fade volatile players at > 40% ownership, but in cash games, it's usually fine to eat the chalk. If that player underperforms, it does not hinder your ability to cross the pay-line as 40% or more of the field is in the same boat. If you fade this player(s) and he has a great game, your lineup is likely toast… as you're now behind 40% or more of the field. Make sense? If not, hit me up on Discord/Twitter @stixpicks to discuss further.

In my opinion, cash games are extremely important for long-term bankroll building and sustainability. I'll consistently use at least 50% of my weekly bankroll towards cash games. It's not sexy, but it works and allows me to take big shots in high dollar GPPs.

Long story short, if we hit our cash games each week, the worst we can do is break-even (not counting your GPP shots with the remaining 50% of your weekly bankroll). The weeks you hit both, you smash. The weeks you miss your GPPs, your cash game lineup will carry you. It's my job to ensure you always hit those cash games.

If you haven't yet, I would strongly advise giving my NFL DFS Strategy article I published this offseason before diving into the 2020 NFL DFS season. If you have any questions or would like some further help when building your lineups, please do not hesitate to reach out to me directly on Twitter. Without further ado, let's do this thing!
*Some notes on what I believe to be the "optimal" roster build for NFL DFS Cash Games. I'll include this in all the Checkdown articles moving forward. For Week 2, please see below for my notes on roster construction:
Plenty of value at the running back position. Use it!
Gross slate of quarterbacks… don't get cute there.
Some injury concerns we will keep an eye on. Check back Sunday!
NFL DFS Cash Game Quarterbacks
Kyler Murray ($7,500 DK / $8,500 FD)
It was a bit of a shock to see how bad Arizona was offensively last week against the Chiefs, but that game got out of hand quick. On a gross slate like we have here in Week 2, I'm more than confident to write-off what happened in Arizona last week and lead the article with Kyler Murray. One thing is for certain: the Cardinals' defense is dreadful and will lead to Murray and this offense to work extremely hard if they ever want to win a football game. That is something I'm interested in for my cash game lineups.

The rushing upside will always be there with Kyler, though I don't expect a ceiling rushing effort this week against the Raiders' heavy-zone defense, but it's enough to push him ahead of any other quarterback on this slate in terms of the AETY Model projections. This game has the highest total on the slate and I expect a full-on back and forth slugfest.
Derek Carr ($6,200 DK / $7,300 FD)
Again, I want exposure to this shootout and if you cannot afford Murray, Derek Carr is my clear #2 option in terms of price. Carr and the Raiders' have a healthy depth chart loaded with offensive talent and again, the Arizona Cardinals' defense is dreadful.

Honorable Mention: Trey Lance, Lamar Jackson
Running Backs
Jonathan Taylor ($9,900 DK / $10,000 FD)
If you can afford Jonathan Taylor in your NFL DFS cash game lineups, you play him.
Joe Mixon ($7,200 DK / $8,300 FD)
The Bengals are more than a touchdown favorite on the road against a Dallas Cowboys team who will be starting Cooper Rush at quarterback. This game is not a lay down spot for the Bengals after they just got embarrassed at home against the Steelers. The Bengals will come out firing to make a statement that they're ready to play and I expect Joe Mixon to be the main beneficiary of that gamescript. Mixon is one of the few running backs that will be on the field for over 70% of their teams' offensive snaps and is in a prime spot to get in the box (multiple times) as Dallas likely continues to struggle stopping the run.

If you can afford the extra $100 on DraftKings, the chalk will go with Saquon Barkley and I'm 100% okay with that move as well. You don't need me to write-up Saquon Barkley.
Leonard Fournette ($6,700 DK / $7,800 FD)
Fournette didn't really get a whole lot of work in the passing game last week in Dallas but history tells us that is likely to change for the better almost immediately. The AETY Model consistently has Leonard Fournette in the top-3 for expected opportunity share and that is exactly what we want for our cash game lineups. The New Orleans run defense was just carved up by Cordarrelle Patterson of all people, lol. Keep an eye on his hamstring injury, it's likely that I'm leaning towards avoiding Fournette in cash if there's any wind of a reduced workload or questionable status on Sunday morning.
Darrell Henderson Jr. ($5,700 DK / $6,200 FD)
I'm not truly convinced we won't see a bit more Cam Akers this week, but there's no doubt Henderson is the lead back for the Rams' offense at this time. As a 10-point home favorite against the worst run defense in the NFL, take the value and ride the chalk with Henderson in your NFL DFS cash game lineups.
Jeff Wilson Jr. ($5,100 DK / $6,300 FD)
Similar to Henderson, there's nothing about Jeff Wilson that gets me excited. We'll 100% see a lot of Deebo Samuel and Trey Lance in the rushing attack, but the value here for Wilson is important for the way that I'm structuring my cash game builds. In GPP, I'm 100% happy to fade this spot but in cash, I'm likely taking the 15-touch and red-zone equity of Jeff Wilson.

I almost prefer Dameon Pierce against a weaker Denver run defense if we're just taking the cheap value to afford our priority studs, but if you flock with the ownership, Wilson is your guy.

Honorable Mention: Saquon Barkley, Javonte Williams, Josh Jacobs, Antonio Gibson, Dameon Pierce (viable punt-play if you need to spend up elsewhere and don't trust Wilson)
NFL DFS Cash Game Wide Receivers
Davante Adams ($8,600 DK / $8,800 FD)
The best wide receiver in football with the highest expected target AND red-zone share is $1,300 less on DraftKings than Cooper Kupp. Marco Wilson and this Arizona secondary is about to be torched. Lock in Davante Adams.
Amon-Ra St. Brown ($6,500 DK / $6,900 FD)
The weekly "pick on Benjamin St. Juste" matchup. For the same reason we locked in Christian Kirk we are locking in St. Brown this week. The price-tag is sexy and the matchup is even better for the clear-cut WR1 in Detroit.
Marquise Brown ($6,200 DK / $7,400 FD)
I'm going right back to the well with Marquise Brown in cash games if I'm not using Zach Ertz. Hollywood is set for a field day against the Raiders' outside corners in zone coverage. Again, we WANT exposure to this football game.
Curtis Samuel ($4,600 DK / $5,700 FD)
Likely a DraftKings only play for me, but this is the same type of situation as Henderson and Wilson. Samuel is going to be extremely popular due to the Week 1 usage and the affordable price-tag. I hate the recency bias the DFS community shows, but I cannot really find a reason to not fire up Curtis Samuel as he played over 70% of the offensive snaps, lined up all over the formations, and lead the team in targets (which was 12th overall on the main slate last week). Take the value in your NFL DFS cash game lineup and run.

Honorable Mention: Cooper Kupp, Jerry Jeudy, Parris Campbell, Tee Higgins, Greg Dortch
NFL DFS Cash Game Tight-Ends
I'll keep this section brief this week and simply list the only tight-ends that I'd consider in play for NFL DFS cash game lineups.
Mark Andrews ($6,400 DK / $7,400 FD)
Kyle Pitts ($5,400 DK / $5,900 FD)
Darren Waller ($5,600 DK / $6,800 FD)
Zach Ertz ($4,500 DK / $5,200 FD)
Honorable Mention: Evan Engram ($3,600 DK ONLY)
Defense / Special Teams
Defense is simple this week. The whole world will play the Cincinnati Bengals ($2,200 DK / $3,900 FD). I'll be taking the free square and worry about the rest of my lineup.
NFL DFS: The Fab Five
Going to get back to my roots and post "The Fab Five", which is simply just one more player than your typical "core-four" you get in the NFL DFS industry.
Davante Adams
Joe Mixon or Saquon Barkley
Darrell Henderson Jr.
Curtis Samuel
Zach Ertz
Make sure you follow me on Twitter at @stixpicks and be sure to sign up for an ALL ACCESS GOLD ACCOUNT account here at Win Daily Sports. Gain access to our Projection Model powered by AETY and jump into our Discord where we will have our experts talking plays across every sport and slate as sports FINALLY return.
Content Director for Win Daily Sports NFL/MLB. Creator of the AETY Model. Chicago White Sox die-hard. Focusing on helping others manage their bankroll and cross the pay line in NFL/MLB Cash Games & GPP's. CoFounder of thoroughbred horse racing partnership, Reta Racing LLC.