Week 1 NFL DFS Thursday Showdown Preview
Week 1 in the NFL is all about finding the best opportunities for guaranteed production with high upside. Follow my stud and value plays and lock in the NFL DFS Picks of Destiny.
David Jones won 100K on FanDuel!Read about it here!
VIDEO: DraftKings Showdown Preview and Picks
I want to start off the NFL DFS article by saying you must have the absolute nuts to win the Million up top on both sites tonight. There is no room for mistakes with so many entires in these contests, if you think you are going to win a million dollars by playing a combo of the top eight guys in the player pool, you are not. If a combo of a bunch of guys you have heard of before is indeed the best scoring lineup, you will tie for first with 5,000 of your closest friends. If that sounds good to you, then go for it. It will be profitable if you nail it, but for me I am going for the whole enchilada. I will be making multiple teams and taking long shots on a few cheap guys.
As far as MVP goes, I tend to want to get someone in the midrange for a few reasons. Lower ownership and someone besides the top studs are going to have to produce. I have played a lot of these NFL DFS contests (Including the Showdown Slate Championship on DraftKings last year) and I can tell you they are very difficult to predict.
Leaving cash on the table in these NFL DFS contests is fine too. This makes your lineup even more unique and lower owned because a lot of amateurs will be pulling their hair out to use their entire salary.
That all being said, I have looked at every possible player that can get on the field and listed my expansive NFL DFS player pool below. Here are my quick thoughts on each player.
Aaron Rodgers: Obviously a fantastic QB who will have the ball in his hands the entire game. Goes against a great Bears D, but that didn't stop him last year when he threw for 286 yards and three touchdowns against them in the season opener.
Davante Adams;: Rodgers' WR1, target monster, elite.
Mitch Trubisky: Mediocre quarterback in comparison to Rodgers, not afraid to throw it 40 times a game. All it takes is a few good catches for touchdowns on these NFL DFS slates.
Aaron Jones: Green Bay RB1, will get rushing attempts in the teens and a few targets. Facing stout Bears rush D
Allen Robinson: Bears WR1, guaranteed targets against bad Green Bay defense
David Montgomery: Rookie RB, has impressed during camp, hearing he may be splitting work with Mike Davis. Keep an eye on the news.
Tarik Cohen: Will be change of pace back and get most of, if not all, of the air targets at RB, NFL DFS boom or bust
Marquez Valdes-Scantling: Green Bay WR2A, has looked fantastic and earned Rodgers' trust, worked out with Randy Moss all offseason. Love him.
Geronimo Allison: Green Bay WR2B, will be on the field with Rodgers all game, get some shares.
Mason Crosby: He's the Green Bay kicker and a reliable one. If Green Bay can't convert touchdowns against the stingy Bears D, in comes Crosby.
Trey Burton (Groin): I don't think he plays, and if he does he shouldn't be effective enough with a lingering groin injury. I am sure the Bears want to get this guy healthy and losing him in Week one isn't in their long term plan.
Anthony Miller: Bears WR2, it's not like being Green Bay's WR2, but he will still be on the field all games vs Green Bay's sub-par pass defense. He is capable of a big game and should see a small uptick in targets if Burton misses.
Eddy Pineiro: Bears kicker, but they arn't impressed. He is probably going to be kicking for his job tonight.
Jimmy Graham: He is cleared to play (finger injury). Red zone target more than anything else. If he catches a TD, he pays off, but he is the Packers' fourth best option in the passing game.
Jamaal Williams: RB nursing a hamstring isn't good, but he says he is fine and is going to play. He will get on the field some. More of a passing threat out of the backfield than anything. Aaron Jones is the Redzone guy so I wouldn't expect him to vulture any TDs
Taylor Gabriel: Big Play WR threat for the Bears, cheap NFL DFS price, pretty much what you look for on these slates
Mike Davis: Came over from Seattle with intention to play more but the Bears drafted Montgomery. I am hearing Davis may be splitting carries with Montgomery. Keep an eye on the news dropping closer to game time. If he is going to get a handful of carries he is a fantastic NFL DFS play at the price.
Cordarrelle Patterson: Another big play receiver on the Bears. Patterson just needs a little room and he is in the endzone. He shouldn't get the lion's share of the targets by any means but he will get something. He is also a guy you design plays for out of the backfield
Adam Shaheen: He is your top Bears TE if Burton misses. Will get a few targets
Jake Kumerow: Fan favorite Packers receiver from the University of Wisconsin. With St. Brown on the IR, it opens up time for Kumerow
Riley Ridley: Rookie Bears WR, stud in college, hard to know what to expect but should get on the field. Had a solid camp and preseason.
Kerrith Whyte: 7thround RB draft pick for Bears, might not see field. Pass.
Ben Braunecker: TE2 if Burton misses, he has only been targeted 13 times in his three years in the NFL.
OUT DONT PLAY Wims: Bears wide receiver but not a priority to get the ball to, he is listed behind Anthony Miller. Sub 1% absolute dart that could give you zero very easily
Robert Tonyan: Packers TE2. He had six targets last year and only one touchdown.
Trevor Davis: Green Bay WR4. Had a nice preseason outing grabbing six targets for 78 yards and a touchdown, however, he won't see the field much, if any
Marcedes Lewis: Green Bay TE3, played four games last year. Was targeted four times.
CUT. DON'T PLAY Allen Lazard:
Dexter Williams: Packers RB3. Only a madman would play him.
The NFL DFS Picks
MVP: Davante Adams ($14,500 FD), Marquez Valdes-Scantling ($10,000 FD) One of them is getting in the end zone or they Packers don't have a chance to win this game. If the Packers are losing late, you can expect Rodgers to take over and pepper the hell to both of the guys as they march down the field. Adams will have the larger role but is more expensive. If you can fit Adams, he is the safest. Use MVS if you need salary.
NFL DFS Safe Flex Options: (listed in order of preference)
Aaron Rodgers ($15,000 FD): I really don't see a path where he isn't on the winning team. If the Packers are getting blown out he will pass the ball 40 times, if they are winning it because Rodgers got them to the endzone. Gotta do your best to get him in
Mitchell Tribusky ($13,500 FD): Green Bay pass D is not good. Trubisky has capable receivers in Miller, Robinson, Gabriel and Cohen.
Aaron Jones ($13,000 FD): Will get the majority of the Packers rushing opportunities, I just have a feeling he is going to struggle vs this defense. If he gets in the box, he should be fine. Getting in the box isn't going to be easy though.
Allen Robinson ($12,500 FD): Bears WR1 vs Green Bay D
David Montgomery ($12,500 FD): Bears are high on him, Packers rush D is suspect. Should get redzone work and will be the primary back. I can see a lot of running the ball here to try and keep Rodgers off the field. My only hesitation is I am hearing some rumblings or Mike Davis getting significant work here.
Tarik Cohen ($12,000 FD): Boom or Bust candidate out of the backfield. Will get a handful of carries and be targeted almost as much as the Bears top receivers.
Geronimo Allison ($9,500 FD): Will have just as much opportunity a MVS and is slightly cheaper
Anthony Miller ($9,000 FD): Starting WR for Bears vs bad Green Bay D
NFL DFS Milli Maker Plays (listed in order of preference)
Taylor Gabriel ($8,000 FD): Starting WR with speed. Not typically targeted as heavily but if he gets in open space he gets in the endzone
Eddie Pinerio ($8,500 FD): Game script play, I think the Bears win here, which means Pinerio is going to need to make a few kicks. He went 8-9 in the preseason
Cordarrelle Patterson ($6,000 FD): Hoping for a few designed plays for him to get in open space
Mason Crosby ($9,500 FD)
VERY HIGH RISK
Mike Davis ($7,500 FD): Give me 35 yards and vulture a TD
Adam Shaheen ($5,000 FD): Possible starting TE for Bears, watch for Burton news
Jake Kumerow ($5,000 FD): Fan favorite, will need to convert one of his very few targets, if any, into a big play
Riley Ridley ($5,000 FD): He is good. Will they play him? I hope so. I will throw a dart
MonkeyKnifeFight.com play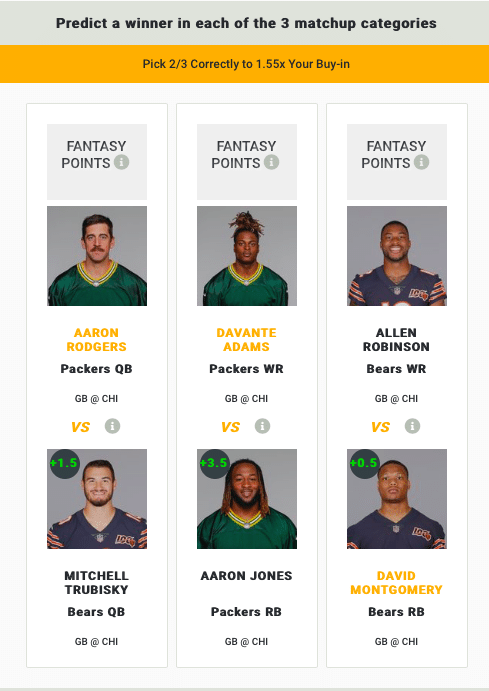 Sign up NOW for WIN DAILY Premium Gold Right Here! Projections, weather reports, wagering info, 24/7 expert chats and more!
Follow Win Daily Sports on twitter @WinDailyDFS. Please check out everything that Win Daily Sports has to offer by becoming a premium member. New articles, projection models and data are being added frequently. We can't say enough about our private Win Daily Slack Channel as it provides one on one coaching for all sports and all platforms. There are channels set up for MLB, PGA, NASCAR, WNBA, CFL, NBA, and NFL. We also have a channel dedicated to sports betting and one dedicated to Monkey Knife Fight where we provide winners to cash in on daily. We have a special promo for a limited time only to sign up for a full 12 months at only $199.99 or a monthly plan at $19.99 which are both 50% off our regular price.
Aaron Rodgers featured image via Chad Davis
David Jones has been playing fantasy sports since he first discovered it in 2007 while attending the University of Alabama. He began taking DFS more seriously in 2015 when he started winning major tournaments with single entries. He has qualified for the 2018 FanDuel World Fantasy Basketball Championship, 2018 FanDuel World Fantasy Baseball Championship, 2018 DraftKings NFL Showdown Championship, 2018 Inaugural DraftKings Sports Betting National Championship and has two entries in the 2019 FanDuel World Fantasy Baseball Championship. He has taken down 1st place wins in the FanDuel Monster multiple times for 30k/25k as well as winning the Demonster on FanDuel for a hefty 50k. He also won three consecutive NFL Showdowns in 2019. David has won over $230 K since mid-August of 2019.