NFL DFS RUNNING BACKS REPORT – WEEK 2 DraftKings & FanDuel Lineups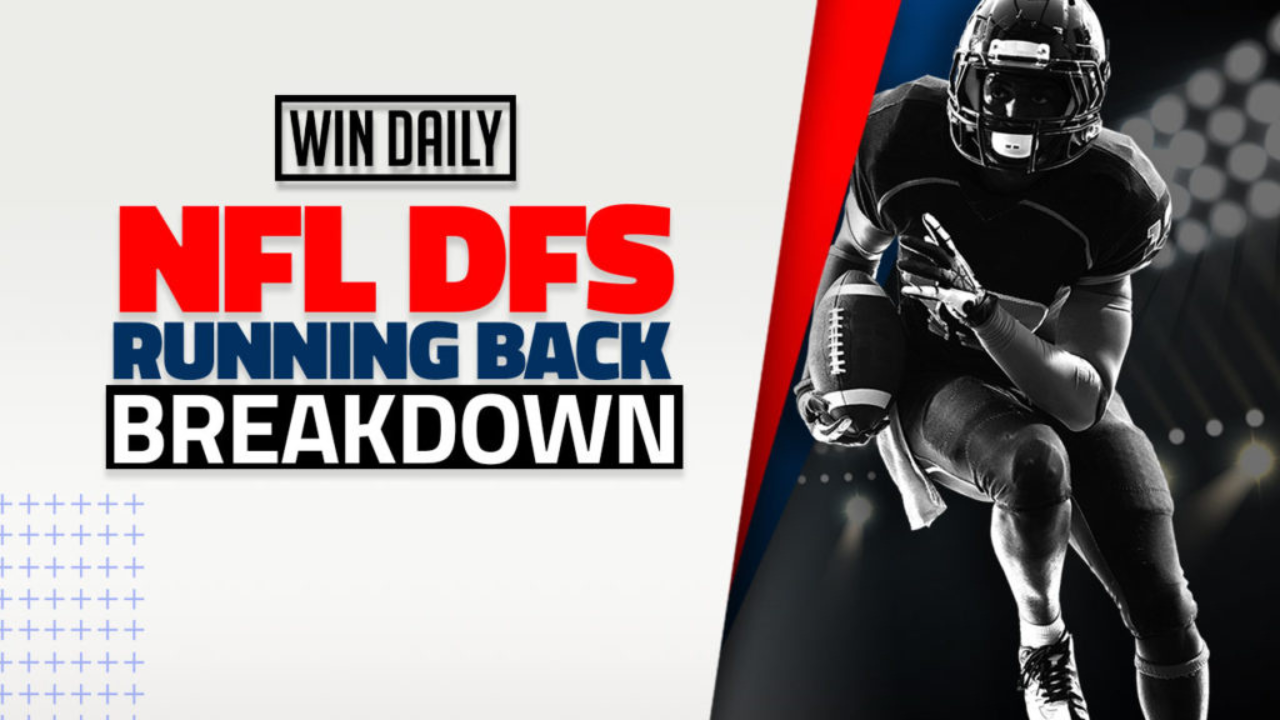 Week 1 was a smashing success at WinDaily as we hit on the key roster players at each position. Here at the Running Back Report, we had Jonathan Taylor, Saquan Barkley and Antonio Gibson as #1 plays at each tier. Combined, they accounted for 86.90 DK points and were all in the top 10 in RB scoring.
Please be sure to check out Stix's projections each week when evaluating NFL DFS using the NFL Projection Model. It's the best predictive tool on the market and will give you a competitive advantage against the competition! Also don't forget to check out our NFL DraftCast we did earlier on Wednesday breaking down the entire slate.
The card is deep this week as we have 12 games on Sunday to choose from. As for my strategy this week, I see value across the board so I will look to balance a top of the line RB with someone in Tier 2 or 3. Last week I primarily played a WR in the Flex spot but this week I see myself using a running back in that spot more often.
TIER 1 DFS RUNNING BACKS
JONATHAN TAYLOR $9900 DraftKings $10,000 FanDuel
Taylor did it again in Week 1 as he ran for 161 yards on 31 carries against the Texans. This week, he gets an opponent that he feasts on just as much as Houston in the Jacksonville Jaguars. He has played 4 games in his career against the Jags. But his first ever game was against Jax and we need to toss that one out the window as he received only 9 carries and played less than 40% of the snaps. But in his other 3 games, he has 69 carries for 446 yards and 3 TD's. That's an average of 149 yards and 1 TD rushing per game against the Jags. Sprinkle in an average of 3.5 receptions as well and you have a 25+ point DFS game in the making.
Rostering JT will make you flex towards a cheaper option in your 2nd slot. However, starting your lineup with a high potential point total is a recipe for success (especially in cash).
CHRISTIAN MCCAFFREY $8900 DraftKings $9000 FanDuel
I like McCaffrey this week as the Panthers are now a week removed of the Baker Bowl. CMac only had 14 touches against the Browns but was able to find the endzone and provide an average DFS ouput for fantasy owners. The Giants had one of the most surprising wins of the young season by pulling off a 1 point victory in Nashville against Tennessee. But they did allow 6.0 yds/play which was 9th worst in the league. And according to PFO, the Giants are 30th in defensive DVOA in 2022. I have questions about the pass rush (only 1 sack) and defensive secondary.
Which brings us back to McCaffrey. He should see a higher workload this week based on the matchup. Additionally, the Giants allowed the 5th most receptions to RB's last year and allowed Dontrell Hilliard to catch 3 balls for 61 yards in Week 1. Because he's $1000 less than Taylor, I find McCaffrey as the top choice in this tier.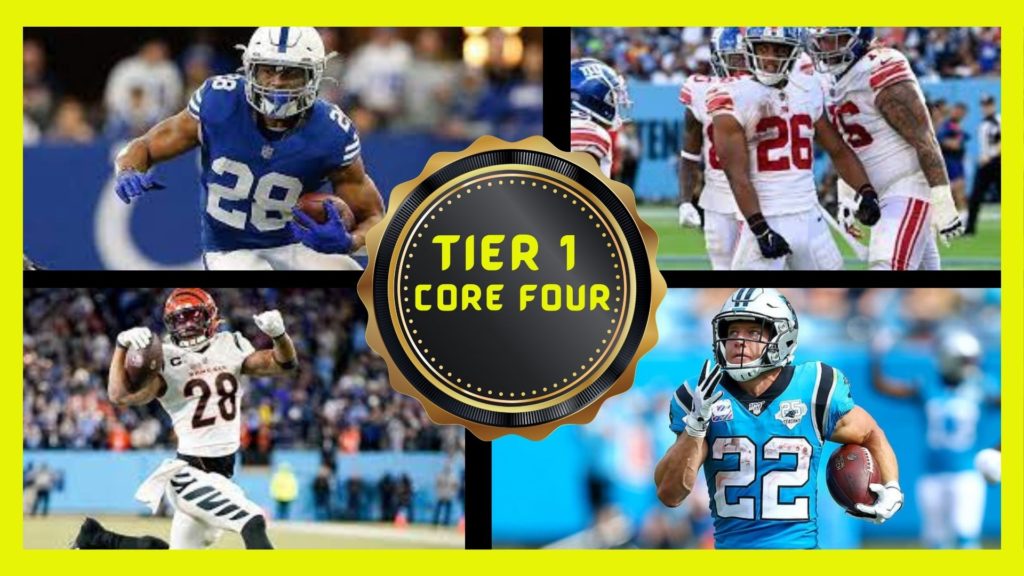 SAQUON BARKLEY $7300 DraftKings $8800 FanDuel
He's baaaaaaaack! Saquon put the NFL on notice last week with his explosive 194 total yards. He was the number one RB in DFS and his price now reflects that. Carolina was a bad rushing defense last season as they allowed 114 yds/game on the ground and 16 rushing TD's. In Week 1 of 2022, they tried to replicate that act as they allowed 217 yards on the ground to Cleveland (31st in the league) and 5.6 ypc (27th in the league). The Panthers will obviously game plan to stop Barkley and force Daniel Jones to beat them. While I still think there is value in Saquon at this price and against this opponent, I do fear that he will have much tougher sledding against a stacked box. I like him better on DK than on FD based on the large salary difference.
JOE MIXON $7300 DraftKings $8300 FanDuel
The Bengals had to turn to the pass game early after getting behind in the first quarter in Week 1. But that didn't impact Joe Mixon as he ended the game with 27 carries and 7 receptions which was good for 21.5 DK points. This week he faces the Dallas Cowboys who allowed 152 rushing yards to the Buccaneers in Week 1. The Bengals will have a different game script this week as they know a team led by Cooper Rush is not one to be feared. I look for a balanced attack and one that features Joe Mixon early and often. Add in the fact that Dallas allowed the 3rd most fantasy points to RB's last season.
TIER 2 DFS RUNNING BACKS
D'ANDRE SWIFT $7000 DraftKings $8200 FanDuel
We'll need to keep an eye on Swift's injury status on Sunday as he's dealing with an ankle injury. But if he does plan, he becomes one of the better backs on the slate. Week 1 showed us his explosiveness as Swift ran for 144 yards on 15 carries. His opponent, the Commanders, graded out as the 31st defense in rushing DVOA after Week 1. That was mainly because they allowed an alarming 6.8 ypc against the Jaguars. Swift should have his opportunities in this game to once again exploit an NFC East team.
JAVONTE WILLIAMS $6100 DraftKings $7300 FanDuel
The return of Russell Wilson to Seattle ended in extreme disappointment for Broncos fans. But fantasy owners of Javonte Williams were pleased as they saw their investment go off for 11 catches and 108 total yards. While it won't be every week the RB is targeted 12 times, we are excited with that he received 58% of the snaps at running back compared to 41% for Gordon. And this week, he gets another juicy matchup in the Houston Texans who allowed 142.2 yds/game rushing in 2021 (31st in NFL) and started 2022 by allowing 177 yards on the ground to the Colts.
ANTONIO GIBSON $6200 DraftKings $7400 FanDuel
Gibson received 14 carries in Week 1 while also pulling in 7 catches. That was good for 20 DK points and the 10th highest scoring RB. He gets to face the Lions this week who are 28th in defensive DVOA. In week 1, they allowed 216 rushing yards (30th in the league) and 4 rushing touchdowns. I see value in Gibson and expect a similar performance to his Week 1 game against the Jags.
TIER 3 DFS RUNNING BACKS (VALUE TIER)
RASHAD PENNY $5400 DraftKings $6500 FanDuel
Penny gets slept on when it comes to DFS and fantasy. But we can't forget how he finished 2021 where he led the league in yards/carry and averaged 133 yards rushing over the last 5 games of the season. He started 2022 with a similar outburst racking up 60 yards rushing and 5 ypc. Even though he received only 12 carries, his backup, Travis Homer, only received 1. In fact, Penny was on the field for 69% of the snaps which is ideal for a lead back. However, he's being priced like a value back which is why I love him in this spot. The matchup is tough, as the 49ers have a top 10 rush defense and allowed just 2.7 ypc in the rain last week. However, the Seahawks scored 58 points against SF last season and had over 100 yards rushing in both contests.
MICHAEL CARTER $5200 DraftKings $5900 FanDuel
Cleveland did a good job of bottling up Christian McCaffrey in week 1. However, Carolina abandoned the run early and only attempted 13 runs from running backs. Because of that, Cleveland allowed the 2nd least yards rushing in week 1. But PFO graded them as the 23rd best rush defense in DVOA. So there is reason to believe the Jets will be able to move the ball on the ground this week. That's as long as they don't drop back Flacco for 57 throws again. And if they do stick to a running plan, I value in Michael Carter who put up 100 total yards and brought in 7 catches which was good for 17 DK points.
BONUS PICKS
I do like DARRELL HENDERSON JR ($5700 DraftKings $6200 FanDuel) against the Falcons. Henderson outsnapped Cam Akers 55 to 12. If HC Sean McVay does commit to Henderson as his lead back, then we have a great matchup this weekend against Atlanta. The Falcons were 29th against the run last year and allowed four 100 yard rushing games to RB's.
Keep an eye on LEONARD FOURNETTE ($6700 DraftKings $7800 FanDuel) health. Yes, the Saints were tops in the league in rushing last year. But they allowed 189 yards and 5.4 ypc to the Bucs in their two matchups. So if Fournette is out because of the hamstring issue, I would consider RACHAAD WHITE ($4500 Draftkings $5700 FanDuel) as a cheap value back. I do not like Fournette because of the hamstring and fear that he could tweak it again even if he plays.
RB PROP BETS
We started this section badly last week as our smash play of Eli Mitchell lost due to him getting injured in the 2nd Q. He was well on his way to over 59.5 yards rushing but Soldier Field had other issues as they unleashed the turf monster on his knee. Anyway, we look to get back on the winning track this week with these plays.
ANTONIO GIBSON anytime TD (+110 DK) – The Lions allowed 19 rushing TD's last season which was good for 28th in the NFL. They are trying to beat that ranking in 2022 as they allowed 4 on the ground last week to the Eagles.
CHRISTIAN MCCAFFREY over 41.5 receiving yards (-115 DK) – This is a week where we will see classic Christian McCaffrey again. He went over this number in 5 of the 6 games he played in 2021. And in his last healthy season, 2019, he went over this number the final 7 games of the year and 11 of the 16 regular season games.
Now that you finished reading the NFL RUNNING BACK REPORT article make sure to check out our YouTube Channel for constant content for every game and slate in the NFL this season and hop in our Discord Expert Chat.
Also, be sure to follow me on Twitter (@dgloeck) and my other content that is part of the WinDailySports family.