NFL DFS Cash Games – Week Six Checkdown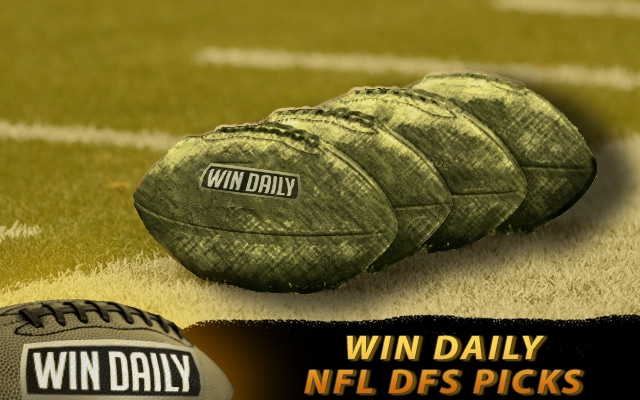 Week Five was absolutely insane for both NFL DFS Cash Games and GPPs. I usually try to build a cash lineup that can score around 150 points and am confident I'll hit the pay-line. In Week Five, you needed 200 or more points to cash… WOW! Feel free to review last week's Checkdown to see what players we were high on, including a ridiculous eight wide receiver plays that all blew it out of the water. Let's get right back to it for the Week Six Checkdown for your NFL DFS Cash Games.
Sign up NOW for WIN DAILY Premium Gold right here! Projections, wagering info, 24/7 expert chats and more!
My articles will be mainly meant for DraftKings, but you can certainly use this information for other DFS websites. Please check back in on Saturday/Sunday morning for potential NFL DFS Cash Games updates.
If you have any questions and would like some further help when building your lineups, please do not hesitate to reach out to me directly on Twitter. I'm always available to help NFL DFS players make the most of their investments.
Some notes on what I believe to be the "optimal" roster build for NFL DFS Cash Games. I'll include this in all the Checkdown articles moving forward. For Week Six, please see below for my notes on roster construction:
I don't anticipate there being any crazy chalky players that you have to roster in cash games this week, but there is very little "value" on the slate thus far.
Contrary to Week Five where I instructed DFS players to pay up for multiple stud running backs, Week Six looks like we can only afford to roster one "top-tier" running back. EDIT: If you pay down to Rosen, you can definitely lock in two stud RBs.
Just like Week Five, there are a lot of great plays at the wide receiver position – I don't think you have to focus on any one player here when building your cash lineups.
Unless you have a very high-floor build at the RB/WR positions, it's going to be nearly impossible to pay down at tight end.
NFL DFS Cash Games Quarterbacks
Patrick Mahomes ($7,500) – Keep an eye on his health but if he's playing, Mahomes is always cash viable.

Deshaun Watson ($6,700) – Holy Watson! Watson is coming off of perhaps the greatest game of his NFL career (426 passing yards, five touchdowns, and 47 rushing yards) and is set to ride that momentum into Kansas City for a matchup that has the highest total on the slate.

When Watson has time to make plays, he makes them – it's as simple as that. The Chiefs' defense currently ranks towards the bottom of the league in pass rushing and overall defense as a whole… having time to make plays will not be an issue. Kansas City is going to put up points on this Houston defense, so the gamescript is going to be in our favor if we are rostering DeShaun Watson and the Houston passing attack.

Kyler Murray ($6,500) – This season has been an absolute disaster for the Falcons' pass defense. Murray is averaging 21.5 DraftKings points per week and should easily exceed that average again in Week Six. David Johnson is having back issues, so if the Cardinals want to compete for their second win of the season, they're going to need a big outing from Kyler Murray.

Matt Ryan ($6,400) on the other side is also cash viable, but I prefer Kyler Murray with the minimal price difference.

Kirk Cousins ($5,200) – The whole "squeaky wheel" scenario we had in Week Five with the Minnesota Vikings and their lack of getting their star wideouts involved was quickly addressed last Sunday. Cousins and the Vikings' pass offense had their best outing of the season in Week Five and will need to go a bit pass-heavy again this week when they host the Eagles.

Gardner Minshew ($5,000) is worth consideration as well as Josh Rosen ($4,500). Rosen is way too cheap for a great matchup against Washington. He should be able to get to 15+ points and allow you to pay up all over the slate.
NFL DFS Cash Games Running Backs
Ezekiel Elliott ($8,500) – The Cowboys need to make a statement after back-to-back losses in Weeks Four and Five. My early projections have Elliott finally topping the 25-point mark for PPR leagues this season and I think that can be his floor this week against the Jets.

Dalvin Cook ($8,400) – I prefer Elliott at this top-tier running back spot in Week Six, but Dalvin will always be mentioned in this writeup for the foreseeable future. The volume will always be there for Dalvin Cook.

Alvin Kamara ($8,000) – The Jaguars have been brutal against the run in terms of DVOA. Kamara will get 20+ touches no matter what happens in this game.

Nick Chubb ($7,300) – Volume, volume, volume. Chubb is consistently getting 20+ touches for the Cleveland Browns and he is one of the most talented backs in the NFL. We need to buy-in as much as we can before he is priced up with guys like Elliott, McCaffrey, and Cook.
The Seahawks have a stout run defense but they are traveling across the country to Cleveland this week and I will always weigh talent and volume higher than I do match-ups. Chris Carson ($6,000), on the other side of this game, is also a solid cash option as well.

Leonard Fournette ($6,700) – Don't love the matchup, but volume and talent with this price is enough to heavily consider Fournette. He keeps producing at an extremely high level and will get another 25+ touches.

Mark Ingram ($6,600) – Ingram and the Ravens' are a 12-point home favorite against the Bengals. I will always target a talented running back at home as a double-digit favorite. Please note, this is not an optimal price for a running back that isn't very active in the passing game, so we're banking on 100+ yards and at least one touchdown – which is entirely feasible versus the Bengals.

Le'Veon Bell ($6,400) – Bell is literally all the Jets have on offense right now. His ability to do damage in the passing game makes him gamescript proof. If you're looking for a somewhat "value" running back play for an affordable price, go with Le'Veon Bell in your NFL DFS Cash Games.

I know Bell doesn't have the supporting cast that Aaron Jones does, but this Cowboys defense looked lost last week against a Packers team who didn't have their best player suited up.

Carlos Hyde ($4,400) – The Kansas City Chiefs' run defense ranks dead last in the NFL according to Pro Football Focus. Although this running situation is a bit of a timeshare in Houston, Hyde will get the majority of the meaningful rushes for the Texans in Week Six. I have him projected for 82 all-purpose yards and a touchdown. At the price, the expected production should be more than enough to cash in NFL DFS Cash Games.
Wide Receivers
Julio Jones ($8,000) – Julio Jones has been quiet over the past two weeks and that is about to change in Week Six. He is my top play on the board at the receiver position and I'm assuming a lot of DFS players are going to fade him (in comparison to the usual ownership we see Julio Jones get).

Michael Thomas ($7,800) – Always cash viable and will see a lot of Tre Herndon on the left side of the field… I like that. Pace is a concern, but the volume will be there.

DeAndre Hopkins ($7,400) – Hopkins hasn't been the fantasy producer we've seen in years past, but the targets, talent, and opportunities are there on a weekly basis. He hasn't scored a touchdown since Week One so I'm betting on positive regression here. Hopkins will get in the box this week.

Cooper Kupp ($7,100) – Not much to say about Cooper Kupp… he produces at an incredible level week in, week out. 49ers' slot cornerback, K'Waun Williams has been solid this season, but I'll take my chances on Kupp and the Rams' passing attack until Kupp's production says otherwise. I don't love this price at all and would rather pivot down to Amari Cooper.

Amari Cooper ($7,000) – Only concern here is game flow. Absolute smash spot against Trumaine Johnson and Darryl Roberts. Lock him in!

Adam Thielen ($6,700) – Welcome back, Adam Thielen! I mentioned earlier how I like Kirk Cousins and the Vikings' pass game this week, so we obviously like Adam Thielen. If the Giants found a way to keep last week's game close, Thielen would have ended up with ~15 targets. I'm confident Thielen will continue to produce at a high level in games that are competitive.

Larry Fitzgerald ($6,100) – I don't love his ceiling, but this matchup at home against the Falcons with a 52-point total is a perfect spot for Larry Fitzgerald and Kyler Murray to have a field day.

Dede Westbrook ($5,100) – Our weekly pick-on P.J. Williams writeup… Dede has put up double-digit DraftKings points in each of the last three weeks and will do so again this week. I don't think this game against the Saints will be played at a high-pace but if it does, we could see a 20-point outing for Westbrook.

Courtland Sutton ($5,000) – Hopefully everyone bought into Courtland Sutton after last week's writeup! This dude is legit and still completely underpriced. I called his touchdown last week and will call another one in Week Six. Sutton is an excellent value play on a slate that doesn't offer many. Emmanuel Sanders ($4,800) is in an excellent spot lining up on the right side of the field and in the slot against Malcolm Butler and Logan Ryan.

Mohamed Sanu ($4,500) – Just like last week, Sanu is the perfect definition of "cheap exposure to a high-total game". He paid off for us in Week Five and will do so again in Week Six. I think his ceiling will be limited a bit with guys like Calvin Ridley, Julio Jones, and Austin Hooper all on the field with him for the majority of the snaps, but Sanu can get 15+ points. Just stick with Julio Jones or Hooper in cash.

Preston Williams ($4,100) – If you need a punt play, Preston Williams is your guy. No one on this Washington secondary can contain him but we have to bank on Josh Rosen to get Williams the ball in positions where he can succeed… which sounds a bit risky for cash games.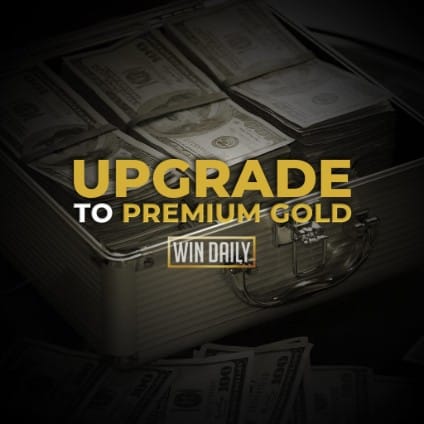 Tight Ends
Travis Kelce ($7,000) – If you can afford him, play him. He is by far my number one tight end in Week Six (which will be the case on most weeks).

Zach Ertz ($5,400) – Why did his price drop from $6,000 to $5,400? Ertz is the main weapon in the Eagles' offense and should be heavily considered at this price for NFL DFS Cash Games.

George Kittle ($5,200) – Will Dissly just put up 81 yards against this Rams' defense but the Rams aren't usually a team I target when rostering tight ends. Having said that, at this price… Kittle is 100% in play for your cash lineups.

Austin Hooper ($5,000) – Hooper is one of the most targeted tight ends in the NFL in 2019. Dirk Koetter continues to feature Hooper in the Falcons' passing scheme and he happens to be going against Arizona defense who we will always target. Arizona is letting up the most points to opposing tight ends.

Noah Fant ($2,900) – Fant is the only punt play I can recommend at the moment. If something pops up during my research throughout the week, I'll be sure to make updates. Unless you have a nasty lineup that is only possible via punting the position, you have to pay up for one of the above tight ends this week.
Defense/Special Teams
Dallas Cowboys ($4,300)
Baltimore Ravens ($4,100)
Denver Broncos ($3,100)
Jacksonville Jaguars ($2,200)
New York Jets ($1,500) – DraftKings finally adjusting the DST pricing… This is a free square, just pray they get a few sacks and don't give up 30+ points.
NFL DFS Cash Games – Sample Lineup
QB: Kyler Murray
RB: Ezekiel Elliott
RB: Carlos Hyde
WR: DeAndre Hopkins
WR: Larry Fitzgerald
WR: Preston Williams
TE: Austin Hooper
FLEX: Le'Veon Bell
DST: New York Jets