NBA DFS: Ghost's Gems 02/28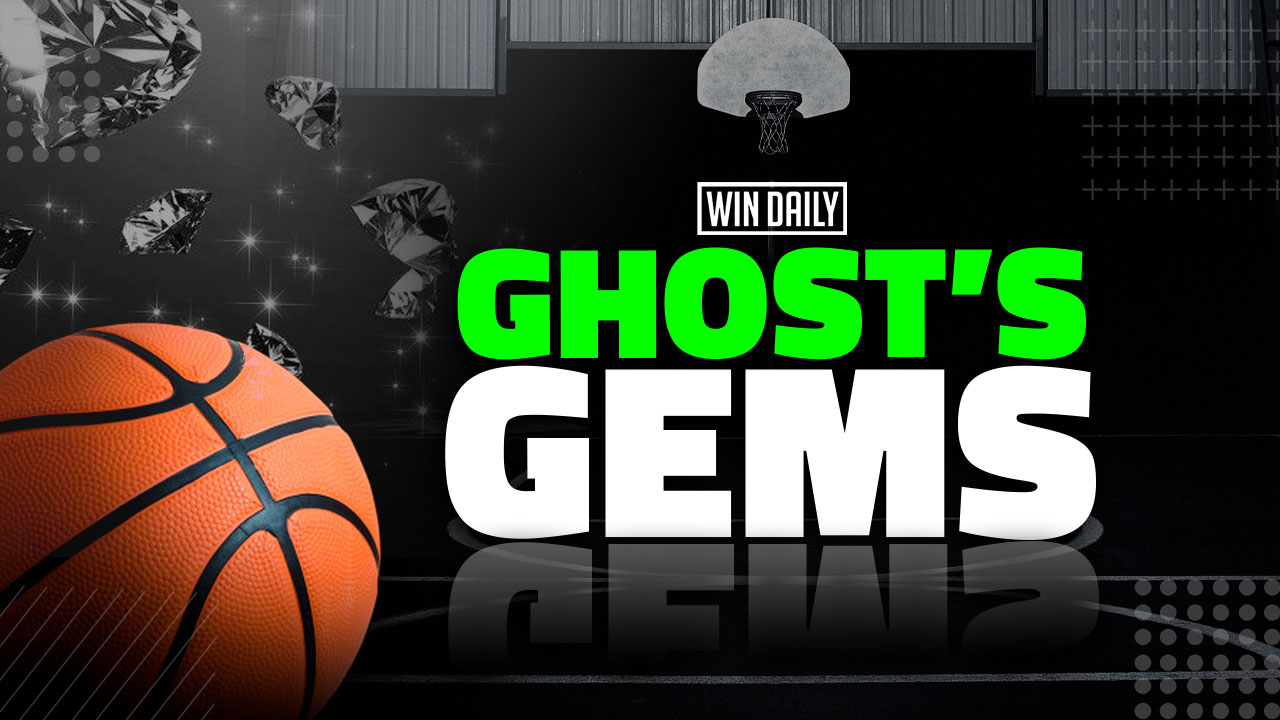 I know many people do not like Sundays but personally, I love them; we have NFL Sundays for a period of time, the summer is all about Boozy Brunches, and everything in between is NBA season. We have a Monday-Friday Gems special, but for Sundays, let's roll with the Boozy Brunch theme; things are looking tipsy today, so let's dive in!
One thing I want to clarify based on the questions I have received is that I will never list a player under the $5,000 FD price tag simply because I use the projection model to identify all targets in these price ranges and below. While there are often plenty of options that I like in this range, you all have access to the very model I use to make my own selections, so when asking "Should I use player X or player Y?", make sure to check the model because that is how I make all of my own decisions and I truly ride or die by it on a daily basis.
Before running to the DraftKings, FanDuel, or Yahoo lobby to construct your NBA DFS lineup after reading this article, please make sure to utilize the abundance of tools we have at Win Daily:
Point Guards
De'Aaron Fox ($8,000 FD / $8,600 DK)
Has Luke Walton finally figured out that he needs to play his best player 38 minutes per game to have a chance at winning basketball games? Nobody will know, but what we do know is that Tyrese Haliburton is out for the Kings again tonight, meaning Fox will have to shoulder even more of the offensive load than usual. In the past three games, Fox is sporting a 29.6% usage rate over 38.5 MPG, leading to an impressive scoring line of 27.7/3.3/8.3 on 47.4% shooting and 40.9% from behind the arc. Over their last three games, Fox's opponent, Charlotte, has played at the second-fastest pace in the NBA, something Fox not only enjoys, but does better than anyone in the league. With Graham ruled out for the Hornets, the smaller backcourt of Rozier/Ball will have their hands full.
Chris Paul ($7,500 FD / $7,800 DK)
Still underpriced for his contributions this season, CP3 is in a great spot versus a depleted Timberwolves team. Missing both D'Angelo Russell and Malik Beasley tonight, the T-Wolves will turn to the likes of Anthony Edwards, Ricky Rubio, and Jaylen Nowell to guard the tandem of CP3/Booker – good luck. Averaging 16.6/4.7/8.8 on a 23% usage rate this season, CP3 has been drinking out of the fountain of youth, especially on his recent run, where he's averaged 17/7/12.5 across 36.2 MPG on a 21.4% usage rate in the last two games. Facing Minnesota, who allows over 25 assists per game, is a dream matchup for the Point God.
Also Consider:
Ja Morant ($7,100 FD / $7,200 DK)
LaMelo Ball ($7,600 FD / $8,800 DK)
Shooting Guards
Bradley Beal ($9,600 FD / $9,600 DK)
I really hope Westbrook sits this game, but even if he doesn't, the sky is blue and I'm breathing, so I'm playing Bradley Beal in my NBA lineups. I would take about his recent games, but frankly, they're just indicative of what he's been doing all season long: Beal leads the NBA with a 35.6% usage rate, leads the league in scoring with 32.8 PPG to go along with 5.3 RPG and 4.9 APG, leads the NBA in Point% where he represents 37.3% of his team's scoring, leads the league in FGA per game with 23.93, shoots 48.3% from the field and 90% from the line. Need I say more?
Terry Rozier ($6,800 FD / $7,900 DK)
With Devonte' Graham out again for the Hornets, LaMelo Ball and Terry Rozier find themselves playing heavy minutes in a juicy matchup. Ranking dead last in the NBA in defensive rating, the Sacramento Kings have been a DFS goldmine to attack, no matter which position we're looking at. With the lack of depth/talent in the Charlotte frontcourt that includes Gordon Hayward nursing a hand injury, my attention is on the Hornets backcourt. While LaMelo has the higher upside due to his contributions on the glass and running the offense, in addition to the potential to grab multiple steals tonight versus Fox, Rozier will be the primary scoring option versus a team that allows over 45 FPPG per game to opposing '2' guards.
Also Consider:
Josh Jackson ($5,700 FD / $6,200 DK)
Buddy Hield ($5,600 FD / $6,100 DK)
Small Forwards
LeBron James ($11,000 FD / $10,800 DK)
The LeBron/Curry rivalry lives on, with the only difference being LeBron in a Lakers uniform instead of a Cavaliers one. Sporting a 31.9% usage rate on the season, LeBron sees a slight uptick to 32.9% in games without AD, where he is averaging 25.5/8.8/8 on 50% shooting across 35.9 MPG. With Golden State playing at the second-fastest pace in the NBA this season, there will be plenty of opportunity for LeBron to score in transition and facilitate the offense in one of the best games on the slate.
Jimmy Butler ($9,500 FD / $9,700 DK)
Not sure what can be said about one of the fiercest competitors in the NBA right now. Since coming back from COVID, where Miami seemed to be on the ultimate hangover after winning the Eastern Conference Finals, Butler has led his team out of the cellar and into a playoff position. Being 3-9 without Butler in the lineup and 13-8 with him, the Heat will look for another win to keep up in the East, where positions 4-10 are separated by one game. Butler's 27% usage rate will be the key once again, as he looks to add to his 20.1/7.8/7.8 season averages.
Also Consider:
Harrison Barnes ($6,500 FD / $6,500 DK)
Sadiq Bey ($5,100 FD / $5,700 DK)
Power Forwards
Julius Randle ($8,900 FD / $9,500 DK)
While we have a double revenge narrative at the point guard position as DSJ and DRose have swapped teams, make no mistake about it, Julius Randle is the best play in this game. Sporting a 27.7% usage rate on the season, amidst the injury bug to the frontcourt and backcourt carrousel, Julius Randle has been the consistency and talent the Knicks have been lacking for the longest time now. Having a career year on a 23.4/11/5.5 scoring line, Randle sees a Detroit team that allows over 52 FPPG to opposing big men, including 49.5 points per game allowed in the paint, ranking 25th in the NBA.
Draymond Green ($7,800 FD / $7,500 DK)
The price is creeping up for Draymond, but his play is rising exponentially. Despite an abysmal 13.7% usage rate in his past three, Draymond has averaged a 10/10/14 triple-double, including 2.3 SPG and 1.3 BPG. He's only taking 7.3 shots per game during this stretch, but with shooting 54.5% from the field, his floor is relatively safe right now with the potential for a ceiling game versus a team – or should I say, a player – he gets hyped to play against. In addition, Draymond is 6th in the NBA in APG with 8.7, ahead of the likes of Nikola Jokic, LeBron James, and Damian Lillard.
Others to Consider:
Jayson Tatum ($9,400 FD / $9,100 DK)
Marvin Bagley ($6,200 FD / $6,200 DK)
Centers
Clint Capela ($8,500 FD / $8,400 DK)
Jonas Valanciunas ($7,400 FD / $7,400 DK)
Also Consider:
Richaun Holmes ($6,600 FD / $6,500 DK)
Kelly Olynyk ($4,400 FD / $4,400 DK)
Value Gems: Check the projection model.
I will continue to stress the importance of having both the projection model and cheat sheet open when building lineups for a further player pool and to ease a decision between two players, in addition to finding additional value plays.
You can find me on Twitter @DFS_Ghost
Nicholas Di Tommaso has been playing daily fantasy sports everyday for the past five years, in addition to his season-long expertise across various sports. He has since set out to combine his passions of finance and sports to successfully become a professional DFS player. Having multiple GPP wins over the course of the last year (2019), the Canadian known as "Ghost" is seeking bigger and better things in the future. Nick loves a healthy balance of both cash games and tournament play, but prefers the latter, especially in NFL and NBA, where he mostly plays single entry GPPs and 3-max tournaments. The Montreal, Canada native is looking to put Win Daily Sports on the map by representing the North of the border in all fields, specifically NBA, NFL, NHL, MLB, and eSports.