NBA DFS: Gems with Ghost and Adam 01/17
Published
8 months ago
on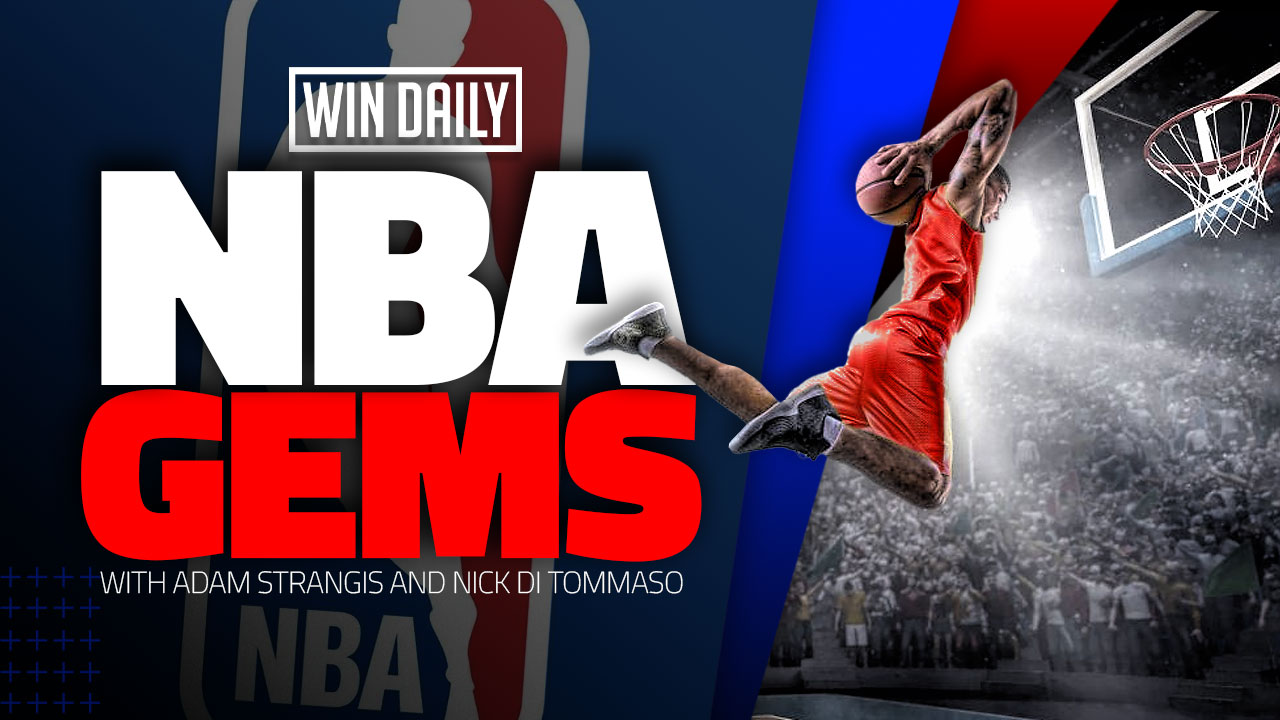 We have a ton of teams in action today across three different NBA slates, and we've got them all covered for you. It's a Mojito Monday's edition of the Gems – let's ride.
One thing I want to clarify based on the questions I have received over the past few years is that I will never list a player under the $5,000 price tag simply because I use the projection model to identify all targets in this range and below. While there are often plenty of options that I like at $5,000 and less, since I often find myself with not only one – but multiple – in my NBA DFS lineups, you all have access to the very model I use to make my own selections, so when asking yourself: "Should I use player X or player Y?", make sure to check the model because that is how I make all of my own decisions and I truly ride or die by it on a daily basis.
Before running to the DraftKings, FanDuel, or Yahoo lobby to construct your NBA DFS lineup after reading this article, please make sure to utilize the abundance of tools we have at Win Daily:
Early Slate (12:30pm EST)
New Orleans Pelicans @ Boston Celtics (-6)
Both teams are relatively healthy in this one, with the Celtics only missing Marcus Smart (health and safety protocols). This game environment is the worst of the three, with the Celtics and Pelicans ranking 25th and 20th, respectively, in pace, while Boston also ranks 6th in defensive rating; there won't be too much exposure from this one in our player pool. However, with Marcus Smart being out, there will be notable interest in Dennis Schroder, who will see an uptick in minutes, but Boston's overall production on offense remains stagnant with Smart off the floor because of his limited role; Jaylen Brown, Jayson Tatum, Robert Williams, and Al Horford's numbers are all relatively equal with or without Smart on the floor, but the minutes in this rotation will be more condensed tonight.
On the flip side of this game, the Pelicans have little appeal on this NBA slate despite being well priced. Jonas Valanciunas makes for an intriguing target as the second option in double center builds paired with the top stud on the slate, but the Celtics front court has been stout around the rim on both sides of the court. Josh Hart makes for a fine play in the mid range but offers little upside at his price tag, but it's worth mentioning that taking a flier on Nickeil Alexander-Walker at near minimum price could pay off on such a small slate.
Charlotte Hornets @ New York Knicks (-2)
With the Hornets ranking 26th in defensive rating while also being 2nd in pace, their games always make for starting points on any given NBA slate. While LaMelo Ball's price has come down, his minutes have been the furthest from consistent ever since the return of Terry Rozier to the lineup, who is one of my main targets in this one, along with Miles Bridges. The two have 22.8% and 21.5% usage rates in their last six games, respectively, and have been cogs to the team's six-game winning streak, averaging 22.8 PPG and 20.2 PPG, respectively.
Playing at MSG is something any professional dreams of, but that may be coming to an end for some of the Knicks on the roster, with the team looking to make moves ahead of the NBA trade deadline. Both Julius Randle and Mitch Robinson are rumored to be potentially on the move, and the two get one of the best matchups in all of fantasy basketball, as they take on a Hornets defense that ranks 29th against opposing centers, 29th to opposing power forwards, 30th against opposing point forwards, and 18th in points allowed in the paint per game.
Philadelphia 76ers @ Washington Wizards (+3)
All of my NBA lineups will begin with Joel Embiid tonight, with the MVP candidate looking to make a run for his struggling franchise. Embiid comes into this one with 30 or more points in nine of his last ten games, while sporting a ridiculous 38.1% usage rate on a 31.8/10.2/4.5 scoring line on 55.5% shooting. With both Shake Milton and Matisse Thybulle ruled out for this one, both Seth Curry and Tyrese Maxey make for a good supporting cast in our lineups, while Furkan Korkmaz and Georges Niang will see increased run.
The Washington side of this game stems on the availability of Bradley Beal, who could make his return to the lineup tonight. Should he evidently be ruled out, Spencer Dinwiddie and Kyle Kuzma will be priorities in the mid range of the pricing grid, as the two see 4.4% and 3.7% increases in usage rate, respectively, while also having their FPPM increase from 0.98 to 1.16, and from 1.00 to 1.12, respectively.
Afternoon Slate (3:30pm EST)
Brooklyn Nets @ Cleveland Cavaliers (-3)
Disaster struck for the Nets when Kevin Durant went down with a knee injury in their last game, and the MVP candidate will now be sidelined for the next 4-6 weeks. All signs point to James Harden being a lock on this slate, as one of, if not the most prolific offensive player on our generation sees his usage rate increase from 28.5% to 34.4% with Durant off the floor, while also seeing his FPPM increase form 1.36 to 1.55. Moreover, we can also consider rostering Kyrie Irving, who gets to play his former franchise tonight in his fourth appearance of the season, where the former #1 overall pick has sported a 25.9% usage rate and has posted a 17.7/5/3.7 scoring line on 45.8% shooting, while logging just over 32 minutes per appearance.
This game is far more intriguing than simply playing James Harden with or without Kyrie Irving or any other Brooklyn Net; rather, there is a ton of upside on the Cavaliers side of the ball as well. Look out, but the Cavs are now the 6th seed in the East and are only 2.5 games back of first, having won seven of their last eight. Darius Garland has been balling down the stretch, sporting a 27.5% usage rate while posting a 20.8/4.4/9.9 scoring line on 43.4% shooting. I also have a lot of interest in Jarrett Allen, should Garland be out of price range; Allen has been having an all-star campaign this season, sporting an 18.2% usage rate while averaging a 16.6/11 double-double, including a 15.6/12 average in the Cavs' eight-game stretch. Facing his former franchise, Allen will see little-to-no challenge on the interior of both ends of the floor, while the Nets rank 16th in points allowed in the paint per game.
Indiana Pacers @ LA Clippers (-2)
Moving forward, a lot of our value plays will come from the Clippers rotation when they're on the NBA slate. With Paul George potentially joining Kawhi Leonard on the sidelines for the remainder of the season, there are more than enough minutes and offensive production to go around. Beginning with the trio of Reggie Jackson, Amir Coffey, and Eric Bledsoe, the Clippers backcourt rotation will be on display nightly, as they are playing a smaller lineup every game. In addition, both Terrence Mann and Marcus Morris will be vital on the wings, while veterans Ivica Zubac, Serge Ibaka, and Nic Batum man the paint on both ends of the floor. My interest in this Clippers is focused on the backcourt, with Amir Coffey and Terrence Mann being the main targets, followed by Eric Bledsoe and Reggie Jackson. Seeing consistent minutes in an ever-so-confusing rotation for Ty Lue, Amir Coffey has 18 or more points in three of his last four, while getting a friendly matchup versus Caris LeVert and Chris Duarte.
With Myles Turner (foot) being ruled out tonight, Domantas Sabonis becomes a prime stud to pair with James Harden, should you be able to fit both in without compromising the rest of your lineups. With Turner off the floor, Sabonis will now see the bulk of minutes at the '5' against a Clippers team that ranks 26th in the NBA in points allowed in the paint per game while already logging nearly 35 minutes per game and posting an 18.9/11.9/4.7 scoring line on 57.5% shooting.
Chicago Bulls @ Memphis Grizzlies (-6)
The Bulls will be in tough versus one of the hottest teams in the NBA, being without Lonzo Ball and Zach Lavine on the road. With both of his teammates off the floor, DeMar DeRozan sees an astronomical increase in usage rate, from 30.8% to 40%, while also seeing his FPPM increase from 1.18 to 1.32. The shot volume will certainly be there, making him one of the premier plays on the slate, but his price is also in the Sabonis range, where I favor the latter. Rather, I'll get exposure to the Bulls offense in the form of Coby White, who will see a large uptick in minutes and offensive production alongside DeRozan, and offers a ton of upside with a 4.1% increase in usage rate, while Ayo Dosunmu will be one of the most popular value plays, and rightfully so.
While Ja Morant will likely be out of my price range considering I'm locking in James Harden, there are other enticing options on the Grizzlies side of the ball. Desmond Bane has been someone that we've been talking about since the season tipped off, and there's no reason to stop anytime soon considering the sophomore has scored in double figures in 13 straight games. Moreover, while Steven Adams and Jaren Jackson Jr. will continue manning the paint for the bulk of the minutes, there's plenty to love about the Grizzlies bench, especially with the way Brandon Clarke has been playing as of late; the big man has now found a comfortable spot in the rotation, with 20 or more minutes in eight of his last nine, where he's posted a 14/7.2/1.4 scoring line on 67.5% shooting. Others, including John Konchar, Kyle Anderson, Tyus Jones, and De'Anthony Melton will be worth a look on such a small slate, but we'll turn to our projections to see who grades out best.
Main Slate (7pm EST)
Portland Trail Blazers @ Orlando Magic (+1.5)
While both the Trail Blazers and the Magic will be getting reinforcements on their respective side of the ball, there is still plenty to love in this first game of the Main NBA slate. Beginning with Portland, who sees CJ McCollum returning to the lineup, gone are the days of locking in Anfernee Simons, who will take a notable hit in offensive production with McCollum returning; the price point simply does not make sense with primary ball handling duties being taken away. However, should Norman Powell (health and safety protocols) miss another game for Portland, there will room for both Nassir Little and Ben McLemore to pick up extra minutes on the wing.
On the Magic side of the ball, nearly every player has a discounted price tag as opposed to their median over the last week, and we need to take advantage as a whole since they line up versus a Portland defense that ranks dead last in the NBA in defensive rating, while also being top 10 in adjusted pace with McCollum on the court. That being said, the Magic are also missing Wendell Carter Jr. (hamstring), which makes Franz Wagner a premier target for our exposure to this first game; Wagner has been having a tremendous rookie campaign, and sports a 21.4% usage rate on the season with posting a 15.5/4.7/2.9 scoring line on 45.4% shooting. Look for Chuma Okeke and Terrence Ross to also pick up solid minutes, but the return of Mo Bamba limits the former's ceiling, while Cole Anthony remains the focal point of this Magic offense at a reduced price tag.
Toronto Raptors @ Miami Heat (-3)
Although the greatest Raptor of all time, Kyle Lowry, will not be suiting up tonight (personal), there is significance to this game on both sides. For one, Fred VanVleet has already said how much it means to him to share an NBA court together, and while they won't be able to do so tonight, I still love the idea of pairing him with one of Jimmy Butler or Tyler Herro. FVV has been on a tear as of late, sporting a 26.7% usage rate over his last 11 games, where he's posted a 27.9/4.5/7.5 scoring line on 43.9% shooting, logging over 38 minutes per contest for Nick Nurse. With the Heat's second best perimeter defender in Lowry being ruled out, FVV will be the focal point as opposed to Pascal Siakam on the inside, whom will be tasked with the potential return of Bam Adebayo.
On the Heat side of the ball, as I mentioned above, Jimmy Butler will be a prime focus for me on this slate. The all-NBA talent is simply too cheap for his upside; peripheral statistics are never an issue for Butler, who comes into this one averaging over 5.5 rebounds and 5.5 assists per game on the season, while also providing a scoring punch with 22.6 PPG. The Toronto zone defense is a daunting task, especially with rookie sensation Scottie Barnes and OG Anunoby on the wings, but Butler has proven to be efficient when not being guarded one on one.
OKC Thunder @ Dallas Mavericks (-11.5)
This game will largely be off the board for me. With Kristaps Porzingis making his return to the Mavericks lineup, Luka Doncic is simply too expensive for me to stomach in a matchup versus an OKC team that ranks 16th in the NBA in pace while also being 15th in defensive rating. Should you target anyone in this game, I side with Shai Gilgeous-Alexander, who offers tremendous upside for the upper mid range of the pricing grid, having sported a 29.2% usage rate on the season and comes into this one with three straight 20+ point performances, including 30+ in two of those three. Should you need the safer floor for your build, Josh Giddey, who has now scored in double figures in seven straight games while also averaging 7.4 RPG and 6.3 APG on the season, is a prime candidate for your NBA lineups tonight, especially when facing a Mavericks team that is far from elite versus secondary ball handlers.
Phoenix Suns @ San Antonio Spurs (+4.5)
The tilt between the Spurs and Suns will be a focal point for our NBA lineups, not only because all the Suns are priced down, but because the status of Deandre Ayton, who left the team's last game versus the Pistons with an ankle injury, remains up in the air. Should be eventually be ruled out, look for a combination of JaVale McGee and Jalen Smith to pop in our projections, while Jae Crowder will continue to see extended run, should Cam Johnson (ankle) miss another game for his team.
On the Spurs side of the ball, there will be no surprise when I say that I have extreme interest in Dejounte Murray at the top of the pricing grid. Having a career season, Murray comes into tonight's game sporting a 26.2% usage rate on the season, including a 31.3% rate in his last seven, where he's posted a 24.6/8.3/9.4 scoring line on 48.3% shooting. While the return of both Derrick White and Jakob Poeltl will scare the field off his daunting price tag, Murray has seen a season-high average in attempts in this recent stretch, putting up over 20 FGA per night in his last ten.
Utah Jazz @ LA Lakers (+4.5)
With the Jazz on the second half of a back-to-back, we could have some players sit out, including Mike Conley, but we likely will not have that news before lock. That being said, both Donovan Mitchell and Jordan Clarkson are players of interest in this game for me, facing a Lakers team that not only ranks 3rd in the NBA in pace, but also ranks 29th versus primary ball handlers. While LeBron James will always be an elite play on almost any given NBA slate, especially with Anthony Davis (knee) still out for the Lakers, Utah's 4th ranked adjusted defense (with Rudy Gobert on the floor) is not one I want to attack with so many options on this slate.
You can find us on Twitter @DFS_Ghost and @Bucn4life
Nicholas Di Tommaso has been playing daily fantasy sports everyday for the past five years, in addition to his season-long expertise across various sports. He has since set out to combine his passions of finance and sports to successfully become a professional DFS player. Having multiple GPP wins over the course of the last year (2019), the Canadian known as "Ghost" is seeking bigger and better things in the future. Nick loves a healthy balance of both cash games and tournament play, but prefers the latter, especially in NFL and NBA, where he mostly plays single entry GPPs and 3-max tournaments. The Montreal, Canada native is looking to put Win Daily Sports on the map by representing the North of the border in all fields, specifically NBA, NFL, NHL, MLB, and eSports.