NASCAR DFS Pit Stop: Xfinity Series New Hampshire 7/16
Published
2 months ago
on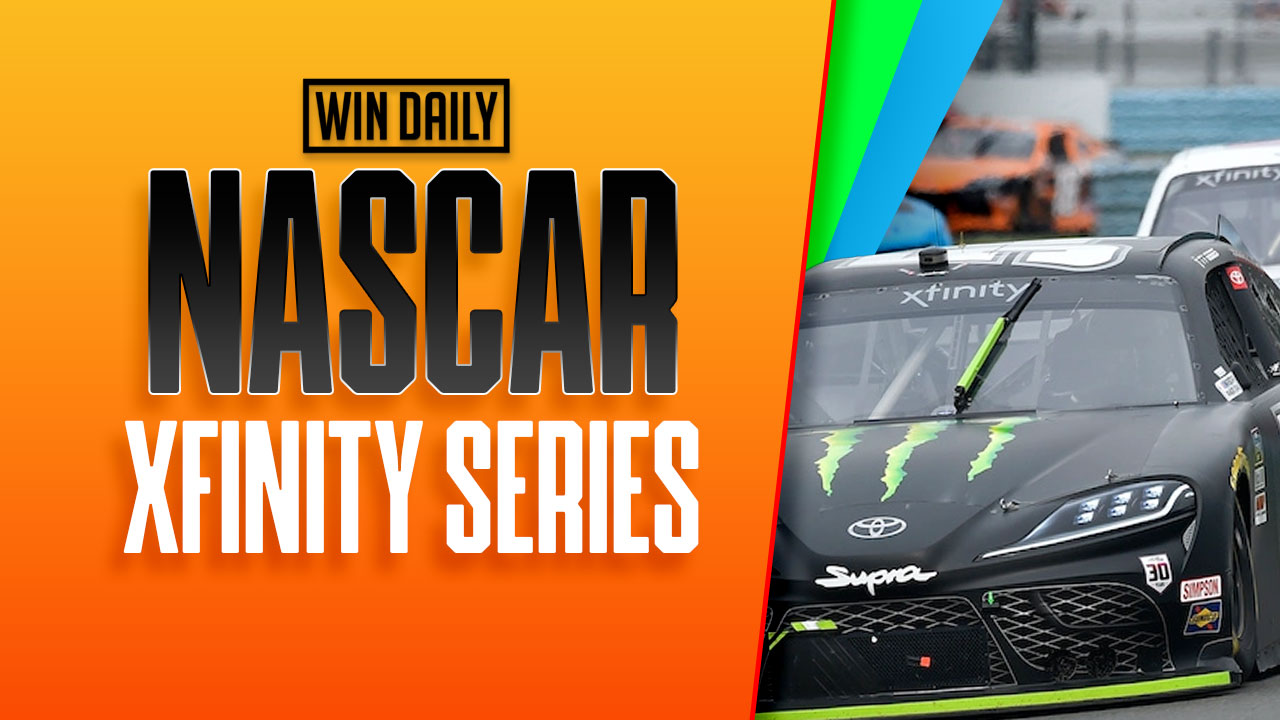 Welcome to the NASCAR DFS Pit Stop for Saturday's Xfinity Series race from Loudon, New Hampshire!
I can say one thing for absolute certainty about Saturday's Crayon 200, somebody other than Christopher Bell or Kyle Busch will this race for the first time since 2015. Toyota's, specifically JGR Toyota's. have dominated the Xfinity Series in Loudon dating back to 2008. Since then, Toyota has won 11 of 13 races and that dates so far back that Dodge was still fielding teams in the series when this dominance started. All three of the JGR Toyota's should be in for a great run on Saturday with all three fairing well in previous trips here or on similar track types in 2022.
Since we are on a short track this week that can only mean one thing, DOMINATOR points are in play! In the Xfinity race on Saturday, there are 200 laps which translates into 140 dominator points to be earned. These points will be critical, so my suggestion for building lineups will be to focus on picking your dominators and then looking at PD plays for the mid and value tiers.
Roster Construction
With 140 dominator points available we will need to find potential dominators. There are about 3-4 drivers I have pinpointed as dominators for this race. With how pricing worked out, we can fit three top-tier drivers into our lineups, 2 dominators with one other driver. After that, we can look at 2 value and one mid-tier to round out our lineups.
NASCAR DFS: Top Tier ($9K +)
William Byron ($11,100)
Starting Position: 10th
Byron is the highest-priced driver in the field on Saturday, but he is still viable for both cash and GPP. Starting from P10, Byron has the best PD upside in this tier but he also is one of the few drivers I see with dominator potential. In Friday's practice session, Byron was third fastest in single lap and had the best 10-lap average. Chevy's have not had great luck here recently in the Xfinity Series, but Byron will be among the most skilled drivers in the field and will be in some of the best equipment.
Joe Gibbs Racing Toyotas
Ty Gibbs ($10,600 – P4): Gibbs is one of the best drivers in the Xfinity Series and he is in a JGR Toyota so he has a lot of things on his side. One thing against Gibbs is he has never driven here at Loudon, but he has been successful at this track type in 2022. In three races at this track type this season, Gibbs has finished 6th, 1st, and 8th and led 311 laps in those combined races. Gibbs put down the fastest lap in practice on Friday and was top 10 in 10-lap average.
Trevor Bayne ($9,500 – P6): Bayne is in the #18 JGR Toyota this weekend, and is cheap enough to pair with Gibbs and another dominator for a two-man JGR stack. Bayne has three top 10's in four races here and has never finished lower than 13th here.
Brandon Jones ($9,100 – P8): Last season Jones had radiator issues so he finished 38th. Before that, though, Jones had finished between 6th and 11th in three of four career races at Loudon. In Friday's practice, Jones was fast running in the top 10 most of the session.
Josh Berry ($9,800)
Starting Position: 1st
Last season Berry ran his first career race in the Xfinity Series at Loudon and it was a success. In that race, Berry started 21st but finished 8th. Berry wasn't showing great speed in practice finishing 14th but in 10-lap average, he was 2nd quickest. Berry starts on the pole and is going to be a potentially low-owned dominator in this race on Saturday. While Byron and the JGR cars will be more popular, and safer, Berry could be the difference maker in DFS. I view Berry as a top 5 car and one of the favorites to win.
Other Options: Justin Allgaier ($10,100 – P3) – Allgaier is another driver I can easily see dominating this race on Saturday and should come in at lower ownership like his teammate Berry. Sam Mayer ($9,300 – P12) – Great PD upside here for a driver with top 5 upside. AJ Allmendinger ($9,600 – P7) – Kind of hard to rule out a driver who has led laps here in the past and has been consistent all season.
NASCAR DFS: Mid Tier ($7K – $8.9K)
Ty Dillon ($7,800)
Starting Position: 17th
Dillon had a momentous day off the track as PettyGMS announced he won't be back in the Cup Series #42 in 2023, but on track, Dillon had a good day. In Friday's practice session, Dilon looked fast in the Big Machine Racing #48 Chevy. In single lap speed, Dillon was 7th fastest, and in 10-lap average, he was 4th best. I didn't see anything in his qualifying lap that would worry me on Saturday and I view Dillon as a top 10 car with top 5 upside.
Jeb Burton ($7,300)
Starting Position: 23rd
Jeb Burton has a fast car coming into Saturday's race and should not be overlooked. Burton is a great cash game play, but can also be used in GPP's if he fits your builds. In Friday's practice session, Burton showed incredible speed and ability to get around this track putting up the 4th fastest single lap. Similar to Ty Dillon, Burton didn't have any issues in qualifying so I think he has plenty of upside on Saturday.
Daniel Hemric ($8,900)
Starting Position: 2nd
Hemric, similar to Berry, will most likely have next to no ownership on Saturday and has some dominator potential. Hemric is just a tick lower than Byron/Gibbs/Berry/Allgaier for me, but the potential is there. In his Xfinity career, Hemric has faired well at Loudon finishing 12th or better in each of his three career races here including his 3rd place finish last season. Hemric didn't look fast in practice, but he said after qualifying that his team made an adjustment between practice and qualifying and it showed.
Other Options: Derek Griffith ($7,000 – P22) – Another driver who has a fast car but a bad qualifying effort. Brandon Brown ($7,600 – P19), Myatt Snider ($7,100 – P25)
Value Tier (Under $7K)
Joe Graf Jr. ($5,900) – P26: Graf is not someone I love the idea of play, but there isn't much to love about this tier on Saturday. With that being said, Graf was a top 5 car in single lap speed on Friday and a top 15 car in 10-lap average.
CJ McLaughlin ($6,200) – P33: Since he wrecked at Daytona, McLaughlin has three straight top 25 finishes in the RSS #38. In Friday's practice session, McLaughlin was a top 20 car.
Ryan Vargas ($6,400) – P36: Since Richmond (9 races), Vargas has only finished lower than 26th one time (engine issues at Texas). I'm glad they priced up Vargas this week in hopes his ownership comes down, especially with him starting 36th.
Jeremy Clements ($6,800) – P21: Clements had top 10 speed in practice but is a GPP-only play for me.
David Starr ($5,600) – P31: Starr has three straight finishes of 27th or better and finished on the lead lap in each of those races.
JJ Yeley ($6,600) – P38: Yeley did not make a lap in qualifying so he will start last. While there is upside here, I worry that this car won't finish the race.
Josh Williams ($5,400) – P29
Make sure you head to the Win Daily Sports Discord for up-to-date info and help directly from our pros! Head over to Twitter and give the @WinDailySports account and me (@MVecchio81) a follow for all things Fantasy Sports! You can find more FREE NASCAR content over at WinDailySports.com!
Make sure to check out my NASCAR DFS Tutorial to make sure you are ready and understand how I break down the races and build lineups (https://windailysports.com/nascar-dfs-pit-stop-2021-introduction-to-nascar-dfs/).
There were a lot of changes in the cars and what driver is in what car/truck in 2022, check out my What's new in 2022 article (https://windailysports.com/nascar-dfs-whats-new-in-2022/)