NASCAR DFS Pit Stop: Cup Series Pocono 7/24
Published
2 months ago
on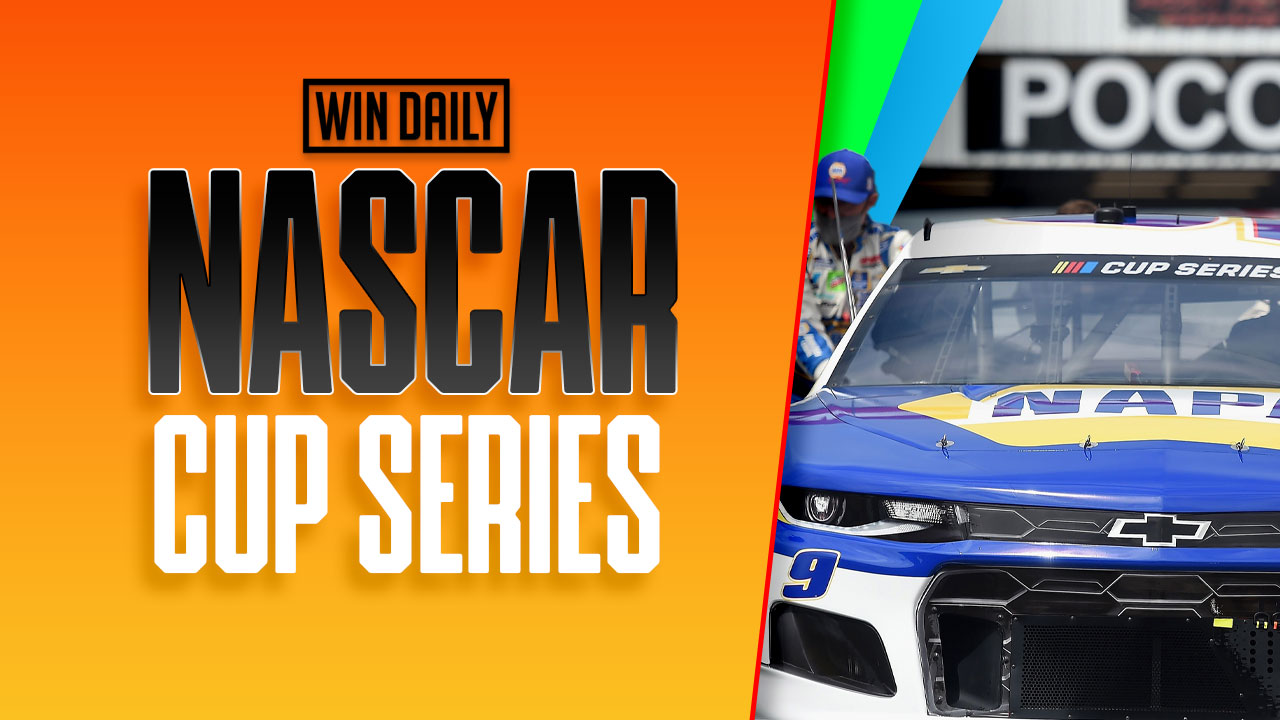 Welcome to the NASCAR DFS Truck Series for Sunday's M&M's Fan Appreciation 400 from Pocono Raceway. For those who don't know, Pocono is its own beast. It isn't an oval or a road course, it's a triangle, a tricky triangle to be exact. Pocono is a 2.5-mile track unique in ways other than its shape. Each of the three corners is modeled after different tracks but only one is consistent with a track NASCAR still runs at. Turn two, or the Tunnel Turn, is modeled after Indianapolis Motor Speedway and is widely known as the most difficult turn among drivers.
With this track being so large, there aren't a lot of laps in this race, only 140 to be exact, which means there are only 98 dominator points available in this race. While we don't need to chase these points, I still want to roster 1 or 2 drivers who could lead laps. Qualifying actually worked out and gave us a few drivers who have great PD upside and a few who have some dominator potential in the top tier.
Roster Construction:
When building lineups for Sunday, I want to start with 2-3 drivers from the top tier. There is one good chalk play in the mid-tier that I want to have a lot of exposure to and then you can finish your builds with 2 value plays.
NASCAR DFS: Top Tier – Dominators
Chase Elliott ($10,100)
Starting Position: 3rd
Elliott has finished 1-2-1-2 in his last four races and if we think this pattern continues, then Elliott should be a favorite to win. I do believe a top 3 finish is where Elliott ends up and winning this race is definitely a possibility. In those four races, Elliott has led 188 laps. Elliott was 10th in single-lap average on Saturday in practice, but he was 3rd and 1st in 5 and 10-lap average.
Denny Hamlin ($10,400)
Starting Position: 1st
Hamlin is a six-time winner at Pocono and while I am not looking back at previous you can't deny that Hamlin knows his way around this track. Post qualifying, Hamlin said that he was confident in his car going into Sunday's race. Hamlin has not had much luck in 2022 even though he has two wins but I would not be surprised to see Hamlin pick up his 3rd win on Sunday. All of the JGR cars looked fast on Saturday, not just Hamlin but more on those cars later.
Ross Chastain ($10,000)
Starting Position: 21st – will be starting at the rear
Chastain has a fast car coming into Sunday's race as he put up the top single lap time and the top 5-lap average in practice. Unfortunately, Chastain did some damage to his ride during qualifying and will have to start at the rear but that will not deter me from rostering him on Sunday. Over the Cup Series' last six races no driver has a better average finish than Chastain does (5.7) and he is 2nd best in total speed ranking. I hope that Chastain starting at the rear, but being scored from 21st, will pass on playing him and we can get the best PD place in this tier at low ownership.
Kyle Busch ($10,600)
Starting Position: 2nd
Kyle Busch is the reigning winner from last season at Pocono and should be considered a threat to win again on Sunday. In Saturday's short practice session, Busch was 7th fastest single lap as well as 6th in 5-lap and 2nd in 10-lap averages. Also, don't forget that Kyle's main sponsor is the sponsor for this race so there's that narrative as well.
Other Options: Kyle Larson ($9,800 – P4): Larson is only a play for me on DK this week at his low salary. Larson traditionally runs well here and was top 5 in practice on Saturday. Kevin Harvick ($9,000 – P24): Harvick has 11 top tens in his last 12 here and should be considered a top 10 threat again on Sunday. Harvick will be popular, but I don't mind eating this chalk. Martin Truex Jr. ($10,300 – P8): Truex will be fast on Sunday and should be a top 5 contender.
NASCAR DFS: Mid Tier
Erik Jones ($7,600)
Starting Position: 34th
Jones has a fast car and it showed in practice where he put down the 6th fastest lap and the 4th best 5-lap average. Even though he had a fast car, he qualified incredibly poorly because he rubbed the wall in during his lap and that is why he will start 34th. I expect Jones to be one of the highest-owned drivers on Sunday, but nevertheless, I plan to be overweight on him.
Christopher Bell ($8,900)
Starting Position: 11th
Now it's time to break down the last of the JGR Toyota's for Sunday's race. Bell was astonishingly fast in practice with only Ross Chastain putting up a fast single lap time and 5-lap average. Bell is coming off his first win in 2022 last week at New Hampshire and has seven top 10's in his last 10 races. Another thing that is in Bell's favor for Sunday is the fact he was one of the drivers who tested the new tire that Goodyear will be using this weekend at Pocono in May of this year. I don't view Bell as a driver who can threaten to win back-to-back races but he has a top 5 car and I would not be surprised to see him finish there Sunday.
Daniel Suarez ($7,900)
Starting Position: 9th
After a middling run before Sonoma, Suarez came out and won his first career race and that set him off on his best run of form this season. Including his win at Sonoma, Suarez has no finishes lower than 15th in those five races and has four finishes of 9th or better. Another reason to like Suarez this week is, like Bell, he tested these Goodyear tires here at Pocono back in May.
Other Options: Alex Bowman ($8,100 – P17), Tyler Reddick ($8,300 – P16), Austin Cindric ($7,200 – P20)
Value Tier ($6.9K and under)
Michael McDowell ($6,500) – P25: McDowell doesn't usually run well at Pocono, but he has shown us that his past history does not matter in 2022. This season, McDowell has been one of the most improved drivers and can't be counted out for a good finish on Sunday.
Chris Buescher ($6,800) – P5: Buescher was one of the fastest cars in Saturday's practice and will be a good GPP play on Sunday.
Justin Haley ($6,100) – P30: Haley is hard to get a feel for with three top 15's but also three finishes in the 20's in his last 6 races. I view Haley as a teens driver who, with attrition, could steal a top 10.
Cole Custer ($6,300) – P32: I don't expect a huge day out of Custer, but a low 20's finish at his salary and starting position will make value.
Cody Ware ($5,100 – P36: Am I really suggesting using Cody Ware on Sunday? Yes, I am. I don't like it but it makes sense. Ware has run well here in the past and since late May he has an average finish of 28.4.
Ricky Stenhouse ($6,600) – P19: As usual, Stenhouse is super risky, but there is some upside here. Stenhouse is probably a mid-teens driver for me on Sunday with top 10 upside.
Check out my NASCAR DFS Tutorial to ensure you are ready and understand how I break down the races and build lineups (https://windailysports.com/nascar-dfs-pit-stop-2021-introduction-to-nascar-dfs/).
There were a lot of changes in the cars and what driver is in what car/truck in 2022. Check out my What's new in 2022 article (https://windailysports.com/nascar-dfs-whats-new-in-2022/)