NASCAR DFS at New Hampshire: Picks and Qualifying Tidbits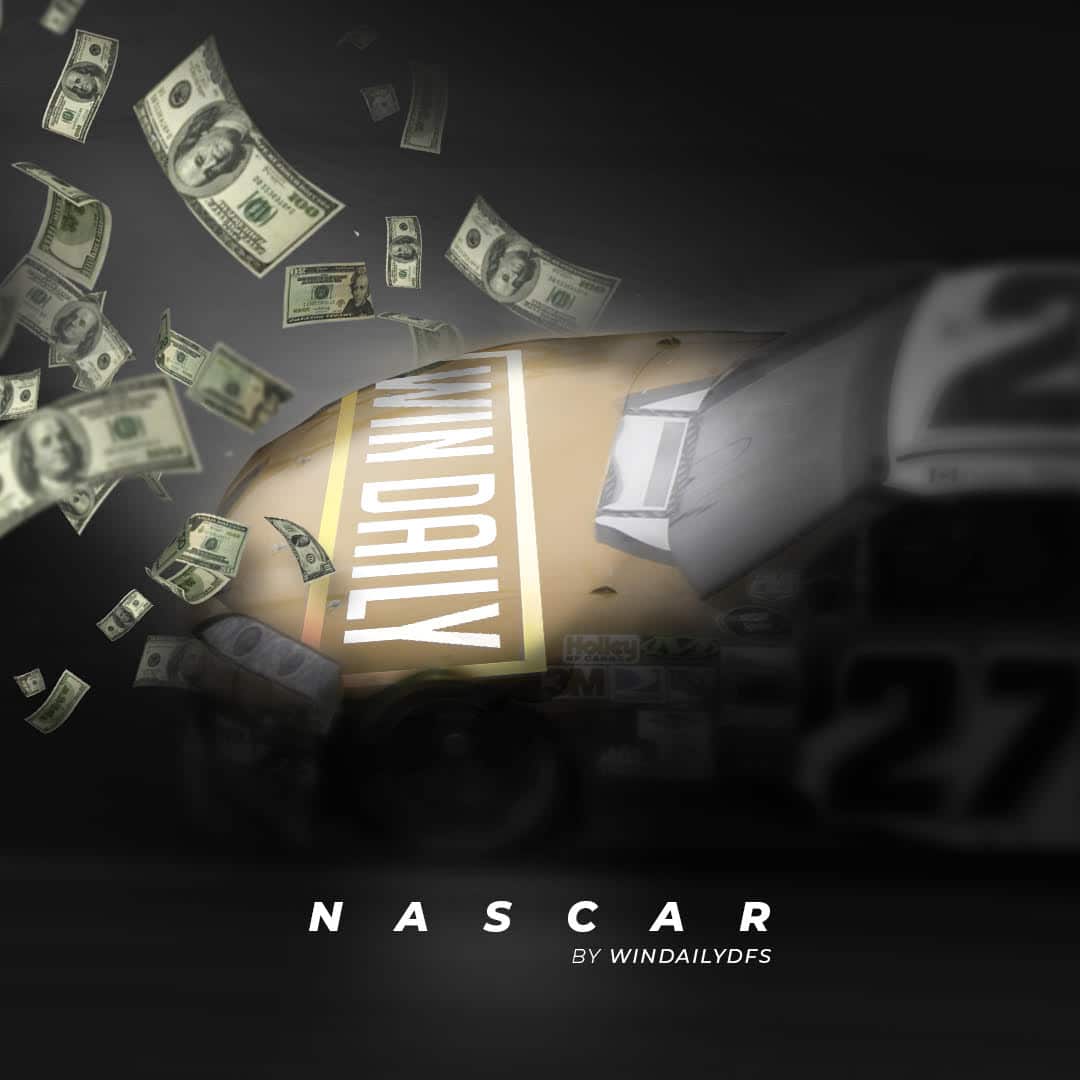 The NASCAR Monster Energy Cup Series heads to New Hampshire for the Foxwoods Resort Casino 301. This comes after one of the best finishes we have seen this year, and it was between the Busch Brothers. A late caution set up a Green-White-Checkered finish in which Kurt Busch raced around the outside of brother, Kyle, to get the win. Kurt Busch led 42 laps on his way to the win at Kentucky. Moving ahead, we will take a look at the top NASCAR DFS values at New Hampshire. Salaries are based on DraftKings.
Sign up NOW for WIN DAILY Premium Gold here. Projections, weather reports, wagering info, 24/7 expert chats and more.
Strategy
New Hampshire is just over one mile and they will run 301 laps in this one. This is not a track where qualifying up front means a whole lot as shown by the Top 10 in past years. There has been at least five drivers who qualified 10th or worse who have finished in the Top 10 in the last three years. There are often one or two drivers who will lead a lot of laps here, so getting one of those drivers will be key. This is a track to try and vary your NASCAR DFS team with high upside Place Differential guys and a driver or two who could lead a lot of laps.
High Salary ($9,000)
Kyle Busch ($11,900)
Kyle Busch is once again the top priced driver and he has been in contention here a lot lately. Busch has three Top 3s in his last four starts here and has led laps in each of the last five, over 95 on three occasions. His low Driver Rating over those five is 116. He has three wins at New Hampshire in his career and also has four runner-up finishes. Busch is always a good choice for NASCAR DFS if you can fit him in but it will be tough to build a team around him this week at his expensive price tag.
Martin Truex Jr. ($11,500)
Once again the runner-up in price is Martin Truex Jr. and for good reason. The series has featured a lot of quality tracks for Truex Jr. lately and this is no different. Although Truex Jr. does not have a win here in his career he has four straight finishes of seventh or better and crazy good Driver Ratings. His low DR in the past five years here is 117 and he peaked at 134.6 in 2017. He has also led a ton of laps here. In the past five races at New Hampshire, he has never led less than 85 laps and has led a combined 596 laps in that span. Truex Jr. should be a good NASCAR DFS pick this week.
Kyle Larson ($9,400)
We now get to a little more affordable drivers in this range. Larson has been very good at New Hampshire in the past. He has the third best Average Finishing Position, behind Busch and Truex Jr., at 5.33. Larson posted back to back runner-up finishes in 2016 and 2017 with Driver Averages of 112.8 and 122 in those two races. He finished 12th last year after starting 20th. Larson is coming off a solid stretch of races including a fourth place finish last week at Kentucky. I love his value here as I think he should be above the $10,000 mark at a track he loves and with a boatload of momentum.
Kurt Busch ($9,200)
Kurt Busch is coming off of his first win of 2019 after he believes he should have won the week before at Daytona. Beating his younger brother head to head has Busch's confidence sky high coming into the Foxwoods Resort Casino 301. He also has a quality history at New Hampshire and discounting his DNF in 2017, he has three straight finishes of eighth or better with Driver Ratings of 91, 97, and 124 last year. He is another NASCAR DFS play that I think is underpriced.
Erik Jones ($9,000)
Erik Jones is starting to heat up as the season moves along and added a third place finish last week at Kentucky. He had 21 of the fastest laps in that race and put up 70 NASCAR DFS points. Although Erik Jone's Average Finishing Position of 20.33 (includes a DNF) leaves much to be desired at New Hampshire, he has shown flashes here in the past and is on a roll lately. In 2017, Jones ran in the Top 10 all day and finished sixth with a Driver Rating of 111.3. I like his momentum and value at the bottom end of this salary range.
Mid Salary ($8,900 – $7,000)
Ryan Blaney ($8,600)
Blaney is ranked as the 12th priced driver this week and I think that is once again too low for him. Blaney has back to back Top 10s at New Hampshire and comes in with a decent amount of momentum. He has been running well lately and has an average Driver Rating of over 99 here in the past two races. Since stages were introduced, he has picked up stage points every chance here, and finished stage two second in both events the past two years. Blaney is a Mid Salary NASCAR DFS driver who I think should be priced in the High Salary range.
Daniel Suarez ($7,800)
Suarez once again lands on this list and he has not shown a reason to not be included. After leading 46 laps last week and picking up an eighth place finish, Suarez should ride his momentum into this weekend. His average Fantasy Points is equal to or better than five drivers priced above him. He always comes at a great price and helps bring some upside for a Mid Salary pick. Suarez has two Top 10s in his three career races at New Hampshire. He has an Average Finish here of 12 over the past three years which is better than some big names, including Kevin Harvick, Joey Logano, and Brad Keselowski. He should once again return positive NASCAR DFS value this week.
Ryan Newman ($7,600)
Newman comes into New Hampshire with a lot of momentum and some good track history. This has always been one of Newman's favorite tracks and he has three wins here in his career. He finished sixth here last year with a Driver Rating of 86.8. He has four Top 10s in his last five races this year and is right on the edge of the points standings cutoff, which will only motivate him more to run well.
Low Salary ($6,900 and lower)
Austin Dillon ($6,900)
Dillon has once again dipped into the low salary range and it makes him a target for NASCAR DFS this week. Austin Dillon has never finished worse than 22nd at New Hampshire and has seven Top 20s in nine chances here. His Driver Rating has been steady in the upper 60s and that gives him good value at this price.
Bubba Wallace Jr. ($5,500)
Another name that they refuse to show respect on NASCAR DFS sites is Bubba Wallace Jr. He is not astar, obviously, but to be priced this low doesn't seem right. He has been a safe play this year and has not finished outside the Top 30 in his last 10 starts. Wallace Jr. has one start at New Hampshire in which he qualified 27th and finished 24th, which gives plenty of value at a near minimum price.
Post Qualifying Tidbits
Alex Bowman ($8,900) has huge value for this weekend after not being able to put a lap down. He will start in last place and has huge Place Differential upside. Bowman went from off my list to a very valuable pick, especially in cash games, as he will be highly owned.
Kevin Harvick's ($11,100) value also went up because of Place Differential upside. He qualified 14th and should work his way into the Top 5.
Kyle Larson ($9,400) also had a value jump but he was never expected to qualify great here. He will start 15th and is still my favorite pick of the week for New Hampshire.
Value Increased Post Qualifying
Denny Hamlin ($9,700)
Ryan Newman ($7,600)
Austin Dillon ($6,900)
Value Decreased Post Qualifying
Brad Keselowski ($10,700)
Jimmie Johnson ($8,000)
Matt DiBenedetto ($6,600)
NASCAR Wild Card Pick (High Risk- High Reward)
Chase Elliott ($10,000)
Thank you for reading. You can join the Win Daily team by following the link here. This will give you access to all of the FREE content along with options to join our premium. Follow myself and Win Daily on Twitter at @thiel_boy and @windailydfs.
Ethan Thiel is an up and coming sports writer for WinDaily who specializes in writing about Daily Fantasy Sports. After many years of ups and downs on these sites himself, he knows the dedication it takes to get consistent and long term success. Ethan has been a sports enthusiast his whole life and follows closely with the NFL, MLB, NBA, NHL, PGA, NASCAR, and collegiate sports in these areas. Being in a sports filled family and reliving the glory days of playing himself has kept him involved with these sports even outside the fantasy world. To contact Ethan, please send emails to ethanthiel@ymail.com or reach him on Twitter @Thiel_boy.