NASCAR DFS at Daytona: Picks and Preview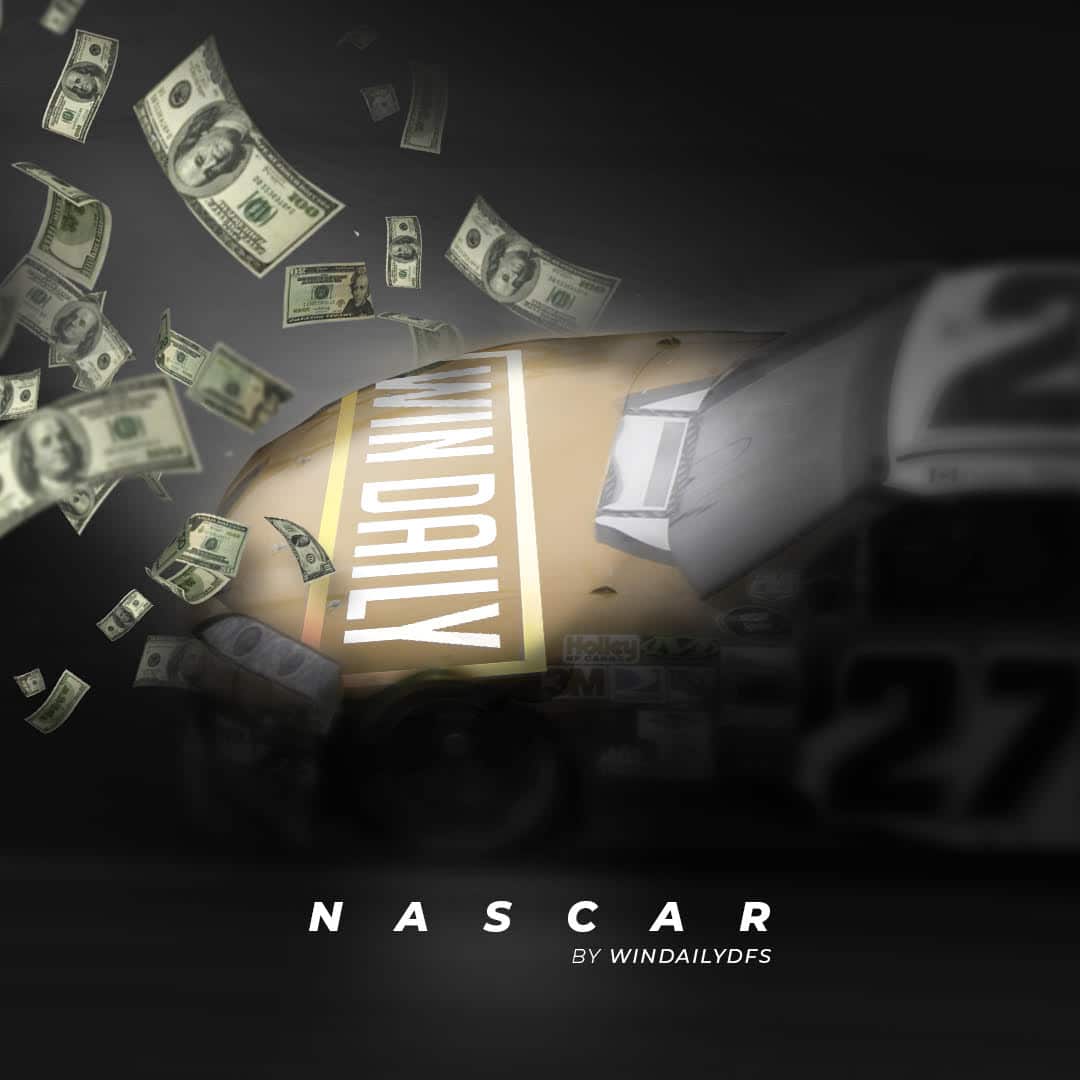 The NASCAR Monster Cup Series heads to Daytona for the second time this season after an exciting Camping World 400. Alex Bowman held off a late charging Kyle Larson to get his first career win in the Cup Series last weekend. NASCAR DFS players need to be aware that the Coke Zero Sugar 400 at Daytona will be on Saturday night.
Sign up NOW for WIN DAILY Premium Gold here. Projections, weather reports, wagering info, 24/7 expert chats and more.
Outlook
The strategies for races at Daytona and Talladega are completely different than for any other race tracks. Place Differential is the most important stat for these two tracks. Starting in the back does not signify a slow car in these races and provides upside compared to someone starting near the front. There is a some luck that goes into picking the drivers who will stay out of the wrecks but we can minimize that chance by rostering the ones who will get up front and stay there. It will be very important to check back after qualifying is done to see the high upside and low upside NASCAR DFS plays. These are guys I expect to run well but the picks can take a 180 degree turn depending on qualifying.
High Salary ($9,000+ on DraftKings)
I tend to stay away from the ultra high priced drivers at Restrictor Plate tracks because of the uncertainty that comes with these races. There are still a lot of good options here, especially in the lower range.
Joey Logano ($10,200)
Logano is priced as the fifth highest NASCAR DFS driver this week. In Logano's last seven races at Daytona he has two DNFs. If you exclude those two races, Logano has not finished worse than sixth. His teammate Brad Keselowski is often referred to as the top Restrictor Plate driver, but I would take Logano over him. Keselowski has failed to finish in four of the last five races at Daytona since winning in 2016. Logano has a good Driver Rating of 82.3 at Daytona since February 2017. One thing that tends to cap Logano's NASCAR DFS upside is that he qualifies well at Daytona, starting no worse than 15th since 2015. If he slips a little in qualifying he will be my top pick.
Chase Elliott ($9,900)
Although Elliott has had similar luck to Keselowski at Daytona, he has finished much better at Talladega. Elliott won at Talladega earlier this year and finished third there once last year. Elliott will be highly owned in NASCAR DFS but will most likely be less owned than the two right above him, Keselowski and Logano. He also qualifies well at the site but if he starts outside the Top 15 he will be a very popular NASCAR DFS choice.
Denny Hamlin ($9,000)
Denny Hamlin has been great at Daytona and is arguably the best driver at the site. Hamlin had a Driver Rating of over 100 eight times since 2012, which is really impressive for this type of track. He had one DNF in 2018 and one in 2017 but those are his only two DNFs since 2013. Since 2013, Hamlin has seven Top 6 finishes and two wins. He has been one of the most consistent drivers there and has shown a great ability to avoid wrecks. Hamlin is a bargain at $9,000 and should be considered for all lineups. He also qualified 10th or worse seven of the last 10 races at Daytona and started 35th or worse three times. He has a great feel for passing at Daytona and should provide huge upside.
Mid Salary ($8,900 – $7,000)
This is normally the salary range you need to nail if you want to be in the money in NASCAR DFS come race day. There are a lot of great Restrictor Plate options in this range.
Aric Almirola ($8,400)
Almirola, like many other big names, has crashed at Daytona in the past couple years. The last two races at Daytona, Almirola finished 32nd and 27th. That said, he has ran well until trouble came his way. He has a Top 10 Driver Rating at Daytona since February of 2017 and has been good going all the way back to his days in the 43 car. In Almirola's last nine races at Restrictor Plate Tracks (including Daytona 500 qualifying races), he has an Average Finish of 11.11 and a Driver Rating of 85.8, which is eighth best in the series in that span.
Ryan Blaney ($9,300)
Blaney has been one of the best under the radar Restrictor Plate drivers since he joined the Cup Series. Since February of 2017, Blaney has the third best Driver Rating in the series at Restrictor Plate tracks and is tops at Daytona (96.2). He has led the most Daytona laps over that same span with 142. Blaney's Average Starting Position is 14.8, which shows he can race up to the front in a hurry and stay there to avoid trouble. Blaney is my top NASCAR DFS value pick pre-qualifying and should provide value as long as he does not qualify in the Top 5.
Ricky Stenhouse Jr. ($7,400)
Ricky Stenhouse Jr. is widely known as a good Super Speedway driver and the numbers back it up. Stenhouse Jr. ranks fourth in Driver Rating at Daytona since February of 2017 and he has an Average Finish of 18.2. In that same span, he has led the second most laps behind only Blaney with 95. Stenhouse Jr. won this race in 2017 when he had a Driver Rating of over 100.
Low Salary ($6,900 and Lower)
There are a lot of very intriguing options in this range this week. Rostering one or even two of these guys will open up a lot of room for higher priced drivers.
Ryan Preece ($6,000)
Although his experience at Restrictor Plate tracks is limited, Preece has been good early in his Cup Career. He has raced once at each Daytona and Talladega and has finishes of third and eighth to show for it. He has ran all the laps and combined for a plus 40 place differential.
Michael McDowell ($5,700)
McDowell has always shown up ready to go at Daytona and has finished all but one race there since 2013. The race where he did crash (July 2018) was his best showing ever there, in which he led 20 laps and had a Driver Rating of 101.8. Six of his last seven races at Daytona ended with a Top 15 finish and four of those were Top 10s. McDowell is my favorite bargain NASCAR DFS driver pre-qualifying.
David Ragan ($5,600)
David Ragan has always been one of my favorite sleeper Restrictor Plate drivers. He seems to have a knack for running up front and even has a win to his credit in 2011. He finished sixth in 2017 in a race that he ran in the Top 10 the entire way and he was able to lead four laps.
Cornerstones
This is a tough week to find two guys to use here as qualifying means so much. We will try and find two guys who I don't expect to be on the front row.
Ryan Blaney and Michael McDowell are both way underpriced and both struggle to qualify at Daytona. Blaney's Average Starting Position of 14.8 and McDowell's of 21.8 both leave a lot of room for positive Place Differential. Their recent Daytona Driver Ratings of first and seventh show they are gruesomely underpriced. These two should allow you to roster any big name you want in the high salary range as well.
Thank you for reading. You can join the Win Daily team by following the link here. This will give you access to all of the FREE content along with options to join our premium. Follow myself and Win Daily on Twitter at @thiel_boy and @windailydfs.
Ethan Thiel is an up and coming sports writer for WinDaily who specializes in writing about Daily Fantasy Sports. After many years of ups and downs on these sites himself, he knows the dedication it takes to get consistent and long term success. Ethan has been a sports enthusiast his whole life and follows closely with the NFL, MLB, NBA, NHL, PGA, NASCAR, and collegiate sports in these areas. Being in a sports filled family and reliving the glory days of playing himself has kept him involved with these sports even outside the fantasy world. To contact Ethan, please send emails to ethanthiel@ymail.com or reach him on Twitter @Thiel_boy.