MLB DFS Winners and Losers: Marte, Sanchez and More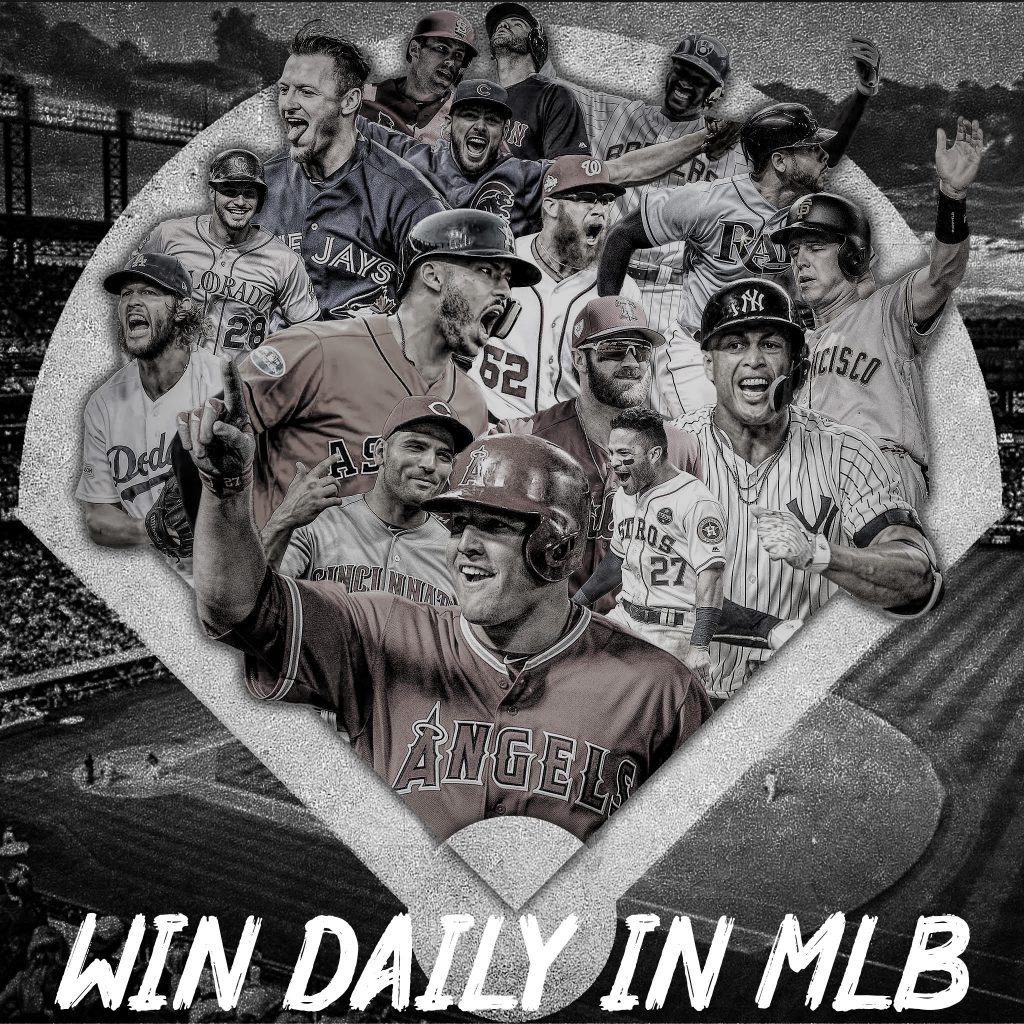 There was a 15 game slate on Sunday May 5th. The game between the Rays and Orioles was postponed. I will go into a few players who performed really well and some who underachieved in the Sunday games.
Winners
Starling Marte ($4,500)
Starling Marte and the Pirates faced off against Frankie Montas and the Oakland Athletics. Marte had a really good game, reaching base three times and hitting a dinger. He went 2-for-5 and had three RBI. Marte was able to put up 28 fantasy points on Sunday. He hit his fourth home run of the year and added RBI numbers 12, 13, and 14. His batting average now sits at .211 with a slugging of .411. Marte's numbers are down but he has had a better start to May than his injury-depleted April was. In his last four games he is 5-for-20, with a home run, four RBI, and two stolen bases.
Marte's Outlook
The Pirates have an off day on Monday before they host the Rangers for two games. Marte and the Pirates will face off against Adrian Sampson and Shelby Miller in these two games. The game on Wednesday against Shelby Miller is a possible one to exploit for Marte. Miller's ERA sits at a horrible 7.99 and his WHIP is equally as bad at 2.03. The slow start for Miller and Marte's success in his career against Miller will make him an option on Wednesday. Marte is 8-for-20 against Miller in his career which includes two triples.
Anibal Sanchez ($7,400)
Sanchez faced off against the Philadelphia Phillies and surprisingly only pitched 4.2 innings. On the surface this might lead you to think he pitched poorly, but he only gave up two hits and racked up nine strikeouts while not giving up any earned runs. Sanchez did take the loss in this game by giving up two unearned runs in the first inning. He was not economical either, throwing 108 pitches in his 4.2 innings. The big reason he is in the "Winners" section was his strikeouts. He now raised hit K/9 to to just a hair under nine. He gave his owners 24.90 fantasy points.
Sanchez's Outlook
Sanchez lowered his ERA to 5.16 and his WHIP also lowered to 1.66. He now sits at 0-5 on the year. His next projected start is against the Dodgers on Friday May 10th. The Dodgers have an electric offense, averaging 5.3 runs per game and have a team batting average of .256. Although Sanchez did just put up over 24 points, he has struggled so far this year. This is his first game this year where he scored at least 16 fantasy points and had averaged only 8.5 fantasy points per game going into Sunday. With the Dodgers' prolific offense and Sanchez's early struggles, I will not be rostering Sanchez in his next start.
Jonathan Lucroy ($3,100)
Lucroy faced off against the Houston Astros and went 2-for-4 with two home runs. Lucroy was accountable for three of the four RBIs the Angels were able to put up. Lucroy's batting average now sits at .265 with an OPS of .722. Lucroy has now gotten a hit in four straight and has five RBIs in that stretch.
Lucroy's Outlook
Lucroy and the Angels will face off against the Tigers in Detroit for three games starting Tuesday. Detroit's pitching staff has been just below average at home this year with an ERA of 4.31 and they are allowing a team batting average of .248. Lucroy has been playing well the last week and I think he is worth a look in this series. He will still come at a very reasonable price and he should have a good chance to extend his hitting streak in this series.
Losers
Whit Merrifield ($5,000)
Whit Merrifield and the Royals faced off against and Spencer Turnbull the Tigers. The Royals lost the game five to two and Merrifield went 0-for-5 with two strikeouts. Merrifield's batting average now sits at .285 and he sports an OPS of .856. He gave his owners zero points Sunday after putting up 25 in Saturday's game. This is his second zero point performance in his last three games. He has been boom or but the last week or so, scoring at least 12 points in four of his last six, while putting up zero in the other two.
Merrifield's Outlook
Merrifield and the Royals will face off against the Astros in Houston for a three game series starting on Monday. The Astros starting pitchers have some impressive numbers, as the worst WHIP of the three guys the Royals will face is 1.21. Houston's combined team ERA is fifth best in the league at 3.57 and also give up the lowest batting average at only .208. Merrifield has been good this year, but with a couple duds and the Astros pitching staff I am going to stay away from him in this series. The series against the Phillies comes after and that is an area I would look to roster him again, as the Phillies give up the fourth highest batting average at .270.
Nick Margevicius ($6,400)
Margevicius and the Padres faced off against the Dodgers at home on Sunday. He was roughed up on Sunday, giving up seven hits and three walks over 5.2 innings. He gave up three earned runs, one home run, and was only able to get two strikeouts. If you paid the $6,400 on Margevicius he gave you a lousy 0.15 points. Margevicius has actually pitched pretty well so far this year and his ERA was at 3.23 and his WHIP was at 1.11 before Sunday's tough game. He had put up at least double digits in all but one of his starts before Sunday.
Margevicius' Outlook
Nick Margevicius' next projected start is not until Sunday, May 12th. He will look to get his third win of the year against Nolan Arenado and the Rockies at Coors Field. The Rockies average five runs per game at home and have an impressive home team batting average of .264. Coors Field is a great hitter's ballpark and it will be a tough spot for Margevicius. After this rough start and having to play in Colorado I will be staying away from him in his next start.
Injury Report
Lorenzo Cain left after being hit in the hand by a pitch. X-rays came back negative and this doesn't look like it will be a long absence. Any games Cain misses will open up an opportunity for Ben Gamel to start in center field.
Khris Davis in the first inning on Sunday after crashing into the wall. The Athletics called it a hip contusion. Keep an eye on reports for him moving forward.
Ethan Thiel is an up and coming sports writer for WinDaily who specializes in writing about Daily Fantasy Sports. After many years of ups and downs on these sites himself, he knows the dedication it takes to get consistent and long term success. Ethan has been a sports enthusiast his whole life and follows closely with the NFL, MLB, NBA, NHL, PGA, NASCAR, and collegiate sports in these areas. Being in a sports filled family and reliving the glory days of playing himself has kept him involved with these sports even outside the fantasy world. To contact Ethan, please send emails to ethanthiel@ymail.com or reach him on Twitter @Thiel_boy.