Daily Fantasy Baseball Picks 8/13: MLB DFS Lineups
Here is a look on how some of our staff predicted winners on the Monday August 12 slate for MLB. You can access some of the content every day by getting a Premium Gold subscription.
8/13 MLB DFS Winner: Randal Grichuk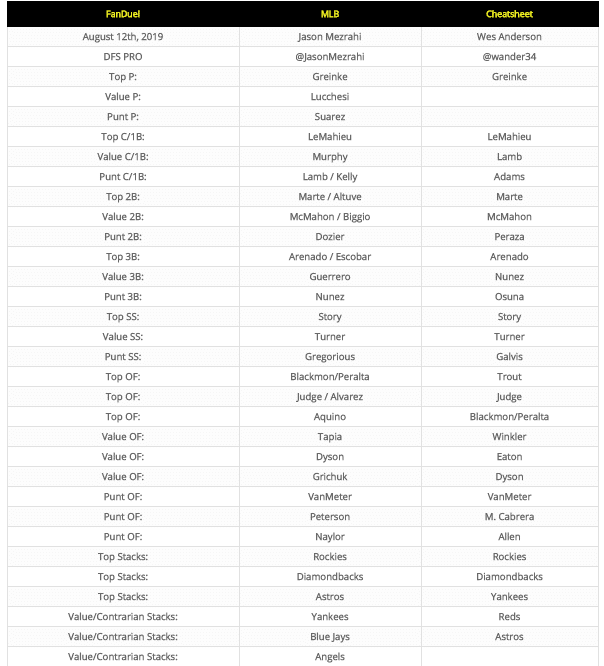 As you can see on the Premium Gold Win Daily MLB Cheatsheet, Jason Mezrahi thought Grichuk was a value pick in last night's matchup and he was right. Grichuk went 3-for-5 with a double, home run, three runs and four RBI against the Texas Rangers.
DFS Outlook: Grichuk has been hitting well in his last 15 games, .310 average with 5 HR and 12 RBI in that span. Going against Lance Lynn in tonight's matchup, I would be hesitant to look in this direction for my lineup.
8/13 MLB DFS Winner: Rougned Odor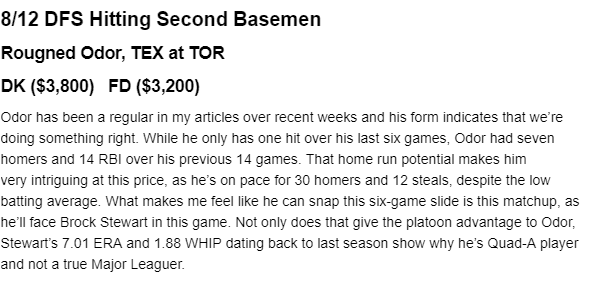 This snippet was posted in the Hitting Picks and Analysis piece that you can read here. Playing in Toronto against the Blue Jays, Odor went 2-for-4 with a home run, RBI and a run.
DFS Outlook: Odor has been stinking at the plate this last week. He has 35 strikeouts in his last 30 games as well. He will be facing Thomas Pannone, who needs to bounce back after his last start. Fade Odor in this matchup.
8/13 MLB DFS Winner: Raimel Tapia
Another pick by Jason on the MLB Cheatsheet that came to fruition, Raimel Tapia had a solid day at the plate against the Diamondbacks. Tapia went 3-for-5 with two RBI and a run scored.
DFS Outlook: Tapia is En Fuego since the All-Star break, hitting .341 in almost a month span. He will be facing Zac Gallen in tonight's game and should be in your lineup once again.
8/13 MLB DFS Winners: Toronto Blue Jays
Jason with the trifecta on the Cheatsheet! The Toronto Blue Jays had an offensive explosion against the Texas Rangers last night. The Blue Jays scored 19 runs on 21 hits with four walks.
DFS Outlook: Toronto had five (Randal Grichuk, Danny Jansen, Brandon Drury, Cavan Biggio and Justin Smoak) batters in their lineup drive in at least two runs. Going against Lance Lynn today, don't expect much offense against a Cy Young candidate.