MLB DFS: Picks and Pivots for Friday – 08/27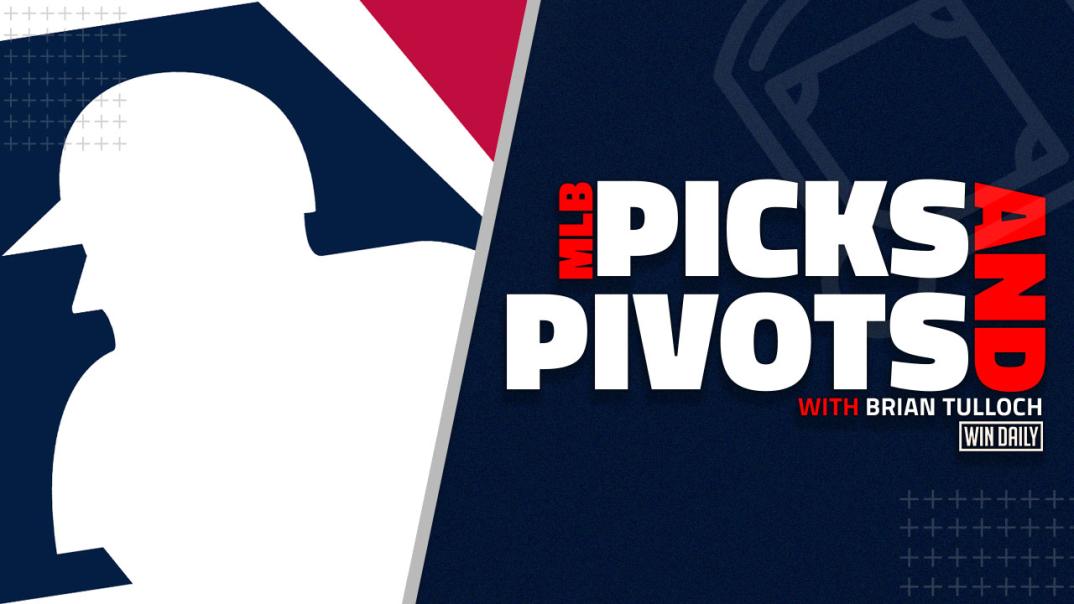 Welcome to the Friday edition of Picks and Pivots. Tonight we have a massive 15 game main slate of MLB DFS on DraftKings to navigate through.
Hey all, it's Jared and I'll be filling in for Brian the next couple of days. My goal today will be to walk you through my thought on process on tonight's slate and find the best path to victory.
Let's dig in to today's slates!
Main Slate Breakdown
With it being Friday we're back to having a full slate of games with all 30 teams playing tonight.  With that brings us a slew of options on both the hill and the at the plate. 
The make up of today's slate so far has me thinking that the good ole Double Aces strategy is very much in play.  In what has become a rarity these days we actually have decent amount of aces to pick from
Pitching Picks
With pitching tonight I'm going to live in the expensive tier.  There's going to be enough value with bats (I'll get to that in the stacks portion) on this slate that I just don't see any reason to live in the "let's get fancy with pitching tonight" arena .  My pool of pitchers tonight will consist of Gerrit Cole ($10.5k), Aaron Nola ($10.2k), and Joe Musgrove ($9.6k). 
Let's start with Gerrit Cole.  After having to relearn how to pitch without the sticky stuff he's really come on strong over the past month.  We have 30 pitchers on the mound and Cole far and away has the highest K rate over the last month at almost 36%. 
In 5 of his last 6 outings he has 12, 11, 8, 10, and 9 strike outs.  Over that period he's faced Houston, Boston and Tampa.  So some pretty solid lineups.  One of Cole's top pitches is his slider and if we look at the Oakland lineup he really has a chance to neutralize their core. 
Olson and Chapman both have whiff rates over 30% to the pitch and Marte really isn't too far behind.
My next pitcher will take us to Los Angeles with Musgrove.  Is Musgrove someone that gives up heartburn every time he's on the mound?  Yes, yes he does.  That said, he has a high ceiling for someone under $10k. 
The Angels are coming off back to back losses to a team that had previously lost 19 in a row.  They are also traveling cross country after being on the road for almost 2 weeks. 

Outside of Ohtani this is a pretty weak lineup.  If we take him out of this mix this is a lineup that has a .104 ISO against righties over the past month and a near 25% K rate.  I really like this spot for Musgrove tonight.  I will add though that if Musgrove becomes chalk I will probably fade.  No one likes a chalky Musgrove.
The last spot I'm looking at in the ace tier tonight is Aaron Nola against the Arizona Diamondbacks.  Over the last month Nola has some really impressive numbers with a 30% K rate and a 30% CSW.  Both numbers put him in elite category. 
The Diamondbacks are not an imposing lineup. There's a reason they are 40 games under .500.  If Nola's ownership projections come in low tonight I'll be sure to pair him with either Cole or Musgrove. 
Top Bats and Stacks
When Brian said he needed me to step in for PnP today I took a peak at the match ups.  I truly think Brian took off today because he just could not handle what he saw.  Tampa Bay Rays vs. Matt Harvey, in Camden Yards. 
I'm thankful this match up happened on a full slate vs. just a 6 game slate because we typically see ownership more spread out on a full slate.  I don't think we'll have to worry about ownership on a night like this. 
Harvey at this point in his career is someone that we want to target any time he's on the hill.  He had a pretty nice stretch after the AS break but all metrics said it was luck more than talent.  Over the past month it's been the lefties that have really been Harvey's Achilles heel. 
They have a .271 ISO and a 49% fly ball rate against him.  What do the Rays have?  A ton of lefties.  The main 3 pitches that Harvey will throw tonight are his 4 seamer, sinker, and slider.  His fastball has really been what's been getting him lit up.  Batters have a .561 slugging % against hit and a 50% hard hit rate. 
The guy that I'm most excited about with the Rays tonight is Brandon Lowe ($5.4k).  To start he has absolutely crushed fastballs this year, with a .698 slugging %.  He's also crushing righties over the past month with a .406 ISO.  Your leadoff hitter sets the tone and the Rays have a guy that will absolutely set the tone tonight. 
Other guys I'm interested in here are Franco ($5.3k), Meadows ($4.7k), and Arozarena ($4.5k). I'll also make sure to use either Phillips ($2.5k) or Kiermaier ($2.6k).
So we have double aces and expensive Rays, how are we going to afford them?  Let's go to Citi Field with Rich Hill on the mound vs. the Washington Nationals.  The Mets are a mess right now and Dick Mountain on the mound isn't going to help. 
He's been a homer giving up machine over the past month with 5 in his last 21 innings of work.  Righties have been torching him with a .364 ISO. 
I'm looking at the Nats tonight because they have what we need.  Cheap righties.  The Nationals have 5 righties tonight under $3k.  My main focus will be Barrera ($2.3k), Thomas ($2.2k), and Kieboom ($2.3k).  These 3 guys all fit in spots where we have gaps with the Rays.  They are also happen to be doing really well against lefties. 
Over the last 30 days Barrera has a .463 wOBA, Thomas has a .746 wOBA, and Kieboom has a .327 wOBA.  Cheap productive righties against a southpaw getting handled by righties is a great recipe and one that we'll look to really take advantage of tonight. 
MLB DFS Picks and Pivots – The Wrap-Up
The Nationals tonight are really going help us tonight get double aces and the Rays.  When I looked at this slate the first thing I did was ask myself, "what would Brian do?".  This is it. At least I hope it is.
Good luck and hope to see you in the green!
Make sure you follow me on Twitter at @rangerzfan79 and be sure to sign up for an ALL ACCESS GOLD ACCOUNT here at Win Daily Sports. Gain access to our Projection Models and jump into our Discord where we will have our experts talking plays across every sport and slate!
New to the DFS writing world but have been playing DFS since BVP was cool. Started play season long fantasy when sporting news was used to calculate weekly scores. Originally from Brooklyn, NY but now a Baltmore resident.