MLB DFS Hitter Stacks for DraftKings and FanDuel on 8/6/22
Published
10 months ago
on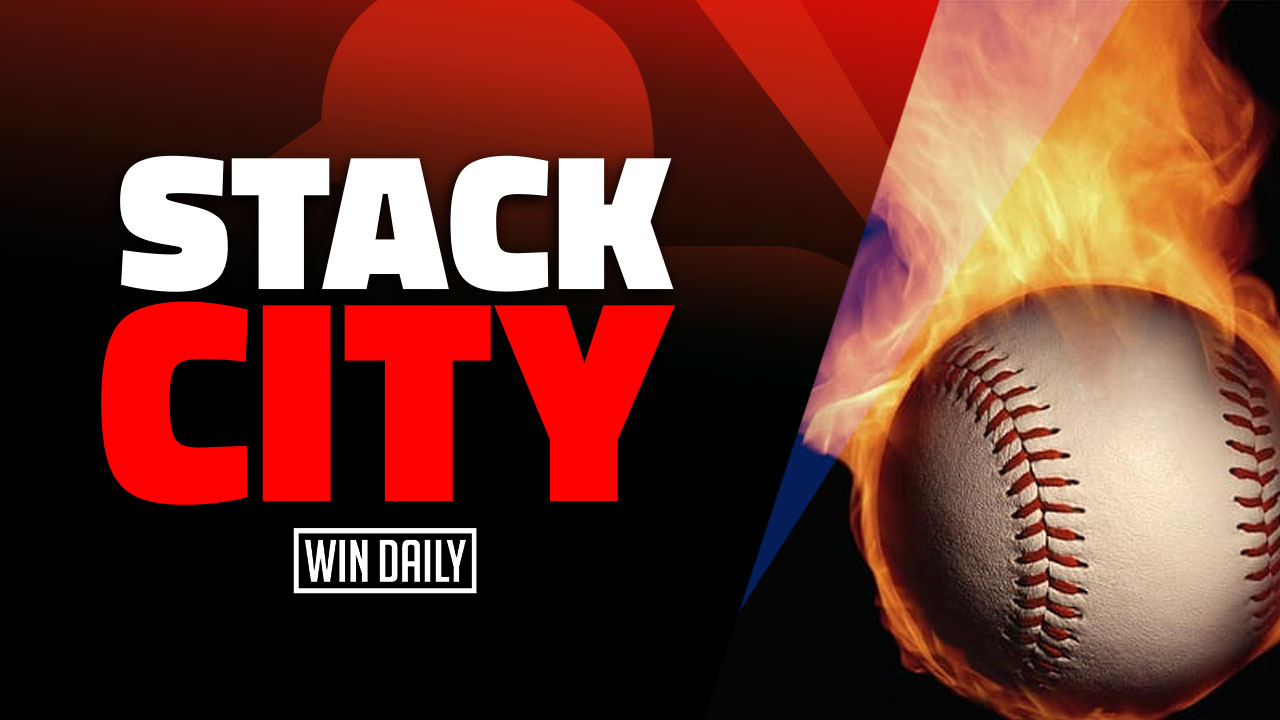 Welcome to the Saturday edition of the Stack City, where I'll be going through the top MLB DFS Stacks on DraftKings and Fanduel.
The MLB DFS action gets started with a three-game slate beginning at 1:10 PM EST, and once again, I'll give you some notes on that. But the main slate consists of 10 games and kicks off at 7:05 PM EST, and that'll be our focus. That's what Adam's Starting Rotation article is looking at the 10-game main slate and his insights plus the right stacks will help us find the winning combos in GPPs.
Now it's time to get to the stacks and build that bankroll!
MLB DFS Hitter Stacks – 1:10 PM (Early) Slate
Game Stack: New York Mets vs. Jake Odorizzi
(& Atlanta Braves vs. David Peterson)
It's very difficult to get into any of the other stacks on the thin early slate. I'd attack Drew Smyly but the Marlins are the worst in baseball against southpaws. I'd consider the Angels in a sneaky spot but they're facing George Kirby, who has the best SP projection on the early slate. We could possibly consider a few Mariners (with focus on their 3-7 hitters), but they're pretty awful against RHP and there's still no Julio Rodriguez in that mix.
I could see the ATL-NYM game piling up the runs a bit in a hitter-friendly weather environment, so that's what I'm going to attack. I love the 1-5 hitters for the Braves, including a $5K Ronald Acuna, Jr., who went 4-for-5 last night and hit a homer on Thursday against these Mets. Austin Riley, Travis d'Arnaud, Matt Olson and Dansby Swanson all seem to be a little cheaper than they were a couple of weeks ago.
The Mets actually have the slightly higher projected game total, and the best options are Pete Alonso, Starling Marte, Francisco Lindor, Brandon Nimmo and Tyler Naquin — who's really found a home in Queens. I'd be more apt to experiment a bit more with a smattering of options since they have so many solid lefties in their lineup, including a $3,500 Daniel Vogelbach and Luis Guillorme, who's 2B/3B eligible. I want Riley at third so you'll be deciding between Guillorme and Jeff McNeil for the keystone.
Rest of the early slate: I guess we could try a few Cubs since they're at home and the wind isn't blowing in, per se. Rafael Ortega, Willson Contreras and Ian Happ (the projected 1-3) seem like a fun little mini-stack. My favorite one-offs include Shohei Ohtani vs. George Kirby and Miguel Rojas ($2,900) batting leadoff for Miami.
MLB DFS Hitter Stacks – 7:10 PM (Main) Slate
New York Yankees vs. Jordan Montgomery
The Yanks get to face their former teammate, a southpaw no less, and I hope we can limited the range of narratives to the Bombers prevailing. It's much more likely that between the minds of Kyle Higashioka (slated to catch tonight) and ascending backstop and AL All-Star Jose Trevino, they'll know exactly what Monty is up to and the likes of Aaron Judge, Gleyber Torres, D.J. LeMahieu, Anthony Rizzo and Josh Donaldson will be up to the task of beating him around the park.
New York has a collective 128 wRC+ facing LHP, and even value options like Aaron Hicks ($2,900) and Tim Locastro ($2K minimum) are in play here. I have plenty of confidence in Domingo German, but St. Louis won't go lying down and I might run a few lines with Cardinals runbacks, including Paul Goldschmidt, Nolan Arenado and Nolan Gorman.
Boston Red Sox vs. Daniel Lynch
Daniel Lynch has his moments, but he's still yielding way too much hard contact. One of my favorite stacks of the night, the Red Sox are still loaded with talented hitters and the meat of their lineup remains a tough stretch for any opposing pitcher.
I'm mostly interested in getting exposure to their projected 1-5, which includes cheap leadoff option Jaylin Davis, the newly acquired Tommy Pham, Rafael Devers, Xander Bogaerts and J.D. Martinez. I don't think we should overthink getting shares of Boston tonight, even if it's away from Fenway.
Value Stack: Arizona D-Backs vs. Antonio Senzatela
The usual suspects for the D-Backs should do in this tasty matchup against Senzatela in still-hitter-friendly Arizona. The best hitters on this team have great track records against the Colorado starter, and I'm prioritizing Christian Walker, Josh Rojas, Ketel Marte, Alek Thomas and Daulton Varsho.
In fact, I'll probably just use that 1-5 as my full stack in about one-third of all my builds for tonight and hope it comes through as well as I think it should. YOLO, LFG and any other fun acronyms you can think of as this lineup should be the talk of Discord tonight as we approach lock.
Game Stack: San Diego Padres vs. Los Angeles Dodgers
Mookie Betts, Freddie Freeman, Trea Turner and Will Smith are the big names you want shares of, but I'll be getting some exposure to Joey Gallo in his new digs and using Cody Bellinger in a few lineups as he could respond well to the No. 9 spot after once ascending to MVP way back in 2019, when masks weren't a thing and insurrections primarily took place in other countries.
For San Diego, we'll have to mix and match to round out our game stacks, but I feel wary limiting our player pool to Manny Machado, Juan Soto and Jurickson Profar, which was my original plan. Josh Bell hits well from both sides of the plate and a rejuvenated Brandon Drury seems happy to be in town. Additionally, there's great value in both Wil Myers and Austin Nola.
While it's not officially a late night hammer since there's also a 10:10 PM game between the Angels and Mariners, I'm fine with huge concentration of the MLB DFS hitting action staying right in LA at Chavez Ravine.
Slate Summary: There are clear-cut options for stacks today and Adam Strangis has once again given us plenty of pitching options, so let's put ourselves in position for some green screens using the articles and projections — and finalizing things based on late-breaking lineup news and via Discord chat. Good luck today!
I'm a writer from upstate NY in a cool little Hudson River town called Coxsackie. Too many interests to list, but the films of David Lynch, the books of Kurt Vonnegut, the music of Jack White and the maddening sport of golf are near the top of my list. Big into DFS, specializing in baseball, football, golf and hoops. I've written for FFToday.com, RotoExperts and Baseball America, to name a few.