MLB DFS Hitter Stacks for DraftKings and FanDuel on 8/28/2022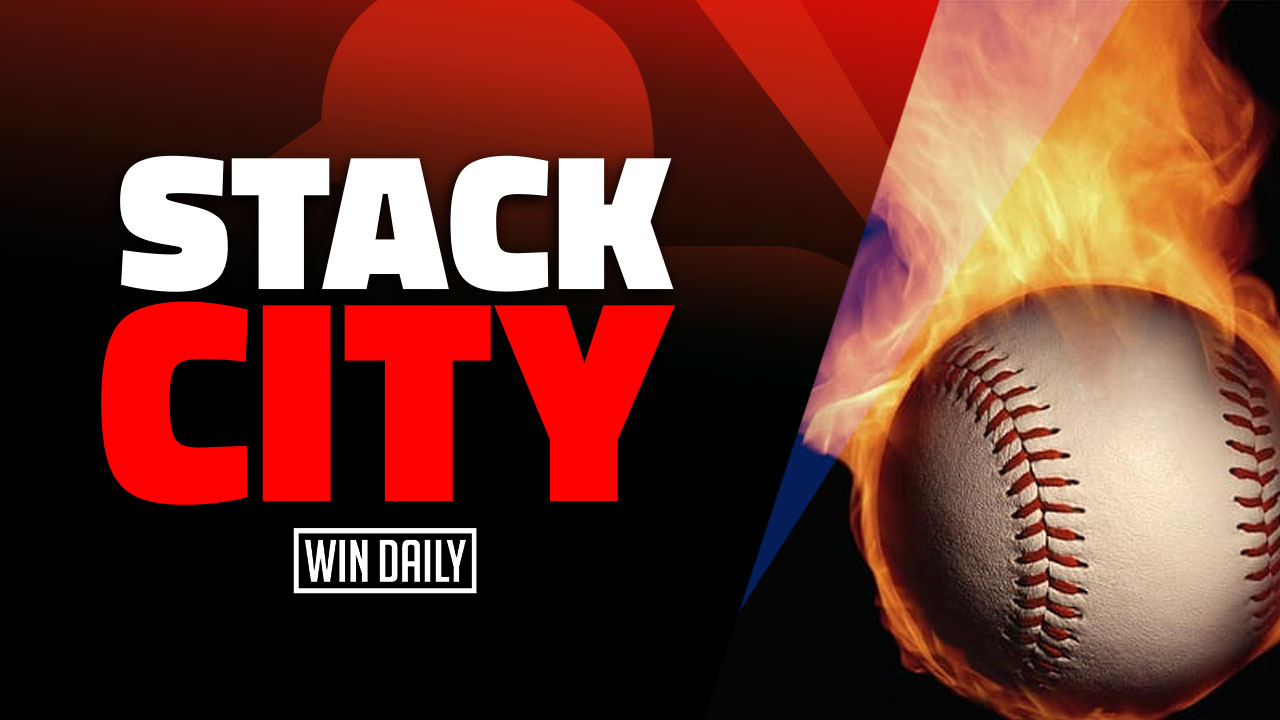 Welcome to the Sunday edition of the Stack City, where I'll be going through the top MLB DFS Stacks on DraftKings and Fanduel.
Once again, we have a large afternoon slate that serves as the featured slot for the largest MLB DFS contests on both sites starting at 1:35 PM EST. Since the pitching options today include some truly expensive studs (and the most pricey of all — Max Scherzer — will make it into the bulk of my GPPs regardless), I'll be including more than one value stack option so there are ways to make any combination work.
Now it's time to get to the stacks and build that bankroll!
MLB DFS Hitter Stacks – 1:35 PM EST
Toronto Blue Jays vs. Tucker Davidson
It's between the Padres, Blue Jays and Phillies for the top spot in obvious stacks to play based on projected team totals today, but the Blue Jays' top bats are a smidge more affordable, even if the full stacks ends up costing about the same. For this reason, I'll give them first billing, and get into the reasons why Davidson and his hellish 6.23/5.63 ERA/FIP is the best to attack.
The 1-2 punch of George Springer and Vladimir Guerrero, Jr. at the top of this lineup is a great way to start your MLB DFS stacks today, especially when considering the amount of success those two hitters have had vs. FA/SL, Davison's top two pitches, which make up about 85% of his total arsenal. After that, we can mix in shares of Lourdes Gurriel, Jr., Alejandro Kirk and Matt Chapman, though we'll have to hope lefty-killer Teoscar Hernandez gets thrown a lot of fastballs if we're going to plug him in, since he's among the team's worst at handling the slider. Value fill-ins include Santiago Espinal, who does his best work vs. LHP.
The trick to this slate is going to be finding the right value plays. Starting out a lineup with Scherzer/Stripling and Vlad/Springer/Chapman/Espinal leaves a little over $3K for each of the remaining four MLB DFS lineup slots.
San Diego Padres vs. Jonathan Heasley
If Toronto isn't your thing, we can look to Juan Soto and his wonderful ways of walking. Soto owns the highest walk rate in baseball this season (20.7%) and the second-highest OBP in baseball (.413, after Paul Goldschmidt's .423 mark), and that kind of patience can flummox a starter like Heasley (4.52 BB/9).
The Padres top hitters cost a mint: Soto is $6,400 and Manny Machado is $6,300, while both first baseman Brandon Drury and Josh Bell, are both over $5K themselves. The best options we can find that are somewhat affordable are probably Jake Cronenworth at $4,400, C Luis Campusano ($2,500) and OF Trent Grisham ($3,400).
It'll take two value SP to get the Padres stack in there, but in multi-entry GPP that's not a terrible strategy to deploy in at least one or two of your 20 max GPPs, because not too many folks will be able to afford going hog wild with Padres.
Philadelphia Phillies vs. Roansy Contreras
The Phillies actually have the highest projected total of the big three I mentioned earlier, and they're almost as expensive as the Padres, with Kyle Schwarber and Bryce Harper costing $6K and up and J.T. Realmuto priced somewhat ridiculously at $5,800. We could see left-handed batter Garrett Stubbs filling in at catcher today for Realmuto, and Rhys Hoskins ($4,800), Nick Castellanos ($4,500) Bryson Stott ($4,100) almost feel like value plays.
Perhaps the sneakiest plays are the hot-hitting Alec Bohm at $4,400 and Brandon Marsh at just $2,200. While the 24-year-old Marsh has been struggling at the dish lately, he's been far more productive in day games — "slashing .329/.394/.459 in 85 at-bats compared to .189/.242.305 in 243 at-bats at night" — a nice little tidbit from his DK preview blurb for today's game.
GPP Value Stack 1: Cincinnati Reds vs. Patrick Corbin
At WinDaily, and especially in our Discord chat, we're all about attacking Patrick Corbin ever chance we get, and today is no different. The Reds have plenty of pop and upside even with the affordable price tags, and even if they get a little chalky we can find ways to differentiate.
One of the interesting things about this matchup is that the Reds have very little experience against a veteran pitcher like Corbin, and whatever history they do have has not been marked by any significant success. But we're not here to fool around too much with small-sample BvP data, so I'm fine starting off my stacks with Kyle Farmer, Jonathan India, and Donovan Solano, then mixing in shares of very cheap options Aristedes Aquino and Stuart Fairchild, who both makes for great value plays at the DK minimum $2K.
The Reds could be slate-breakers, especially the projected 3-6 hitters in Solano, Farmer, Aquino and Fairchild. It's a stack that lets you go double-aces with your SPs.
GPP Value Stack 2: Milwaukee Brewers vs. Adrian Sampson
Rowdy Tellez, Christian Yelich, Kolten Wong and Omar Narvaez are the LHBs we look to roster when the Brewers are facing a hittable RHP, and that's what's on tap today for this value squad. Amazingly, on the same slate where we can complain about the prices of the Padres, Phillies and Blue Jays, there's a way to get the aforementioned Reds 3-6 stack, some of the best hitters from Milwaukee (my first build had Willy Adames with Yelich, Wong and Narvaez), the two top aces in Scherzer and Justin Verlander, and there's STILL $2K on the table.
So no belly-aching about the pricing on DK, because we are going to make it work — and make it profitable!
Also consider:
Not-so-sneaky GPP Stack – New York Yankees vs. Adrian Martinez (OAK): I don't need to tell you to play Aaron Judge, Andrew Benintendi, Giancarlo Stanton and Anthony Rizzo. But here I am, on a Sunday morning, typing it into my article, because there's just a lot of good stacks available today.
Sneaky GPP Stack – Chicago White Sox vs. Zach Davies (ARI): The player pool I'm focusing on includes Gavin Sheets, Andrew Vaughn, Jose Abreu, Eloy Jimenez and value options Josh Harrison (DTD) and Romy Gonzalez (leadoff?).
Value Stack #3 – San Francisco Giants vs. Anibal Sanchez: While we typically view the value coming from the righty-heavy Giants lineup, today they face a righty, so it's Lamonte Wade, Mike Yastrzemski, Joc Pederson, Tommy La Stella and a few guys from the GPP RHB value, including Wilmer Flores, Evan Longoria, Thairo Estrada and catcher Austin Wynns.
Good luck today, and please remember to show us those green screens in Discord!
I'm a writer from upstate NY in a cool little Hudson River town called Coxsackie. Too many interests to list, but the films of David Lynch, the books of Kurt Vonnegut, the music of Jack White and the maddening sport of golf are near the top of my list. Big into DFS, specializing in baseball, football, golf and hoops. I've written for FFToday.com, RotoExperts and Baseball America, to name a few.