MLB DFS Hitter Stacks for DraftKings and FanDuel on 8/20/22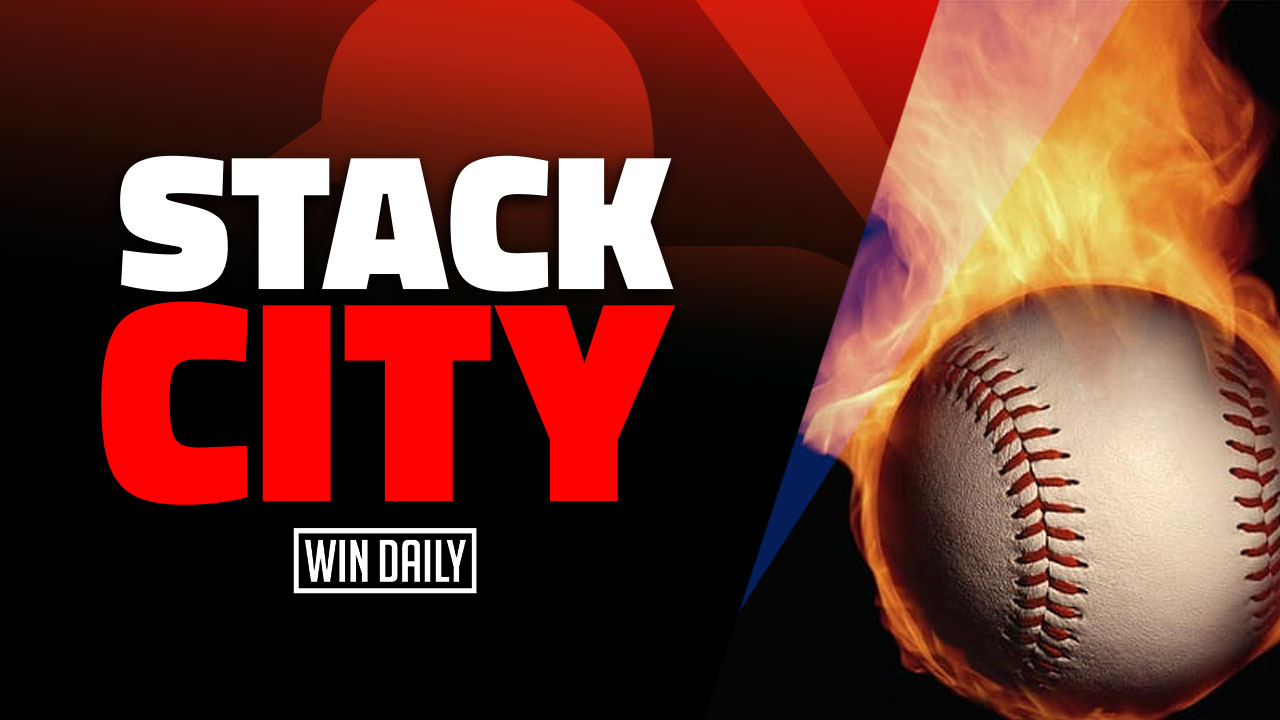 Welcome to the Saturday edition of the Stack City, where I'll be going through the top MLB DFS Stacks on DraftKings and Fanduel.
We've got ourselves a split slate today, with six games kicking off the 1:05 PM EST contests on DK and nine making up the featured 7:05 PM EST slate. Adam's Starting Rotation article, as always gives a starting point before we dive into the stacks to build around for the big bucks. He's looking at the 7:05 slate, and while most of my research will focus on the same, I'll get into the early contests as well to give you some ideas for an early Saturday GPP takedown!
Now it's time to get to the stacks and build that bankroll!
MLB DFS Hitter Stacks – 1:05 PM (Early) Slate
New York Yankees vs. Mitch White
The Yankees are in the middle of an epic skid — one that can largely be traced to an offense that's produced a .179/.241/.269 team slash in the past seven days, and has scored just 14 runs. By comparison, the Braves have a league-leading 48 runs scored in that same span. If you're not into using them today against Mitch White, I totally understand, but White — who moved to the AL's Blue Jays from the Dodgers at the deadline, is still wearing blue and is about the same exploitable pitcher he was in the senior circuit.
The biggest difference is that his fastball has not played in the AL East as well as it did on the left coast, and he's resorted to throwing his changeup a bit more at the expense of a developing curveball. The Yanks, as a team, have done well this season against all three of those pitches, and I'm willing to throw out the small sample and bet on a progression in the coming games for the Bronx Bombers. That starts today with stacks built around Aaron Judge, Anthony Rizzo and Josh Donaldson. My next two favorites are D.J. LeMahieu and Andrew Benintendi, though I could see myself plugging in Gleyber Torres on builds where I can't get to Donaldson or DJ.
There's salary relief at the bottom of the order if you need it, but I have a feeling the heart of the Yankees order gets it done today at home.
Milwaukee Brewers at Chicago Cubs (Sneaky Game Stack)
The weather is a little dicey but this game could be a huge leverage play with the wind blowing out to lefty on Wrigley. Time and again we've seen the Cubs put up big run totals at home against division rivals, and this pitching matchup doesn't do anything to scare me off looking directly at the bats for both teams.
For Chicago, the top performers against righty pitching and in this particular matchup look to be Ian Happ, Wilson Contreras, Christopher Morel and Franmil Reyes, but Nick Madrigal is having a nice stretch as the leadoff man and Seiya Suzuki, Nico Hoerner and Patrick Wisdom are in play as well.
The Brewers are more or less straight forward on their player pool for stacks, with Willy Adames, Christian Yelich, Rowdy Tellez, Kolten Wong and Hunter Renfroe the bats with the most upside.
Also consider:
Boston Red Sox vs. Kyle Bradish: If Tommy Pham remains out with the lower back tightness that saw him remove from Friday's contest early, I'm looking squarely at the 2-6 hitters for Boston and maybe mixing in some Christian Arroyo.
Philadelphia Phillies vs. Trevor Williams: There's an exciting BvP track record of these Phillies against Williams, and enough value that we can probably start Cole/Wheeler as our SPS and still field a decent full stack like 1-4-6-8-9.
Los Angeles Angels vs. Tyler Alexander: They're a longshot to lead the slate in offense but it's never a bad thing to make at least one lineup with Mike Trout and the value guys from the Angels.
Slate Summary: I'm definitely looking to get the top two arms in most of my builds but we can deploy a high-K guy like Reid Detmers and the near no-no recency of Drew Rasmussen to get more big bats.
MLB DFS Hitter Stacks – 7:05 PM (Main) Slate
St. Louis Cardinals vs. Madison Bumgarner
I've never heard of "Big Cowboy Energy" before, but that doesn't mean it doesn't exist, or that this Cards team isn't fueled by it. In fact, we'll be counting on some of that energy when we build our stacks around Paul Goldschmidt and Nolan Arenado, the two main horsepower suppliers of the convoy that is the Cards lineup.
It's borderline painful we have to choose between Goldy and Albert Pujols, especially with the veteran HOF shoo-in so close to 700 career HR, but there's just one 1B slot on DK and "dems da breaks." While righty bats like Tyler O'Neill and Paul DeJong are also a priority and deserve to get exposure, switch-hitting leadoff man Dylan Carlson is my favorite option behind the top two mashers.
On FanDuel, I'd be looking firmly at getting different four-man combos of the 1-5 hitters going and then filling in the blanks after you settle on a top arm.
GPP Stack: Minnesota Twins vs. Glen Otto
The Twins 1-6 hitters are just stacked, and since we're in Stack City, we'll be posting up right there for the majority of Minnesota builds, getting shares of Luis Arraez, Byron Buxton, Carlos Correa, Jorge Polanco, Max Kepler and Juan Miranda. But I'm also quiet interested in the value piece that Nick Gordon gives us today, as he's got some upside in this matchup and costs the DK minimum at just $2K.
Gordon hasn't homered in a while, but he can hit it a long way when he connects and he's got doubles in consecutive games — a sign that he may be due for along ball. If there was ever a longshot homer run call on a min-priced player with a .148 ISO, today is that day and Gordon is that guy. His price allows us to go so many places on a slate that needs a few little salary savers — especially if we're looking at the Cards and Coors.
Value Stack: Pittsburgh Pirates vs. Justin Dunn
Another option is to find a value stack like the Pirates, who have a clear cut top guy to build around in Bryan Reynolds. After that, it's just filling in a few bargain plays like Bligh Maris, Ben Gamel, leadoff man Tucupita Marcano, Greg Allen and the always dangerous O'Neil Cruz, and you've got yourself the makings of a surprising little value/leverage explosion on a nine-game slate.
Opposing pitcher Justin Dunn is carrying an 8.64/9.72 ERA/FIP right now, so it's definitely a good spot for the Cheapo Buccos to get a little nasty and pile up some 20+ individual DK totals.
Game Stack: Giants-Rockies
It seems like coming up on the wrong side of the offensive output for these Coors Field games is becoming more of a problem, but today's matchup feels like it should foster good results for both lineups.
While the Giants and their parade of lefty bats are the priority and sport the higher of the two individual team projected run totals (6.3 in comparison to the Rockies' 4.8). I like C.J. Cron, Brendan Rodgers and Randal Grichuk a lot today. They've had some success against Cobb before and they won't have high ownership compared to the Giants LHBs.
Speaking of the Giants, I don't see a scenario where I don't get some exposure to Lamonte Wade and Joc Pederson right out of the gate, and I'll be sprinkling in varying percentages of Brandon Crawford, Brandon Belt, Mike Yastrzemski and Wilmer Flores.
There should be plenty of offense given the conditions tonight in Colorado, so it's a much safer game stack than we've had previously.
Also consider:
Los Angeles Dodgers vs. Braxton Garrett: The lanky lefty has looked pretty hittable in his last couple starts, and these are the Dodgers, after all.
San Diego Padres vs. Josiah Gray: I'm cool with using Gray to some degree for GPPS as Adam recommends in his Starting Rotation piece, but is this the game the Padres snap out of their funk and show us what they can do, albeit without their much embattled Ringworm Boy?
I'm a writer from upstate NY in a cool little Hudson River town called Coxsackie. Too many interests to list, but the films of David Lynch, the books of Kurt Vonnegut, the music of Jack White and the maddening sport of golf are near the top of my list. Big into DFS, specializing in baseball, football, golf and hoops. I've written for FFToday.com, RotoExperts and Baseball America, to name a few.