MLB DFS Hitter Stacks for DraftKings and FanDuel for 08/23/2022 – Win Daily Sports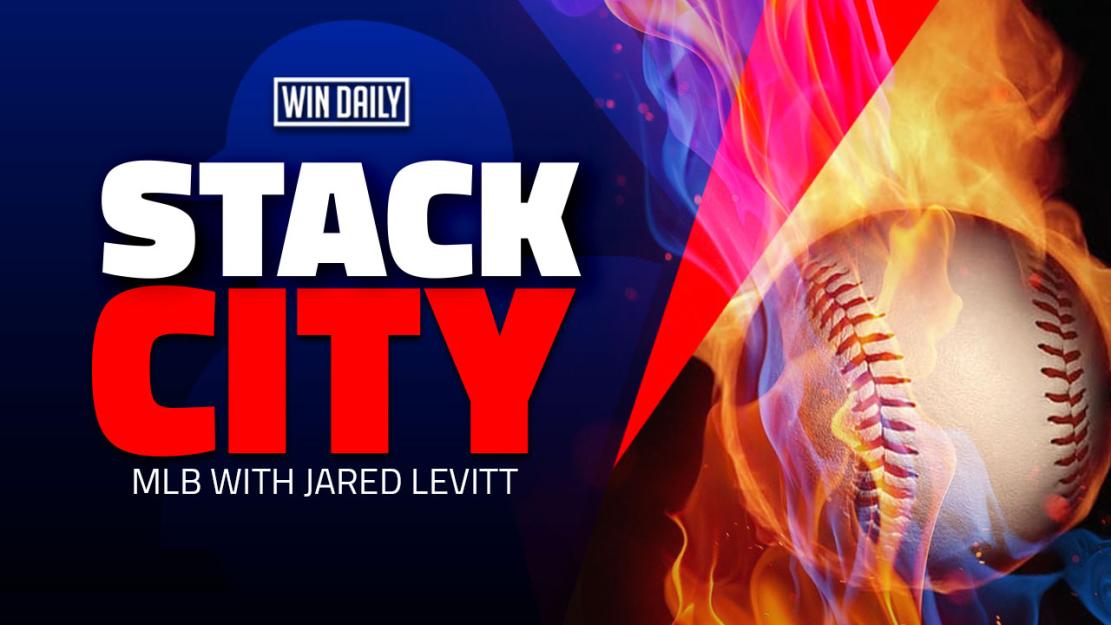 Welcome to the Tuesday edition of the Stack City, where I'll be going through the top MLB DFS Stacks on DraftKings and Fanduel. 
Today we have a massive 15-game slate of MLB DFS to navigate through.  On the hill, we have some really solid options to attack tonight. 
Always make sure to read Adam's Starting Rotation when setting your lineup. It's hands down the best pitching article in the MLB DFS business.
Let's dig in and see if we can find some stacks to use today!
MLB DFS Stacks – Main
Toronto Blue Jays vs. Josh Winckowski
Here we go again, Jared recommending stacking the Blue Jays.  What could go wrong right?  Hopefully nothing.  This is just such a good spot for the Blue Jays tonight.  Josh Winckowski just hasn't been very good and this is the type of matchup that the Blue Jays should absolutely take advantage of.  Over Winckowski's last 7 starts, he's surrendered less than 3 ER just 2 times.  In his last outing against the Pirates, he gave up 6 ER through 5 innings.  I
f the Pirates can do that type of damage, I just can't see a scenario where the Blue Jays don't.  In this matchup, we don't really need to be overly concerned with splits.   Winckowski has been pretty bad to both sides of the plate over the last month, especially righties who have a .423 wOBA vs. him.
Core: My core with the Blue Jays tonight will start with the usual suspects, Vladimir Guerrero, George Springer, and Matt Chapman.  If we look at what Guerrero has done over the past week, it's a bit misleading.  He has just 6 hits in his last 25 AB, but he's also homered twice and has 5 barrels over that stretch.  The BABIP gods have just not been in his corner as he has just a .190 BABIP over the past week.  He's still putting the ball in play and seeing the ball well, at some point those hard-hits are going to fall.  With a date with Winckowski today, they'll hopefully start falling. 
Another bat I really like tonight is Chapman.  Over the last month, he has a .304 ISO vs. right-handed pitching.  This is a type of matchup to use in him, a righty that throws to contact and doesn't strike many people out.  
Secondary Pieces: Blue Jays I won't look to force in, but try to get in where I can will be guys like Bo Bichette, Teoscar Hernandez, Alejandro Kirk, and Whitt Merrifield.  When Hernandez puts the ball in play, he normally does some damage.  My concern with him is that he's K'd 9 times over his last 25 AB.  That's a pretty bad pace, but a matchup with a pitcher that has just a 9% K-rate over the last month lessens that K risk for Hernandez.  After a torrid pace, Kirk has cooled off some but he has shown some signs of late with 7 hits in his last 22 AB.
Arizona Diamondbacks vs. Jonathan Heasley
Oh, what a sweet matchup this is will be for the Diamondbacks tonight in MLB DFS.  More often than not, when Jonathan Heasley is on the mound he gets shelled.  On the year, Heasley has just one start where he hasn't surrendered a barrel.  He has consecutive starts giving up 3 barrels and has allowed multiple barrels 5 of his last 7 starts.  Since rejoining the rotation 2 starts ago, he's pitched to an ERA over 6 and has allowed an astounding 4 homers in just 8 innings of work.  That's a pretty epic pace. 
The Diamondbacks are in a really great spot tonight to take advantage of a bad pitcher.  Like Winckowski, I'm not going to be overly worried with splits.  Over the course of the full season, Heasley has been way worse against lefties as they have a .591 slugging % vs. him.  But over his last 2 starts, righties have an ISO approaching .400. 
Core: My core with the Diamondbacks tonight will start with Josh Rojas, Christian Walker, and Jake McCarthy.  All three guys are coming into this one hitting the ball well and have also been really good against righties.  Although $5.2k is a large pill to swallow with Rojas, he's in a smash spot tonight.  We don't get much power from him but he's always a threat to steal some bases if he gets on, and he's been getting on.  Over his last 26 plate appearances, he has 8 hits and 4 walks.  Hitting out of the leadoff spot and having the platoon advantage, I can certainly think of worse ways to spend $5.2k. 
Next up will McCarthy.  McCarthy's $3.1k price on DK makes paying up for Rojas a little easier.  He's been just as productive, with a wRC of 5 over the last week. Against righties over the last month, McCarthy has a wOBA over .350 and should produce in this spot. 
Secondary/Value Pieces:  Other pieces I really like here will be Ketel Marte, Emmanuel Rivera, and Daulton Varsho.  Varsho has been someone that we've used often this season vs. average righties and tonight is no different.  While he's coming into this one cold, there's no better slump buster than Heasley.  I like this spot for Varsho to break out of his slump and have one of those big games we saw often from him earlier in the year. 
Rivera is a really solid value option tonight.  He's only $2.6k on DK tonight and has been really good against righties over the last month.  In his last 58 plate appearances against righties, he has a .314 ISO and a .361 wOBA.  He's in line to have a really productive night out of the 2-hole.
Seattle Mariners vs. Erick Fedde
While the masses are going to gravitate to the Astros tonight against Aaron Sanchez for their MLB DFS stacks, I'm going to take a shot on a sneaky spot for the Seattle Mariners tonight vs. Erick Fedde.  Fedde is making his first start tonight since the end of July.  He's been having a subpar year, with an ERA pushing 5 and an xFIP not too far behind at 4.80.  Fedde has also been someone that we can rely on for a ton of baserunners.  His season-long WHIP is over 1.5 and he's been walking runners in droves this season, with a 4.56 BB/9. 
If the Mariners can be a patient team tonight, they can really do some damage against Fedde and the Nationals bullpen.  This is yet another matchup that I'm not going to be overly worried about splits as Fedde has been pretty neutral against both sides. 
Core: My Mariners stack tonight is going to start with Julio Rodriguez, Jesse Winker, and Mitch Haniger.  These are the three bats in the Marines lineup that have had the most success against righties over the last month and also the three big weapons in this lineup.  Rookie of the year candidate Julio Rodriguez continues to impress.  Over his last 25 AB, Rodriguez has 10 hits and an OPS of 1.  He's been crushing righties over the last month, with a .279 ISO and a .348 wOBA. 
Both Haniger and Winker have been really solid vs. righties over the last month too, with wOBA's over .340.  They are both in line to have really good games against a below-average pitcher in Fedde.
Secondary Pieces: After my core, I'll look to sprinkle in Eugenio Suarez, Cal Raleigh, and Adam Frazier where I can. Suarez has really been hitting the cover off the ball as he has 3 homers and 8 RBI over the last week. Those 8 RBI over the least 7 days leads the team. Adam Frazier has also been doing well over the last week, with 5 hits in his last 17 AB and 5 Runs scored.
MLB DFS Summary
2 other stacks I really like tonight will be the Astros vs. Aaron Sanchez and Braves vs. J.T. Brubaker.  With the Astros, part of me feels like this is a trap play.  While Sanchez hasn't been very good this season, outside of a 21-run outburst against the White Sox, this Astros lineup hasn't been all that great.  I plan on fading them tonight, and if it bites me I'm ok with that.  Yankees vs. Walker is also a spot that has me intrigued tonight. 
Good luck and hope to see you in the green.
Make sure you follow me on Twitter at @rangerzfan79 and be sure to sign up for an ALL ACCESS GOLD ACCOUNT here at Win Daily Sports. Gain access to our Projection Models and jump into our Discord where we will have our experts talking plays across every sport and slate!
New to the DFS writing world but have been playing DFS since BVP was cool. Started play season long fantasy when sporting news was used to calculate weekly scores. Originally from Brooklyn, NY but now a Baltmore resident.