MLB DFS Hitter Stacks for DraftKings and FanDuel for 08/15/2022 – Win Daily Sports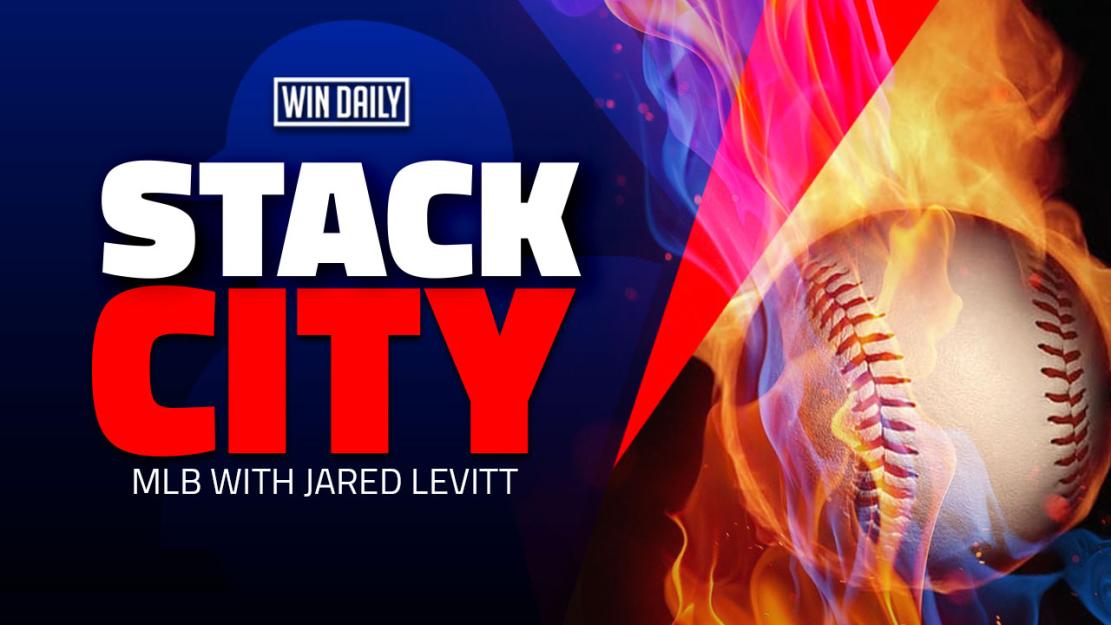 Welcome to the Monday edition of the Stack City, where I'll be going through the top MLB DFS Stacks on DraftKings and Fanduel. 
Tonight we have a decent-sized 10-game slate of MLB DFS to navigate through.  We have some really solid options for stacking purposes, and some sneaky spots as well. 
Let's dig in and see if we can find some stacks to use today!
MLB DFS Stacks – Main
Texas Rangers vs. James Kaprielian
On paper, the ERA looks very solid over the last month for James Kaprielian.  It's sitting at just 2.11.  The xFIP and ERA for Kap tell a tail of 2 different stories.  The xFIP for Kap is sitting more than 2.5 runs higher at 4.71.  Now sometimes you need to take the delta of the 2 with a grain of slate.  Not tonight.  There's going to be some regression for Kap against a solid Rangers lineup.  My reasoning for bringing up regression is due to the fact that Kap just gives up a ton of what we look for with our MLB DFS stacks.  Hard-hit balls and flyballs.  
Over the last month, Kap is giving up a nearly 36% hard-hit rate and a nearly 47% flyball rate.  This combo is normally a deadly one, especially when you give up an 80% contact rate.  He's been blessed with a BABIP of just .270 over the last month.  Those balls are going to start to drop at some point and I want to be along for the ride when they do.  With Kap, we'll have a slight lean towards righties as he has reverse-splits tendencies.  Righties have a higher significantly higher slugging % and wOBA.   
Core:  I'm going to build my Texas core tonight around Marcus Semien and Adolis Garcia.  This is a solid spot for Garcia tonight.  He's a reverse splits hitter facing a reverse splits pitcher.  Those are the spots that I target him in and this is one of those spots.  It also helps that he's coming into this game as one of the Rangers' better hitters of late.  He's riding an 11-game hitting streak and over that stretch has been filling box scores with stolen bases and home runs.  15 of his 19 bombs this year have come against righties and his average is more than 60 points higher vs. them.  I'll be locking him in.  S
Semien has also shown some pop vs. righties this season, with 13 of his 17 homers coming against them.  Kap mostly throws his fastball to righties.  Against righty fastballs, Semien has a .386 wOBA and a .264 ISO.  He's a little cold right now, but mostly due to an extremely low BABIP.  He should bounce back in a solid matchup tonight. 
Secondary Pieces:  The only reason I don't have him listed in my core is due to the Kap being a smidge better against lefties.  That said, Corey Seager will more than likely still make the cut and get into my Rangers stack tonight.  He is extremely hot right now with hits in 5 of his last games and continues to be the main part of this offense.  Over the weekend he had 3 hits, 2 of which went extra bases and scored 3 runs.  He should be able to carry the momentum from the weekend into a solid matchup against Kap.          
Value: The bottom of the Rangers lineup will be littered with value.  Leody Tavares, Josh Smith, Ezequiel Duran, and Brad Miller are all $2.5k and below.  My favorite of the bunch will be Duran as he'll have the splits advantage in this one and is hitting the ball well, with 7 hits in his last 20 AB. 
Baltimore Orioles vs. Yusei Kikuchi
Oh, Yusei Kikuchi how frustrating you are.  Days we say to stack against you, you end up throwing a gem.  Days we think you can throw a gem, you fail.  Even though he's a frustrating pitcher to get right, I'm going to stack against him tonight with a surprisingly good Orioles lineup.  Kikuchi threw a dud last week against this same scrappy Orioles lineup.  Chances are, he does it again. 
This is going to be the third time that Kikuchi is facing the Orioles this season.  The prior 2 times he's faced them are 2 of his worst outings of the year.  Let's make it 3.  With Kikuchi, we really want to focus on righties. Righties have a .525 slugging % vs. him this season and a .392 wOBA.  He struggles mightily vs. them. 
Core: My core with the Orioles tonight will be Jorge Matteo, Ramon Urias, and Anthony Santander. The switch-hitting Santander has been far better hitting vs. lefties this season than righties. His slugging % vs. lefties is .545 and combines with his OBP to give him an OPS of .909. He's been one of the more underrated pieces of this Orioles lineup and will be a lock in all of my Orioles stacks tonight. Jorge Matteo has been extremely solid for the Orioles. While no one will confuse him for a rookie of the year candidate, his numbers this season have been strong. He's pushing 30 steals and has scored 48 runs, all while hitting at the very bottom of this Orioles lineup.
Secondary: Other pieces I do like here are going to Ryan Mountcastle, Austin Hays, and to a lesser extent Adley Rutschman.  Adley Rutschman is one of the bright young starts in the league, I'm just hesitant to play him tonight because he's yet to really figure out how to hit left-handed pitchers in the big leagues.  Hays has been a bit on the quiet side of late, but he does have solid numbers vs. lefties in his career with a .196 ISO vs. them.  He's also taken Kikuchi deep.    
Kansas City Royals vs. Joe Ryan
2 of Joe Ryan's last 3 outings have been an absolute nightmare for the young Twins pitcher.  He gave up 10 ER to the Padres and then 5 ER to the Dodgers.  While the Royals are a far inferior team to both of those squads, depending on the lineup that Mike Matheny doles out tonight, it could play right into his weakness and that's lefties.  There's a good chance that Matheny throws out 5 lefties tonight and that's where we can take advantage of Ryan. 
His K-rate plummets and flyball rate sky-rockets.  His season-long k rate drops from 30% against righties to a very average 18% for lefties.  This is a high-risk MLB DFS stack that can either bite us or take us to the motherland, either way, I'm going for it. 
Core:  My core to this stack is going to be Vinnie Pasquantino and MJ Melendez.  Somehow, Pasquantino is still just  $2.1k on DK.  All he's done over the last week is rake, and he's in a matchup tonight where he should continue to rake.  Over the last week, he's hit safely in 6 games and has 4 homers over that stretch.  He has a .219 ISO vs. righties over the last 30 days with just a 13% K-rate.  He's in my core and also one of my favorite value pieces on the board tonight. 
MJ Melendez is also one of my favorite hitters tonight.  His numbers over the last week aren't great, but he's also been extremely unlucky with a .176 BABIP.  He has flyball tendencies and pair that with Ryan's tendencies to give up flyballs to lefties, and this could be a match made in heaven. 
Secondary Pieces:  He's not in my core, but Salvador Perez is always in play when stacking the Royals.  While Ryan has a massive 46% k-rate vs. righties over the past month, he also has an equally massive 63% hard-hit rate vs. them too.  He's either striking you out or giving up a barrel.  Perez has a .298 ISO vs. righties over the past month and could get to Ryan today.  Where I can, I'll try to fit him in.        
Value: Other pieces of value in this Royals stack tonight will be Michael Massey, Nick Pratto, and Nicky Lopez. All three are min-priced on DK tonight and will get the platoon advantage. They will all make nice punts tonight if you need them.
MLB DFS Summary
Other stacks I like tonight will be the Blue Jays vs. Kyle Bradish, Chicago Cubs vs. home run-prone Josiah Gray, and the Giants vs. Madison Bumgarner. 
Make sure to check our optimizer here.
Good luck and hope to see you in the green.
Make sure you follow me on Twitter at @rangerzfan79 and be sure to sign up for an ALL ACCESS GOLD ACCOUNT here at Win Daily Sports. Gain access to our Projection Models and jump into our Discord where we will have our experts talking plays across every sport and slate!
New to the DFS writing world but have been playing DFS since BVP was cool. Started play season long fantasy when sporting news was used to calculate weekly scores. Originally from Brooklyn, NY but now a Baltmore resident.