MLB DFS Hitter Stacks for DraftKings and FanDuel for 08/11/2022 – Win Daily Sports
Published
2 months ago
on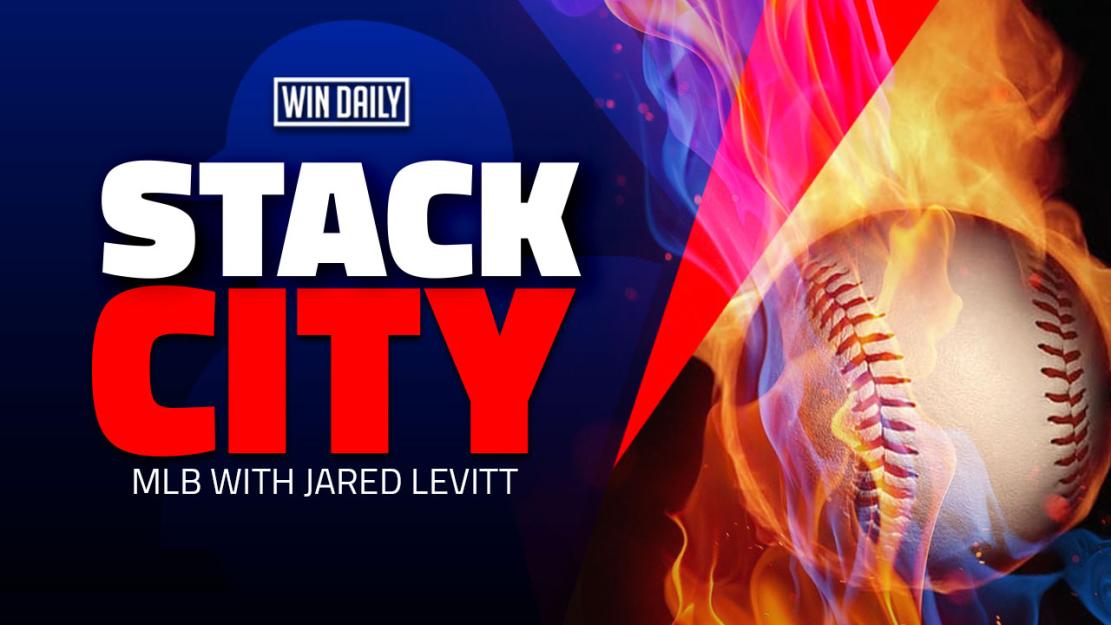 Welcome to the Thursday edition of the Stack City, where I'll be going through the top MLB DFS Stacks on DraftKings and Fanduel.
With it being Thursday, we have a small 6-game slate of MLB DFS. It's a day slate so you'll know whether you've won or lost by dinner time. Let's win some money!
Let's dig in and see if we can find some stacks to use today!
MLB DFS Stacks – Main
Cleveland Guardians vs. Garrett Hill
The Guardians somewhat disappointed last night, scoring only 3 runs vs. Drew Hutchison and the Tigers bullpen. They get an even better matchup today vs. Garrett Hill and I can't see them disappointing 2 days in a row. Similar to last night with Hutchison, if the Guardians can stay patient at the plate they'll get some pitches to hit. Over the last month, Hill has had an extremely high BB/9 at 4.79 and this has led to a WHIP of 1.6. He lets a ton of batters on and again, if the Guardians are patient, they'll have a lot of runners on in this game.
Hill also gives up a combo that we look for with our MLB DFS stacks, hard hits, and flyballs. His 42% flyball rate over the last month ranks near the top of all starters today, as does his 34% hard-hit rate. His 9 barrels allowed over the last is the most of any pitcher throwing this afternoon. Hill is actually a reverse splits pitcher. He's dominated lefties this season while struggling mightily with righties. Righties have a massive .569 slugging % vs. him and a .403 wOBA.
Core: Knowing how awful that Hill has been against righties, I'm going to start my Guardians stack with Amed Rosario and Oscar Gonzalez. Gonzalez has been lights out vs. righties over the past month, albeit a small sample size. In 15 plate appearances, he has a .333 ISO and a .523 wOBA. Even if we look at his season as a whole, he's been way better vs. righties than lefties. With Gonzalez we have a reverse splits hitter going against a reverse splits pitcher. You love to see it. Rosario is also in a good spot to produce. Over the last month, he does have a wOBA in the mid .300's.
Secondary Pieces: After my core, I'll look to sprinkle in guys like Andres Gimenez and Steven Kwan. While Jose Ramirez is the main attraction with this team, Gimenez and Kwan have been very solid. Gimenez is sporting a .313 average vs. righties this season and a .381 wOBA. He's also shown some power vs. them with a .506 slugging %.
With Kwan, we won't get much power but he gets on base. He's coming into this one on fire, with 5 hits in his last 11 AB. He's also scored 3 runs over the last month. I do love Ramirez, but at his current price, I will more than likely fade. His power has all but evaporated over the last week and with how good Hill has been vs. lefties, it's just not worth the risk of spending nearly $6k for a couple of singles.
Value: Should Luke Maile get the start today at catcher, I'll look to get him in there. He's just $2.2k on DK today and has done well against righties when he's been in there. Over the last month, he has a .402 wOBA vs. righties. He makes for a solid punt.
Colorado Rockies vs. Dakota Hudson

While I've mostly gone with the Cardinals the last couple of nights, I'm switching gears and going with the Rockies today. Dakota Hudson has been 2 different pitchers this season on the road vs. at home. At home, he's been pitching to a 3.25 ERA. But away from Busch Stadium, he's pitched to a massive 5.26 ERA. All of the metrics are way better for hitters vs. him on the road, with a wOBA 50 points higher, a slugging % 60 points higher, and an OBP 50 points her. Pitching in Coors today should exaggerate those numbers even further.
With Hudson, we want to focus on the righties in the Rockies lineup. Similar to Hill, he's been a reverse splits pitcher. Righties have a slugging % more than 100 points higher than lefties and a wOBA 40 points higher. 6 of the 8 homers he's given up this season have been to righties.
Core: I'm starting my Colorado stack today with Randal Grichuk and Brendan Rodgers. Grichuk has been one of the Rockies' best hitters of late. Although he took an 0-5 last night, prior to that he had 13 hits in the previous 17 AB. He's seeing the ball extremely well right now and in a plus matchup today vs. Hudson, he's very affordable at just $4.1k on DK. Rodgers is also coming into this one hot. Over his last 15 BA, Rodgers has 9 hits including 7 hits in his last 2 games. That's a good week for most!
Secondary/Value Pieces: After Rodgers and Grichuk, I'll look to get in guys like Jose Iglesias, Charlie Blackmon, and Ryan McMahon. Iglesias has been really good over the last month vs. righties. Over his last 63 plate appearances vs. righties, he has a .441 wOBA. He's very reasonably priced today at $4.2k on DK. He's having a solid series so far with 5 hits in the 2 games.
While Blackmon and McMahon won't have the splits advantage with Hudson, they do have the platoon advantage and have ISO's over .200 vs. righties over the last month. I'm not going to lose sleep if I can't squeeze them into my lineup, but they should both be productive today.
Value: One of my favorite value pieces on the board today is Elehuris Montero. Montero is red hot right now and is only $2.7k this afternoon on DK. He's coming into this one with a 9-game hitting streak and has 5 straight multi-hit games. We aren't going to need much from him to hit value today.
Houston Astros vs. Cole Ragans
Cole Ragans really struggled with his command in his first Major League start. Through 5 innings, Ragans walked 4 hitters. That was against a more free-swinging team in the White Sox. The Astros are a much more patient team and one that has absolutely crushed lefties this season, with a .749 OPS and a .192 ISO. If Ragans struggled again today with his command, he's going to have an extremely long/short afternoon.
The only positive that Ragans had in his first start was that he mostly induced soft contact. His hard-hit rate was just 20% and his soft-hit rate was 26%. So he gave up more soft than hard contact. He didn't fool many hitters though as they just have a 17% chase rate.
Core: My core with the Astros stack today will be Jose Altuve and Yordan Alvarez. Altuve has been lights out vs. lefties. Over the last month, he has a .455 wOBA vs. them and a .320 ISO. He's expensive but in a solid matchup. I love using Alvarez vs. lefties. He typically comes in under-owned because most are scared of the L/L matchup. Alvarez crushes lefties. In his last 21 plate appearances, he has a .557 wOBA and a .588 ISO.
Secondary Pieces: Other pieces I'll look to use here will be Alex Bregman, Aledmys Diaz, and Trey Mancini if he cracks the lineup today. They'll all have the platoon advantage this afternoon and have shown in the past they can handle southpaws. I won't look to prioritize any of them, but if I can make them fit, I'll absolutely do so.
MLB DFS Summary
Other stacks I'll like tonight will be the Cardinals vs. German Marquez and Diamondbacks vs. Brubaker. As it stands right now, my core MLB DFS stacks will be the Rockies and Guardians. They fit extremely well together and for the Rockies playing in Coors, they're very fairly priced today.
Make sure to check our optimizer here.
Good luck and hope to see you in the green.
Make sure you follow me on Twitter at @rangerzfan79 and be sure to sign up for an ALL ACCESS GOLD ACCOUNT here at Win Daily Sports. Gain access to our Projection Models and jump into our Discord where we will have our experts talking plays across every sport and slate!
New to the DFS writing world but have been playing DFS since BVP was cool. Started play season long fantasy when sporting news was used to calculate weekly scores. Originally from Brooklyn, NY but now a Baltmore resident.