MLB DFS Hitter Stacks for DraftKings and FanDuel for 08/09/2022 – Win Daily Sports
Published
2 months ago
on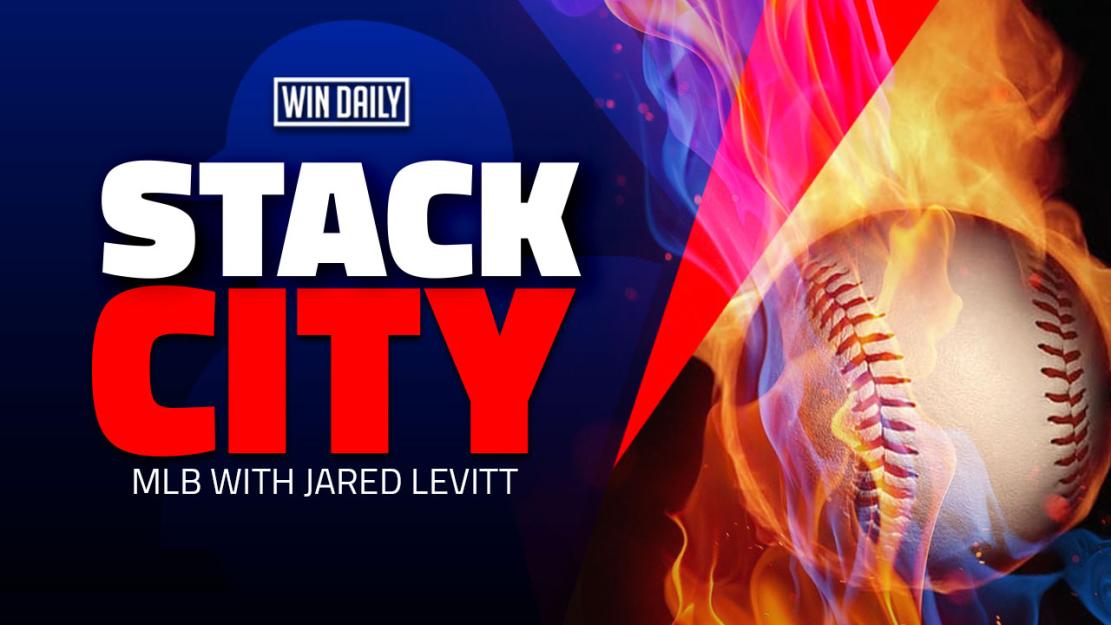 Welcome to the Tuesday edition of the Stack City, where I'll be going through the top MLB DFS Stacks on DraftKings and Fanduel. 
It's Tuesday and that means we have a full slate of games.  We have 28 of the 30 teams in action tonight and that means we have a plethora of options. 
Let's dig in and see if we can find some stacks to use today!
MLB DFS Stacks – Main
New York Mets vs. Mike Minor
Mike Minor's Reds' career has not gone well.  He is having statistically the worst year of his career.  His ERA, xFIP, BB/9, and HR/9 are all at career highs.  It's been a struggle for him and those struggles will continue tonight vs. a very solid New York Mets lineup.  Over the last month, Minor has pitched to a 5.3 ERA and an xFIP north of that at 5.87.  His BB/9 over that stretch is an embarrassing 6.27.  No pitcher on tonight's slate is even remotely close to that number. 
One thing I want to really focus on with Minor is his HR/9.  He's giving up homers this season at just an epic pace.  2.54 HR/9 is something that we want to attack.  He's had just one game all season without surrendering a long ball.  That's bad.  With Minor, we want to go all in with righties.  They have a massive .646 slugging % and a .435 wOBA.
Core:  My core with the Mets tonight will be Pete Alonso and Starling Marte.  Both of these guys had polar opposite nights in the opener of this series last night.  Marte was lights out, with a homer, a stolen base, 2 RBI, and a run scored.  We should expect more of the same tonight as Marte is much better against southpaws.  He has an OPS of .908 against lefties compared to just .763 vs. righties.  He also has a wOBA pushing .400 vs. lefties at .392. 
Alonso was a dud last night but should get back on the saddle tonight.  Over the last month, he's absolutely tortured lefties with a .474 ISO and a .676 wOBA. 
Secondary Pieces:  Other pieces that I really like in this stack will be Francisco Lindor, Darin Ruf, Eduardo Escobar, and Mark Canha.  The only reason that I don't have Lindor in my core tonight is that he's been better as a lefty hitter throughout his career.  With batting as a righty, I'm not as laser-focused on him but he's still in a great spot to succeed tonight. 
Newly acquired Darin Ruf should get the start tonight and he has my interest at just $3k tonight.  Over the last 30 days, he has a .333 ISO and a .388 wOBA vs. southpaws.  The only concern with him is a pinch hit risk tonight and us only getting 2 AB out of him.  That said, he should be able to do some damage in those 2 AB.   
Value:  Should Tomas Nido get the nod tonight behind the plate, I'll lock him into catcher as my punt play.  He's min-priced tonight on DK and has actually been swinging a decent stick with 5 hits in his last 16 AB.  He's also fared pretty well vs. lefties over the last month, with a .333. 
Atlanta Braves vs. Dick Mountain AKA Rich Hill
I expect the Braves to come out tonight fired up.  They were embarrassed by the Mets this weekend, losing 4 of 5 games, and now sit 7 games out of first place.  They couldn't have asked for a better matchup tonight, going against Rich Hill.  While Hill is a crafty veteran, father time may finally be catching up to the almost 43-year-old.  In his last outing, which came after a month's stint on the IL, Hill was chased after just 3 innings against the Astros. 
We should expect more of the same tonight against a hungry Braves team looking to make up for a bad last week of baseball.  With Hill, we want to attack him with righties.  Against righties this season, he's given up a .475 slugging % and a .345 wOBA.  8 of the 9 homers he's given up have been to righties.    
Core: I'm building my core with Braves stack around the 3 guys right at the top of the order tonight, Ronald Acuna, Dansby Swanson, and Austin Riley.  The three of them are expensive tonight, but oh do they have some serious upside in this matchup.  We'll start with Riley who has been one of the best hitters in the game this season against lefties.  On the year, he's hitting .362 against lefties with a 1.190 OPS.  That OPS is fueled by a .752 slugging %.  Over the last month, he's been just as good against lefties, with a .522 ISO and a .712 wOBA.  He'll be a lock in any Braves stack I use tonight. 
While Acuna has had somewhat of an up and down year so far coming off the knee injury, he's long crushed lefties and should succeed here tonight.  His wOBA vs. lefties over the last month is a solid .347.  The power numbers will come around and that could happen tonight.    
Value: After my core, I'm just going to jump right to value with my Braves stack.  Both Robbie Grossman and Orlando Arcia are extremely cheap tonight. Grossman is min-priced on DK and has very solid numbers vs. lefties.  Over the last month, he has a .440 wOBA vs. them.  He's one of, if not the best value play on the MLB DFS board tonight.  Arcia has also been solid vs. lefties, with a .300 wOBA and a .158 ISO vs. them over the last 30 days.  At just $2.6k, he's also extremely cheap tonight.  
St. Louis Cardinals vs. Ryan Feltner
I didn't want to go Coors with my MLB DFS stacks, but it's really hard to pass this up.  The first-place Cardinals head to Colorado tonight to take on Ryan Feltner and the Rockies.  Feltner's first "full" season in the bigs has not gone that well.  He's pitched to a 5.75 ERA so far and even though the 3.84 xFIP says he'll show some positive regression, tonight won't be the night that it will happen. 
The Cardinals are one of the top offenses in the league and they are rolling right now.  Only a handful of teams have scored more runs over the last week than the Cards and with this game being in Coors, they shouldn't slow down.  With Feltner, we'll want to focus mostly on the lefties.  Lefties have a nearly .600 slugging % vs. him this season in Coors and a .366 wOBA. 
Core:  Even though I want to focus on the lefties here, Nolan Arenado will still be in my core group of players in this game.  Arenado spent the first 8 years of his career in Colorado and will have the narrative in his corner.  Narrative always wins, always.  Arenado has also just been lights out vs. righties over the last month as he has a .293 ISO and a .449 wOBA. 
Next up in my core will be Nolan Gorman, Dylan Carlson, and Tommy Edman.  All three of these guys will get the platoon advantage and will be hitting in sequential order.  Going with a 9,1,2 stack can get us Edman and with this being Coors, there are almost always extra AB to go around.     
Value Pieces: Lars Nootbar is $2.3k on DK tonight, with the platoon advantage, in Coors. That's all you really need to know.
MLB DFS Summary
Other stacks I'll like tonight will be the Cubs vs. Paolo Espino, the red-hot Phillies vs. Braxton Garrett (Garrett has been really good though, so tread with caution), and the Dodgers vs. Joe Ryan. 
Make sure to check our optimizer here.
Good luck and hope to see you in the green.
Make sure you follow me on Twitter at @rangerzfan79 and be sure to sign up for an ALL ACCESS GOLD ACCOUNT here at Win Daily Sports. Gain access to our Projection Models and jump into our Discord where we will have our experts talking plays across every sport and slate!
New to the DFS writing world but have been playing DFS since BVP was cool. Started play season long fantasy when sporting news was used to calculate weekly scores. Originally from Brooklyn, NY but now a Baltmore resident.