MLB DFS Hitter Stacks for DraftKings and FanDuel for 08/08/2022 – Win Daily Sports
Published
2 months ago
on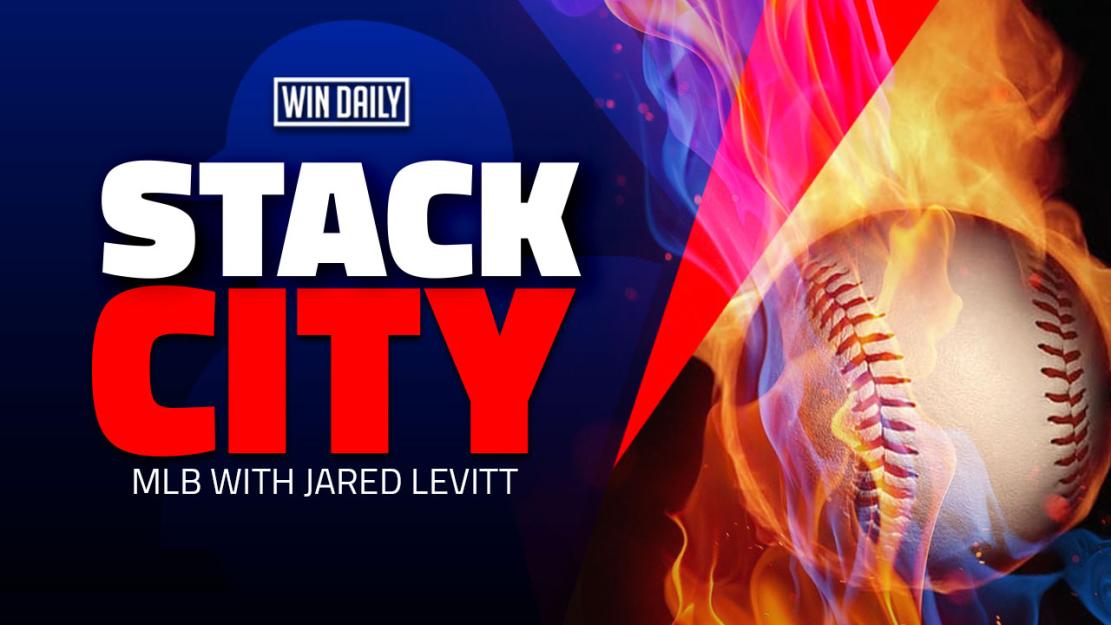 Welcome to the Monday edition of the Stack City, where I'll be going through the top MLB DFS Stacks on DraftKings and Fanduel. 
Tonight we have a smaller 7-game slate of MLB DFS to navigate through.  It's also a slate that lacks any true ace, meaning we'll be able to fit all the bats we want essentially. 
Always make sure to read Adam's Starting Rotation when setting your lineup.  It's hands down the best pitching article in the MLB DFS business.
Let's dig in and see if we can find some stacks to use today!
MLB DFS Stacks – Main
New York Mets vs. Justin Dunn
Justin Dunn will be making his 2022 and Cincinnati Reds debut today.  If it's anything like his minor league season, it's going to be a long/short night for Dunn.  In 8 starts in the minors this season, Dunn has really struggled.  He's pitched to a 6.75 ERA and a 1.82 WHIP.  Dunn will also be throwing against the New York Mets for the first time, the team that drafted him number 19 overall in 2016. 
Dunn has pitched in the big leagues over the course of 3 seasons.  While he's been able to maintain a respectable ERA of 3.94, he has shown some struggles with a 6.05 xFIP and a BB/9 over 6.  If he's wild like he's been throughout his career, it's going to be tough sledding for Dunn.
Core:  My core with the Mets tonight will be Pete Alonso, Francisco Lindor, and Jeff McNeil.  Pete Alonso is coming into this one hot, with hits in 7 of his last 8 games.  Knowing that Dunn has control issues, we can expect that when Alonso gets on base tonight there should be some runners on.  Alonso is up to 95 RBI on the year and should be able to easily add to that total. 
Lindor is another Mets bat that is super-hot right now.  With hits in 14 of his last 15 games, Lindor has his average all the way up to .270 putting his nightmarish 2021 season well in the rear-view mirror.  While these 2 are both extremely expensive tonight, there are no expensive pitchers to use tonight and there should be enough cash laying around to fit them in. 
Secondary Pieces:  Other pieces that I really like in this stack will be Starling Marte, Brandon Nimmo, Daniel Vogelbach, and Tyler Naquin. If you decide to fade Alonso tonight due to cost, shifting down to Daniel Vogelbach makes for a decent pivot.  He's been extremely solid with the Mets so far and comes at a fraction of the cost of Alonso.  The concern with Vogelbach is that he's a pinch-hit risk and you may only get a couple of AB from him.  I expect Brandon Nimmo to walk at least once tonight and score a couple of runs.  He'll set the tone at the top of this lineup that just dismantled a very solid Braves rotation. 
Value: The one value piece that we'll have here with the Mets will be Luis Guillorme. He's at just $2.5k on DK tonight. Although he bats all the way at the bottom of the lineup, he normally puts together productive AB and has a ton of patience at the plate. If he sits on a pitch tonight, he should be able to do some damage against Dunn, albeit some minor damage.
Toronto Blue Jays vs. Jordan Lyles
The Toronto Blue Jays have been a tough team to get right this season with our MLB DFS lineups.  There have been games where they should have crushed it, only to score a few runs.  Then there have been games where they shouldn't have done well and blew up the slate.  I think they do well tonight.  Look, Jordan Lyles has pitched much better this year.  His ERA is the lowest it's been since 2019 and his HR/9 is the lowest it's been since 2016 when he pitched with Colorado.  Deep down in there though, he's the same pitcher that gave up homers at a massive pace over the last few years. 
Also, the matchup tonight will be a tough one for Lyles as he's facing a Blue Jays team that has been really solid against righties this season.  Only the Dodgers have a higher OPS against righties this season.  With Lyles at home, you want to focus on the right-handed bats in the Blue Jays lineup.  Righties have a .318 AVG and a .359 OBP against Lyles in Camden this season. 
Core: I'm building my core with Blue Jays tonight around Matt Chapman, Teoscar Hernandez, and Vladimir Guerrero.  All three of these guys have been crushing righties over the last month.  Chapman has actually been the best of the 3 and is coming in at just $4.7K tonight on DK.  Over the last month, Chapman has a .333 ISO vs. righties with a .426 wOBA.  Now he is a large K risk, but with Lyles having just a 16% K rate vs. righties over the last 30 days, it should limit the K risk and increase his upside. 
Hernandez has also been extremely solid vs. righties over the last 30 days, with a .284 ISO and a .394 wOBA.  He's also coming into this one hot, with an 8-game hitting streak and extra-base hits in 4 of his last 5 games. 
Secondary Pieces: Once I'm past my big 3 with the Blue Jays, I'll also look to sprinkle in guys like Bo Bichette, Lourdes Gurriel, and Alejandro Kirk. Of the three, Gurriel is probably my favorite of the bunch as he's coming into the cheapest and is hitting out of the leadoff spot.  He hasn't been hitting for much power against righties, but over the last month, he does have a .369 wOBA against them.  
Arizona Diamondbacks vs. Tyler Beede
Tyler Beede is set to make his second start of the season tonight with Jose Quintana no longer in the picture.  His first start last week did not go over well as he lasted just 1 and a third inning after giving up 4 ER to the Brewers.  I wouldn't put the Diamondbacks in the same category as the Brewers, but they do have some sneaky pop.  The Diamondbacks will also have the advantage of taking on a Pirates bullpen that has a 5.32 xFIP over the last week.  Beede hasn't gone more than 3 innings all season so we can fully expect this to turn into a bullpen game. 
Core: My Diamondbacks core will be centered around Alek Thomas, Daulton Varsho, and Ketel Marte.  Thomas is coming into this one hot, with 8 hits in his last 19 AB.  He's also been pretty good against righties over the last month, with a .153 ISO and a .348 wOBA. 
Next up will be Daulton Varsho.  Varsho is putting together a solid 2022 season as he's set a career-high with 16 homers, all coming against righties.  He has a solid .808 OPS vs. righties this season and should excel in this matchup.       
Value Pieces:  This Dbacks lineup will also provide us with some value pieces.  After the core, we can look to guys like Seth Beer, Geraldo Perdomo, and Jake McCarthy.  All are priced under $3.1k tonight and will get the platoon advantage.
MLB DFS Summary
Other stacks I'll like tonight will be the Yankees vs. Logan Gilbert, and the Mariners vs. Jameson Taillon.  As I started to put together my top 3 stacks, I also originally had the Cubs in it.  As I started to dig in, they became less and less appealing.  Their offense is anemic right now and the winds will be blowing in at Wrigley tonight.  Because they're facing off against Anibal Sanchez and the Nats bullpen, I suspect they'll be chalk.  The Cubs right now are bad MLB DFS chalk. Can they smash tonight?  Maybe, I'd rather go with a Diamondbacks team in just as good of a matchup in better hitting conditions.     
Good luck and hope to see you in the green.
Make sure you follow me on Twitter at @rangerzfan79 and be sure to sign up for an ALL ACCESS GOLD ACCOUNT here at Win Daily Sports. Gain access to our Projection Models and jump into our Discord where we will have our experts talking plays across every sport and slate!
New to the DFS writing world but have been playing DFS since BVP was cool. Started play season long fantasy when sporting news was used to calculate weekly scores. Originally from Brooklyn, NY but now a Baltmore resident.