MLB DFS Hitter Stacks for DraftKings and FanDuel for 08/01/2022 – Win Daily Sports
Published
2 months ago
on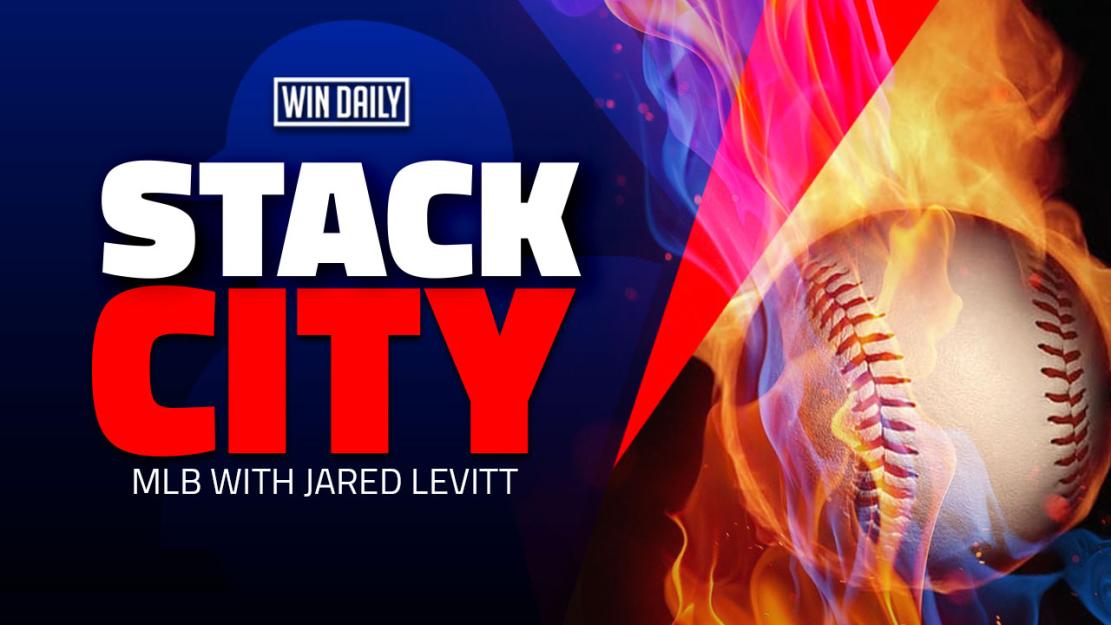 Welcome to the Monday edition of the Stack City, where I'll be going through the top MLB DFS Stacks on DraftKings and Fanduel. 
It's Monday and we have a solid 9-game slate of MLB DFS to navigate through.  On the hill, we have one of my favorite pitchers to attack throwing against my favorite team.  We know what's about to go down. 
Always make sure to read Adam's Starting Rotation when setting your lineup.  It's hands down the best pitching article in the MLB DFS business.
Let's dig in and see if we can find some stacks to use today!
MLB DFS Stacks – Main
New York Mets vs. Patrick Corbin
When I looked at today's slate of games, I got a little teary-eyed.  I saw that Patrick Corbin was facing off against my New York Mets.  The Mets are surging while Patrick Corbin is struggling.  Corbin couldn't make it out of the first inning in his last outing vs. the Dodgers, giving up 6 ER in just two-thirds of an innings.  This game was not an anomaly as he's now struggled mightily in 4 straight games.  Over his last 4 games, Corbin has given up 20 ER. 
He's going to have an extremely hard time taming the beast that is the Mets, winners of 6 straight games and now 27 games over .500.  While the Mets have only been about league average vs. lefties this season, they have enough firepower in this lineup to do some damage against Corbin.  With Corbin, we really want to focus on righties as they have a .521 slugging % and a .387 wOBA.  That said, lefties aren't too far behind as they still have a slugging % of .486 and a wOBA of .375. 
Core:  My core with the Mets tonight will be Pete Alonso and Starling Marte.  Both of these guys have been by far the Mets' best two hitters vs. southpaws.  Aided by an insanely high BABIP of .419, Marte has the best numbers of any Mets player this year vs. lefties.  He's sporting a .557 slugging % and a .381 OBP.  Corbin throws his sinker more than 45% of the time to righties.  Marte has had a decent amount of success against these from lefties, with a .399 wOBA. 
Now onto Pete Alonso.  This is a match made in heaven for the Polar Bear.  In a small sample size, Alonso has absolutely crushed lefty sinkers.  He has a .750 ISO and a .663 wOBA.  This has led to monster career numbers vs. Corbin, with 4 homers in 33 AB and a 1.276 OPS. 
Secondary Pieces: My next two pieces here will be Brandon Nimmo and Mark Canha. Brandon Nimmo has surprisingly been very solid vs. lefties this year. He's actually tied for the team lead with 21 wRC. On the year he has an impressive .782 OPS vs. lefties. He's coming into this one with hits in 6 of his last 7 games. He's not a core to my Mets stack though as he's quite expensive tonight, at $5.1k on DK. I also really love Mark Canha here.
Value:  My two value pieces for the Mets will be two guys at the back of the order.  J.D. Davis is someone that profiles really well against Corbin.  He has a .468 wOBA vs. lefty sinkers and has a long history of crushing Corbin.  In 35 AB, he has 4 homers and a 1.127 OPS.  He's also just $2.1k on DK tonight.  He'll make paying up for Alonso a little easier to stomach.  Thomas Nido is also a cheapy getting the platoon advantage.  He's just $2.4k on DK and will be in a lineup that is expected to score a lot of runs tonight.  
Houston Astros vs. Nathan Eovaldi
Since coming back from the IL, Nathan Eovaldi has now thrown 3 clunkers.  He's allowed 16 ER in just 13 innings of work.  While some of that is exaggerated by a 9 ER outing vs. the Blue Jays, he's still been giving up just a ton of contact while not striking many out.  Tonight he'll have to run into a solid Houston Astros lineup.  Their lineup continues to be one of the top lineups in the game, having scored fourth most runs over the last week. They have very few holes for Eovaldi to try to take advantage and it will be a struggle for him from the get-go. 
With Eovaldi, we're going to have a slight lean to the righties.  While the power numbers have been about equal for righties and lefties vs. Eovaldi, righties get on base way more and have hit for a higher average.  That's led to a wOBA nearly 50 points higher for righties. 
Core: My core tonight for the Astros will be Jose Altuve and Alex Bregman.  Altuve is coming into this game playing some great baseball.  He had a solid last couple of days against the Mariners, with 3 hits in 7 AB, a couple of walks, a couple of runs scored, and an RBI.  He's a solid spot to do some damage vs. Eovaldi tonight. 
Bregman is another Astros primed for a big day.  Over the last month, he's been really solid vs. righties.  He has a .255 ISO vs. them and a .366 wOBA.  Before his 0-4 yesterday, he had been swinging a hot stick with hits in 4 straight and very full stat lines in all of them.  If you had to pick between the core picks due to price, I'd lean to Bregman since he's priced just a bit cheaper.   
Secondary Pieces:  While they aren't in my core for the Astros tonight, they're pretty close.  Both Yordan Alvarez and Kyle Tucker should smash tonight.  Alvarez is coming into this with 2 poor games in a row, but right before that, he had been crushing every pitcher he faced.  Over the last month, Alvarez has a .500 ISO vs. righties and a .510 wOBA.  He's one of the best hitters in the game in a solid matchup. 
Value: For value here, we can look to guys like Yuli Gurriel at $3.3k, Chas McCormick at $2.7k, or Martin Maldonado at $2.8k. These guys probably won't get you guys in the teens in terms of points, but they'll put together solid ABs and let you afford the expensive pieces.
Seattle Mariners vs. Domingo German
While I think that there are better spots in MLB DFS for offense, like the Yankees in this game, I want to make sure to get in a stack that has nice value up and down the lineup and also in a solid spot.  Domingo German has now made 2 starts this season, one really bad and one pretty good.  With a matchup vs. a good Mariners lineup, I think he gets lit up as he did against the Astros.  Throughout his career, German has been worse against lefties as they have a .456 slugging % and a .320 wOBA.  This Mariners lineup has the potential to be 6 lefties deep tonight with Rodriguez on the IL. 
Core and Value: With this stack, I'm going to use guys like Jesse Winker, Adam Frazier, J.P. Crawford, and Carlos Santana if you decided to fade Pete Alonso.  All 4 guys are under $4k tonight, with Frazier and Santana being under $3k.  Again, there are better spots for offense tonight, but we need value.  These 4 guys will provide value in what I think is a solid matchup.  German throws a ton of sinkers to lefties, more than 87% of the time.  Against righty sinkers, Winker has solid numbers.  He has a .358 ISO and a .446 wOBA.  Crawford also has solid numbers, with a .397 wOBA.
MLB DFS Summary
Other Stacks I like tonight will be the Yankees vs. Marco Gonzales, Royals vs. Michael Kopech, and the Padres vs. Antonio Senzatela.   
Good luck and hope to see you in the green.
Make sure you follow me on Twitter at @rangerzfan79 and be sure to sign up for an ALL ACCESS GOLD ACCOUNT here at Win Daily Sports. Gain access to our Projection Models and jump into our Discord where we will have our experts talking plays across every sport and slate!
New to the DFS writing world but have been playing DFS since BVP was cool. Started play season long fantasy when sporting news was used to calculate weekly scores. Originally from Brooklyn, NY but now a Baltmore resident.