MLB DFS Hitter Stacks for DraftKings and FanDuel for 07/28/2022 – Win Daily Sports
Published
2 months ago
on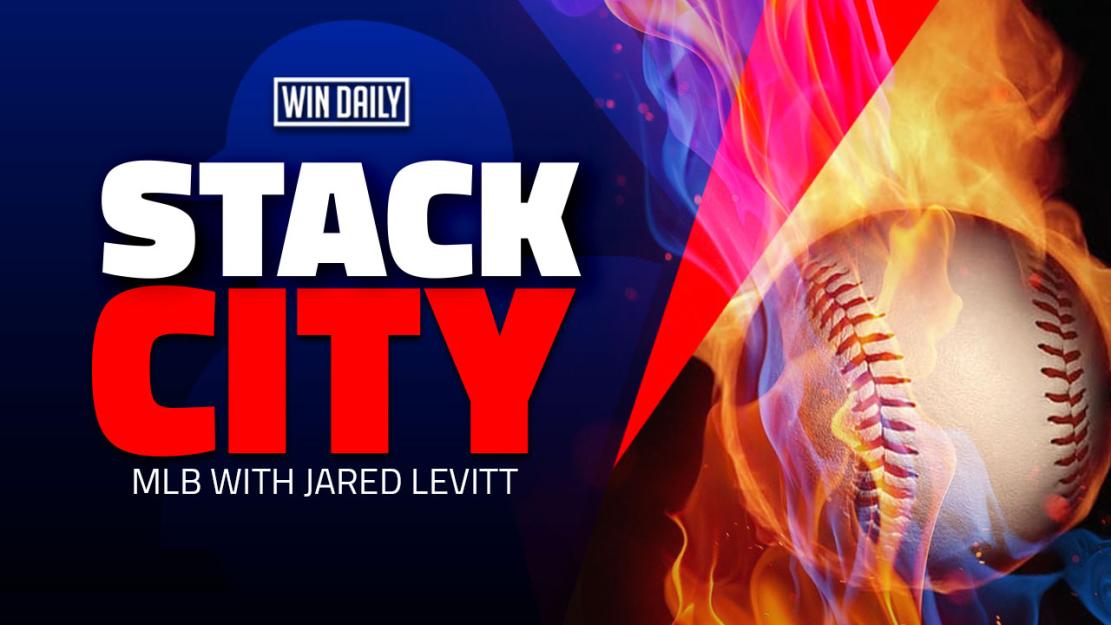 Welcome to the Thursday edition of the Stack City, where I'll be going through the top MLB DFS Stacks on DraftKings and Fanduel. 
Thursday brings us our typical smaller slate of games.  We have a solid-looking 8-game slate of MLB DFS tonight.  We have a handful of very attackable pitchers.
Always make sure to read Adam's Starting Rotation when setting your lineup.  It's hands down the best pitching article in the MLB DFS business.
Let's dig in and see if we can find some stacks to use today!
MLB DFS Stacks – Main
Toronto Blue Jays vs. Tyler Alexander
The regression monster will be coming for Tyler Alexander tonight.  Alexander has predominantly worked out of the bullpen over the last couple of months.  Tonight, he makes his first start since late April.  While he's pitched well on paper out of the bullpen, his xFIP tells us a whole different story.  Over his last 13 innings of work, Alexander has pitched to just a 1.38 ERA.  His xFIP however is more than 3 points higher 5.07. 
He's just giving up way too much contact at nearly 85%.  A healthy amount of that contact is exactly what we look for when attacking a pitcher, hard and in the air.  You can only survive so long giving up a .256 BABIP.  At some point, those hard-hit balls will fall or leave the park, and against a solid Blue Jays lineup, they will fall and leave the park. 
Core:  When you use the Blue Jays against a lefty you build around Teoscar Hernandez and Santiago Espinal.  Did you know that Espinal leads the team in many offensive metrics against lefties this year?  His 17 wRC leads the team, as does his .934 OPS.  He's been one of their most consistent and best hitters against southpaws this season.  Hernandez has also been one of their best.  His .585 slugging percentage leads the team and he's tied for the team lead with 4 homers against lefties.  Both of these guys also have solid numbers vs. cutters and they'll see plenty from Alexander tonight.  
Secondary Pieces:  After building out my core, I'll look to add in Vladimir Guerrero, Matt Chapman, and Danny Jensen.  Guerrero is the team's best hitter and is always in play.  The only reason I didn't list him as a core is that he's struggled against lefties over the past month.  He has just a .036 ISO vs. them over his last 29 AB.  He's always, and I mean always, a home run candidate vs. lefties, and if you can fit him tonight get him in there.   
All Blue Jays are essentially in play though tonight.
Los Angeles Angels vs. Spencer Howard
Not being able to use Shohei Ohtani as a bat in this stack definitely weakens it, but this Angels lineup is filled with value tonight and gets an incredible matchup vs. an awful pitcher.  Spencer Howard is not a good pitcher.  On the year, he has a 7.11 ERA and an xFIP of 5.11.  While the ERA is exaggerated a bit, his xFIP being over 5 really tells us the story.  He's just not good. 
Howard is someone that we can rely on for 2 things.  Barrels and homers.  He has just one game this season where he hasn't allowed a homer and just one game where he hasn't allowed a barrel.  His HR/9 this season is a massive 3.55.  While Howard has been pretty bad against both sides of the plate, he's been especially brutal vs. righties.  Righties have a massive .727 slugging % vs. him this season and an OPS well over 1.
Core: My Core with the Angels will start with Mike Trout.  Oh, how I wish that were true.  Really wish for a speedy recovery for Trout and his ailing back.  Back to business.  My core with the Angels will be Taylor Ward.  Ward is having a solid season vs. righties.  10 of his 13 homers this season have been against righties and has a very respectable .834 OPS vs. them.  He'll see a decent amount of cutters from Howard tonight and in a small sample size has solid numbers.  He has a .448 wOBA vs. them and a .333 ISO. 
Value: After Ward, I'm going to just sprinkle in value since my top stack is going to be expensive.  My next three favorite plays here are going to be Jo Adell, Brandon Marsh, and Phil Gosselin.  All three of these guys are under $2.5k on DK tonight.  They'll provide us a ton of salary relief and flexibility to fit in the bats we want.  My favorite of the 3 will be Jo Adell.  In 83 plate appearances vs. righties this season, Adell has a respectable .744 OPS.  He's shown some power vs. them with a .430 slugging % and 3 homers.  At just $2.2k tonight, he's a solid value hitting in the middle of this lineup. 
Detroit Tigers vs. Yusei Kikuchi
Do I think that the Tigers are a good lineup?  I do not.  Do I think that Yusei Kikuchi is a bad pitcher that is very attackable?  Absolutely.  Kikuchi has not had a good first season with the Blue Jays.  His xERA of 6.26 is the highest it's ever been in his career and the 5.12 ERA he's had is also close to the worst.  While he's shown some flashes at times of being a solid pitcher, he's also thrown more than his fair share of clunkers. 
In his first start coming off the IL, he threw one of his clunkers allowing 4 ER and lasting just 2 innings due to severe control issues.  Although we can't expect him to walk another 5 Tigers today, his control this season has not been good.  His 5.68 BB/9 is by far the highest it's ever been in his 4-year career.  When we attack Kikuchi, we attack him with righties.  Righties have a .526 slugging % vs. him this season, nearly 200 points higher than what righties have.
Core and Value: My core with the Tigers tonight will be Javier Baez, Jeimer Candelario, and Robbie Grossman.  Both Baez and Grossman have had solid years vs. southpaws and lead the team in both slugging % and OPS.  Grossman has a .980 OPS vs. lefties this year and Baez has a .943 OPS thanks to a massive .590 slugging %.  Grossman has been extremely strong against lefties over the last month too, with a .471 wOBA.  At just $2.8k on DK tonight, Grossman is in a solid spot to perform and is extremely cheap. 
Candelario is another solid value play tonight and is currently smashing the ball.  Over his last 3 games, he has 8 hits in 13 AB.  He's as hot as anyone in the game right now and tonight is just $2.6k on DK. 
MLB DFS Summary
I didn't list the Dodgers as a top stack for tonight because you don't need me to tell you to play the Dodgers vs. Jose Urena.  They have a 7 implied run total right now and should get every bit of it.  The concern here is there is a solid chance of rain throughout the game.  And their ownership should be through the roof.  Other stacks that have my interest tonight will be the Mariners vs. Jose Urquidy, Phillies vs. Zach Thompson, and Yankees vs. Brady Singers.  Listen, did you know that the Yankees were just swept by the Mets?  Now you do. 
Good luck and hope to see you in the green.
Make sure you follow me on Twitter at @rangerzfan79 and be sure to sign up for an ALL ACCESS GOLD ACCOUNT here at Win Daily Sports. Gain access to our Projection Models and jump into our Discord where we will have our experts talking plays across every sport and slate!
New to the DFS writing world but have been playing DFS since BVP was cool. Started play season long fantasy when sporting news was used to calculate weekly scores. Originally from Brooklyn, NY but now a Baltmore resident.