MLB DFS Hitter Stacks for DraftKings and FanDuel for 07/25/2022 – Win Daily Sports
Published
2 months ago
on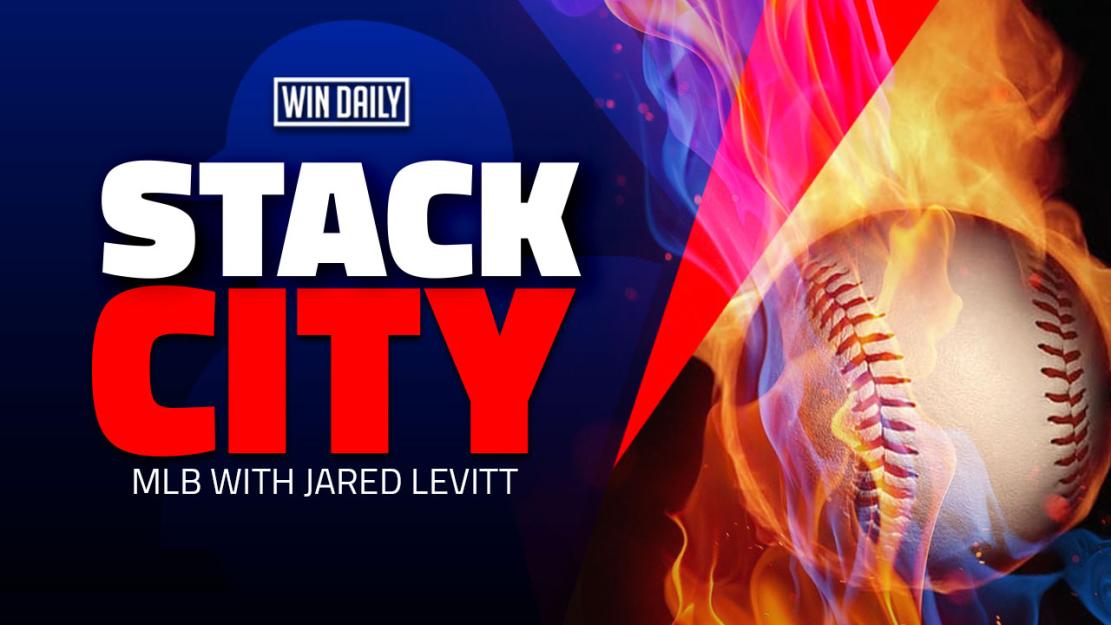 Welcome to the Monday edition of the Stack City, where I'll be going through the top MLB DFS Stacks on DraftKings and Fanduel. 
Tonight we have ourselves an 11-game slate of MLB DFS to navigate through.  There are a ton of good hitting spots tonight so picking the right ones will be more important than ever. 
Always make sure to read Adam's Starting Rotation when setting your lineup.  It's hands down the best pitching article in the MLB DFS business.
Let's dig in and see if we can find some stacks to use today!
MLB DFS Stacks – Main
Houston Astros vs. Adam Oller
I normally try to stay away from stacking in Oakland because the Coliseum is more of a pitcher's park than a hitters park.  However, when you have a pitching staff and bullpen that is bad as what the Oakland Athletics are putting out this season, it's easier to forget about the stadium.  The Rangers and A's combined for 19 runs yesterday, so scoring can happen and it will happen again today. 
The Astros get to take on Adam Oller today.  Though Oller has both started and worked out of the pen this season, his starts have not been good.  In his 5 starts this season, he's allowed less than 3 ER just once.  He just pitched against these same Astros a week ago and gave up 3 ER in just 4 innings of work and allowed 2 bombs.  Oller has been pretty bad against both sides of the plate this season, but he's taken it to a whole different level vs. lefties.  Lefties have a massive .705 slugging % vs. him and a .462 wOBA.  5 of the 8 homers he's given up this season have been to lefties, including Kyle Tucker. 
Core:  My core with the Astros tonight will be Kyle Tucker and Yordan Alvarez.  Both of these guys have been absolute beasts this season vs. right-handed pitching.  While he's had limited AB over the last month due to a hand injury, Alvarez has a .467 wOBA vs. righties over the last month and a .412 ISO.  Oller throws his cutter around 45% of the time to lefties.  In his last 22 batted balls against this pitch from righties, Alvarez has a .480 ISO. 
Kyle Tucker is in the same boat.  He excels at righty cutters, with a .385 ISO and a .450 wOBA.  Both of these guys are in smash spots tonight.  Alvarez was kept out of the lineup yesterday so we'll want to make sure to monitor his status for tonight's game.       
Secondary Pieces: In addition to my core, I'll look to get guys like Altuve, Pena, and Bregman into my lineups. Even though lefties are my priority, Oller has still be trash vs. righties. Righties have a .565 slugging % vs. him this season and a .417 wOBA. Altuve is coming into this one playing very well. He has hits in 6 of his last 7, including 6 hits in his last 3 games. Pena is also hot as he has a 6-game hitting streak.
Value: Both Chas McCormick and Jake Meyers come into this game with salaries under $3k.  Plugging in the low-salary guys from a lineup that is in a smash spot can always pay dividends.  They are typically lower owned as they aren't the big names, even though they are in the same matchup.  McCormick is my favorite of the two as he's been hitting the ball well of late, with hits in 4 straight. 
Cleveland Guardians vs. Nick Pivetta
If you watched any of the Blue Jays/Red Sox series over the weekend, you know that the Red Sox have essentially mailed it in.  They played listless baseball all weekend and have now lost 5 in a row.  To make matters worse, with a loss tonight and an Orioles will, they'll be in dead last in the AL East.  Even though I'm a Mets fan, I'm a resident of Baltimore and can't wait to see the Orioles jump over the Red Sox tonight. 
Pivetta has really struggled over his last 3 starts.  While 2 were against the Yankees, one was against an average Rays lineup.  In his last 3 games, Pivetta has given up 20 ER in just a little over 12 innings of work.  Facing a solid Guardians lineup tonight will not be something that will make his life easier.  I'm not going to be overly concerned with splits in this one as Pivetta has given up similar numbers to both sides of the plate. 
Core: Anytime you stack the Guardians, it has to start with Jose Ramirez. He's the heart and soul of this lineup and with him batting from the left side of the plate tonight, he's a lock in my lineups. On the year, Ramirez has a .314 ISO and a .405 wOBA vs. righties. 16 of his 19 homers this season have come as a lefty and his slugging % is nearly 200 points higher from that side.
Secondary Pieces: After plugging in Ramirez, I'll look to build around him with Amed Rosario, Steven Kwan, and Andres Gimenez. These guys have been arguably their best hitters over the last couple of weeks and with the exception of Rosario at $5k on dk, are very reasonably priced tonight. All three of these guys have wOBA's over .340 vs. righties over the last month. I'll also look to include Josh Naylor where I can. He always has the potential to homer with his raw power.
Value: Nolan Jones continues to be extremely cheap at just $2.3k on DK tonight. While he's quieted down a bit since his torrid start, he's still hitting .300 on the year and is extremely cheap.
There is some weather concern with this game tonight, so we'll want to monitor throughout the day.
Milwaukee Brewers vs. Kyle Freeland
The Brewers have been putting up some runs in the series against the Rockies.  Through the first 3 games, they've scored a total of 25 runs and get another great matchup tonight vs. Kyle Freeland.  Freeland has been pretty bad over his last 3 starts, giving up a total of 15 ER in 16 innings of work.  What has me encouraged to think his struggles continue is that 2 of the 3 games were on the road, not in the confines of Coors Field. 
Freeland has been way worse against lefties this season, especially on the road.  On the road this season, lefties have a .548 slugging % vs. him compared to just .319 for righties.  He's also given up a .401 wOBA to them on the road and just .271 to righties. 
Core: With how bad that Freeland has been against lefties on the road this season, I'm starting my Brewers stack with Rowdy Tellez, Christian Yelich, and Kolten Wong.  While I don't normally look to build cores around a lefty/lefty matchup, Freeland has just been really bad against them. 
My favorite of the three is going to be Christian Yelich.  Yelich is actually hitting for a higher average vs. lefties this year than righties.  His average vs. southpaws is up to .276 on the year, a very respectable number that will only be enhanced with the matchup tonight. 
Secondary Pieces: Even though Freeland has been better vs. righties, I'm still going to look to Hunter Renfroe tonight. Renfroe is on a heater right now, with homers in 3 straight and 6 hits in his last 12 AB. He's been solid vs. lefties this season too.
Value: Tyrone Taylor will add some nice value to this stack.  AT just $3.1k on DK, we'll be able to do a wrap-around stack with him and Yelich. 
MLB DFS Summary
One of the best MLB DFS stacks tonight will be the Los Angeles Dodgers vs. Paolo Espino.  My only concern with this stack is that they will be the stone-cold chalk tonight.  You can absolutely play them, I will be fading to try to get other stacks that will be lower owned with similar upside.  Other stacks I like tonight will be the Mariners vs. Glenn Otto and Rangers vs. Chris Flexen. 
Good luck and hope to see you in the green.
Make sure you follow me on Twitter at @rangerzfan79 and be sure to sign up for an ALL ACCESS GOLD ACCOUNT here at Win Daily Sports. Gain access to our Projection Models and jump into our Discord where we will have our experts talking plays across every sport and slate!
New to the DFS writing world but have been playing DFS since BVP was cool. Started play season long fantasy when sporting news was used to calculate weekly scores. Originally from Brooklyn, NY but now a Baltmore resident.