MLB DFS Hitter Stacks for DraftKings and FanDuel for 07/22/2022 – Win Daily Sports
Published
2 months ago
on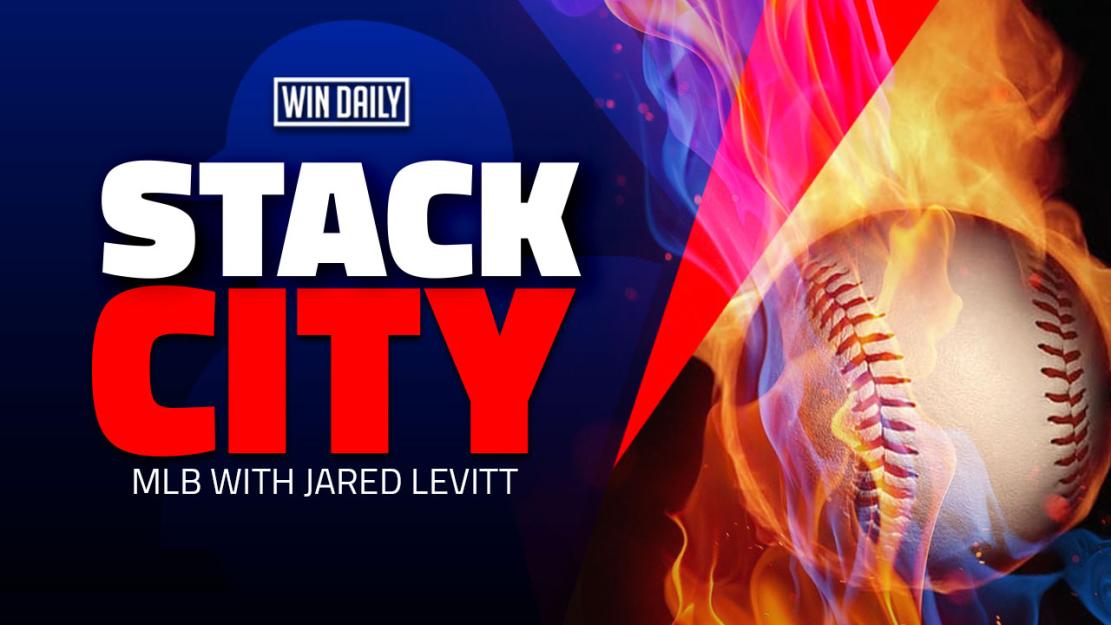 Welcome to the Friday edition of the Stack City, where I'll be going through the top MLB DFS Stacks on DraftKings and Fanduel.
Welcome back my friends, welcome back.  Tonight we have a 13-game slate of MLB DFS to navigate through, and one that is pitching heavy.  There are however a few exploitable spots for offense. 
Always make sure to read Adam's Starting Rotation when setting your lineup.  It's hands down the best pitching article in the MLB DFS business.
Let's dig in and see if we can find some stacks to use today!
MLB DFS Stacks – Main
Texas Rangers vs. Cole Irvin
Cole Irvin is one of those pitchers that likes to rely on his defense heavily.  His contact rate of 83.4% over the last month is one of the highest of any pitchers on the mound tonight and his K rate of 15.3% is close to the lowest.  He just gives up a ton of contact and nearly 43% of it is considered hard.  His 42.6% hard-hit rate is the highest of any pitcher tonight with more than 1 start.  He's been extremely lucky over the last month and at some point, your luck tends to run out. 
Although his ERA over the last month is a very nice 3.34, his xFIP is 4.61.  There will be some regression for him and it's going to be at the hands of the Texas Rangers.  The Rangers went into the All-Star break playing some of their best baseball of the season.  They continued with that yesterday vs. the Marlins and in a plus matchup tonight, should do well again. 
Core:  My core with the Rangers today will be centered around Marcus Semien and Corey Seager.  Both guys went into the All-Star break swinging hot bats.  Semien continued with his hot ways yesterday with another 2 hits and 2 runs scored.  Both guys have done really well against lefties over the last month with Semien having a wOBA of .482 and Seager having a .441. 
Irvin is going to throw Seager a sinker close to 38% of the time.  That's a pitch that Seager has historically done really against, with a .497 wOBA vs. lefty sinkers.  Semien will mostly see fastballs as Irvin throws them close to 47% of the time to righties.  Against lefty fastballs, Semien has a .411 wOBA and a .293 ISO over the last few years.  Just a great spot for both of these guys.     
Secondary Pieces:  My complimentary pieces here will be Adolis Garcia, Jonah Heim, and Nate Lowe.  All three of these guys are reasonably priced tonight and are in spots to succeed.  Both Heim and Lowe have been highly respectable vs. southpaws over the past month with ISO's over .230 and wOBA's over .360. 
Value: Leody Tavares continues to be extremely cheap, regardless of how well he's been playing.  At just $2.5k on DK tonight, he's still an absolute steal.  His combination of power, speed, and ability to knock in runs makes him one of my favorite value plays on the night. 
Baltimore Orioles vs. Jameson Taillon
Although Jameson  Taillon has been a little unlucky over the last month, I still don't think he's very good and this newly made Orioles lineup can absolutely get to him tonight.  Over the last month, Taillon has struggled with both hard contact and the long ball.  In his last 27 innings of work, Taillon has given up 8 homers and 11 barrels.  His hard-hit rate against him during that stretch is nearly 41% and his flyball rate is sitting at nearly 46%. 
With the temperature expected to be in the 90s at first pitch tonight in Baltimore, those hard-hit flyballs will have some extra giddy up.  With Taillon, we have a slight lean towards the lefties.  Of the 14 homers that he's given up this season, 8 have been to lefties in 70 less AB.  They have a .478 slugging % and a .330 wOBA.  Both are slightly higher than what he's giving up to righties.   
Core: My Orioles core tonight will be centered around Cedric Mullins, Adley Rutschman, and Anthony Santander.  Santander has shown more power this season batting as a lefty, as 11 of his 15 bombs have been as a lefty.  While Mullins is having a down year compared to his last couple of years, he's still hitting a very respectable .278 vs. righties this season and has a .333 wOBA.  A leadoff extra-base hit tonight against Taillon is not out of the question.  In his short career so far, Rutschman has absolutely destroyed righty fastballs.  He'll seem about 64% of the time tonight.  He has a .688 ISO vs. them so far.  Great spot for him tonight.       
Secondary Pieces:  While not a priority in this matchup, guys like Trey Mancini, Ryan Mountcastle, and Austin Hays have carried this offense this season.  Taillon is only slightly better vs. righties and these guys can potentially flourish in this matchup.  My favorite of this group tonight will be Trey Mancini.  Over the last month, he has a .326 wOBA vs. righties and a 46% hard-hit rate.  His days in an Orioles uniform are numbered and this will more than likely be his final homestand.  I'm playing the matchup and narrative here. 
Value: My value here will come with Ramon Urias and Rougned Odor. Both guys are sitting right around that $3k number on DK tonight. Urias has been a beast of late, with 11 hits in his last 30 AB and a 1.120 OPS. Against righties over the last month, he has a .463 wOBA and a .273 ISO. He is in a sneaky good spot tonight and will be in most of my lineups.
Milwaukee Brewers vs. Antonio Senzatela
While I normally like to target the Rockies pitching at Coors, this is just too good of a spot to pass up tonight.  Antonio Senzatela has not had a good year.  His 4.95 ERA is the highest it's been since 2019.  His xERA of 5.92 indicates that things could actually be a little worse for him and with a matchup tonight vs. a solid Brewers lineup, things very well could get worse for him. 
With this stack tonight, you need to go all in or not at all.  On the year, Senzatela has only given up 5 homers.  You can't fully expect that this lineup will hit a random home run and you'll get it right.  You'll more so want to chase the 1.80 WHIP that he has on the season, the highest it's ever been in his career. 
Core: With Senzatela, we'll want to focus on guys from the right side. Righties have a .407 wOBA vs. him this season and a .565 slugging %. While lefties have also done well against him, righties have been his kryptonite. I'll start my Brewers stack with guys like Willy Adames and Andrew McCutchen. Both guys are having solid seasons and have done well against righties. Adames has a .479 slugging % vs. them this season with 15 homers. McCutchen has a .365 wOBA vs. righties over the last month.
Secondary Pieces: My complimentary pieces here will be Rowdy Tellez, Christian Yelich, and Kolten Wong.  While I want the righties, lefties will also be important here.  Yelich has done well against righties over the last month, with a .376 wOBA.  Tellez, although not as hot as he was early in the year, has a .329 ISO vs. righties over the last month.  If I were to chase a random homer against Senzatela, he'd be my guy. 
MLB DFS Summary
Other MLB DFS stacks I like tonight will be the Nationals vs. Zac Gallen, Yankees vs. Tyler Wells, Astros vs. Marco Gonzales, and Cubs vs. Kyle Gibson.   And of course, maybe the Diamondbacks vs. Patrick Corbin.
Good luck and hope to see you in the green.
Make sure you follow me on Twitter at @rangerzfan79 and be sure to sign up for an ALL ACCESS GOLD ACCOUNT here at Win Daily Sports. Gain access to our Projection Models and jump into our Discord where we will have our experts talking plays across every sport and slate!
New to the DFS writing world but have been playing DFS since BVP was cool. Started play season long fantasy when sporting news was used to calculate weekly scores. Originally from Brooklyn, NY but now a Baltmore resident.