MLB DFS: DraftKings and FanDuel Pitching 8/9
Published
2 months ago
on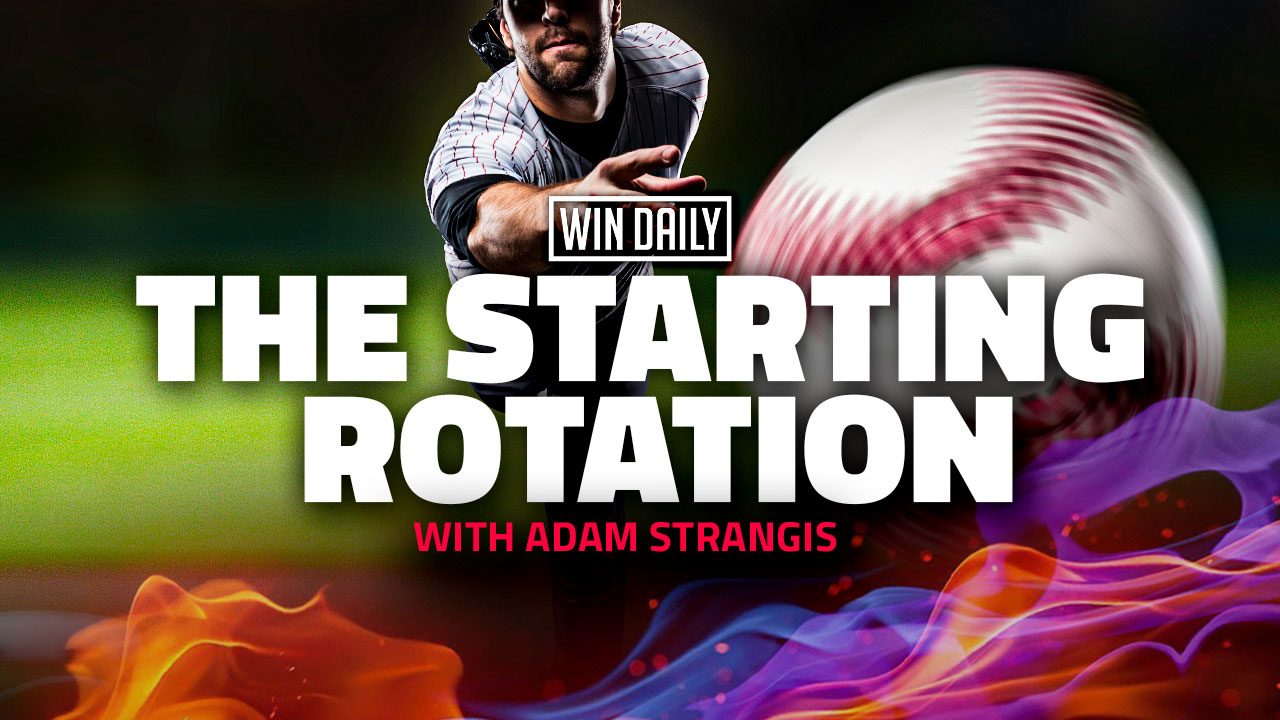 MLB DFS: DraftKings and FanDuel Pitching 8/9
After a boring pitching slate last night, we have a whopping eight pitchers that meet the criteria for an Ace and there are some great spots among that tier as well. The salary for Shohei Ohtani is FINALLY where it should be for a game where he's the pitcher, so he might not be chalk for once. Let's talk about him and a whole bunch of other pitchers in the MLB DFS: DraftKings and FanDuel Pitching 8/9 and see who we're chasing!
Aces
Zack Wheeler
There will be a lot of splitting hairs in this tier but I believe Wheeler may be the safest of the bunch as he draws the Marlins offense in Miami, which is a cupcake matchup. After getting his arm ramped up, Wheeler has had an excellent season overall with a 3.10 xFIP, a 2.69 ERA, a 27% K rate, and an 11.9% swinging-strike rate. Miami is below average in OPS, ISO, wOBA, and wRC+ with a K rate of 22.3% against righty pitching this season and Wheeler has held both sides of the plate under a .290 wOBA. Even though the ERA is much higher on the road for Wheeler, the xFIP's are nearly identical and the K rate is still over 25%, not to mention that over the past 30 days, the Marlins are either 29th or 30th in all major offensive categories. Lastly, Miami is in the bottom 10 against the fastball and slider which are the two main pitches for Wheeler and they've totaled 92 strikeouts on the year. 
Note – I'm not sure how I messed this up, but the game is in Philly, NOT Miami. I apologize for the rookie mistake. Wheeler has produced much better at home with a 1.58 ERA, a .231 wOBA, a 0.80 WHIP, and the K rate jumps to almost 29%. As I mentioned, the xFIP's are almost dead even but you always feel better with a pitcher in his park. We need to keep an eye on the weather, but if that is fine, it's all systems go for Wheeler and he's currently under 20%.
Brandon Woodruff
Every pitcher in the tier has a sliver of instability to them, and Woodruff is no exception. However, this spot could really bring out the best in him in part because the Rays strike out a ton at 24.7% when they face a righty. That's the fourth-highest mark in the league and they're in the bottom 10 in OPS, ISO, wOBA, and wRC+ as well. They could throw out plenty of lefties and that's a big help for Woodruff with that crazy changeup he has, sporting a 55.1% whiff rate and a .280 wOBA allowed. He throws it a lot more when he sees a lefty and that helps explain the .250 wOBA, 36.6% K rate, and a 1.77 FIP. Woodruff has also been lights out at home with a 2.19 FP, a 2.35 xFIP, a 35.1% K rate overall, and a 2.08 ERA. Seeing as how this game is in Milwaukee, everything sets p for a big game from the righty for the Brewers.
Shane Bieber
I've been hesitant on Bieber for much of the season but this is the Detroit matchup that he hammered a few starts ago and this is about the worst offense in baseball against righties. Even with some rough games in his game logs, Bieber has been rock solid in his profile with a 3.14 xFIP, a 3.39 ERA, a K rate over 25%, and a 14.1% swinging-strike rate even in the face of some diminished velocity on the four-seam. His slider has bumped up in usage and has a 41.1% whiff rate with a .320 wOBA allowed and the Tigers are dead last against the fastball, which could save him as his four-seam is allowing a .357 wOBA on the season. Detroit also tends to skew towards lefties in the lineup and that works for Bieber with a .257 wOBA, a 28.4% K rate, and a 0.99 WHIP so his salary leaves plenty of room for value.
Shohei Ohtani
He is finally priced accurately and he finally missed double-digits in strikeouts last time, but he does still interest me tonight. Oakland was the team that snapped his string of monster strikeout games at six and he does have to face this offense for the second straight game, but it's still appealing. The A's are 29th in wRC+, wOBA, OPS, and OBP against righties this year and they have a K rate that just misses 24%. As far as ISO goes, they only come up to 26th and Ohtani has gotten much better when facing a lefty. He's held them to a .292 wOBA, a 1.14 WHP, a 35% K rate, and the xFIP of 2.24 is a touch lower than 2.34 against the right side. He's a rare guy that I don't worry about facing the same offense twice in a row too much since three of his pitches have a 39.3% whiff rate or higher, and he's using the slider as the primary pitch now this season at 36%.
Gerrit Cole
For all the guys in Discord who hate him, this is a pretty easy slate to fade him. He's the most expensive guy in a sea of Ace pitchers, he's on the road, and the Mariners just took him behind the woodshed. Just remember that if we know that, so does the field and I'd be surprised if he's not hated on to the point of being under-owned tonight. While Cole has been worse on the road, the K rate is still just under 29% and the xFIP is 3.42, not exactly frightening numbers. Sure, the HR/9 of 1.65 is higher than you'd like but you already know that Cole can be a little homer-prone in any given start. It can't go much worse for him than last game and he still whiffed eight hitters and he threw five shutout innings. That's right after he got blistered in the first inning, that was it. If he's not that popular, it could be a lot of fun to get to him in some GPP's because he could easily post the best score of the night.
Honorable Mention
I don't think Joe Musgrove is a "bad" play but he's seen a drop in his production since the start of July and the wOBA has jumped over .301 with an ERA over 4.50. The xFIP has risen as well and perhaps the best aspect is he has been better against the left side with a 25.6% K rate and a 1.04 WHIP. San Francisco plays the platoon game like few other teams so he'll see plenty, but I do like the rest of the bunch a good deal better.
Luis Castillo has baffled the Yankees in two of the past three starts, which is impressive. That's kind of why I don't love him because this will be the third time in four starts that he has to face the Yanks and that is a very tough assignment. If you're n MME, exposure is fine but that would be about the only place I'd take the risk.
Mid-Range
Charlie Morton
The next pitcher is likely "safer" but Morton has the higher upside in my eyes even though he's been a moving target all season long. The Red Sox are finishing out the miserable year they're having and they are outside of the top 12 in all of our categories offensively. Morton can get smacked but he also has a K rate over 27% on the season and it has been over 31% since the start of June. At this salary, you can give up a couple of runs if you're going to strike out 8-10 hitters potentially and Boston has the second-highest K rate against righties over the past 30 days at 26.7%. They are also 17th against the curve, which is the main pitch for Morton at 36.4% and it boasts a 41.1% whiff rate with a .271 wOBA allowed. The ceiling here is palpable, even understanding the risks involved.
Alek Manoah
The Orioles will likely have enough lefties in the lineup that I don't pitch Manoah very much, if at all but we also saw those lefties can vanish as they did on Sunday. Manoah has been reliable all year long and is in the 95th percentile when it comes to allowing hard hits and the K rate is enough at 22.5%. He really does have some problems with lefties with a .306 wOBA, a 4.69 xFIP, and a 16.8% K rate and that's what generally holds me back on him on any given slate. If the Orioles go with more righties, that works out a lot better since Manoah sports a 28.9% K rate and a 0.71 WHIP. Something about that sinker plays very well against the righties so the just is out on Manoah until we see the Baltimore lineup. It's not like we have to force him in.
Honorable Mention
I could see Carlos Carrasco picking up some steam and I don't think he's the worst play at all. He's a little worse when he sees a righty hitter with a .325 wOBA and a 3.64 xFIP, but those numbers don't disqualify him or anything like that. The Reds should have plenty of lefties but Carrasco has also been a smidge better at home so he has a clear path to success tonight.
Punt Range
Marcus Stroman
It's safe to say that Stroman has not been part of our plans very often this season but this is a strong spot and an even better salary. His xFIP is 3.31 compared to a 4.00 ERA so there are better days ahead for him in that respect, not to mention that his K rate is 22.4%. Granted, he only has 74.1 innings under his belt this year but that would be the highest rate of his entire career and he's keeping the ball out of the air at just 30.4%. His slider and cutter have a whiff rate of at least 26% so far this year and they have allowed under a .295 wOBA so he's pitching well. Additionally, neither side of the plate are over a .300 wOBA and lefties carry the much larger K rate at 25.7% with just a 2.77 xFIP. The Nationals should have at least four in the lineup tonight and the salary on Stroman makes a lot of sense.
Honorable Mention
I'm not sure if I'll be brave enough to do it on such a big slate and with such a strong top tier, but James Kaprielian has been pitching better and draws the Angels at home. Since July started, he's thrown 33.1 innings and has an ERA under 1.90 but the xFIP is still over 4.50. I just don't think I can get behind it in anything other than 20-max or more.
Stacks
Blue Jays
Phillies
Cardinals (likely chalk)
Mets
Cubs
Braves
Guardians
Buccos
Thank you for reading my MLB DFS: DraftKings and FanDuel Pitching 8/9 and make sure you follow me on Twitter at @bucn4life! Be sure to sign up for an ALL ACCESS GOLD ACCOUNT account here at Win Daily Sports. Gain access to our Projection Models and jump into our Discord where we will have our experts talking plays across every sport and slate!