MLB DFS: DraftKings and FanDuel Pitching 8/7
Published
2 months ago
on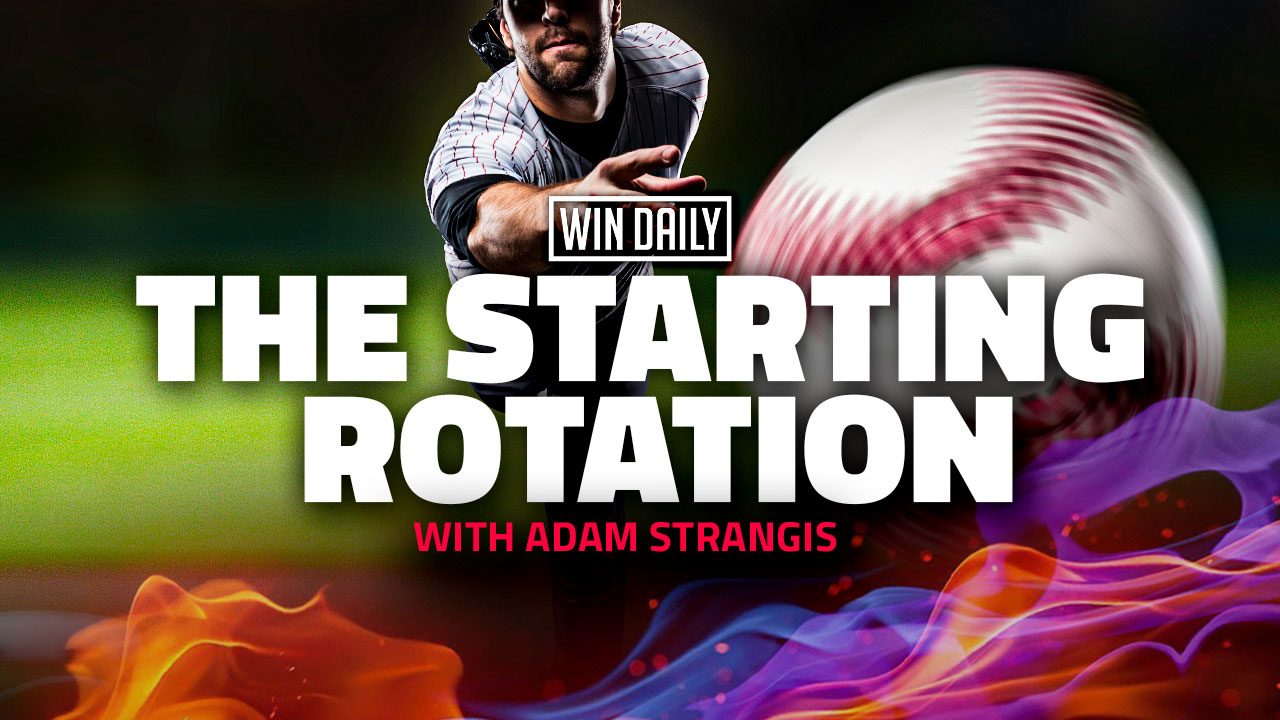 MLB DFS: DraftKings and FanDuel Pitching 8/7
It's a fairly small slate today with just eight games so we only have16 total options and the punt range is looking pretty rough today. We might be able to uncover a gem or two in that range as we did with Dane Dunning last night, but we'll see. Let's get to work and figure out who we're chasing today in the MLB DFS: DraftKings and FanDuel Pitching 8/7 to find green screens!
Aces
Corbin Burnes
The roller-coaster for Burnes continued last time out as the lowly Pittsburgh lineup tagged him for four earned runs across 5.1 innings and only whiffed six times compared to five walks. That's not going to cut it but Burnes is heading back home and he still kept his streak of 100 pitches or more intact, which is still comforting. Burnes is kind of like Gerrit Cole this season because when he's on, he's likely going for 25-30 DK points and when he's off, you curse yourself for paying up but the statistical profile is dominant. The K rate is 32.3% and his xFIP is 2.89, close to the 2.49 ERA. He gets a ground ball rate of 44.4% and a swinging-strike rate just under 16% while his splits aren't totally crazy. He's a touch worse when he sees a righty but the K rate remains over 32% against either side and the Reds are 24th or worse in OPS, ISO, OBP, wRC+, and wOBA this season when facing a righty with a K rate over 24%. Everything makes perfect sense to pay up for Burnes today on a shorter slate.
Aaron Nola
We saw last night that it wasn't super difficult to go double ace if we got a reasonable punt hitter or two and that could certainly be the case today. Nola continues to have a great season with a 28.2% K rate, a 2.97 xFIP, and a 2.85 FIP which tells us the 3.25 ERA is likely just a bit high. Nola's curve has a 38.5% whiff rate and 60 of his strikeouts while the four-seam has 50 and neither pitch has allowed a wOBA over .248. Considering those two pitches makeup about 61% of the arsenal, those are some very strong numbers and Washington is 20th against the curve. We're going to have to keep adjusting to their offense as we get more data without two of their best hitters but this is a strong spot for Nola even if I do prefer Burnes if forced to pick.
Honorable Mention
I feel safer with the first two, but if you want to spin the roulette wheel with Kevin Gausman coming off his best start of the season, I can't argue against it. Gausman has been prone to wild swings in production but overall, the K rate of 28.2% and a FIP of 2.01, and an xFIP of 2.74 makes a lot of sense. The Twins can be tough but regardless of what style of lineup they put out, Gausman can handle it. Lefties only have a .265 wOBA and a 0.99 WHIP while righties have a 31.4% K rate and a 2.49 xFIP. It's mostly just a trust factor that leaves him a bit lower as I have more faith that Burnes can hit 30 than I do for Gausman.
Additionally, Jesus Luzardo was strong in his first start in nearly three months and he did throw 81 pitches, so we should be back to around 90 if things are going right. His stuff is utterly filthy when things are going well for him and his K rate is the highest of anyone n the bunch at 33.3% and his 3.97 ERA is unfair compared to a 3.13 xFIP. His curve has a 41.5% whiff rate and a .218 wOBA allowed despite being his most used pitch at 37.6% and the Cubs have the sixth-highest K rate against lefties. I think Luzardo gives up some production but 8-10 strikeouts are well in play.
Everyone Else
The options dwindle pretty quickly after the Aces which is another part of the reason Gausman and Luzardo are very much in play. I think we know that Ghost is going to rock the Luzardo and Frankie Montas pair and that's not going to be a bad route to take. The Cards can be a tough offense to strike out a lot but Montas has had a big year with a K rate just under 26%, a 3.21 xFIP, and a 46.1% ground ball rate. His splitter/four-seam combo has been outstanding with a whiff rate over 28% for each pitch and a combined 87 strikeouts. His splitter has only allowed .217 wOBA and his 12.7% swinging-strike rate is the second-highest rate of his career over a relatively full season. His wOBA against the right side is down to .264 and the K rate is over 30%, basically exactly what we want if we're going against the Cardinals. His xFIP and FIP are 2.52 or lower and his salary is relatively comfortable at $8,700.
This is about where the list ends for pitchers to feel strongly about and then we get into some riskier options. Drew Rasmussen catches my eye to some extent since it is the Tigers and they are far worse against righties than lefties, and when I say worse I mean they are 30th in most of our categories. Rasmussen has some things in the profile that don't look great with a 3.78 xFIP compared to a 3.06 ERA and the K rate is just under 20%. He's also a little worse when facing a lefty with a .302 wOBA a 1.36 WHIP, a 4.04 xFIP and the K rate drops even further to 17.3%. He's also been a good deal worse on the road so this is a toss-up as far as the matchup.
I think the premier punt could be Spenser Watkins as he has at least 19 DK in four of his last five starts and draws a home matchup with the Buccos. Now, when I say "premier" that is in the context of the slate because he has some issues in his profile as well, not the least of which is the 4.92 xFIP and the K rate of just 14.5%. He's faced some tougher offenses than the Pirates lately though and handled them and it really appears that 12.1 IP in May has thrown off a lot of his metrics. Since the start of July, his last 29 innings have produced an ERA under 2.30, a wOBA under .265, a K rate of almost 20%, and a FIP under 2.65. Life could be worse because I expect the field to concentrate up top, so pitching Watkins is one way to get different quickly.
Missed The Cut
Adrian Sampson – Attacking the Marlins is always appealing to some extent but Sampson only has a 17.7% K rate, an xFIP over 4.30, and a fly-ball rate over 40%. I could see him grinding his way to 15 DK but I could see it going poorly as well.
Stacks
Blue Jays
Orioles
Phillies
Rays
Royals/Red Sox Game Stack
Thank you for reading my MLB DFS: DraftKings and FanDuel Pitching 8/7 and make sure you follow me on Twitter at @bucn4life! Be sure to sign up for an ALL ACCESS GOLD ACCOUNT account here at Win Daily Sports. Gain access to our Projection Models and jump into our Discord where we will have our experts talking plays across every sport and slate!