MLB DFS: DraftKings and FanDuel Pitching 8/6
Published
10 months ago
on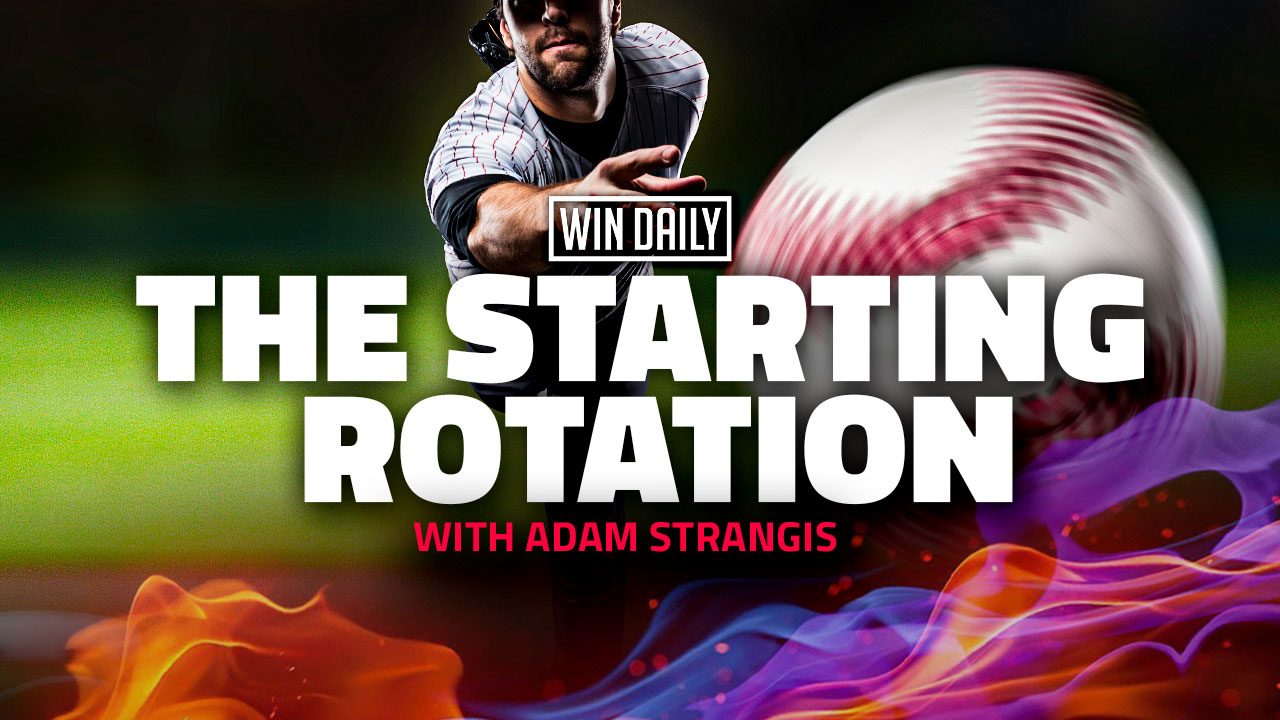 MLB DFS: DraftKings and FanDuel Pitching 8/6
We've got 10 games tonight, a bit of a rare Saturday slate. While we do miss out on a couple of the big-name studs in the afternoon but that doesn't mean there aren't some very intriguing options available. Let's find out who we like and who can lead us to green in the MLB DFS: DraftKings and FanDuel Pitching 8/6!
Aces
Max Scherzer
David Peterson was listed at one point last night but now it's Mad Max and that changes everything on the slate. He's themes appealing option tonight as the Braves should be righty-heavy (only three lefties last night) and Atlanta remains one of just three teams with a K rate over 25% on the season. When Scherzer faces a righty hitter, he's been very difficult to hit with a .228 wOBA, a K rate over 32%, a 1.23 FIP, a 0.19 HR/9, and a 2.73 xFIP. The slider is one of his most effective pitches with a 50.3% whiff rate and a .143 wOBA allowed and every single one of the 283 he's thrown have been against a righty hitter. Atlanta reminds us last night they are dangerous, but the Mets need to bounce-back after a rough loss last night and I think Mad Max puts the foot down tonight.
Carlos Rodon
He's certainly been frustrating to use lately, but Rodon is in an excellent spot against the Oakland offense. When they face a lefty, they are 26th in wRC+, 28th in wOBA, 25th in ISO, 28th in OPS, and 28th in OBP. Now, the K rate isn't horrific at just 22.3% but with the ineptitude of the rest of the offense, I'm not sure that matters that much. It's not going to help them that they rank 28th when facing a fastball or dead last when facing a slider because those pitches make up roughly 93% of the arsenal for Rodon and they have whiff rates over 26%. While each pitch is still a little worse than 2021, the wOBA's allowed are still under .285 and they have 153 strikeouts. Rodon still has a K ate just under 32% and a WHIP under 1.10 to go along with a 14.2% swinging-strike rate. Both sides of the plate have a wOBA under .265 and the xFIP is under 3.30 against each side. He's had bouts of inconsistency, but there s nothing from any metric that suggests he should have issues here and I'm in.
Merrill Kelly
I get a little freaked out with Kelly at the $9,000 threshold but he has averaged over 21 DK points in his last 10 starts so it's not that outrageous of a salary. His 20.7% K rate is pedestrian for this salary but he was on some kind of heater in July over 41.1 IP with a 1.31 ERA, a .213 wOBA, and a 0.77 WHIP. The xFIP was 3.83 so that's a concern and another reason to not love the salary, but we also have to factor in the Colorado lineup when it's away from Coors. They are in the bottom eight of all of our categories even though they have kept the K rate under 23% as a team. Kelly's top three pitches all have a whiff rate of at least 21.8% and his change and cutter have a wOBA under .270. While his four-seam has a .329 wOBA, the xwOBA is just .303 and he throws it under 30% of the time. Kelly is also slightly better when facing a righty, his K rate s almost 24% in Arizona, and the Rockies are missing Kris Bryant. It's a whole bunch of factors that leave him on my radar.
Mid-Range
Reid Detmers
He used to be a target for us to attack but his past four starts would hint that he has something figured out as he's scored at least 16 DK points and he has 31 strikeouts in those four starts. He has started to sue the slider much more, at least 26.7% of the time on those starts and it's been into the positives for FanGraphs value. The whiff rate is 23.6% and the wOBA is just .234 while the Mariners are just 21st against that pitch. It's no guarantee of success but in these past 24 IP, the ERA has been 1.13, the wOBA was only .209, the K rate was 34.4%, and the FIP is just 1.78. I'm hesitant to go all-out with him but he has a pedigree and we can hope he's got something figured out.
Nick Lodolo
We saw in the last start that Lodolo has some better days ahead as he only allowed six total baserunners in six innings of one-run ball while striking out seven Orioles. Even after that one, his BABIP is still an absurdly high .406 and that has to work its way down. It's a big part of the 3.34 xFIP being almost a full run lower than his 4.23 ERA and Lodolo is sitting at a 30.3% K rate with a 12.7% swinging-strike rate so there is plenty of upside to chase. His curve is being thrown about 26% of the time and it has generated a 49.4% K rate and 28 strikeouts compared to 24 for the sinker, which also has a 24% whiff rate. Milwaukee is 20th against the curve and they also have the fourth-highest K rate when facing a lefty pitcher at 24.4%. On top of that, they aren't higher than 23rd in OPS, wOBA, ISO, wRC+, or OBP this year which is a surprise with some of the hitters they have. Lodolo has only pitched seven of his 38.1 innings on the road and they have been ugly, but his profile is out of whack because of the BABIP. I'm still interested, even though he's far from the most trusted pick of the night.
Aaron Ashby
He can be totally lights out and he can get waxed, and Ashby often shows those attributes in the same start. His stuff is nasty as his slider/change/curve all have a whiff rate over 31.5% and the slider is his star pitch with 56 strikeouts and a .290 wOBA allowed. Cincy is 26th against that pitch and his K rate is over 27% with a 55.5% ground ball rate and a 13% swinging-strike rate. The issue remains that as a starter, he has a 4.34 FIP, a 3.55 xFIP (not shabby), and the K rate drops to under 26%. His WHIP rises to 1.53 and the Reds are 15th in wRC+ but below league-average in others. It's not the worst matchup but Ashby has had a bumpy road as a starter filled with ups and downs.
George Kirby
We've had to be careful with Kirby and where to start him because the kid is young, both in age and experience. Despite his limited track record as a pro, he's had a 3.38 xFIP, a 3.56 ERA, a K rate of 23.6%, the WHIP is 1.19, and his ground ball rate is 45.7%. These are fantastic numbers for his experience especially and his fastball has a 27% whiff rate, a .278 wOBA, and 47 of his strikeouts. The Angels are 29th against the fastball so that's a huge bonus for Kirby and this Angles lineup has been rough against righties in the past 30 days. The K rate is almost 26% and they are 19th or lower in ISO, wOBA, and wRC+. We have to be careful with his splits because the right side has a .385 wOBA and a 5.09 FIP but the more dangerous hitters for LA tend to be on the left and his K rate is at 26.5% with a 2.70 FIP. The mid-range is full of intriguing but unstable options.
Punt Range
Nathan Eovaldi
I can already tell you that he's going to bite me since I wrote him p but I could see him getting some popularity at this salary. He is in Kansas City which helps his home run tendencies in a major way because Eovaldi has a 1.85 HR/9. However, His 4.11 ERA is way higher than a 3.37 xFIP and the 18.8% HR/FB rate is crazy high compared to the career rate of 11.1%. His K rate is over 23% and the ground ball rate is almost 48%, which also leads us to believe his home run luck has been terrible. Eovaldi is also a little better against the left side with a .298 wOBA and a 28% K rate with a 3.40 xFIP so the Royals lineup could play into his hands.
Dane Dunning
If the White Sox continue to hurt us when we try to stack them, maybe it's time to turn the tables. They are still 29th in ISO on the season when facing a righty, among other issues like being in the bottom 10 in OPS, wOBA, and wRC+. They may not whiff a lot at 20% but they aren't doing anything else either. Dunning is at his best when he's facing righties with a 22.8% K rate, a 1.17 WHIP, a 3.46 xFFIP, and a .294 wOBA. He has performed much better at home and the K rate jumps to 27.7% against the right side while the wOBA drops to .267. Most of the reason there are strong splits is he uses the slider a lot more when facing a righty and it has a 38.9% whiff rate to go with a .255 wOBA and 32 strikeouts. Not only will Dunning face plenty of righties, but the White Sox are 25th against the slider this season.
Missed The Cut
Andrew Heaney – We're not going to be in the business of challenging the Padres very often and even through just 23.1 IP, Heaney has been pretty lucky. His 0.77 ERA looks pristine but the 3.02 xFIP and the 5% HR/FB rate look much scarier. Sure, 3.02 for an xFIP is not bad but it has a way to go to catch up to the ERA.
Max Fried – You could likely get away with playing him if you wanted but I'm not going out of my way to target the Mets offense right now. They brought in a very solid platoon for the DH spot and have a strong lineup anyway, along with a K rate of just 20.4% as a team. Fried's K rate is just 23.1% himself and it's a very narrow path to paying off this salary.
Michael Kopech – I really wanted to give him a strong look but a .332 wOBA, 1.47 WHIP, and 4.78 xFIP against lefties were enough to pass on him against a lefty-heavy Rangers lineup.
Stacks
Yankees (catchers vs former pitchers tend to be a thing)
Blue Jays
D-Backs
Rangers
Giants
Thank you for reading my MLB DFS: DraftKings and FanDuel Pitching 8/6 and make sure you follow me on Twitter at @bucn4life! Be sure to sign up for an ALL ACCESS GOLD ACCOUNT account here at Win Daily Sports. Gain access to our Projection Models and jump into our Discord where we will have our experts talking plays across every sport and slate!