MLB DFS: DraftKings and FanDuel Pitching 8/3
Published
2 months ago
on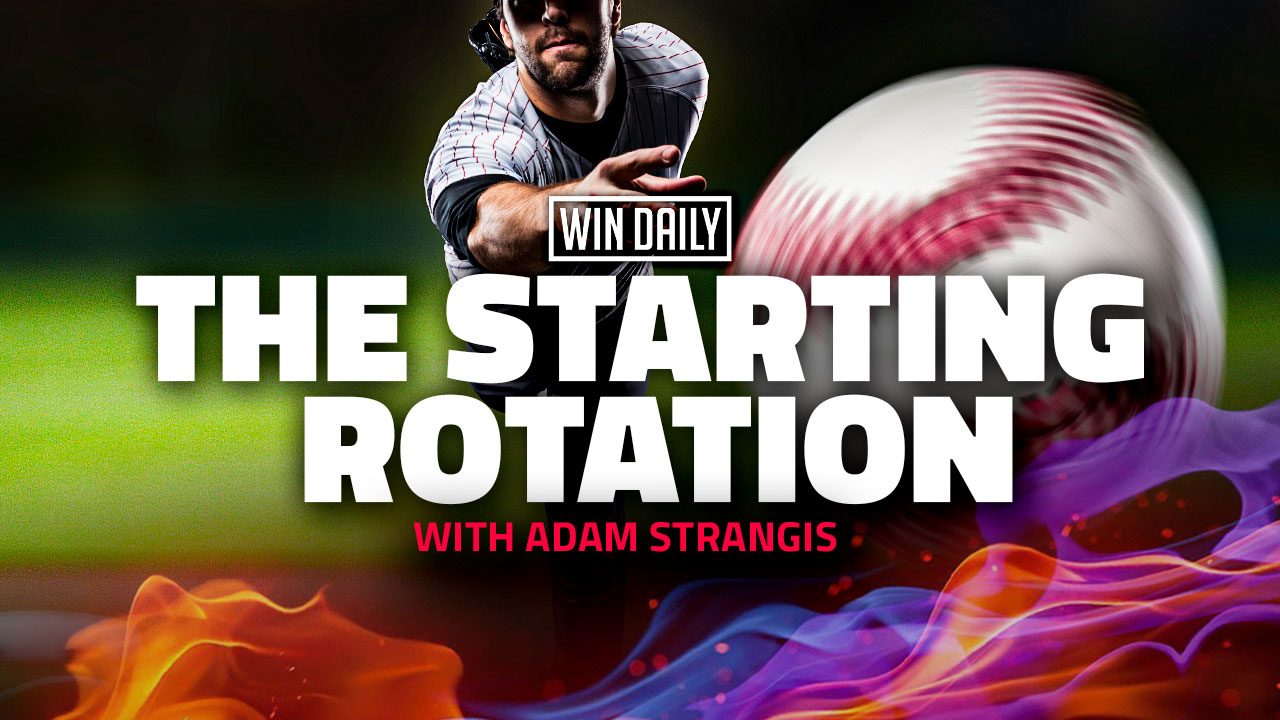 MLB DFS: DraftKings and FanDuel Pitching 8/3
There is a six-game slate this afternoon and we're kicking things off early with a 1:05 p.m. start. We've got some interesting options today and we also get the first start Luis Castillo makes for the Mariners after being dealt from the Reds. Let's talk about him and everyone else in the MLB DFS: DraftKings and FanDuel Pitching 8/3 to find green screens!
Aces
Gerrit Cole
He got smacked in one inning last start but that was it, which is really weird. With Cole, we always know he can get hit by some odd teams but we also know the upside and that's even more important on a short slate. His xFIP is just 2.72 but the ERA is 3.30 and the K rate is 32.5% but it comes up further at home to 35.6%. Even better is when he faces lefties because it jumps to over 40% when he's at home and if the Mariners play the same lineup as last night, they had seven lefties. Seattle is 10th against the fastball but is missing important players from their offense and Cole's fastball has a 31.6% whiff rate even though it makes up about 50% of his pitches. If he gets as many lefties as we suspect, I'm very much in on Cole today and would be over the field.
Luis Castillo
In a small twist, Castillo just faced the Yankees on July 14th and he was excellent with seven innings of one-run ball with eight strikeouts. That makes three straight games he's hit eight and he just hit 11 on June 28th. His K rate is up to 25.8% to go with a 2.86 ERA, a 3.38 xFIP, a 47.1% ground ball rate, and an 11.7% swinging-strike rate. That all looks strong to go against a team like the Yankees and then Castillo adds in a .246 wOBA, a 27.5% K rate, and a 2.64 FIP against the right side of the plate. That's why we liked him the first time around when he faced the Yanks and his four-seam has just been unreal this season. It's actually down a smidge for velocity but it also has a 38.5% whiff rate, a .203 wOBA, and 45 strikeouts. I suppose there could be some jitters with a new team but he is very interesting in this spot, even with the potential risk.
Shane Bieber
I feel a little less sure about Bieber, even though he's learned to live with his somewhat diminished velocity. He's averaging 91 mph after sitting at 92.8 mph last year for his fastball and the whiff rate has followed, dropping from 22.8% in 2021 to just 14.7% this season. Still, his slider is generating a 40.9% whiff rate, and just as important today, his curve has a 38.8% whiff rate. The slider has more strikeouts at 51 but the curve has 39 and the slider is thrown double the amount of time with the exception of facing lefties. His curve is the main pitch when facing lefties followed by the fastball and cutter. That's a big reason why his wOBA against the left side is .254 and the K rate jumps to 27.3%, the WHIP is 1.00, and the xFIP is 3.10. With the number of lefties he'll face, we have to be interested in Bieber today.
Mid-Range
Martin Perez
It's another great matchup for Perez as the Orioles have the third-highest K rate against lefty pitching at 25.4%. When they are making contact, they are 24th in OPS, wOBA, and wRC+ and don't climb past 18th in any category. Perez has been dodging a 3.68 xFIP with his 2.52 ERA all season and while that's not ideal, it's not surprising when he only has a 6.2% HR/FB rate. That will likely go up in the second half but the Orioles got the wind taken out of their sails yesterday as the Orioles were sellers at the deadline. On top of that, Perez has a 20.9% K rate and has generated a 52.4% ground ball rate. That's a good thing because Baltimore has the fourth-highest fly-ball rate against lefties, one avenue of success for them. His sinker and cutter have totaled 77 strikeouts and the changeup has a whiff rate of 33.6% so he's got the arsenal and even the right side of the plate is not over a .285 wOBA, a 0.62 HR/9, or a 3.26 FIP. He just gets outs.
Brady Singer
His past two starts have been overwhelming, with 22 strikeouts, one earned run, 13 innings, and just three walks. There really isn't anything in the pitch mix that would unlock anything on the surface, so I'm not really sure we should change what we think about Singer overall. Now, his profile really isn't that bad with a 3.22 xFIP, a 26.6% K rate, and a 46.8% ground ball rate. That all gets even better against righties with a .277 wOBA, a 1.06 WHIP, and a 2.98 xFIP and he should face plenty of righties with the White Sox. They have been mostly horrid against righty pitching this year and they bottom out as low as 29th in ISO. His slider has a 39.2% whiff rate and 50 strikeouts and the White Sox are 26th when facing that pitch. This is a pretty good spot for Singer and the salary is super affordable, despite scoring 32.5 and 34 DK points in his past two starts.
Punt Range
Lance Lynn
On the surface, it looks like another really rough start for Lynn but it was basically just one bad inning, just like Cole last Friday. Lynn matched a season-high in strikeouts at eight and his xFIP coming out of the start was 2.38, making it three straight starts that he's had an xFIP under 3.10 despite giving up a total of 10 runs. The Royals should have five lefties in the lineup, and that's a concern since Lynn has a .395 wOBA against that side of the plate. The xFIP is 4.52 against that side but the Royals also only have one lefty with a wOBA over .300 and the highest ISO is MJ Melendez at .184. We've been saying that Lynn isn't this bad and he has scored at least 17 DK in each of the past two games. That would be great at this salary and I'll bet he's popular again to some extent.
Kyle Bradish
On a shorter slate, we have to take some chances in places and in GPP ONLY, Bradish checks the box. He scored 18 points in his last spot and has been talented the entire time he's been in the majors. Where that really shows up in his metrics is the lefties, as he has a 27.2% K rate, a 1.34 WHIP (the .339 BABIP isn't helping), a 3.70 FIP, and a 2.95 xFIP. The Rangers played six lefties last night and should do it again, leaning into exactly what Bradish should do well. His slider/change/curve all have a whiff rate over 26% of the time and if Lynn is chalky, this could be the pivot that makes you different.
Stacks
Astros
Guardians
Twins
Tigers (LHH)
Rangers
Thank you for reading my MLB DFS: DraftKings and FanDuel Pitching 8/2 and make sure you follow me on Twitter at @bucn4life! Be sure to sign up for an ALL ACCESS GOLD ACCOUNT account here at Win Daily Sports. Gain access to our Projection Models and jump into our Discord where we will have our experts talking plays across every sport and slate!