MLB DFS: DraftKings and FanDuel Pitching 8/23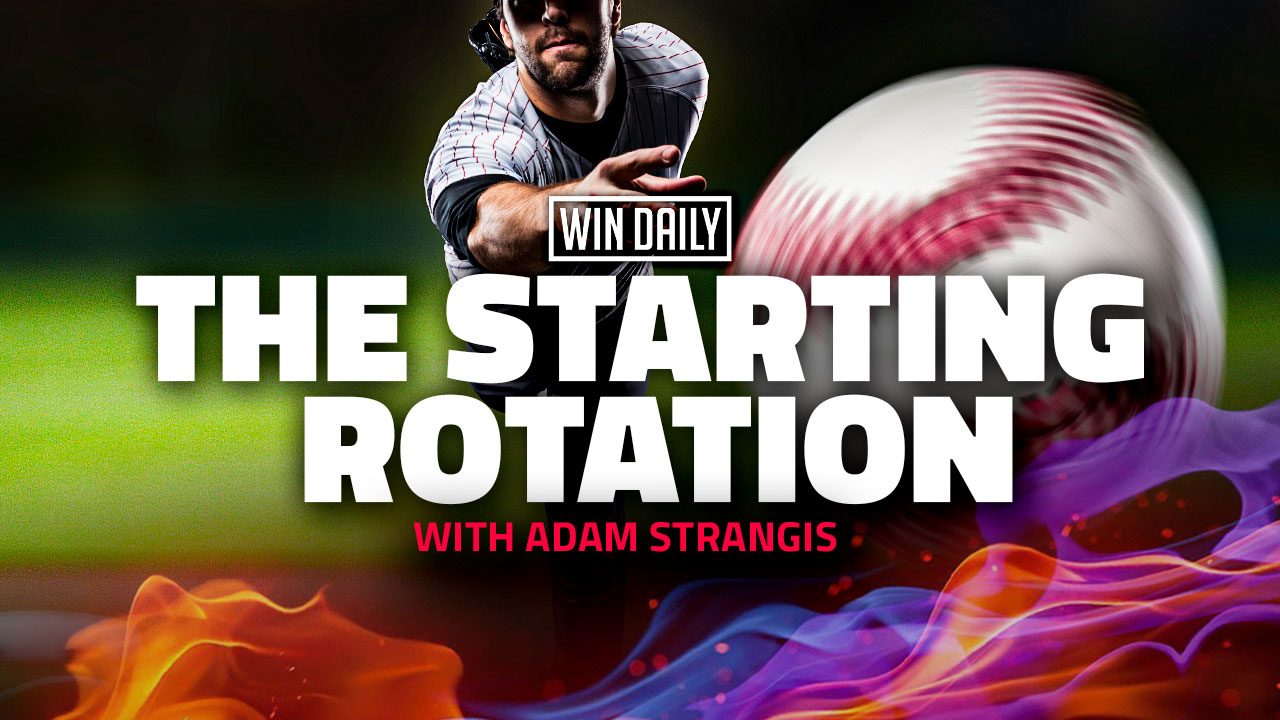 MLB DFS: DraftKings and FanDuel Pitching 8/23
It is one of the few times this year we have all 30 teams in action in the same window and the slates just don't get any bigger than this. There are nine pitchers that are in the Ace tier as far as salary goes, but not all nine are in play for me. In honesty, this feels like a pretty slim slate when we compare how many options we have against how many options we want to play. Let's get into this massive slate and start figuring things out in the MLB DFS: DraftKings and FanDuel Pitching 8/23 so we can find green screens!
Aces
Max Fried
This might be a surprising place to start but at salary, I believe Fried is about the best Ace option. The Pittsburgh offense has been terrible all season long and against lefties, they are struggling quite badly with a K rate over 26% and they rank 25th or lower in OPS, OBP, wOBA, and wRC+. That doesn't even mention that Fried has a 3.07 xFIP, a 0.43 HR/9, and a K rate just under 23%. The HR/9 is important because the Pirates do rank 15th in ISO so Fried is very good at controlling the power aspect of the game and his 51.1% ground ball rate certainly helps. Both sides of the plat don't cross a .260 wOBA, the left side has a K rate of just about 26%, and the home/road splits are pretty equal across the board with a lean toward Fried pitching even better on the road. He's extremely affordable here.
Robbie Ray
He's at home, which is a nice step for him right off the hop. When he's in Seattle, Ray has a 2.81 ERA, a .269 wOBA, a 29.3% K rate, a 0.99 WHIP, and a 3.12 xFIP. This is the best version of Ray and we've seen the Nationals turn into a slightly different team in the time since they traded Soto and Bell. Since that day, Washington has a K rate of over 25.5% and they have the ninth-most PA during that span, which makes that interesting. His slider and four-seam have combined for 146 strikeouts while the whiff rate is 41.7% for the slider. The Nationals are 28th against that pitch this year, which is super exciting for Ray's upside. Righties have a K rate of 26.6% and if Ray gets any lefties, that's even better with a 36.8% K rate so you could have two pitchers who combine for over 50 DK points for under $20,000.
Carlos Rodon
We got Good Rodon in the last start with over 30 DK points but now he has to roll into Detroit and they are a better offense when they face a lefty and Rodon has been worse on the road. Now, when I say that Detroit has been better against lefties, that doesn't mean good. They are 18th in wC+, 21st in wOBA, 27th in ISO, 20th in OPS, and 21st in OBP with a K rate of just 22.2%. On the season, the K rate is 31.7% and the xFIP is just 3.06 to go along with his 13.9% swinging-strike rate, nothing to sneer at whatsoever. What is kind of weird to see is that the road ERA is 3.72 but the wOBA is dead even at .259 even though the K rate is "only" 28.4% and the xFIP comes up to 3.39. He's not bad enough on the road to be supremely concerned against a suspect offense and the Tigers are 29th or 30th against the fastball and slider. Those are the two main pitches for Rodon so he is still an excellent option overall and the only thing that holds him back is the salary.
Tony Gonsolin
Since the Brewers and Dodgers have played each other in such close proximity, Gonsolin does have some amount of risk and we've mentioned this all the time but the 2.12 ERA doesn't match the 3.72 xFIP and his 15-1 record is pretty absurd as well. Still, he does have a K rate of 24% and a swinging-strike rate of 12.1%, and the splitter has 56 strikeouts for him with a whiff rate of 30.8% and every pitch outside of the four-seam has a wOBA under .190 this season. The Brewers are a good offense against righties as they are in the top 10 in our categories, but Gonsolin has been nasty this year and he took a no-hitter into the seventh inning during the last game.
Honorable Mention
Corbin Burnes almost made it through the last start but ran out of gas just a bit and finished with 18 points because he got the win. Burnes is fantastic with a 32% K rate, a 2.91 xFIP, and a 44.4% ground ball rate but he does have to face the Dodgers twice in a row and they are statistically the best offense against righties the season.
Another pitcher that easily could score the most points on the slate and it wouldn't surprise me, Justin Verlander could dominate. I've been more or less under the field this year and that has bitten me at some points, but his 3.47 xFIP compared to the 1.95 could come back to get him in any given start. The K rate is also just 25%, which is lower on paper than a lot in this tier. That hasn't always mattered but I believe that the other four are in a better spot overall and everyone but Rodon is cheaper.
Mid-Range
Note – Pablo Lopez was talked about in the Monday version so all of his analysis is already there. He was just pushed back a day.
Corey Kluber
It might seem odd on such a big slate but there is only one pitcher other than Lopez that I want in the mid-range tonight. I mean, look at who's pitching and who they're facing. You have Mike Clevinger against Cleveland and he's worse against lefties, while the Guardians don't strike out. Nick Lodolo pulls a tough spot against the Phillies in Philly, Taijaun Walker has the Yankees, and Frankie Montas has the Mets (and has not responded yet to being a Yankee).
Kluber is not especially appealing from the profile but his 3.78 xFIP is lower than his 4.33 ERA, which is nice. The K rate is 21.7% but the Angels should help out since they whiff at the highest rate in baseball against righties at 26.9%. He does have a wOBA over .300 against both sides of the plate but we've seen Kluber flash for some big scores, you just have to catch him on the right night. He doesn't have any real splits to be concerned with and his curve has been the best strikeout pitch with 46 on the season. The Angels are 16th against that pitch and he's under $8,000, which is a far more comfortable salary range for him.
Punt Range
Ross Stripling
Through 89 innings, Stripling has been pretty solid this year, especially with how cheap he is. We've been talking about how the Red Sox lineup has been pretty poor lately and in the past 30 days, they are 20th in wRC+, wOBA, 18th in ISO, 19th in OPS, and 21st in OBP. The K rate isn't special at 21.7% but we're only paying $7,400 for Stripling. His xFIP is 3.54 compared to a 2.93 ERA and the K rate is fine at 20.9% to go along with a 48.1% ground ball rate. Both sides of the plate are under a .285 wOBA and the K rates are similar as well. His changeup is only allowing a .234 wOBA and the whiff rate is 32.6% but Boston is sixth against the pitch, a small concern. He can be difficult to get right so I wouldn't go crazy, but this isn't a terrible spot here.
Jose Suarez
I kind of like him since the Rays offense is anemic for the most part, although the seasonal data has the Rays at 13th in wRC+. That seems like bad news but they are also 24th in ISO, 19th in wOBA, 18th in OPS, and 19th in OBP. The K rate isn't anything major at 21.3% but Suarez has some ability at 22.6% himself. There is a reason he's cheap with an ERA of 4.12 and an xFIP at 4.18 and he does have a swinging-strike rate of 12%. What really could push Suarez over the top is the Rays are 24th against the fastball and that has been the weak spot for Suarez with a wOBA of .419 allowed this season. His change/curve/slider are all under a .290 wOBA and the change has 34 strikeouts with a 33.7% whiff rate. It happens that Tampa is 24th against that pitch as well so things line up for Suarez pretty well.
Honorable Mention
German Marquez has generally been very poor this year but his 5.05 ERA is pretty absurd with a 3.99 xFIP. The lefties certainly worry me in the Rangers lineup but the Texas lineup is also horrible against righty pitching and they will be in Coors for the first game. Those ones flop a lot and you know the Rangers will be chalky, so you could snag some leverage here.
Missed the Cut
Dylan Cease – On a slate this size, you have to take some stands and to me, the lack of strikeouts for Cease lately is enough to not really play him. I'm not saying you can't, but the K rate has been under 28% since the start of July. I'm not looking to pay into the five digits for salary for that given some of the other spots.
Stacks
Astros
Braves
Blue Jays
Phillies
Coors (it will be chalky)
Giants
D-Backs
Mariners
Thank you for reading my MLB DFS: DraftKings and FanDuel Pitching 8/23 and make sure you follow me on Twitter at @bucn4life! Be sure to sign up for an ALL ACCESS GOLD ACCOUNT account here at Win Daily Sports. Gain access to our Projection Models and jump into our Discord where we will have our experts talking plays across every sport and slate!