MLB DFS: DraftKings and FanDuel Pitching 8/22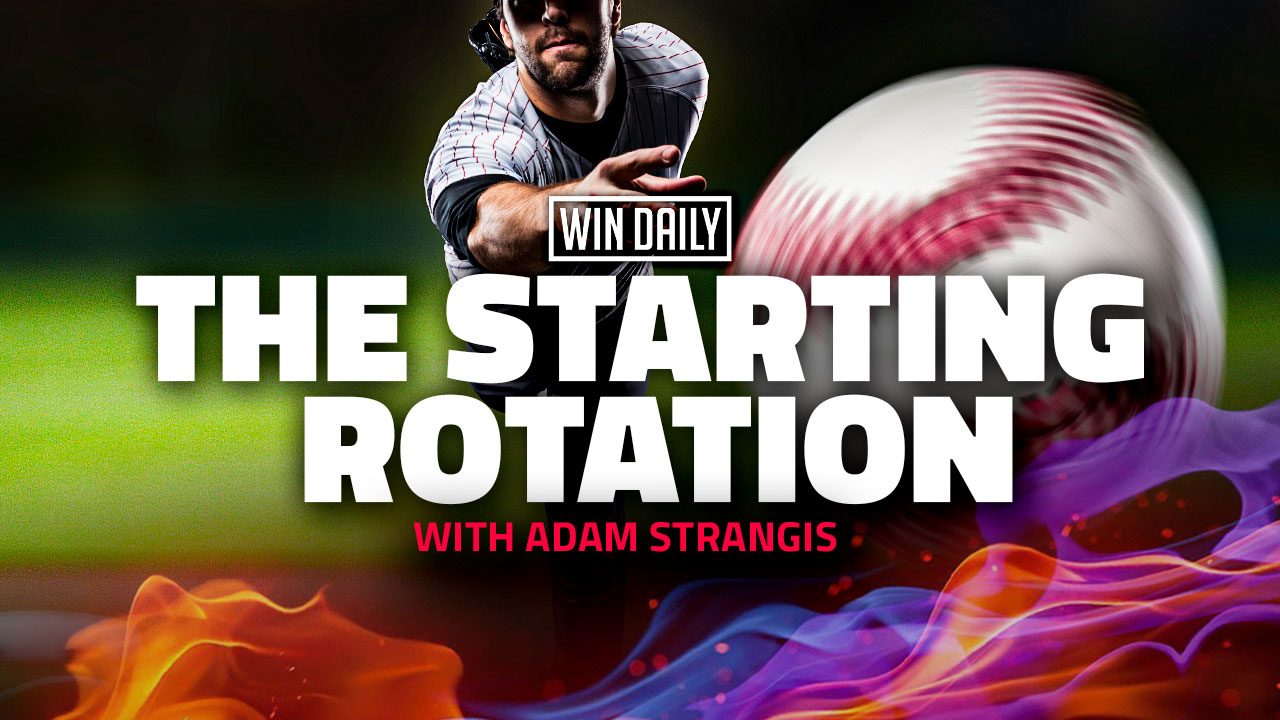 MLB DFS: DraftKings and FanDuel Pitching 8/22
It's another small slate tonight but the pitching is pretty solid throughout the entire pricing grid. We'll have some strong offenses to use and it could potentially be challenging to fit offenses and some of the best pitching on the slate, but we always have some cheap hitters to come across at some point. Let's dig in and see who we like around the diamond in the MLB DFS: DraftKings and FanDuel Pitching 8/22!
Aces
Max Scherzer
The last start was interrupted by rain and the bullpen allowed some inherited runners to score, so it was hard to get a grasp of it. Regardless, he's in a prime spot and once again is walking into a game where it wouldn't hurt if he ate some innings for the Mets. The Yankees are still mostly cold and should have plenty of righties which is what we always love with Mad Max. He has the right side down to a .225 wOBA, a 31.9% K rate, and a 2.82 xFIP. While it is fair to point out that the Yankees are the best team against the slider, Scherzer isn't throwing an average slider. It has a whiff rate over 48% and it has only allowed a .165 wOBA and considering he only throws it against the right side, the Yanks could be the perfect spot for Mad Max today.
Julio Urias
I'm a little nervous here because he's passed into five digits for the salary and he faced Milwaukee the last time out. However, the venue has changed to Los Angeles and we continue to see the Brewers strike out a ton against lefties, as our dude Just Steeler racked up nine on Sunday. They are firmly over 25% for the K rate and Urias is over 24% himself. The swinging-strike rate of 11.5% is the highest since 2020 and every pitch has a whiff rate over 21.5% and a wOBA under .290. There are no real splits to worry about as both sides are right about a .268 wOBA and he's holding righties to a 1.02 WHIP. One of my concerns is the K rate does drop to 23% when he's facing a righty and that should be the majority of the Brew Crew lineup, but they also help with that. Everything looks steady across the board for him but I do believe Mad Max is a tier above Urias.
Mid-Range
Sonny Gray
Given the ineptitude of the Texas lineup against righty pitching, Gray has to be interesting. Texas is down to 22nd in wRC+, 26th in wOBA, and they are eighth in K rate at 23.5%. We've seen consistently that they normally struggle with righty pitching and Gray has been solid, if somewhat unspectacular. His K rate is 24.3% to go along with a 1.13 WHIP and a 3.60 xFIP. He's really not generating a large swinging-strike rate at just 9.2% and that's no surprise with all of his pitches declining in whiff rate this season. His sinker/four-seam/curve still is productive with the highest wOBA allowed at .303 and has a total of 73 strikeouts, and that is interesting as well. The Rangers lineup also fits his strengths well from the splits angle with a .247 wOBA, a 25.2% K rate, a 0.95 WHIP, and a 2.78 FIP. These marks are excellent and Gray should face 5-6 of them today, making him well in play as an SP2 or even an SP1 if you want to spend up on hitters and fade Scherzer.
Pablo Lopez
Maybe this start against the A's can get Lopez going because it has been ugly since the start of May. His K/9 has dipped under 9.00 over the 110.2 innings pitched, the ERA is 4.55, the WHIP is 1.27, and he's only made it through six innings in eight of the 20 starts he's made. Now, the A's are 29th in OPS, wOBA, wRC+, and the whiff 23.6% of the time, and the changeup for Lopez still has a 36.8% whiff rate and Oakland is 29th against that pitch. We know Oakland is a pitcher-friendly stadium and he does still have righties under a .320 wOBA with a 28.5% K rate and a 2.85 FIP. His four-seam and cutter have been demonstrably worse this year but he gets a bump there as well with the A's in the bottom 10 against both pitches. He's been strikingly average for the bulk of the season, but the salary reflects that and the matchup should get him over the hump.
Jordan Montgomery
He has been unreal in his first three starts with St. Louis with a 0.54 ERA across 16.2 innings with 17 strikeouts. His matchups have been pretty strong and the Cubs are a mixed bag with a K rate of over 24% (seventh-highest) but they have power in those bats since they are ninth in ISO and 13th in OPS. Overall this season, Monty has a 3.48 xFIP and a K rate of just 21.4% and that is likely the biggest hangup here. In the past couple of starts, he's been a smash play at the salary but now there is room for failure. If he goes for 12 points, it's not going to be super enjoyable but there at least is a 47.1% groundball rate. What may be surprising is the swinging-strike rate is 13.5% and that's very respectable, and it just hasn't resulted in the strikeouts so far. Righties have a .303 wOBA but we can also hope the Cubs play a couple of lefties because the K rate is 33.3% for Montgomery and he's thriving early for the Cards because all they do is get the best out of players.
Jeffrey Springs
I don't mind if this is the cheapest you go tonight because, in this spot, we like him for the same reasons we like E-Rod yesterday – it's a lefty against the Angels and they can't hit lefties. Springs has held righties to a .266 wOBA and he has a 29.1% K rate with a 2.81 FIP and 2.99 xFIP. Those are excellent numbers and the Angels have a K rate over 24% this season in addition to being in the bottom five in every metric we value. Overall, Springs is holding a 26.5% K rate and a 2.52 ERA with a 3.23 FIP and that is pretty impressive through 89.1 innings. His changeup is the star pitch and it has allowed a .287 wOBA, struck out 47 hitters, and it has a 37.7% whiff rate on the season. The Angels are only 15th against the change this season and even though Springs has been tough to get the best start out of him, this is a good spot and Shohei Ohtani left yesterday with an illness so he may sit, even furthering the appeal of Springs.
Missed The Cut
Jake Odorizzi – I wanted to give him the full write-up but the lefty numbers scare with a 13.2% K rate, a 4.91 FIP, and a 5.64 xFIP. Maybe Pittsburgh can't take advantage of that but the BABIP for lefties is just .254 and that should come up.
Stacks
I like Roansy Contreras in the long-term but this is going to be a rough spot for him with the Atlanta offense rolling into town. Not only has he allowed a 1.52 WHP and .367 wOBA against the right side of the plate but his xFIP against the left side is 4.89. His fastball is allowing a .404 wOBA this season and they smack the fastball around. Dansby Swanson, Matt Olson, William Contreras, and Michael Harris are all into the double digits for FanGraphs value and by the way, Vaughn Grissom is still just $2,100. All of those hitters plus Austin Riley have a wOBA over .345 this season and the lowest ISO among the group is .237. It's not like Ronald Acuna is that far behind with a .337 mark and Robbie Grossman has even hit righties well as a member of Atlanta with a .422 wOBA. The bullpen for the Pirates is a beleaguered bunch and we get all nine innings for Atlanta tonight.
We can also use the cheapness that the Rays bring us tonight as they get Tucker Davidson, who has pitched 25.1 innings and has a 5.41 FIP and a 6.18 xFIP. He's walked more hitters than he's struck out and righties hold a .366 wOBA so far to go along with a 5.80 xFIP, a 1.92 WHIP, and an OPS over .800. Every pitch has allowed at least a .310 wOBA and Francisco Mejia, Harold Ramirez, Manuel Margot, Yandy Diaz, and Isaac Paredes are all over a .350 wOBA on the season and the only expensive hitter is Randy Arozarena who is sitting at a .161 ISO. Davidson has not shown very much yet and 2-3 Tampa bats allow some more freedom to the build.
Honorable Mention
Phillies
Twins
Mets
Thank you for reading my MLB DFS: DraftKings and FanDuel Pitching 8/22 and make sure you follow me on Twitter at @bucn4life! Be sure to sign up for an ALL ACCESS GOLD ACCOUNT account here at Win Daily Sports. Gain access to our Projection Models and jump into our Discord where we will have our experts talking plays across every sport and slate!