MLB DFS: DraftKings and FanDuel Pitching 8/2
Published
2 months ago
on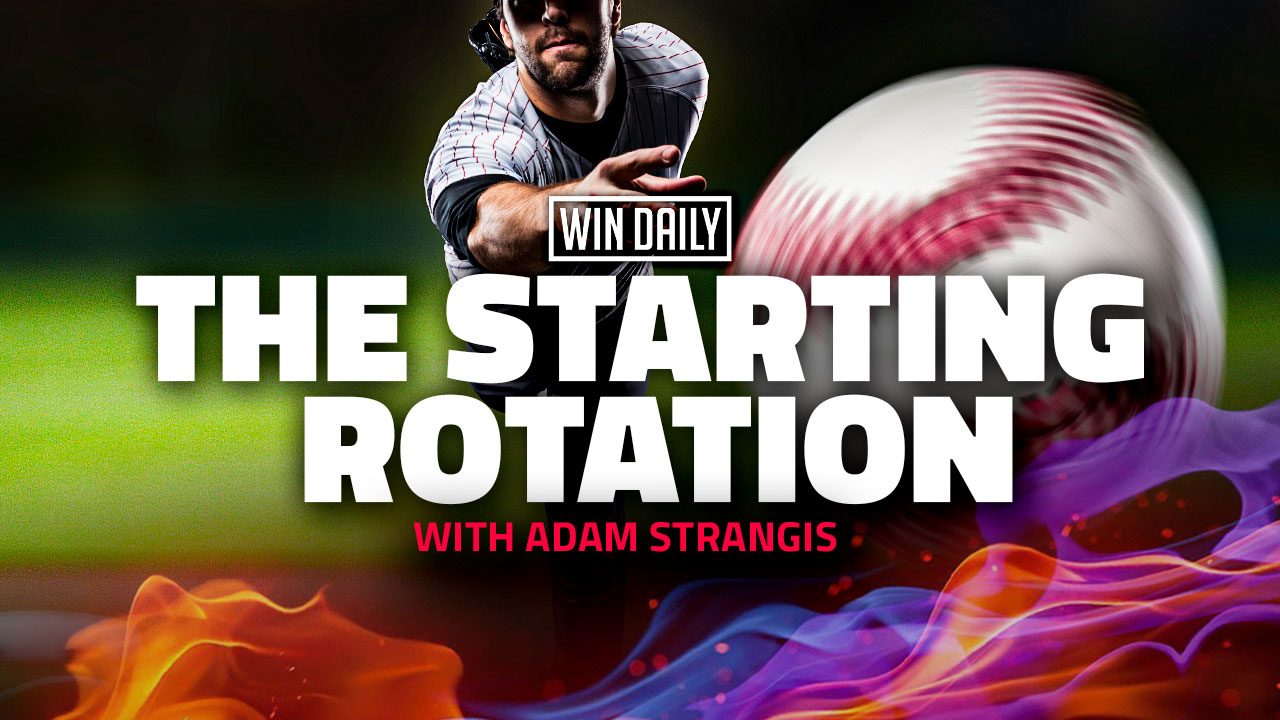 MLB DFS: DraftKings and FanDuel Pitching 8/2
It is a very crowded last tonight and we get the return of Jacob deGrom, who has missed the entire season to this point but he will not make the article. DraftKings has priced him as if he hasn't missed virtually any time so that's going to be difficult to get there. Still, there are plenty of quality options among the 27 other pitchers to choose from in the MLB DFS: DraftKings and FanDuel Pitching 8/2 to find green screens!
Aces
Corbin Burnes
We may not be able to play deGrom in his first game back but we can continue the trend of picking on the Buccos, and we can do it with an ace for the second straight game. In three of his past four games, he's whiffed double-digit hitters and the last time he didn't throw at least 100 pitches was June 15th. Burnes is flirting with 33% for the K rate and the trio of xFIP/FIP/ERA is all under 2.95 so there isn't a whole lot to pick on for the surface numbers. Once we look at the splits, the left side is the weaker side against Burnes with a .234 wOBA, a 33.6% K rate, a 2.34 xFIP, and a 0.87 WHIP. The Pirates play a ton of lefties generally and they are 29th against the cutter and 16th against the curve. Those are the two most important pitches for Burnes as they both have a whiff rate of at least 31% and they have accounted for 112 strikeouts. There is really not that much of a comparison between Burnes and deGrom tonight, at least on paper.
Yu Darvish
He's been on a tear lately and while the surface numbers on the season don't look superb, he's been pitching like that and his K rate has jumped over 30% in 34 innings pitched in July. The ERA was 3.18 but the wOBA allowed was only .262 and the xFIP was the best it has been all year at 2.79. It definitely helps that Darvish is at home too because he's been two different pitchers, with San Diego being very friendly to him. He has a 1.94 ERA at home with a .223 wOBA allowed and a 0.76 WHIP along with a 26% K rate, and now you have the Colorado offense on the road against righties. They rank 27th in every offensive category and Darvish throws any pitch he wants at any point he wants. Burnes is sure to be the cash play, but Darvish is a very interesting GPP play.
Triston McKenzie
I'm hesitant with McKenzie at this salary but the splits would tell us the D-Backs might be among the best matchups he could draw. He's holding lefties to a .236 wOBA, a .158 average, a 0.86 WHIP, and a 29.2% K rate. With the D-Backs being super-lefty heavy, that's a good start for him and they also drop to under 50% for the fly-ball rate, an accomplishment for McKenzie. I wish he'd throw the fastball less but Arizona is just 16th against that pitch and it does have 39 strikeouts. However, the curve has more at 47 and that has been far and away the best-performing pitch. It carries a 44.5% whiff rate and a .148 wOBA allowed, but he's only throwing it 20.6% of the time. The good news is that the D-Backs are 28th against that one so this truly is an undeniable spot, even at a high salary.
Honorable Mention
Playing Kevin Gausman really depends on how many lineups you play because I don't think I'd include him in a rotation in a 3-max setting. Since the start of June, his ERA is over 4.00 and the wOBA allowed is over .350 to go along with a K rate of around 25%. Sure, we can point out that the xFIP s under 3.50 so he's been unlucky and the Rays' offense is 20th or worse in OPS, ISO, and wOBA with a 24.7% K rate. Gausman has just seen wild swings in production so, in my view, I'd want at least 10-20 lineups to get some exposure because he absolutely has a ceiling.
Mid-Range
Spencer Strider
There is a small part of me that says this ridiculous salary could be a trap. Strider scored 25 DK points against this Philly offense in the last start and his salary dropped $400 on DK. There's just not an explanation for that. Now, my slight fear comes in from seeing the same offense twice in a row, because we know that can have a negative effect on the pitcher. It's also a little concerning that he uses the fastball SO much at 69.1% but at the same time, it has 79 strikeouts, a 28.1% whiff rate, and a .260 wOBA allowed. At the end of the day, even with some warts, Strider is not priced anything close to correct with a 36.4% K rate as a starter to go along with a 2.58 xFIP and a .246 wOBA allowed. I'm still very in at this salary and neither side has a wOBA over .260 against him and both sides are over a 33.5% K rate.
Cristian Javier
The Houston pitching staff outside of Verlander has been a little tough to predict but Javier has a good shot at a strong start tonight with the Red Sox in a bit of a state of upheaval. Javier has a 3.67 xFIP which is just fine but his fly-ball rate of 58.5% will almost always keep that high. At least Javier brings a K rate of 33.6% to the table and last night's Red Sox lineup had five righties. We want as many as we can get since Javier has a .260 wOBA, 41.6% K rate, and a 2.85 xFIP against that side of the plate. The biggest fear with him is he tries to strike everyone out, and it's not hard to see Boston working the pitch count in a hurry. They are only 26th in walk rate but Javier can be tough to watch when his control isn't that great.
Cole Irvin
Well, this is one way to test just how bad the Angels currently are. Irvin is honestly not playing that poorly lately with four of his past five starts scoring over 20 DK points and the overall profile isn't terrible, although it doesn't stand out either. He's got to love the matchup as the Angels are 28th in wRC+ and OPS, 27th in wOBA and ISO, and 26th in OBP on the season to go with a K rate of 24.5%. Over the past 30 days, the K rate has jumped to 26.7% and Iron does have a K rate of 17%. I don't love the fact his 3.07 ERA is so far apart from the 4.31 xFIP but he's held both sides of the plate under a .290 wOBA. I wouldn't say he has a standout pitch as no offering has a whiff rate over 27.5% and even then, his curve is only being used at 18.1%. Nothing jumps out but the Angels have been so putrid and Irving is very cheap given the recent performance and though 34 innings in July have produced a 1.85 ERA, a .187 wOBA allowed, and a 2.47 FIP. The 4.27 xFIP is obviously concerning but I'm willing to roll the dice here.
Punt Range
Lucas Giolito
I won't blame anyone if they pass on him but $6,800 is some kind of salary for Giolito. He seemed like he had figured something out prior to the break but he got hammered by Cleveland and then struggled in Colorado. Maybe I'm just being too stubborn with Giolito but in this house, we believe in the metrics and they are pretty kind to Giolito when we get below the surface. The one that really stands out s the xFIP of 3.75 compared to his 5.14 ERA and the .349 BABIP is killing him. That's roughly .50 points higher than an average pitcher and his HR/FB rate of 16.1% is the highest it has been since 2017. The K rate has dipped but is still 25.8% and his fly-ball rate actually dropped from the 2021 season. His change and slider have really been the culprits as they both had wOBA's allowed under .285 last year but they have spiked to over .365 this season. Kansas City is no higher than 15th against those two pitches but there is a risk here, needless to say. The Royals played five righties last night and that's been the issue since they have a 2.17 HR/9, a 20.5% K rate, and a 5.75 FIP. If he's chalk, I'll be terrified but something has to give for Giolito…I think.
Honorable Mention
In a world where everything goes right, I don't think we would see Noah Syndergaard score more points than Giolito. He also may not even make this starts as he's been thrown around in trade rumors but if he does, he brings a 4.27 xFIP, an 18.9% K rate, and a 32.7% hard-hit rate to the table. The Oakland offense is in the bottom five in everything, but they can be pesky at times and Syndergaard can be had by stolen bases. He doesn't hold runners on at all (don't bet it until after the trade deadline, but Ramon Laureano and Seth Brown lead the team with 10 and seven swipes) but Oakland is also dead last in OBP. Syndergaard can work his way to over 15 DK points in this start to be sure.
Missed The Cut
Jacob deGrom – I simply can't pay the highest salary on the slate for him when he's not hit even 70 pitches in his rehab starts. The Mets are (rightfully) going to treat him with kid gloves and he's simply too expensive for me.
Jameson Taillon – He's another one that has been tougher to get right and his last four starts have two that are over 24 DK and two that have combined for 2.3 DK points. That's….quite the roller coaster and I have a very difficult time clicking his name ahead of Strider since Strider has a K rate roughly 16% higher.
Adam Wainwright – I never get the guy right but we need to see the Cubs lineup that he's facing. There are strong odds it will be weaker than it was in their last game, and Waino could take advantage. His xFIP is 3.82 and the K rate is 19.6% and the HR/9 is 0.95. It also doesn't hurt that Yadier Molina is expected back tonight, so stay tuned on Waino.
Stacks
Brewers
Mets
Padres (LHH especially)
Rangers/Orioles Game Stack
Dodgers
Braves
Astros
Thank you for reading my MLB DFS: DraftKings and FanDuel Pitching 8/2 and make sure you follow me on Twitter at @bucn4life! Be sure to sign up for an ALL ACCESS GOLD ACCOUNT account here at Win Daily Sports. Gain access to our Projection Models and jump into our Discord where we will have our experts talking plays across every sport and slate!