MLB DFS: DraftKings and FanDuel Pitching 8/19
Published
2 months ago
on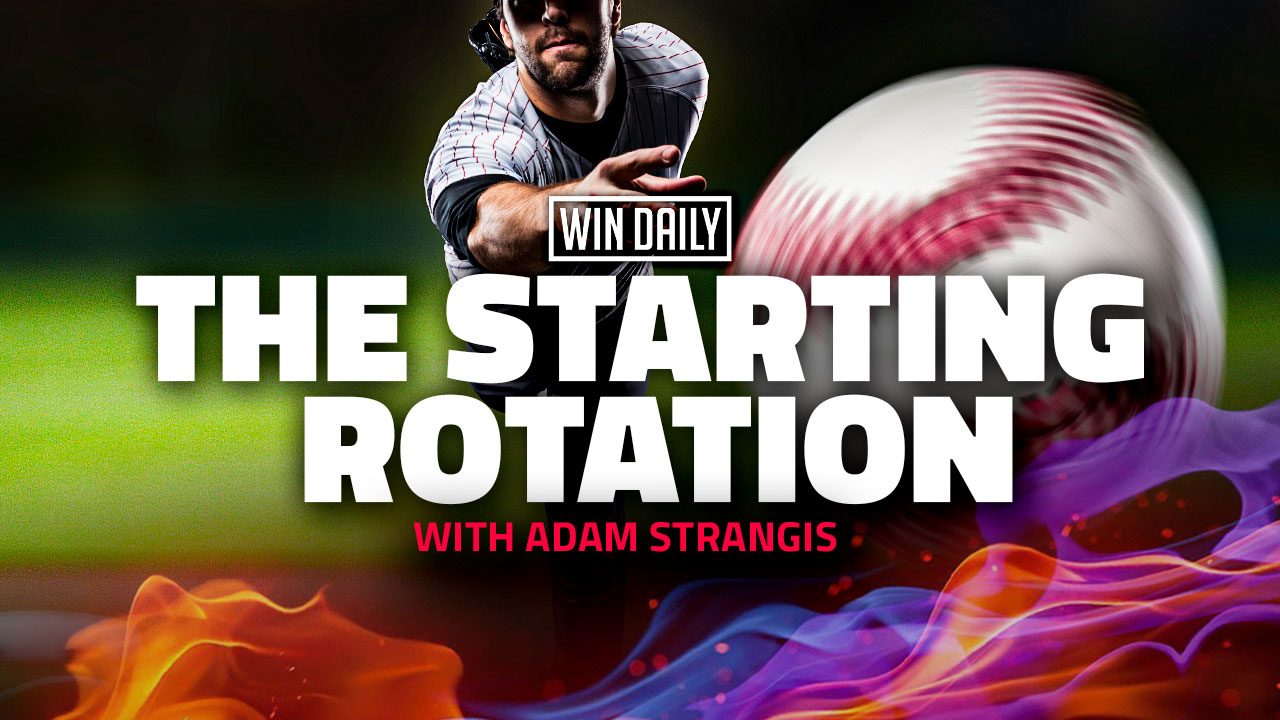 MLB DFS: DraftKings and FanDuel Pitching 8/19
We have a large 14-game slate tonight and I'll be covering the stacks as well today, so we have a lot to get to. There is a pitcher that was pushed from yesterday into tonight's slate, so some work is already done. There are also some solid pitchers in just terrible matchups for them so let's get into the MLB DFS: DraftKings and FanDuel Pitching 8/19!
Aces
Shane McClanahan
This was from yesterday, and I think the only real shift is he's not pitching on the same day as deGrom so McClanahan is more appealing tonight with a lack of other options as trustworthy as deGrom. The salary has come up a bit but is far more than fair if Shane O'Mac does what he's done all year.
He's been a little underwhelming in the two starts in August with just seven total strikeouts across 12.1 IP, but there was nothing before those two starts to suggest that anything was going wrong with him. With that said, the salary is super appealing even though the Royals only have a 19% K rate against lefties on the season since Shane O'Mac has been so good this season. Righties only have a .229 wOBA against him this year with a 32.7% K rate and a 2.30 xFIP while his swinging-strike rate is still 16.6%. For once, I don't think he's an absolute must-have because we do have at least one other option at around the same salary.
Blake Snell
Snellzilla has been on the loose in the second half of the season through 28.2 IP with a 0.94 ERA, a .223 wOBA, a 35.5% K rate, and the walk rate has plummeted to 4.5% with a 1.37 FIP and 2.20 xFIP. He's been incredible and yet, the salary remains at just $9,300 and he's going to be very popular. While Snell is scary as chalk, he just diced up this Washington lineup for 35.7 DK points and his strikeouts have not been an issue this season at any point. His K rate has climbed over 31% and the swinging-strike stuff is at 14.5%, one of the better marks in his career. The slider/curve/change combo is all over a 42.5% whiff rate and Snell should continue to smash in this spot at home. He's just not expensive enough yet with at least 22 DK in seven of his last eight and the one that didn't come in Colorado.
Honorable Mention
If you want to roll Aaron Nola, I can't tell you no. After all, he just scored over 30 DK points against this offense and even though seeing the same team twice in a row (that goes for Snell too), Nola has been excellent. It's a tough matchup since the Mets are still at a K rate of just 19.8% so that is one of the knocks on Nola. Still, he has a 2.97 xFIP, a 27.9% K rate, and a hard-hit rate under 25% so there is obviously a clear path to success. I just like the other pitchers better, but that doesn't mean Nola can't score 25+ again.
Mid-Range
Triston McKenzie
I've been selective with him all year but we all know that attacking the White Sox with righty pitching has been more successful than not this season. His ERA and xFIP are getting closer to matching up at 3.14 and 4.07 each and he still does have a K rate approaching 24%. McKenzie has held the WHIP to under 1.00 to this point and the largest negative continues to be the fly-ball rate at 49.4%. The good news for him is the White Sox are just 23rd in fly-ball rate against righty pitching this season and they are 29th in ISO, not the best combo to exploit a big fly-ball rate. He has dropped his fastball usage a little bit over the past three games and he's recorded 18 strikeouts even though two of the teams he's faced have been the Astros and Jays. Outside of the fly-ball rate, the largest concern is McKenzie is worse against the rah side with a wOBA of .301, a K rate of 20.3%, and a 4.33 xFIP but the White Sox just have not hit righties well.
Brady Singer
If he continues the tear that he's on, Singer might be one of the better plays on the entire slate. Since July started, he has been lights out with an ERA under 2.30, a wOBA of about .275, and a K rate hovering around 28%. It doesn't appear that there has been a magic key as far as the pitch mix but maybe he didn't need one with a slider that sports a 37.8% whiff rate and a .287 wOBA allowed. He doesn't have any significant splits that we need to be too worried about and the Rays have the fifth-highest K rate against righties this season. Additionally, they are 25th when they face a slider this year and Singer appears to be figuring things out as a major league pitcher.
Tyler Anderson
He may have his warts but the marlins have the highest K rate against lefties at 28.4% and over the past 30 days, it's climbed to over 30%. Right off the hop, that is interesting despite Anderson having a 4.01 xFIP compared to a 2.81 ERA and the K rate is only 19.9% for him on the season. He's another one that we don't love the fly-ball rate of 41.9% but it's hard to get that worked up over it in this matchup. Miami strikes out more than anyone, but they are also 30th in OBP, OPS, wRC+, and wOBA. It is the textbook definition of a cupcake matchup for Anderson and his changeup has a 38.4% whiff rate and 48 strikeouts this season. The Marlins are below average there as well since they rank 18th and this salary is hard to ignore.
Honorable Mention
I'm not sure if there's a larger wildcard on the slate than Kevin Gausman. Outside of a grand slam by Josh Donaldson, the Yankees have been in an abject tailspin and Gausman does have a K rate of 30.1% against the right side of the plate with a 2.07 FIP and 2.63 xFIP. Despite all of his excellent metrics, Gausman has been near impossible to pick right over the past two months so the range of outcomes here is very wide.
Punt Range
Patrick Sandoval
You always have to be judicious when choosing Sandoval, but this is a solid spot. Granted, the Tigers are better when they face a lefty but they are below league average in all of our categories and they fall all the way to 27th in ISO. The K rate is just 22.2% but Sandoval is almost at 24% and his xFIP is under 4.00 with a swinging-strike rate of 12.3%. His slider and change are his two main pitches and they both have a wOBA under .265 and a whiff rate of at least 33.7%. It is really the fastball that gives him so much grief at a .479 wOBA but Detroit ranks dead last against that pitch this year, a major bonus for Sandoval. The splits are reasonable even with a .338 wOBA against righties, the BABIP is .362 so Sandoval has some better days ahead.
Miles Mikolas
We talked about him in the last start that he had to bounce back after a historically horrific start and he did in a major way with 27.6 DK points. I may not expect him to do the same thing but at $7,300, you don't need him to. He gets an Arizona squad that can be pesky but Mikolas just gets outs with a 19% K rate and a 3.44 EA to go along with a 3.76 xFIP. In a reverse of his career numbers, Mikolas has been better when he sees a lefty this year with a .263 wOBA, a 0.98 WHIP, and a 0.87 HR/9. He has been slightly worse on the road and that is of a small concern, but the salary is so appealing that the best-case scenario isn't required. After all, the D-Backs are under league average in wOBA, wRC+, OPS, and OBP against righties this season.
Jordan Lyles
So we talked yesterday about the Red Sox being a putrid offense in the past 30 days, and then JT Brubaker went out and hung 30 DK points on them. Lyles has been usable at times (most of them have come in Baltimore, which happens to be where the game is tonight) and the salary certainly works. When Lyles has pitched in Baltimore this year, Camden has helped him rack up a 2.73 ERA, a .313 wOBA, a 0.46 HR/9, and a 3.55 FIP. Now, the xFIP is higher than on the road at 4.93 but the walls moving at Camden has completely changed the complexion of that park. Lyles does the K rate fall to under 16% but Boston is going to help that and I do like him, even though I may receive him for 20-max tonight.
Missed The Cut
Chris Bassitt – Maybe I could get talked into this if Kyle Schwarber misses the game, but generally Bassitt on the road has not worked out this year. His HR/9 is 1.41, the K rate is 21.9%, the FIP is 4.41, and the ERA is 4.24.
Lance McCullers – I wanted to go after him, but some concerns are coming out of the first start. For one, the walks were obviously high but I can overlook that in the first start of the season. His xFIP was climbing toward 5.00 in that start and throughout his career, McCullers has a lower K rate against righties (24.3%), a higher wOBA (.308), and a 4.48 ERA on the road. It might be too much to ask of McCullers to go after Atlanta.
Lance Lynn – While I am hopeful he's got some things getting right in the past few starts, going against the Guardians doesn't profile as the best spot for him. Cleveland has the best K rate against righties at 17.5% (2.3% lower than anyone else) and they should have a bunch of lefties in the lineup. That side has a .340 wOBA and just a 19.7% K rate although he does have the xFIP down to 3.89. On paper, it just makes more sense for Anderson.
Stacks
Cardinals
I hope they didn't wear themselves out yesterday because they have another glorious spot today against lefty Tommy Henry tonight. He has a 1.26 HR/9 and a 5.69 xFIP against the right side and the Cards are one of the best teams in baseball when they draw a lefty. They rank first in wRC+, wOBA, OPS, and OBP this season and only whiff 19.2% of the time against southpaw pitching, a test for anyone (let alone a player that has just 17.1 IP under his belt). It's going to be fairly easy to afford hitters tonight if we use some of the next offense and that puts Paul Goldschmidt and Nolan Arenado squarely in our sights. They both have ISO's over .400 when facing a lefty this season and Nado has a 9% K rate, and that's not a typo.
Henry is using his fastball around 55.3% of the time so far and although it has only allowed a .033 ISO so far, we need to have his xFIP in mind. Goldy, Nado, Albert Pujols, and Dylan Carlson are the best fastball hitters on the team, and then we can add in Paul DeJong with a .371 wOBA and the low-water mark for ISO among this group is .185. We get nine innings of the Cards on the road, and I am very interested as they face off against an inexperienced lefty.
Giants
Well, let's get the chalk out of the way. I would honestly be surprised if the Giants are not 1-9 in ownership on DK tonight because they simply have no idea how to set salaries. We have gone on and on about this all year, but the first game in Coors tends to be a flop. However, every single San Fran hitter is $4,000 or less and the value they provide is flatly absurd. We're going to need plenty in cash, and it's likely easy to use them for a punt or two even if you target other offenses in GPP. Part of the issue with fading them is they face Jose Urena, who routinely gets mashed by lefties with a WHIP over 2.00 and a wOBA over .380.
Even if you fade most of them, LaMonte Wade should be in line to lead off and has a .323 ISO against righties this year, and not far behind is Joc Pederson at .249. Brandon Belt and Mike Yastrzemski join the fray at over .320 for the wOBA and even though Brandon Crawford and Tommy LaStella are under .300, watch for them to be very popular too. As always, we have pinch-hit risk if the Rockies bring in a lefty but here's the good news – they only have two on their current roster and Austin Gomber was forced to throw 60 pitches in relief yesterday. We should be relatively safe here and they are a strong stack as far as value goes, even if we don't have to have five-man stacks in GPP.
Angels
They haven't been in this section for me in a long while, but we have the return of Mike Trout and the team gets to face Matt Manning, a righty for the Tigers. Across 110.1 IP in his career, both sides of the plate are pretty equal with a wOBA of right about .330 and the xFIP is over 4.90 for both sides with a K rate under 16.5%. With the value presented by the Giants lineup, we can swing both Shohei Ohtani and Trout together, which is the most appealing way to stack the Angels. Those two are over a .390 wOBA and they have an ISO of at least .295, and their credentials speak for themselves. On the secondary level, Taylor Ward has cooled off in a major way but is still over a .200 ISO and a .355 wOBA while David Fletcher and Max Stassi are solid value plays as well with wOBA's over .300. The Angels have not been a good offense this year but Trout is obviously a game-changer and manning has shown little ability to succeed in the majors.
Honorable Mention
Reds (LHH preferred, Jake Fraley is a total bargain)
Padres
Twins
Pirates
Thank you for reading my MLB DFS: DraftKings and FanDuel Pitching 8/19 and make sure you follow me on Twitter at @bucn4life! Be sure to sign up for an ALL ACCESS GOLD ACCOUNT account here at Win Daily Sports. Gain access to our Projection Models and jump into our Discord where we will have our experts talking plays across every sport and slate!