MLB DFS: DraftKings and FanDuel Pitching 8/18
Published
2 months ago
on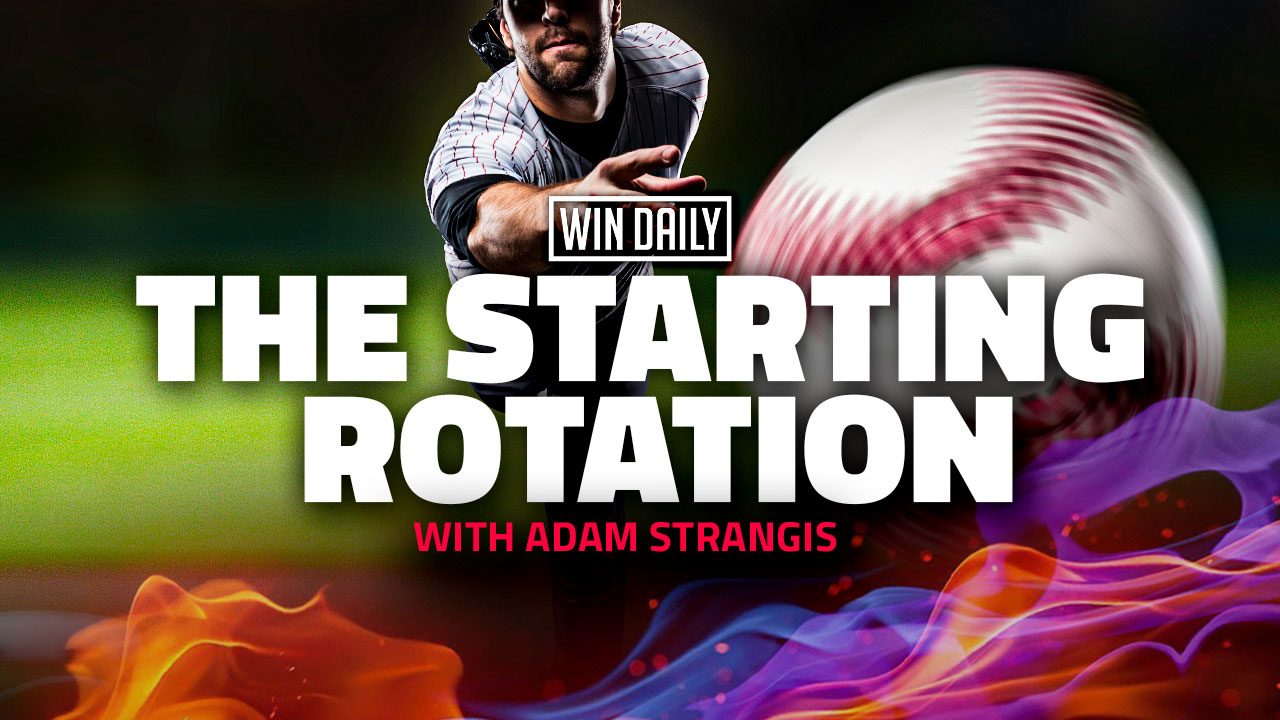 MLB DFS: DraftKings and FanDuel Pitching 8/18
For the first time in a while, we have a split slate day and that makes things more interesting. I don't believe either slate is the best for cash because options are going to be limited, but you can still venture into that format. In the evening, a least you have the stone-cold lock of the year in MLB DFS: DraftKings and FanDuel Pitching 8/18 so let's get to work!
Early Slate
Aces
Andrew Heaney
We've learned through the season that the Brewers have been mystified by lefties for the most part as they rank 26th in wRC+, 25th in wOBA, 23rd in ISO, 26th in OPS, and they strike out almost 25% of the time. That's something Heaney can really get after and he's reportedly fine after taking a comebacker off his arm in the last start. Heaney is tough to get a full handle on this season with only 31 IP but he does have a 1.16 ERA, a 2.18 FIP, and a 32.3% K rate. I don't expect that K rate to stick over a larger sample size but he's showing some major ability and he's always had that with a career 24.6% mark. Both his four-seam and slider have a whiff rate over 25% and the slider especially is lethal with 23 strikeouts and a 43.4% whiff rate with just a .235 wOBA allowed. Now, he's going to need it because Milwaukee is fourth when facing a slider but Heaney has a wOBA of just .248 against the right side and I think he's my favorite here.
Luis Garcia
I don't love him, but keep in mind that we only have 12 pitchers total on this slate so that does play into things. What we do like is Garcia is better when he sees a righty with a .291 wOBA, a .219 average, and the K rate is still over 25% (just like the left side). Really, his splits aren't that different either way but the cutter is his best pitch for strikeouts with 52 and a 43.5% whiff rate, and he should get plenty of righties. His flyball rate is always going to make me uneasy at 43% but the hard-hit rate is only 25.2% so Garcia is the other ace that would get the most attention for me.
Honorable Mention
Corbin Burnes is always in play but I can't lie and say Heaney and Garcia aren't far more appealing. Burnes has a K rate over 32%, an xFIP of 2.68, a ground ball rate of 45.3%, and a 15.7% swinging-strike rate. The Dodgers counter with the best offenses in baseball against righties in OBP, wOBA, OPS, and wRC+ with a K rate of barely over 21%. It's strength against strength and outside of MME, I think it makes more sense to take the easier paths.
Mid-Range
Zac Gallen
He's truly a wild card and you're hoping he can keep the momentum of the past two starts, as he's racked up 14 innings, 14 strikeouts, and no runs. On the season, the profile is fine but not anything special with a 24% K rate and a 3.46 FIP, but he seems like he's up and down, to say the least. The Giants could offer him a nice matchup, in theory, because they will load up on lefties and that has been the better side for Gallen. He's held them to a .238 wOBA, a .161 average, and just a 0.86 WHIP to go along with a 0.83 HR/9. Now, the scary part is the Giants are fifth against the fastball and that is the main pitch for Gallen at around 50%. They're also basically an average offense so I don't mind Gallen, but he's difficult to really get a firm grasp on.
Logan Webb
In the same vein, I don't mind taking a stab at Webb but I may not look at how he does until the game is over. The good news for Webb is he's been much better at home with a 22.3% K rate, a 2.96 xFIP, and a 2.71 ERA even though lefties are still a concern. They have a .297 wOBA and a 1.21 WHIP but the xFIP is still just 3.05 so he absolutely makes sense when's going to face a lot of lefties. Arizona is still just 18th or worse in OPS, wOBA, wRC+, and they have a 21.9% K rate. Webb typically hasn't been blown up this year so even if he's not great, I don't believe he's going to get crushed and he'll still help the lineup.
Adam Wainwright
Waino has to be in my bottom five pitchers that I like to write up, and just look at his last five stars. Two have been 30+ DK points, one has been over 23, and two have been in the negative point totals. However, he's at home and the Rockies are on the road which is a fantastic combo. The Rockies on the road against righties is a horrific offense as they rank in the bottom five in every offensive category that we talk about and they whiff over 22%. It does scare me a little bit that the Rockies are the top team against the curveball this year and Wainwright throws that pitch 29.2% of the time and it is his most-used pitch with a 27.2% whiff rate. The difference is at home, Wainwright has a 2.30 ERA, a .273 wOBA, a 21.6% K rate, and a 3.61 xFIP. He fits perfectly as far as salary and this will be one of the few times I really like him (can't wait for this one to bite me).
Punt Range
Dane Dunning
I'm not sure how popular he'll be but my goodness is he cheap and he has some serious upside potential today. He ideally will face five righties and we want as many righties as possible as the K rate is 24.6%, the xFIP is 3.22, and the WHIP is just 1.13. He's also much better at home with a 3.23 ERA, a 3.52 xFIP, and a 23.5% K rate overall and it's not like the Oakland offense is one of the best in the league, regardless of what they did last night. The A's are 28th or 29th in ISO, wOBA, wRC+, OPS, and OBP this season to go along with a 23.6% K rate. The sinker/slider combo has 75 of 104 strikeouts and the slider itself has a 38.8% whiff rate and a .233 wOBA allowed. Oakland is dead last when facing the slider at a -58.5 FanGraphs rating and Detroit is 29th at -30.2. If Dunning gets 15 or more, you're all set.
Stacks
Cardinals
Rangers (It's a lefty today!)
Astros
Orioles
Main
Ace
Jacob deGrom
In the past two starts, deGrom has scored over 70 total DK points, whiffed 22 hitters across 11.2 innings, and allowed two earned runs, and one walk. His salary decreased on DK (seriously, who runs things over there) and this is officially the worst salary of the season. I will have deGrom in every single lineup that I play tonight and I would rather lose with him than risk not having him at this absurd salary. Oh, by the way, he's not thrown more than 76 pitches yet so if he stretches just a bit more, we could see 40 DK.
Shane McClanahan
He's been a little underwhelming in the two starts in August with just seven total strikeouts across 12.1 IP, but there was nothing before those two starts to suggest that anything was going wrong with him. With that said, the salary is super appealing even though the Royals only have a 19% K rate against lefties on the season since Shane O'Mac has been so good this season. Righties only have a .229 wOBA against him this year with a 32.7% K rate and a 2.30 xFIP while his swinging-strike rate is still 16.6%. For once, I don't think he's an absolute must-have because we do have at least one other option at around the same salary.
Yu Darvish
He did just face the Nationals in Washington and even though he got beat up late, he still scored 18.7 DK and whiffed nine hitters with just one walk. Now the scene shifts into San Diego and all of the surface numbers for Darvish take a sharp turn for the good when he's at home. The ERA is 2.17, the wOBA allowed is .238, the K rate jumps up to 26.2%, and the WHIP is 0.81, and the FIP is 3.22. What is interesting is the xFIP is 3.65 and that's a touch higher than on the road, but the production has been excellent. He throws a cutter/four-seam/slider combo as the main three pitches and all three have a whiff rate over 21.5% and the four-seam/slider are under a .235 wOBA allowed. I'll give the Nats credit for maintaining a low K rate of 20.3% but this is still an offense that can be had by strong pitching.
Nathan Eovaldi
Talk about a frustrating pitcher this year, Eovaldi is certainly one that comes to mind. His HR/9 is 1.90 but the Pittsburgh offense ranks just 23rd in ISO against righty pitching this year and they have a 25.1% K rate. Eovaldi is just under a 23% K rate and the ground ball rate is over 48%, both strong check marks in his favor. He also has functioned much better away from Boston with a 2.64 ERA, a .282 wOBA, a 26.6% K rate, and a 2.92 xFIP. On paper, this is a dynamite spot for him even if he gives up a home run or two.
Honorable Mention
The only reason Frankie Montas isn't the main option is the pitch count in this matchup. Since coming to New York, he's topped out at 78 pitches and he's working his way back from an injury right before the deadline. I don't want to try and challenge the Jays on a limited pitch count, but the salary is so low that Montas can still put up a high enough score. After all, Montas has been better against the right side of the plate at a .270 wOBA and he has a 29.1% K rate but he also brings some gross metrics outside of Oakland this season. He could be a strong pivot from Eovaldi, but I don't feel great about it.
I suppose you could go after Max Fried because he's not coming back from a muscle injury, but rather a concussion. I just don't actively go after the Mets lineup and there are other strong options on this slate.
Stacks
Padres
Yankees
Rays
Red Sox
Thank you for reading my MLB DFS: DraftKings and FanDuel Pitching 8/18 and make sure you follow me on Twitter at @bucn4life! Be sure to sign up for an ALL ACCESS GOLD ACCOUNT account here at Win Daily Sports. Gain access to our Projection Models and jump into our Discord where we will have our experts talking plays across every sport and slate!