MLB DFS: DraftKings and FanDuel Pitching 8/17
Published
2 months ago
on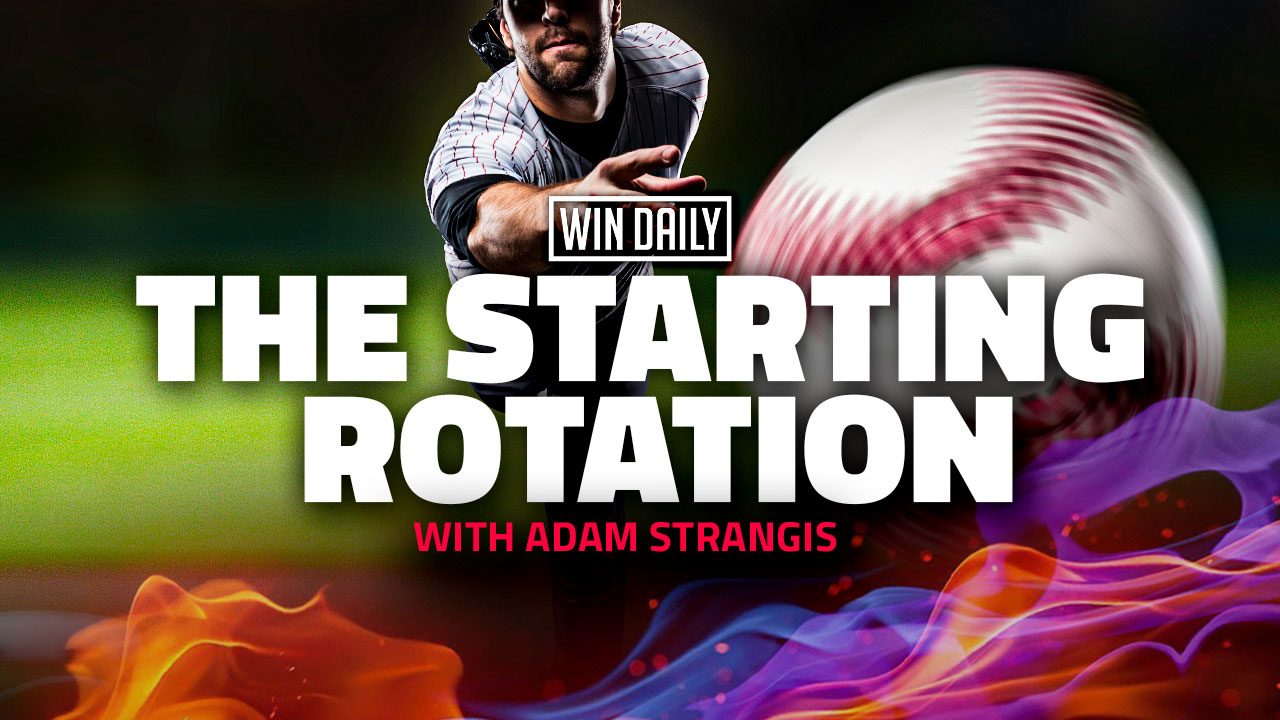 MLB DFS: DraftKings and FanDuel Pitching 8/17
We have nine games tonight, breaking the strong of slates that were at least 10 games. We have one of the best pitchers in the league on the mound tonight and I'm sure he'll be justified chalk, but that doesn't mean we can't find other guys we like. Let's talk about the most popular pitcher on the slate and more in the MLB DFS: DraftKings and FanDuel Pitching 8/17!
Aces
Max Scherzer
We don't need to open much time here because Mad Max doesn't appear to age with a 1.93 ERA, a 3.22 xFIP, a 31.3% K rate, a 0.93 WHIP, and a 16.3% swinging-strike rate. He just saw the Braves offense two starts ago and almost hit 40 DK and while maybe that doesn't happen tonight, Atlanta's weaknesses fit his strengths to a tee. They have a top five strikeout rate against righties on the season and they should throw out six righties on top of that. Scherzer is at his best against that side of the plate with a .223 wOBA, a 32.6% K rate, a 0.16 HR/9, and a 1.24 FIP. Even at (I'm assuming) heavy chalk, there is no real reason to not roll with Scherzer tonight on paper.
Carlos Rodon
We should all have infinitely more trust in Scherzer over Rodon, but there is certainly an outcome on the slate where Rodon leads in DK points. It may not seem like it but he does have a 31.1% K rate on the year and a 3.08 xFIP to go along with a 2.40 FIP and a 13.8% swinging-strike rate. He's only faced Arizona once and he had seven strikeouts with four earned runs, so it encapsulates his season so far. Rodon is fully capable of being utterly dominant but he can also be frustrating. I may be wrong, but moving to the four-seam/slider mix even more this season doesn't seem to have been the best move. These two pitches are over 92% of his arsenal while last year it was around 84% and both pitches have taken a dip in results. The fastball has already given up nine home runs and it gave up just nine all of last year, and it's likely a little easier to sit on that fastball as a hitter now. Still, Arizona is 18th or worse in OPS, ISO, wOBA, wRC+, and OBP to go along with a K rate of 22.7%. Rodon has been better at home with a 1.89 ERA, a 34.8% K rate, and a 2.65 xFIP. If we can swing it, there's nothing wrong with pitching both guys here.
Tony Gonsolin
The K rate is definitely not as exciting for Gonsolin as some others tonight since it is only 23.5% and he still has the red flag of a 3.81 xFIP compared to a 2.24 ERA. However, he's succeeded pretty much the entire season with that number, and part of the reason is a 0.89 WHIP. That is artificially low because the BABIP is only .203 but Gonsolin is at least holding the opposition to a 30.4% hard-hit rate. His swinging-strike rate is 12.1% and his splitter is doing the most work in that respect with a whiff rate over 30%. Neither side of the plate has been over a .258 wOBA and they are both over a 23% K rate and the left side has the harder time with a 2.97 FIP and a 0.56 HR/9. This isn't an easier matchup for him as the Brewers are in the top eight in wRC+, wOBA, OPS, ISO, and OBP but he's coming in at under 5% for his ownership, that's an interesting GPP play for 20 max or more.
Honorable Mention
He made me look stupid last time since Framber Valdez scored over 30 DK points but this salary still freaks me out for a pitcher that averages under 20 DK points and the profile would agree. The K rate is only 22.1% and the ground ball rate is over 67% so there's a very obvious path to have a strong game but not have the upside of any of the other three.
Everyone Else
There really isn't much of a Mid-Range today as only three pitchers fit the bill as far as salary. I'm really looking only at one and I'm totally fine giving Roansy Contreras a shot as the Red Sox have a 26% K rate over the past 30 days when they face a righty pitcher, the second-highest in baseball. They are also 19th or lower in OPS, wRC+, wOBA, and OBP and Contreras sure did a "super" job working on "two" issues down on the farm. He's been difficult to get right in the majors and has a 4.30 xFIP to go along with a 10.1% walk rate and a 37.1% hard-hit rate, but there is an upside to chase. You just have to know there is no safety built-in.
My main SP2 on the slate has to be Jordan Montgomery, and I expect him to be popular. He went for 29.9 DK points last time out and that managed to get him just a $100 increase in salary, and now he gets to face the Rockies away from Coors. Just like Quintana yesterday, it's a strong matchup as they rank in the bottom half in most of our categories and Montgomery has a 3.58 xFIP and a 20.8% K rate to go with a hard-hit rate of just 25.1%. He hasn't thrown a cutter as a Cardinal (that's a good thing since it hasn't been a good pitch) and using the sinker more with the curve and change being about a total of 40%. Those two pitches have a whiff rate over 40% and he's a talented pitcher at a fairly ridiculous salary.
Honorable Mention
The profile is beyond average, but I suppose Cal Quantrill could pop up for a good start here. He's had two starts against the Tigers this year and one has scored 23.3 and one has scored 4.4. He has walked through the Astros and Blue Jays in his past two starts, but nothing looks that different for him. Both sides of the plate have a wOBA of about .315 and he does have a K rate of 20.4% against the left side. However, both sides have a 4.35 xFIP or higher so I'm not crazy about him and admitting 20 DK wouldn't surprise me.
Along those same lines, Rich Hill gets a sweetheart matchup with the Pittsburgh offense sporting a K rate of 26.7% and they rank in the bottom five of wRC+, wOBA, OBP, and OPS. Hill likely still has a limit on his pitch count to about 80 or so as he works his way back from injury but at the salary, that may well be enough. The K rate is only 17.8% but the Pirates should help with that and the hard-hit rate is also just 27.2%. With the general incompetence of the Pittsburgh lineup, he's not going to need a ton to pay off here and if he faces some lefties, that would help as the K rate jumps to 22% and the xFIP goes down to 3.88.
Missed The Cut
Corey Kluber – He really isn't going to be a target for me because even though the Yanks are struggling pretty badly right now, they can't stay like this forever. The offense is too good to just not hit the rest of the way and even though Kluber is a little bit better against the right side, he's pretty expensive. On top of that, his K rate has continually gone down every month so far and his ERA is over 5.50 since the start of July.
Micheal Kopech – He smashed the Tigers in the past start, but Detroit is not Houston. He still has a 4.69 xFIP, the K rate is just 22.4%, and the fly-ball rate is 48% so it's hard to see a path to any major success.
Stacks
Rangers
Mets
Giants
Cardinals
Rays
Thank you for reading my MLB DFS: DraftKings and FanDuel Pitching 8/17 and make sure you follow me on Twitter at @bucn4life! Be sure to sign up for an ALL ACCESS GOLD ACCOUNT account here at Win Daily Sports. Gain access to our Projection Models and jump into our Discord where we will have our experts talking plays across every sport and slate!