MLB DFS: DraftKings and FanDuel Pitching 8/16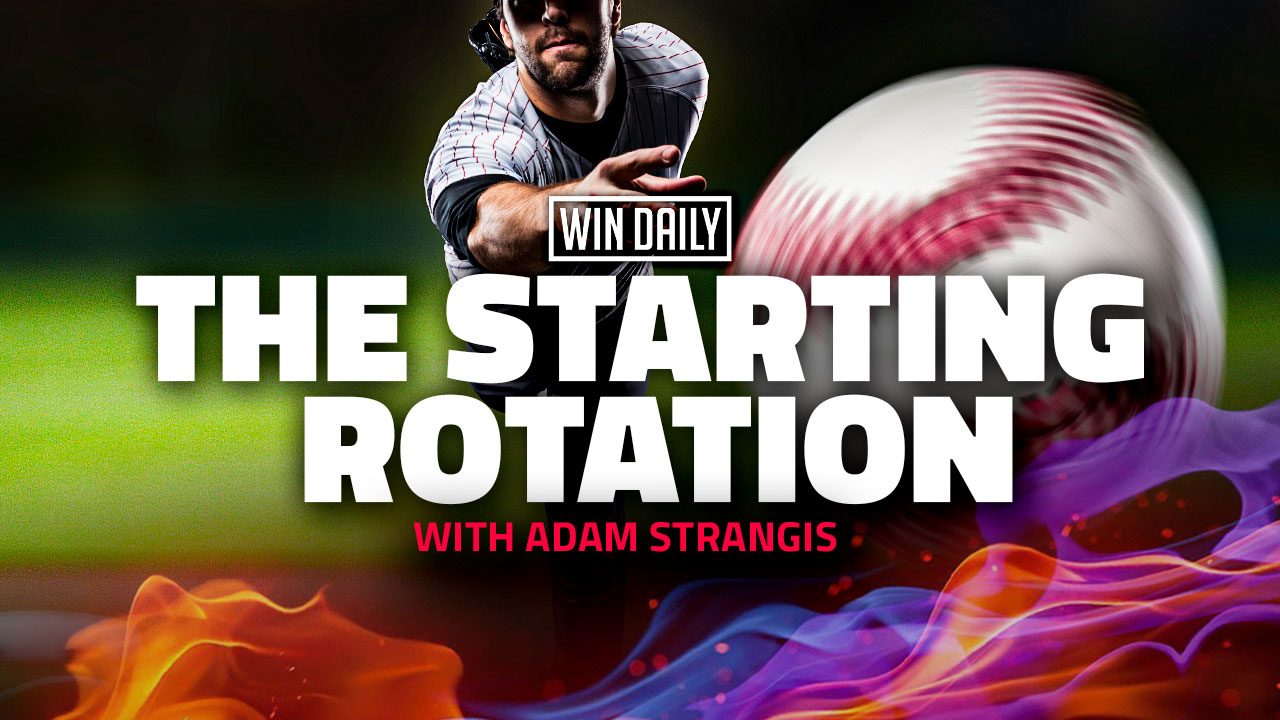 MLB DFS: DraftKings and FanDuel Pitching 8/16
The Tuesday slate is another massive one with 13 contests and the pitching is interesting. The gist is the best pitchers talent-wise are in very difficult matchups for the most part and that throws a monkey wrench into the proceedings. Let's talk about who we should be targeting tonight to find green screens in the MLB DFS: DraftKings and FanDuel Pitching 8/16!
Aces
Justin Verlander
He was a little suspect in the past start but t shouldn't shift much of how we think about Verlander here, nor does it change how rough the White Sox have been when they see a righty pitcher. We've been over these stats constantly but they are 29th in ISO and that is such a big bonus for Verlander. He himself is still sitting at a .185 ERA and he's been laughing at the 3.41 xFIP the entire year as he's struck out 25.7% of the hitters he's facing and the hard-hit rate is 28.3%. His curve and slider both have whiff rates over 30% and both sides of the plate are under a .260 wOBA to go along with a 0.95 WHIP and a 4.1% walk rate. He won't see many lefties but the K rate jumps up to 27.6% and the WHIP is 0.77, which is pretty crazy. From a statistical standpoint, I wish Verlander had a higher K ate against righties past his 23.9% rate but I'm not going to fade him just based on that.
Robbie Ray
These two players will likely be at least in the top 3-4 in ownership if not the top two, and Ray has some strong appeal even though he's on the road. Really, that may be about the only red flag that we can find with Ray because he's thrown 55.2 innings away from Seattle and he's racked up a 5.50 ERA, a .372 wOBA, a 2.10 HR/9, and an xFIP over 4.00. Having said that, the Angels are still a very good matchup since they are 27th or worse in OBP, OPS, wRC+, and wOBA while ranking just 25th in ISO. The K rate is over 24% and even though Ray has given up more production on the road, his K rate isn't drastically different and it's over 26% away from Seattle. Given the matchup, I'm not as worried about his metrics here because this s one of the worst offenses in baseball when they face a lefty.
Nestor Cortes
I still think he's a little pricey for my blood but the K rate has stabilized to some extent to 26.8% and his WHIP is just 1.00 to go along with a hard-hit rate barely over 28%. Cortes is also still sporting the best swinging-strike rate of his career at 11% and his cutter/four-seam mix both have a whiff rate of 24% or higher. They also have 99 of his 125 strikeouts while Tampa is 25th against the fastball and ninth against the cutter. The rub here is Tampa is only whiffing 22% of the time and they are 15th in wRC+ so there is a path for Cortes to not hit value. He's still a high-quality pitcher so I'd have no real issues in going with him tonight, though I wouldn't try him in SE or cash games.
Honorable Mention
It's not often that I'm not going to be heavy on Dylan Cease, but I can't say he's going to be one of my favorites. For one thing, the Astros are just tough to strike out at just 20.5%, the sixth-best mark in the league. Cease has also seen his K rate "drop" to under 29% since July and that is obviously still a big number, but it's not his seasonal number of 33%. Houston is also 14th against the slider, and that's not ideal for Cease since that's his main pitch.
Mid-Range
Sonny Gray
I certainly am not in love with the salary but Gray is on the board and has flashed upside (along with some bad starts) and has a K rate of 22.9%, a ground ball rate of 43.4%, and an xFIP approaching 4.00. Righties have a .310 wOBA but the HR/9 is under 1.00 and the left side is down to .260 for the wOBA and a 1.00 WHIP. Gray doesn't always put it altogether but he could face six lefties if the Kanas City lineup is the same as last night. That side also only has a 28.8% hard-hit rate and the lefties other than MJ Melendez and Vinnie Pasquantino are suspect at best. I think he's in play but I will struggle with the salary all day.
Jose Quintana
It's a little less than ideal that Quintana has to face the Rockies twice in a row, but he scored 20 DK points in Coors Field and now this game is in St. Louis. The Rockies are coming out of Denver after a homestead, which also helps, and even against lefties on the road, they are 18th or worse in OBP, wRC+, OPS, ISO, and wOBA to go along with their K rate of 22.2%. Quintana has only pitched two games for the Cards but he's managed to score 20+ points in both games and it's not a surprise that the St. Louis staff could squeeze a little more out of him than Pittsburgh could. His main three pitches all have a whiff rate of 25% or higher this season and they have 99 total strikeouts. It's nice that he continues to be under $8,000 but life could be worse and righties only have a .309 wOBA and a 3.57 FIP.
Honorable Mention
Nick Pivetta is in a great spot in general as the Pittsburgh offense is in the bottom 10 in our offensive categories and they have the fourth-highest K rate at 25% when facing a righty. Pivetta could exploit that with a 22.5% K rate himself but he does have a .346 wOBA, 1.63 HR/9, and a 4.92 xFIP when he's facing a lefty. I might be more interested n playing Bryan Reynolds or Oneil Cruz (maybe even both) although if Pivetta can navigate them, the rest of the lineup is not that great.
Punt Range
Zach Plesac
I am not thrilled here and feel almost forced to write up Plesac, who has a 4.35 xFIP and a K rate under 19%. His last start came against these Tigers and he put up 23.3 DK points compared to an average of 11.5 this season. The oddest part is Detroit has plenty of lefties (the quality of which is not good) but Plesac isn't good against lefties either. He's had a .347 wOBA, a K rate of 15.1%, and a 5.29 xFIP when facing that side of the plate. He did use the curve and changeup a lot more in this past start so that's a little interesting but in a lot of ways, this past start looks like more a flash in the pan than anything. If it wasn't Detroit, I'd be far more comfortable saying he gets smacked around.
Justin Steele
This could be a tough spot if the sample is accurate since the Juan Soto trade as Washington has smacked lefties through 66 plate appearances. They're in the top 10 in our categories but they also have struck out almost 29% of the time, and that is very interesting. Steele is pushing 24% for his K rate and has a 3.55 xFIP to go along with a 27.4% fly-ball rate and a hard-hit rate under 25%. The slider is absolutely vital for Steele as he throws it 30.2% of the time and it has a 32.8% whiff rate, and .165 wOBA allowed, and 65 of 106 strikeouts. Washington is 29th when facing a slider this season and Steele has a .308 wOBA against righties and a 21.4% K rate. He is extremely cheap for his potential tonight.
Missed The Cut
Brandon Woodruff – I suppose if you played 20-max or more, you could throw Woodruff in one or two. He could get plenty of lefties at home and that is about the best outcome for him with a .206 wOBA and a 32.7% K rate. Still, it's hard to actively go after the Dodgers since they have the best offense against righties in wOBA, OBP, wRC+, and OPS and Woodruff has been sketchy from start to start. Additionally, it's not like he's very cheap either.
Merrill Kelly – I can't deal with Kelly at $9,600 on DK while he's on the road and only has a 20.8% K rate and a 3.95 xFIP.
Alek Manoah – Not only have the Orioles been so much better against righties in the past 30 days, but Manoah has also pitched 42.1 innings since July and has an ERA over 3.50, a wOBA right about .300, a K rate under 22%, and an xFIP over 4.20. He's capable of putting up a big number but the trends are going to wrong way for him in this contest.
Stacks
Cubs
Guardians
Cardinals
Rangers
Mariners
Mets/Braves
Thank you for reading my MLB DFS: DraftKings and FanDuel Pitching 8/16 and make sure you follow me on Twitter at @bucn4life! Be sure to sign up for an ALL ACCESS GOLD ACCOUNT account here at Win Daily Sports. Gain access to our Projection Models and jump into our Discord where we will have our experts talking plays across every sport and slate!