MLB DFS: DraftKings and FanDuel Pitching 8/12
Published
2 months ago
on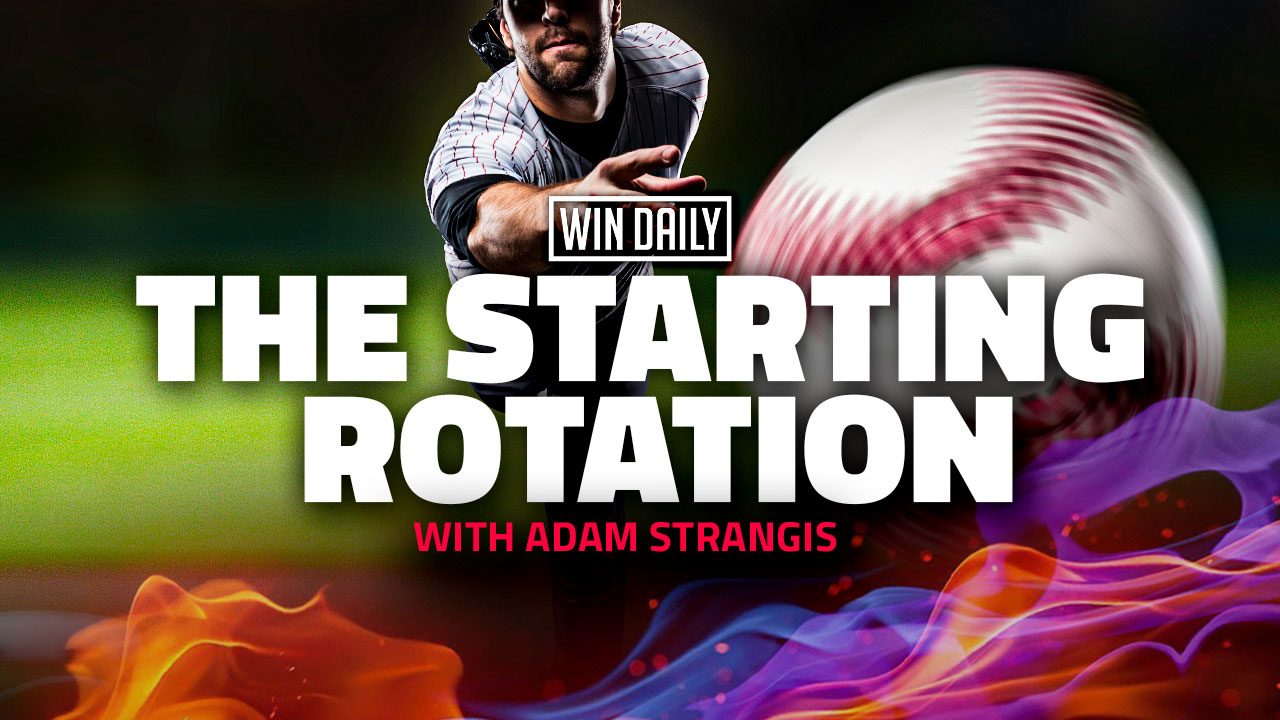 MLB DFS: DraftKings and FanDuel Pitching 8/12
We get the normal huge Friday night slate with 13 games but it feels smaller with the pitching options at hand. It tapers off fairly quickly as 14 of 26 options tonight are in the Punt Range, and that's going to be tougher to navigate. Let's chat about the obvious picks at the top and see what else we can find in the MLB DFS: DraftKings and FanDuel Pitching 8/12!
Aces
Max Scherzer
I really don't know what else to say with Mad Max as the guy is just defying everything we should be able to say about pitchers at his age. He's sporting a K rate over 32% on the season and has a 1.98 ERA and a 2.45 FIP, not to mention a 15.2% swinging-strike rate. Both sides of the plate are under a .280 wOBA, both sides strike out at least 29.9% of the time, and the more righties he gets to face, the better. The K rate climbs to 34.3% and the FIP is 1.17 in part because his slider is excellent. It has a whiff rate over 40% but he's only using it against the right side. Pretty much every game until the end of the season is a big game for the Mets, especially with the Phillies on the other side and Mad Max threes in those contests. He costs a lot, but he should.
Carlos Rodon
I know that he's been volatile but this is about the best spot he can have and it's possible the ownership difference between him and Scherzer could be exploited. We'll have to see on that one but Rodon draws Pittsburgh at home and the Pirates offense away from PNC Park has a 27.7% K rate against lefty pitching. They are also 24th or worse in OBP, OPS, wOBA, and wRC+ and even though they rank 15th in ISO, San Francisco should help control that a little bit. Rodon's slider has a 39.1% whiff rate and 61 strikeouts while the four-seam is at 25.8% and 95, and that's bad news for the Pirates. They rank in the bottom four against both pitch types on the season and despite some issues, Rodon has a K rate over 31% on the year and he's been at his best in San Francisco with a 1.76 ERA, a 35.4% K rate, a 1.12 WHIP, and a 1.77 FIP/2.65 xFIP combo. I don't think there is much separation between him and Scherzer and Rodon has the easier matchup.
Tony Gonsolin
I typically have some reservations with Gonsolin when he gets up to this salary, but I also bet I'm not alone and he might wind up being almost ignored. I've pointed it out about every time we've talked about him, but he does have a 3.72 xFIP compared to the 2.30 EA although Kansas City is a great spot for him to not get bit by that aspect. His K rate is over 24% and the hard-hit rate is just 22.3%, an excellent mark. Gonsolin has been able to generate a 12% swinging-strike rate while both sides of the plate are under a .265 wOBA. Most of his strikeouts have come from the splitter (51) and that's generated a 30.4% whiff rate and just a .160 wOBA allowed. His four-seam has frankly been a bad pitch for him with a .375 wOBA but the Royals are just 18th against it. He could turn into a great GPP play that can score with the two big guns if everything goes right.
Luis Garcia
I'd be pretty surprised if Garcia isn't popular against Oakland at home since he has a 25.5% K rate, a 1.10 WHIP, and a 3.72 xFIP. His HR/9 is a little high at 1.44 and this is the highest his HR/FB rate has ever been at 13.4%. While that is a little frustrating, his cutter is being thrown 30.2% and has a 42.7% whiff rate and a .220 wOBA. It would be nice if he leaned into the secondary stuff more because his four-seam is used 44% of the time but has a .359 wOBA. Fortunately, Oakland is just 27th when facing that pitch this year so that's a nice help for Garcia. He's got both sides of the plate under a .295 wOBA and even though his ERA is higher at home, the xFIP and K rates are both higher. We know that Oakland can be pesky at times but Garcia should be able to post around 18-20 points.
Honorable Mention
I pretty much never attack the Cardinals with many pitchers, let alone lefties. After all, they are first or second in OPS, OBP, wOBA, and wRC+ with a K rate of just 19%. Eric Lauer righted his ship since July with an ERA under 2.80 and a wOBA under .285 but the strikeouts still haven't come back. The only reason I'm looking here in MME formats is the Cards coming out of Coors Field could mess with the thing and lead Lauer to have a pretty strong start here. Don't get crazy but I truly don't mind it.
Mid-Range
Frankie Montas
Some may point to his road ERA of 6.21 and get freaked out here, and I was concerned since he was pitching in Oakland as his home park. However, the xFIP on the road is only 3.59 and the strand rate is 56.3% which is crazy high. I don't love the K rate dropping to just 21.1% but that feels like a little bit of noise and Boston has been striking out more lately. Montas got the first start as a Yankee out of the way and should be able to bounce back with a 25.2% K rate overall and he's held righties to a 2.66 xFIP, a 29.2% K rate, and a wOBA under .290. Boston had five in the lineup last night and his splitter/slider combo both have a whiff rate over 32.5%. The four-seam and splitter have the most strikeouts with 99 total and the salary is totally acceptable. You just want to hope Boston continues to struggle since over the last 30 days, they have a 27.4% K rate and sit 25th or lower in OPS, OBP, wOBA, and wRC+.
Tyler Mahle
He's been a bear to get right this season but the xFIP is under 4.00 and the K rate is over 25%, which is almost all we're looking for against the Angels. They lead the league in K rate over the course of the season at 26.9% and that's been even worse over the past 30 days and they're in the bottom 10th in wRC+, OBP, and wOBA. Mahle has used his fastball almost 52% of the time and it has a 28.7% whiff rate with a .291 wOBA allowed while the Angels rank 29th against that pitch. I don't think we can ever love a 46.3% fly-ball rate but the hard-hit rate is only 29.6% and he's sporting a .275 wOBA against the left side of the plate. Lefties also have a 26.4% K rate, a 1.13 WHP, and a 3.36 WHIP so he's an excellent fit in any build you're going for.
Mike Clevinger
This salary feels too low and like it was an overreaction to a bad game against the Dodgers. I don't think the Washington offense is going to be compared to LA anytime soon and we can start to get a picture of what they will look like without Soto and Bell. Since the trade, they rank 17th in wRC+, 15th in wOBA, 20th in ISO, and 16th in OPS, and they still do have a low K rate of just 19%. The walk rate has dropped under 5% and Clevinger is serviceable with 22.9% for the K rate and a 4.01 xFIP to go along with an 11.7% swinging-strike rate. The splits are a mixed bag because the left side has a higher wOBA at .320 but they also have a 24.5% K rate and his four-seam is used more against that side. The whiff rate is fine at 20.3% but the wOBA is only .230 so it's not getting hammered. This isn't a slam dunk play, but the salary really helps much him forward to consideration.
Punt Range
Jordan Montgomery
I strongly dislike playing him this year but even I have to admit that with his salary under $7,000, we have to look at him. We expected the Milwaukee offense to be better when facing a lefty this year but that simply hasn't happened as they rank 23rd in OPS, 22nd in OBP, ISO, 25th in wOBA, and 25th in wRC+. Perhaps most importantly, they also strike out the fourth-most at 24.8% so that should be able to push Montgomery to at least (hopefully) six strikeouts. Even without the general strikeouts this year (20.2%), the xFIP is 3.66 and he's been a quality pitcher in real life. The right side of the plate only has a .306 wOBA and a 1.15 WHIP and his change/curveball have a whiff rate over 41%. His change still gets hit with a .323 wOBA while the curve has a .200 wOBA allowed and the most strikeouts at 42. He makes too much sense in this range given his opponent.
Missed The Cut
George Kirby – Love the talent, love what he's been able to do, but the pitch counts haven't been past 80 in the past three starts. He needs to be extremely efficient to hit (as he was in the last game) but the slate is too crowded to take a swing unless we know he's not limited.
Corey Kluber – I can't get on board with the salary and the Orioles offense has quietly been very strong over the past 30 days. They rank seventh in wRC+, eighth in wOBA, eighth in OPS, and sixth in OBP.
Michael Kopech – He's worse against lefties with a .332 wOBA and both sides have an xFIP over 4.60 so I'm very nervous. I'll give Kopech the fact that he whiffs the left side at 28.2% so maybe Detroit is bad enough to make him work (similar to Plesac yesterday) and he could be chalky, but he's got a very low floor here.
Stacks
D-Backs/Rockies (they'll be chalk and are inexpensive)
Padres
Astros
Giants
Dodgers
Yankees
Blue Jays/Guardians
Thank you for reading my MLB DFS: DraftKings and FanDuel Pitching 8/12 and make sure you follow me on Twitter at @bucn4life! Be sure to sign up for an ALL ACCESS GOLD ACCOUNT account here at Win Daily Sports. Gain access to our Projection Models and jump into our Discord where we will have our experts talking plays across every sport and slate!