MLB DFS: DraftKings and FanDuel Pitching 8/10
Published
2 months ago
on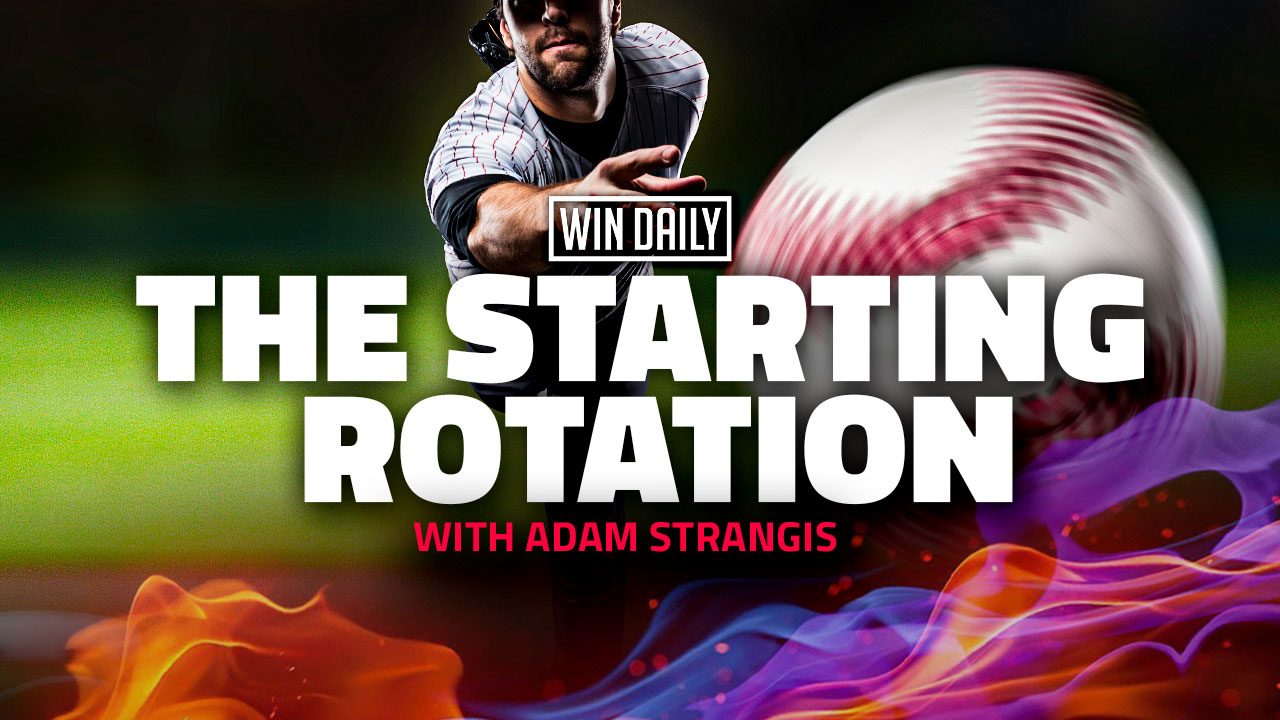 MLB DFS: DraftKings and FanDuel Pitching 8/10
Tonight's nine-game slate is a little bit challenging from a pitching perspective because it is very top-heavy again, but this time there is very little to be had in the mid-range and even the punts are questionable at best. It could be another slate where we have to find cheap bats to make things work out. Let's dig into the MLB DFS: DraftKings and FanDuel Pitching 8/10 and see which directions we need to be heading in tonight!
Aces
Justin Verlander
I do suspect that he'll be among the most popular pitchers, if not the lead dog in ownership and it's not hard to see why based on his season. He has a 1.73 ERA (the xFIP has concerned me all season at 3.43 but Verlander plows through that every fifth day), a 2.98 FIP, the K rate is 25.5%, and he's still getting an 11.4% swinging-strike rate even though his four-seam is down to a 16.6% whiff rate. The slider is the best pitch as far as strikeouts with 62 and whiff rate at 35.1% but his curve has the lowest wOBA allowed at .194. He uses that one a bit more to the left side and helps explain why lefties have a .201 wOBA, a 27.5% K rate, and a 0.75 WHIP. With Texas firing off 5-6 lefties in their normal lineup and carrying the eighth-highest K rate when facing a righty at 23.4%, Verlander is a perfect fit from a lot of angles.
Sandy Alcantara
I'm very curious to see how the ownership on these two pitchers falls because Alcantara is a great play in his own right. He's coming off a game where he threw a CGSO on only 105 pitches and even if he only whiffed three, Alcantara is the rare pitcher where I don't worry about it as much. His ability to get deep into games is virtually unmatched as he leads the league in innings by 13.1 innings. It's not like his K rate is horrific either at 23.3% and Philly is right about average in their K rate against righties at 22.4%. It's not the best matchup he'll ever have but he could also be half of the ownership Verlander could be and even on the road, Alcantara is only allowing a .256 wOBA and a 2.91 FIP. Oddly, the K rate comes up to over 24% and not one of his pitches is allowing a wOBA over .282. Additionally, the Phillies are just 16th against the changeup and that's the main pitch for Alcantara with a whiff rate over 36%. This should make for a pretty interesting duo tonight.
Everyone Else
At least for me, it's pretty easy to rule out Sonny Gray and Nick Pivetta against the Dodgers and Braves, respectively. The only other pitcher in the Mid-Range by salary is Noah Syndergaard who gets the same elite matchup that Wheeler did last night in the Marlins. I'm never super excited for the guy because he has a 4.26 xFIP and there's just not a trust factor there because his K rate is down to just over 18%. Granted, the salary isn't much and the Marlins have been dreadful but it's kind of hard to point to what Syndergaard does well. The ground ball rate might be the best aspect at 45% because the swinging-strike rate is only 10.4% and his change/four-seam duo (43% of his arsenal) both allow a wOBA of .369 or higher. That's a little tough to swallow even in a great matchup and both sides of the plate hit hm for at least a .294 wOBA. Perhaps the Marlins offensive ineptitude covers his warts, but that is far from guaranteed.
Past Syndergaard, it really depends on just how dangerous you want to live because boy, it gets ugly fast. Everyone knows how much I hate Jose Berrios and I could see him being chalky tonight because the field will want to play Cardinals against a below-average lefty in Coors Field. Berrios Chalk is an honest to goodness nightmare for me because he just hasn't been good at all this year. He has been unlucky to some extent with a 4.05 xFIP compared to the 5.19 ERA but his K rate has never been lower than the 21.1% he has right now outside of his rookie year. His fly-ball rate has grown to 40.8% and the swinging-strike rate is just 9.3%, another number at the lowest point of his career outside of the rookie season. He's using the fastball more this year despite the fact it's getting killed for a .452 wOBA allowed and eight homers. On the road this year, his road ERA is 7.50, the HR/9 is 2.50, the K rate drops to 15.1%, and the xFIP is 4.80. I mean, that is hideous.
Let's get deeper into the muck and slime because we're talking about Madison Bumgarner next! It takes a special kind of offense to even look in the direction of MadBum and he daws *checks notes* the Pittsburgh offense in Arizona. They have the second-highest K rate at 26.5% while sitting 29th in OBP, 26th in OPS, 17th in ISO, 26th in wOBA, and 28th in wRC+. Bumgarner has a 3.96 ERA with a 4.83 xFIP which is far from great and the K rate is under 16% but the salary is right. Like most pitchers, the production has been better at home and the ERA is 3.31 with a .325 wOBA and a 1.28 WHIP. The xFIP is still 4.67 but you're just playing the matchup and the horrid Pittsburgh offense.
If you've got some serious guts, Kris Bubic at least is somewhat interesting. I get it, he's been a target for hitters for a long time but look at these last few games. He's faced Boston, went to Yankee Stadium, went into Toronto, and he scored at least 15.9 DK points in all of those starts. The xFIP was no higher than 3.84 in any of those starts and he whiffed 16 total hitters. He's been using the changeup a little bit more and the fastball a little less. That would be a welcome change as the changeup allows just a .313 wOBA compared to .410 for the fastball and the whiff rate is 28.3%. The White Sox are excellent against lefty pitchers but so are New York and Toronto. Chicago also lost Tim Anderson, played two games yesterday, and their season is slipping away.
Missed The Cut
Kyle Wright – We've been talking about it but the strikeouts just haven't been there for a player of this salary and it's tough to build the case he scores more than Verlander or Alcantara.
Johnny Cueto – Someone explain to me like I'm five why his salary keeps climbing? He has six strikeouts in his past 22 innings and even though he's only given up seven earned, he's yet to crack 16 DK because K's are king.
Stacks
Cardinals
Guardians
Rockies
Braves
Astros
Twins
Orioles
D-Backs
Thank you for reading my MLB DFS: DraftKings and FanDuel Pitching 8/10 and make sure you follow me on Twitter at @bucn4life! Be sure to sign up for an ALL ACCESS GOLD ACCOUNT account here at Win Daily Sports. Gain access to our Projection Models and jump into our Discord where we will have our experts talking plays across every sport and slate!