MLB DFS: DraftKings and FanDuel Pitching 8/1
Published
2 months ago
on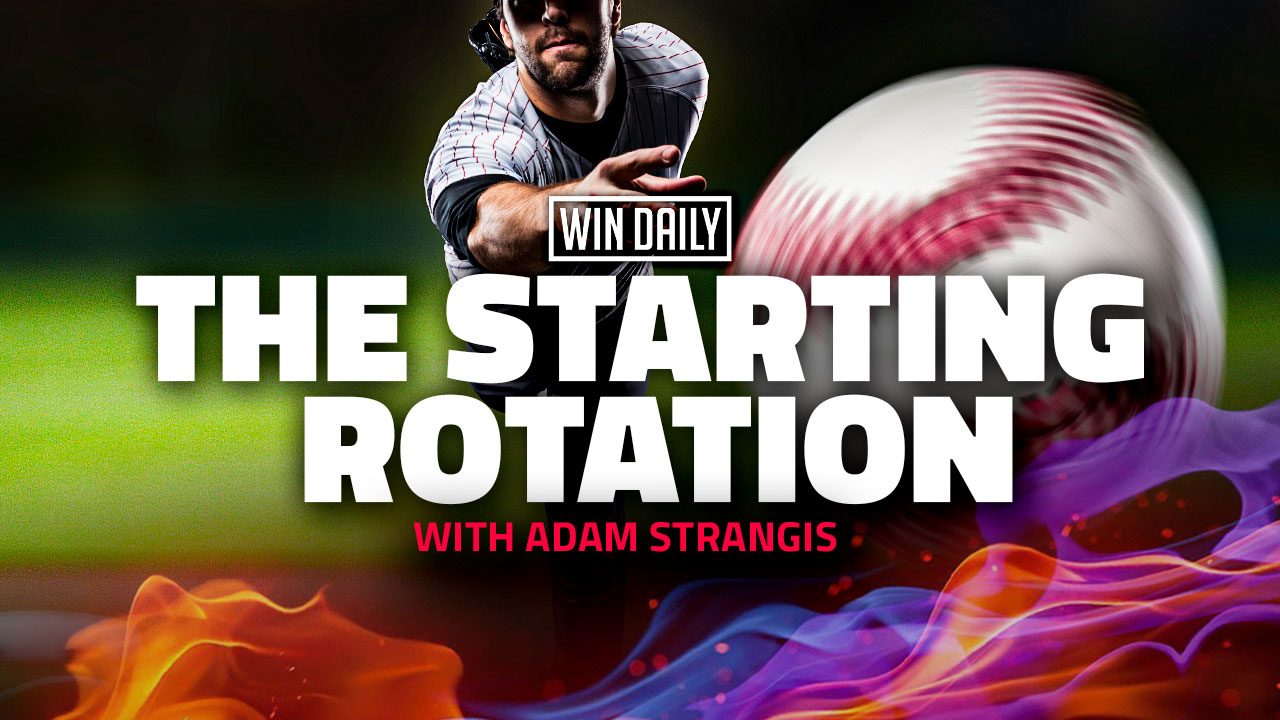 MLB DFS: DraftKings and FanDuel Pitching 8/1
There are nine games tonight and while there are a couple of big names available, this isn't the deepest slate ever. The salaries involved with some of the picks are far from ideal as well so it could be a tricky slate. Let's talk about any option we like in the MLB DFS: DraftKings and FanDuel Pitching 8/1 so we can find green screens!
Aces
Max Scherzer
I would be roundly shocked if Scherzer isn't the stone chalk given the slate context, and he does feel like he has the safest combo of floor and ceiling. You're almost locked in for 90+ pitches and even in the last game where he "only" whiffed six, he scored 23 DK points. Mad Max has a 3.09 xFIP and a 2.50 FIP so the 32.6% K rate looks extremely appealing. The WHIP is still just 0.90 and he is one of the pitchers that I stopped pointing to the fly-ball rate of 49.5% a long time ago. His swinging-strike rate is 15.2% and the only real concern is the Nationals whiff under 20% of the time for the second-lowest mark in the majors against righties. Still, Mad Max has both sides of the plate under a .270 wOBA and each side whiffs over 30.5% of the time. His slider and changeup both are excellent weapons with whiff rates over 35% and it's really just a matter of if he can make it worth the salary. I lean yes, but I may limit my exposure to cash games and be under the field in GPP.
Jon Gray
I never thought I'd back a $9,700 Jon Gray this year but here we are. He got left in a little too long in the last start and was over 20 DK again until he faced Julio Rodriguez one too many times. His slider has been so good this season with a 41.4% whiff rate and a .235 wOBA allowed to go along with the 67 strikeouts it has. I have to point out that the Orioles are sixth against that pitch this season but they are also 20th or worse in wOBA, OPS, OBP, and wRC+ so that mitigates some of the concerns. Gray is also sporting a 27.1% K rate and t goes even higher against the right side at just under 30%. Gray is also holding that side to a .264 wOBA and a 3.11 xFIP and even though Baltimore could counter with five lefties, Gray still has a 24% K rate and the FIP/xFIP combo is under 3.60. The fact that he's high but still $900 cheaper than Scherzer really does make these two pitchers close, especially if the Nationals don't strike out as much.
Honorable Mention
I'm kind of interested in Andrew Heaney but I'm not sure if he'll go more than 85 pitches. He only faced 15 hitters through four innings in the first start back from injury and threw 71 pitches. While he pitched pretty well, San Francisco has been in the top 10 against lefties all year and we'll need to see if we can get a read on the pitch count. A tough matchup with limited pitches might not be worth the salary despite Heaney having a 34.6% K rate and a 3.11 xFIP in his four starts this year.
Mid-Range
Luis Garcia
He's a pitcher I have a bit of a mental block with because the metrics always look excellent, but I somehow always get him on the games where he's pretty disappointing. He has a 26.4% K rate, a 3.81 ERA, and a 3.59 xFIP so there's not much wrong with that set. Then we turn to the splits and both sides of the plate are under a .290 wOBA, have a WHIP of 1.10 or below, and both sides are over 26% for the K rate. Some folks may point to his 4.89 ERA at home but that does a disservice to how he's pitched with a 3.29 xFIP and his K rate jumps to over 28%. Boston did snap out of their funk a little bit yesterday but over the past 30 days against righties, they have the fourth-highest K rate and rank no higher than 19th in any offensive category. We'd want to hope for some more righties since he's using the cutter more against that side and it has a 43.9% whiff rate, but we shouldn't overlook him tonight.
Mike Clevinger
My goodness, this is a good spot for Clevinger. For one, he's getting the Rockies after they spent over a week in Colorado at altitude, so that first game back outside of Denver can be tough. The xFIP for Clevinger is a little high at 3.79 but he still has a 1.18 WHIP, a 24% K rate, and his hard-hit rate is down to 26% so it's not like he's getting lit up so far. What I really like is he should face seven righties and he's been at his best against them so far with a .225 wOBA, a 23.9% K rate, the WHIP is 0.95, and the FIP is 2.03. Colorado is very vulnerable on the road when they face righty pitching as they rank 29th in ISO, OPS, wRC+, and wOBA. The K rate isn't terrible at 22.5% but Clevinger isn't that expensive yet and I'm really liking him as an SP2 on this slate. He's also been over 90 pitches in three of the past four starts so there's some security on that end as well.
Punt Range
Domingo German
It will only be his third start of the season but German should be able to get to around 90 pitches tonight and his second outing was way better than the first. He only gave up two runs against the Mets and whiffed seven hitters, which was impressive. The home run he allowed was pretty lucky off the bat of Pete Alonso and the Mariners are really beat up right now. They have six players on the IL and two more that are day-to-day while German has a 23.1% K rate so far. The fly-ball rate is 53.8% but the hard-hit rate is under 27% so things should even out for him after he got smacked against the Astros in his first start. The largest issue is he might have to face seven lefties and they only have a 16.8% K rate so far but at the same time, the quality of the lefties is questionable at best. German is about the best option down low just based on the talent he has shown in the past.
Missed The Cut
Zac Gallen – A pitcher with a fastball-heavy approach against an offense that doesn't strike out much is a bad mix, even though Gallen is better against lefties with a .238 wOBA and a 24.9% K rate.
Tarik Skubal – I can't buy him either as the Twins are in the top half of the league in every major offensive category and they have the fifth-lowest K rate at 19.6%.
Brad Keller – I really wanted to look at him against a White Sox team that has done squat against righty pitching all season but even when facing righty hitters, Keller has a 4.22 xFIP, a .298 wOBA, and a 15.4% K rate. That's always tough to get excited about.
Stacks
Mets
Yankees
Astros
D-Backs
Tigers
Padres
Royals
Thank you for reading my MLB DFS: DraftKings and FanDuel Pitching 8/1 and make sure you follow me on Twitter at @bucn4life! Be sure to sign up for an ALL ACCESS GOLD ACCOUNT account here at Win Daily Sports. Gain access to our Projection Models and jump into our Discord where we will have our experts talking plays across every sport and slate!