MLB DFS: DraftKings and FanDuel Pitching 7/30
Published
2 months ago
on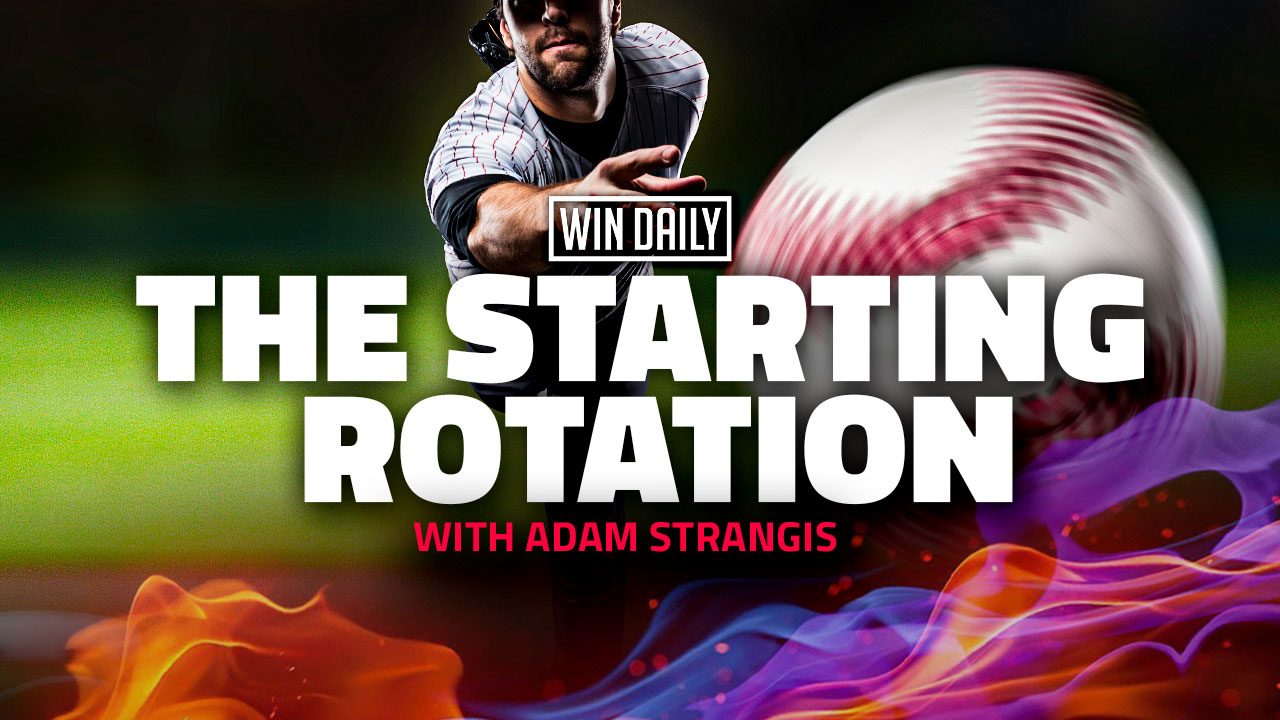 MLB DFS: DraftKings and FanDuel Pitching 7/30
We don't have a single pitcher that is $10,000 or higher tonight and that can make things interesting. On top of that, we also have a solid set of options at every level and I'm very interested in a cheap pitcher tonight for sure. Let's talk about who we're chasing to find green screens in the MLB DFS: DraftKings and FanDuel Pitching 7/30!
Aces
Let's just attack the trio of Clayton Kershaw, Framber Valdez, and Joe Musgrove as a unit because if this was a bigger slate, I'm not sure how much I'd be backing any of them. Starting with Kershaw, I'm not saying Coors can't be conquered (just look at the Rockies in the past two games) but Kershaw isn't exactly invincible. His xFIP is under 3.00 and the K rate is great at 27.4%, along with a ground ball rate of 49.5%. That's going to help in Coors for sure, but his main pitch is the slider. He's using it over 45% of the time and if it's not moving as well as normal, that's going to be an issue. His four-seam has a 7.8% whiff rate (yikes) and a .289 wOBA allowed. It also doesn't help that he just pitched in Coors and went into the negative points so he's not off the table, but I'm not in love here.
For Valdez, he's got to face the Seattle lineup for the second time in a row and that tends to be an issue for plenty of pitchers. That team has to be flying high after acquiring Luis Castillo last night and the front office showed up for them in a big way. The Mariners have been a mixed bag against lefties as they rank eighth in OBP and ninth in wRC+ while toward the league average everywhere else. It's also an interesting clash because they are 10th in fly-ball rate while Valdez matches up with a 66.4% ground ball rate. His K rate is only 22.1% which is about as low as I like to go at this salary and Valdez did allow three runs in the last start. His sinker is being used just over 50% of the time and it's a vital pitch with a -6 degree launch angle, but it also allows a .329 wOBA. He really feels a little expensive.
Musgrove brings up the rear in salary (also feels a little pricey) but he might be my favorite. It's been a little bit of an unstable run in the past five starts with three of them not clearing 7.2 DK, but the other two were 24 and 26 DK and that came against the Giants and Dodgers. The 3.34 xFIP is a bit higher than the 2.63 but it's not egregious and Musgrove at least has a 24.4% K rate and a 45.9% ground ball rate. I'm not sure we should hit the panic button on Musgrove yet despite the 4.69 xFIP and 4.67 ERA in July in part because it's 17.1 innings and the rest of his season has been elite. It should be more of a bump in the road but it's not an easy matchup for him either since the Twins are in the top 10 in all of our categories.
The bottom line with this trio is they all have a great start as a possibility, but there is a significant risk with all of them. My gut says to be cautious, and I would rank them Musgrove, Kershaw, and Valdez and we'll see what the field does in cash games. None of the three would be more than "Honorable Mention" on a different slate.
Mid-Range
Mitch Keller
I think the aces are going to get more run than they probably should because the rest of the slate….it's a little tough. I mean, we're putting some faith in Keller but in the last month, he's shoved against the Marlins twice and in Colorado, and he didn't get killed against the Yankees. In those 25 innings, he has a 2.88 ERA with a 25.3% K rate, a 1.12 WHIP, and a 2.61 xFIP. Those are legitimate numbers and it is the only four-start stretch of the season where his slider usage has hit at least 21% in each game. That has been the best pitch for him with a 29.3% whiff rate and a .291 wOBA allowed while the Phillies are just 18th against the fastball. Additionally, they aren't higher than 12th in OBP, OPS, wOBA, and wRC+, and they strike out 22.8% of the time. I'm not saying that Keller is any type of sure bet, but he's putting up serious numbers that shouldn't be ignored since he's always had some level of talent.
Sonny Gray
In what is the theme of the slate, I dislike the salary but Gray has a nice path toward success. The Padres have typically been playing five lefties and even though they hammered Joe Ryan last night, Gray handles the left side extremely well this season. He's held them to a .239 wOBA, a 0.56 HR/9, a 23.6% K rate, and a 2.69 FIP to go along with a 0.90 WHIP. His curve is used basically to just the left side with a whiff rate over 25% and the Padres rank just 22nd against that pitch. Gray also allows just a 25% hard-hit rate and brings in a 3.79 xFIP and a 29.3% CSW. It's likely a better matchup for him than it was Ryan so he's a strong option with a very mediocre salary.
Ranger Suarez
I feel like I could just say "Bailey Falter went six innings, struck out eight, and only allowed two runs against this lineup" and call it a day. That's not quite enough but Suarez has a 3.88 xFIP, a 55.9% ground ball rate, an 18.8% K rate, and he pitches with his left hand which has been death to Pittsburgh of late. The K rate for them is over 27% but at the salary for Suarez, he doesn't need to strike out a ton of hitters. His past five starts have all been over 15 DK points and even though the righties have a .336 wOBA, I'm not sure it matters since these guys are so bad on the Pittsburgh side. They're in the bottom five in OPS, OBP, wOBA, and wRC+ to go along with that K rate and Suarez can't ask for a much better spot.
Honorable Mention
It's one thing to go after Lance Lynn with some interesting metrics when he's $6,800 but Johnny Cueto is almost $9,000 and his metrics look rougher. His 2.89 ERA looks great but the 4.28 xFIP raises some eyebrows and the K rate has now fallen below 18%. Maybe that's a little unfair since he pitched against the Cleveland offense in the last game, but still. One of the facts could be how many lefties the Oakland lineup has. They have a 4.85 xFIP, a 14.9% K rate, and a .295 wOBA. The right side is a .312 wOBA but the BABIP is over .305 and the FIP/xFIP are both below 3.90 with a K rate just under 20%.
Punt Range
I can't see a punt worth playing tonight and Ian Anderson is coming off getting ripped by one of the worst offenses in baseball this year. I can't get behind that even though his xFIP is 4.37 compared to an ERA over 5.00. I suppose he has a .291 wOBA against the left side of the plate but he also still has a 1.39 WHIP, a 4.49 xFIP, and a 14% walk rate. I don't know how we can actively want to play him even when facing Arizona.
Maybe the field wants to try and play Drew Smyly but he has a .343 wOBA against the right side and that also includes a 4.57 FIP and a 1.86 HR/9. San Francisco could help keep the ball in the park but Smyly should face a righty in almost every spot of the lineup.
Stacks
Dodgers – Trayce Thompson and Hanser Alberto should be very popular under $3,000
Cardinals
Rangers
Braves
Cubs
White Sox
Thank you for reading my MLB DFS: DraftKings and FanDuel Pitching 7/30 and make sure you follow me on Twitter at @bucn4life! Be sure to sign up for an ALL ACCESS GOLD ACCOUNT account here at Win Daily Sports. Gain access to our Projection Models and jump into our Discord where we will have our experts talking plays across every sport and slate!