MLB DFS: DraftKings and FanDuel Pitching 7/29
Published
2 months ago
on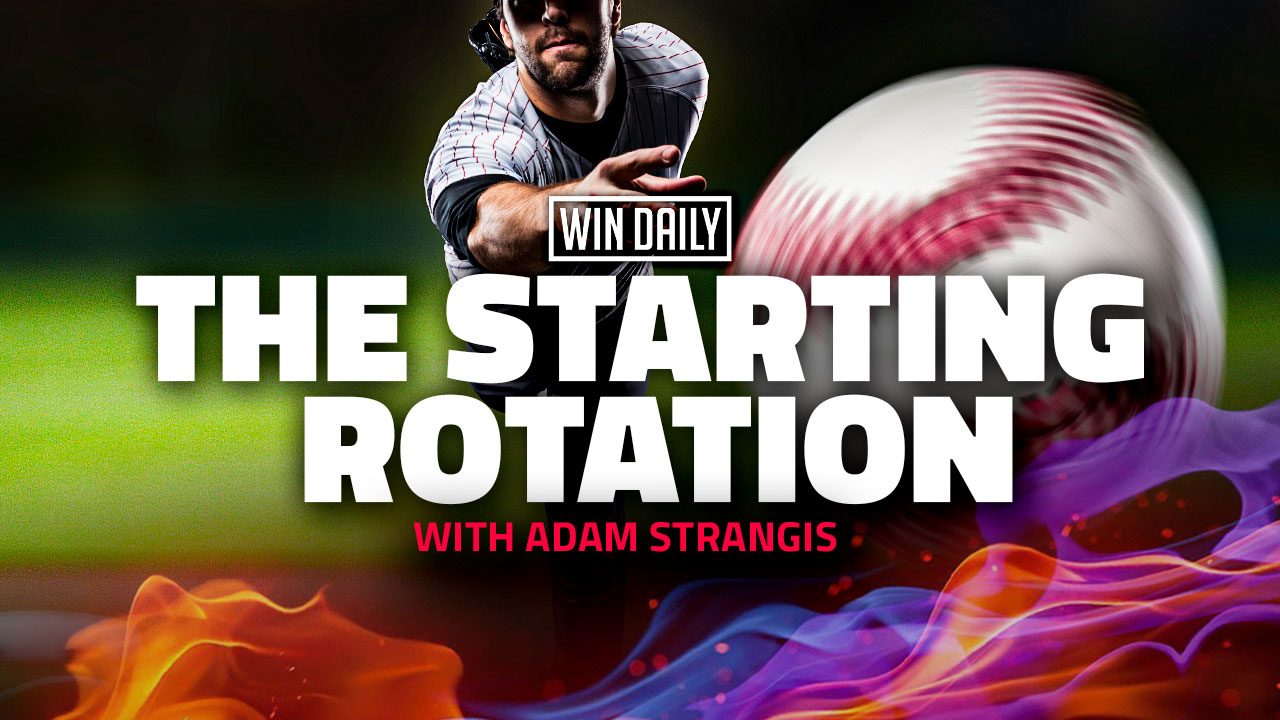 MLB DFS: DraftKings and FanDuel Pitching 7/29
We've got almost a full boat tonight with 13 games on tap and it's not the deepest pitching slate we'll ever have. It doesn't help that we miss Sandy Alcantara because nobody wants to include the 6:40 games normally but we do have some top-shelf options. Let's talk about them and the other pitchers we like in the MLB DFS: DraftKings and FanDuel Pitching 7/29 to find the green!
Aces
Gerrit Cole
Cole wasn't spectacular in his last start but for some reason, the Orioles have given him some issues this season. It hasn't killed his overall profile with a 2.78 xFIP, a 3.09 ERA, a K rate over 32%, and a swinging-strike rate of 14.1%. His four-seam/slider combo has a whiff rate of at least 31.6% and has 130 of his 153 strikeouts on the season, while the Royals are 17th against the fastball. Cole has delighted in pitching in New York this season through 64.2 innings with a 2.09 ERA, a .235 wOBA allowed, a WHP of 0.80, and the K rate jumps up to 35.5%. Even the FIP/xFIP are below 2.30 and he's just been a total stud at home. With the Royals no longer having their normal offense after trading Andrew Benintendi to the Yanks, it's very easy to love Cole.
Justin Verlander
I've been pretty lukewarm on Verlander for the season and I do prefer Cole, but Verlander just keeps shoving almost every time he's on the mound. His 1.86 ERA has certainly had some luck playing not it with a 3.34 xFIP and the fly-ball rate is over 40% as well. To be fair, the hard-hit rate is under 30% and the K rate is still over 26% so it's not like he has no upside at all. This is going to be the sixth time he's faced Seattle and he has thrown 34.2 innings against them this year with a total of 38 strikeouts and 10 earned runs. Six of those 10 runs came in one start so he's pretty much smacked Seattle around this year and neither side of the plate is over a .260 wOBA and both whiff at least 24.4% of the time. Lastly, Seattle is 23rd against the slider and that's been the best strikeout pitch for Verlander with 57 strikeouts and a 35.5% whiff rate so he's well in play.
Brandon Woodruff
He's made five starts since coming back from an injury and in four of them, he's hit at least eight strikeouts, gone at least five innings, and even up five earned runs. In those four starts, his xFIP has not been higher than 2.86 and it seems like his rehab has solved whatever was plaguing him at the start of the season. Boston is down and out right now with the offense struggling and his K rate overall is up to 30.6% and the WHIP is down to 1.16. They've been playing five lefties lately and if they do again, that's an advantage for Woodruff with a .244 wOBA, a 40.7% K rate, and a 1.53 FIP. His changeup is the weapon when he faces a lefty and it has a 56.4% whiff rate and the slider is the go-to against righties and that has a 44.2% whiff rate. It sets up the four-seam which has a .271 wOBA allowed and 46 strikeouts, leaving Woodruff as an excellent option.
Alek Manoah
He's going to face quite a few lefties, which is not usually a good thing for Manoah since he has a .300 wOBA, a 17% K rate, and a 4.59 xFIP. However, this is the Detroit lineup we're talking about and when they face righty pitching, they have the fifth-highest K rate at 24.3% and are dead last in OPS, wOBA, ISO, and wRC+. I'm perfectly willing to go after Manoah here with the quality of hitters he's facing and he's in the 97th percentile of hard-hit rate. Of his 106 strikeouts, 83 have come from the four-seam and slider and every one of his pitches has a wOBA under .300. When he does get a righty, the K rate jumps over 29% and the WHIP is 0.71 so he is still a strong option against one of the weakest options around.
Mid-Range
Martin Perez
Given the fact that Perez is facing the Angels, I'm interested to play him even though his 3.72 xFIP doesn't really match the 2.59 ERA. The xFIP isn't something that I'm really wearing because Perez has to have some regression from his 6.4% HR/FB rate so far and he gets enough strikeouts at 20.8%. In the past 30 days, the Angels have been 27th or worse in all of our major categories and their K rate has been over 27% against lefty pitching. Perez has held the right side of the plate to a .289 wOBA, a 21.3% K rate, and a 3.33 FIP and his changeup has been excellent. The wOBA allowed is down to .242 and it has a 32.5% whiff rate, although his sinker and cutter both have more strikeouts. Until the Angels force me to stop, I'm going after them with pitching.
Blake Snell
You kind of have to ride the lightning if you're going to pitch Snell because the downside is always there, but he's putting together some strong starts. He's scored over 20 points against the Mets, Dodgers, and Giants in three of his past four starts and it's really just his fastball that is causing him pain. It has allowed a .430 wOBA and a .319 average but his slider and curve (39% of the arsenal) are incredible. They are under a .185 wOBA allowed and they both have a whiff rate over 43% and it is scary to see Minnesota rank fifth against the fastball. We also know that Minnesota can disappear, so this is one of the most volatile picks on the board. He is striking out the right side 28.9% of the time and the FIP is only 3.54, so he's had some bad luck as well this season.
Honorable Mention
I truly don't mind Shane Bieber against the Rays but at his salary, I just feel like it's not difficult to get to Manoah or honestly even Woodruff. Bieber has a 3.29 xFIP to go along with his 24.3% K rate and he hasn't been super consistent this season. However, this Rays lineup is far away from what we expected this season so the clear path for him is there to succeed.
Punt Range
Alex Cobb
Am I nuts to keep on playing Cobb? Perhaps, but if we believe in the numbers for every other pitcher, we have little choice but to buy them for Cobb as well. I'll not have any issues throwing his last start out the window since it was the Dodgers and his xFIP is 2.98 and the FIP is 2.94, wildly out of place against his 4.26 ERA. His K rate is fine at 22.8% to go along with the 6.8% walk rate and sooner than later, the .332 BABIP should come down a bit. The Cubs have the 12th highest K rate against righties this season and they are only 22nd in ISO although they can be pesky at points. This is a team that needs to continue to be monitored around the deadline but Cobb's splitter and curve both have a whiff rate over 28%. The splitter is the biggest key for him with a wOBA of .245 and it has 30 strikeouts so he has potential, even if it's been obscured through most of the season. We saw Alex Wood was very popular yesterday so that could carry over into today.
Lance Lynn
I can already tell that I might have an unhealthy amount of Lynn since he's under $7,000, he gets the A's offense that on the year is 29th or 30th in OPS, OBP, wRC+, wOBA, and they strike out 24% of the time. Lynn also has a 3.83 xFIP against a 6.43 ERA, which is far more palatable than anything else. His K rate is only 21.8% but he's not typically this cheap either and plenty of metrics would say that he's been seriously unlucky through his 42 innings. The velocity is down just a bit for him but at the same time, his four-seam is still getting a 37.8% whiff rate and only has allowed a .280 wOBA. Lynn has a solid ground ball rate at 42.4% and even the swinging-strike rate is 11.7%, just 0.3% lower than last season. Lefties are still a struggle with a .393 wOBA and only a 15.3% K rate but the A's simply isn't a very good offense. There is still a risk for Lynn but he is too cheap to ignore to at least have some lineups with him.
Missed The Cut
Kyle Wright – Arizona is boom or bust for an offense but they are super lefty-heavy and that's the weaker side for Wright. With him sporting a .300 wOBA, a 3.77 xFIP, and a K rate of 24%, this isn't the best spot for him. While he did grab eight strikeouts against the Angels, that's the Angels and his K rate dropped so much from May moving forward.
Joe Ryan – He could prove me wrong against a very average Padres offense (for now, rumors were swirling about Juan Soto) and Ryan has a 2.89 ERA which looks great. Then you see the 4.63 xFIP and get worried, not to mention the K rate is only 22.3%. If there are a bunch of lefties for San Diego, that could hurt Ryan with a 15.9% K rate, a 5.57 xFIP, and a 4.61 FIP.
Jose Quintana/Bailey Falter – I sort of like both of these pitchers and we can start with Quintana. He's been very solid for the Buccos this season with a 3.70 ERA and 3.77 xFIP with only a 0.65 HR/9 and a 45.1% ground ball rate to go along with a 20.7%. Philly has fallen back toward the middle of the pack in our offensive categories but they are still a talented offense. Also, Quintana has a .313 wOBA and only an 18.6% K rate when facing a righty so that's a concern.
For Falter, I really wanted to attack the weakness the Pirates have against lefties. They are no higher than 18th in any of the categories we talk about and they whiff 26% of the time, and that has climbed lately. However, Falter sports a 4.93 xFIP across 33 innings so far this year with a 5.18 ERA and a 49% fly-ball rate. I may wind up using a couple of cheaper Pirates where I need them tonight.
Stacks
Dodgers (chalk again)
Brewers
Cardinals
Braves
Yankees
Blue Jays
Rangers
Thank you for reading my MLB DFS: DraftKings and FanDuel Pitching 7/29 and make sure you follow me on Twitter at @bucn4life! Be sure to sign up for an ALL ACCESS GOLD ACCOUNT account here at Win Daily Sports. Gain access to our Projection Models and jump into our Discord where we will have our experts talking plays across every sport and slate!