MLB DFS: DraftKings and FanDuel Pitching 7/26
Published
2 months ago
on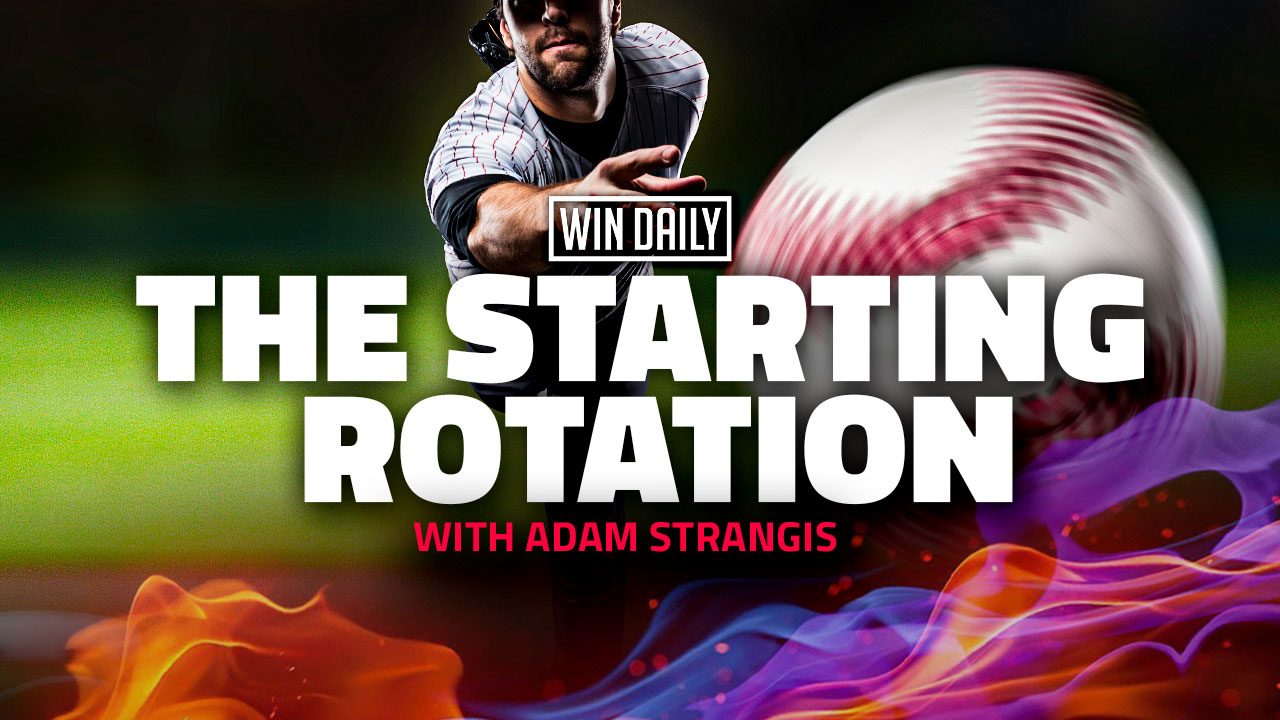 MLB DFS: DraftKings and FanDuel Pitching 7/26
We've got a big slate tonight but we have some dynamite pitching options at the top of the grid and I'm super excited for it, as opposed to last night. It's a bit weird to see the mid-range pricing because they are expensive but that's fine because the top of the grid is priced extremely fairly. Let's get right to work in the MLB DFS: DraftKings and FanDuel Pitching 7/26 to find green screens!
Aces
Shane McClanahan
There is a group of three aces tonight that I really like but two of them get the edge due to matchups and McClanahan is one of them. He may not need a ton of help given how he pitched in the first half but the Orioles whiff over 25% of the time while sitting in the bottom 10 in OBP, OPS, wOBA, and wRC+. they're also dealing with the potential of Trey Mancini being traded which is a blow to morale given his story. There aren't many categories that McClanahan didn't finish the first half in the top three or so and his curve/change/slider combo all have a whiff rate over 31% and a wOBA allowed under .250. The curve and change have 99 of 157 strikeouts and he has the right side of the plate down to a .217 wOBA, a 2.01 xFIP, and a 36.8% K rate. He should not be $10,300 and I'll be very overweight with him with the Baltimore K rate on the other side.
Aaron Nola
Maybe it seems odd to list Nola second against the Braves but their K rate can be exploited at 25.1% and Nola has handled this team multiple times. In two starts, he's totaled 15.1 IP, five earned runs, and 18 strikeouts for 23 and 37 DK points. Atlanta is also 11th against the curve but that is the strikeout pitch for Nola with 53 total, a .241 wOBA, and a 37.8% whiff rate. No other pitch is over 26.4% but Nola balances things out with a 30.3% K rate when facing a righty and his xFIP drops down to 2.40. His WHIP against that side is just 0.90 and his walk rate drops to under 2%, which is ridiculous. Overall, Nola has an xFIP under 3.00 and the K rate is 28.1% with an 11.4% swinging-strike rate. On top of everything else, Nola has a 45.8% ground ball rate and he continues to be worth his salary a lot more often than not.
Carlos Rodon
Rodon has been super unstable lately, including his last start against these D-Backs. Still, they are in the bottom 10 in all of our offensive categories outside of ISO, where they rank 17th. The K rate can be an issue for them at 22.6% as well and Rodon does have a 30.8% K rate. His 2.95 ERA is close enough to his 3.18 xFIP that it's not a huge concern and he's managed to keep the ball in the park with a 0.41 HR/9. His fastball is being used a little bit more but has been a little less effective this salon with a 25.6% whiff rate (29.7% last year) and a .288 wOBA allowed (.264 last year). The same goes for his slider because the wOBA has gone from .148 in 2021 to .240 this year so he's not quite been the same lockdown pitcher. It doesn't mean he doesn't have upside against a sub-par offense, I'm going to be curious to see what the field does here.
Honorable Mention
I think Luis Garcia could be popular among the field since it's the Oakland matchup but I don't love Luis Garcia. He's fine with a 4.11 FIP, 1.54 HR/9, and a 26.4% K rate and his 42.8% fly-ball rate shouldn't be a big issue in Oakland. Still, I'm going to side with the next pitcher a lot more often with his upside.
Mid-Range
Spencer Strider
Strider is under $9,000? Say less. He had a bit of a stumble before the break but I'll continue to hammer home that he is severely underpriced for what he's produced as a starter. The ERA is 3.42, the wOBA allowed is .250, his K rate is 37.4%and the FIP/xFIP combo is under 2.45. What has hurt him just a bit is the strand rate has been under 70% when he starts but that should bounce back and his WHIP is only 1.06. There's no reason to believe that the ERA is anything but some bad sequencing luck. Neither side of the plate has a wOBA over .265 and the righties are striking out at a 42.1% rate with a 1.21 WHIP fueled by a .333 BABIP. That will go down as well and his four-seam/slider combo has 108 strikeouts. Philly is 13th in K rate when facing a righty and 15th against the fastball so the Shane O'Mac/Strider combo looks like my favorite and has 60+ DK point upside.
Mike Clevinger
Despite the struggles of Sean Manaea last night, I could see Clevinger getting some steam today and I get why. He's continuing his journey back from Tommy John and through 46.1 IP, the K rate is 24.7%, the xFIP is under 4.00 along with the ERA, the hard-hit rate is 25.6%, and the swinging-strike rate is very solid at 11.8%. This is a pretty strong profile for $8,100 and against the Tigers, of all teams. Now, the rub is going to come in against the left side of the plate because his wOBA allowed is .333, the FIP is 5.19, and the HR/9 is 2.03. His changeup is an issue as he's only throwing it when he faces the left side and it has allowed a .347 wOBA. The good news and the reason why I'm not casting Clevinger aside is the Tigers are 29th against the change and dead last against the fastball. There are concerns, but this is the Tigers' offense that is quiet most of the time.
Honorable Mention
I don't think you have to go here tonight but George Kirby might be a great GPP play. For one, he's extremely volatile this year but for another, he's right next to Strider in salary and it feels expensive for him. However, it's not out of the realm that Kirby scores more points than Strider and he's had significant splits so far. He's been far better against the left side with a .245 wOBA, a 24.6% K rate, and a 3.07 FIP and Texas should give him 5-6 lefties. They are also a more average offense against righty pitching so Kirby could surprise tonight.
Punt Range
I honestly don't see much that is viable here and with such a major strikeout upside near the top of the grid, it's difficult to get excited about the lower arms. It could be a big opportunity cost by taking a punt for 10 points if the other pitchers are scoring 20 or more. I wanted to look at Angel Zerpa against the A's, but his K rate through seven innings is 7.4% and the xFIP is almost 5.00 compared to a 1.29 ERA.
Maybe we can look at Spenser Watkins since he's better when facing a lefty with a .299 wOBA against the left side but the xFIP is still over 4.50 and the K rate falls to 12.5%. For me, this is a slate where we have to find some punt hitters to make the pitching combos work. As we stand on Monday night, I'm not venturing into this range with the caveat that lineups can always change things. Last night was a perfect example when Aaron Ashby didn't make the article, but the Rockies sat key hitters and pushed him to chalk.
Missed The Cut
Frankie Montas – I love Montas in general but this is in all likelihood his final start as an Oakland A and he only threw 53 pitches in his last start. That is important because he missed time with a shoulder issue and this will be more about showing his velocity is still strong (it was in the last start) and we can't sink $9,600 on a pitcher that may top out at 65-70 pitches against Houston. He's too valuable for the A's in the trade market to try and push him.
Taijuan Walker – I wanted to give him a good look but his 2.55 ERA is not in line with a 3.70 xFIP and his K rate drops to 18.3% against the right side. He does a great job of getting ground balls at 49.6% and the hard-hit rate is under 29%, but he's not cheap and the risk may not be worth the reward.
Stacks
Coors Field (It'll be chalky with two questionable pitchers. I may actually prefer the Rockies here but we'll see)
Blue Jays
Dodgers
Giants
Royals
Mets
Thank you for reading my MLB DFS: DraftKings and FanDuel Pitching 7/26 and make sure you follow me on Twitter at @bucn4life! Be sure to sign up for an ALL ACCESS GOLD ACCOUNT account here at Win Daily Sports. Gain access to our Projection Models and jump into our Discord where we will have our experts talking plays across every sport and slate!