MLB DFS: DraftKings and FanDuel Pitching 7/25
Published
2 months ago
on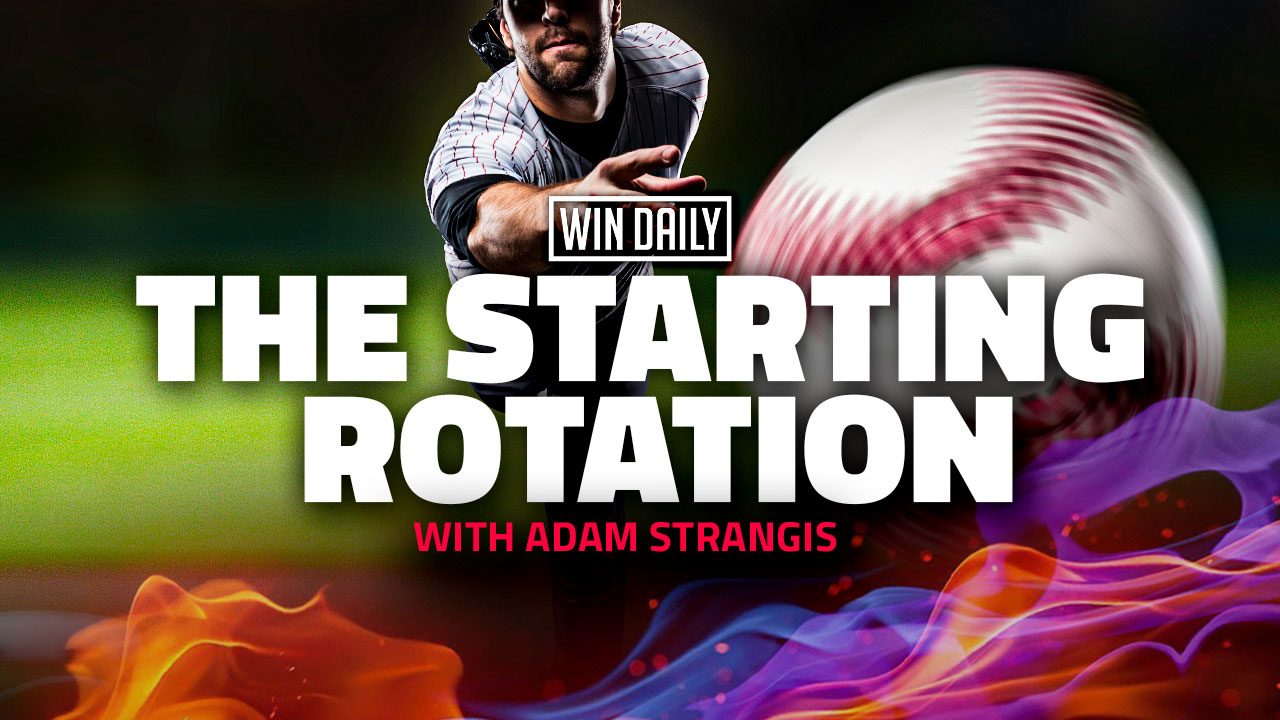 MLB DFS: DraftKings and FanDuel Pitching 7/25
The teams playing tonight must have a case of the Mondays because the pitching options are really rough tonight. Not only is it not ideal, but that's also going to force Sean Manaea into being chalk and those slates aren't typically enjoyable. Let's see if we can find some diamonds in the rough in the MLB DFS: DraftKings and FanDuel Pitching 7/25!
Aces
Let's just talk about the only two that are in the salary range, because I don't think I'm pitching either tonight. If I HAD to choose between Max Fried or Tony Gonsolin, I'm going to go with Fried. Don't get me wrong, this is not a good matchup. Philly is ninth in wRC+, eighth in wOBA, sixth in ISO, and 10th in OPS, and they don't strike more than 21.9%. That's going to be tough to truly pay off the salary for Fried even though he has a 22.9% K rate, a 3.15 xFIP, a 49.7% ground ball rate, and only a 25.4% hard-hit rate. The obvious question is where does the ceiling come from here and while 20-22 DK might pass for pretty good on this slate but I'm not enthused to pay this salary for someone with this low of a K rate. It is baseball so maybe he stages eight strikeouts and I look dumb but this is tough to get behind since we're playing the odds. I will likely fade him in GPP unless he's very low-owned.
I've played Gonsolin a lot this year but he typically been around $1,000 cheaper, if not more. For as good as he was in the first half, his 2.02 ERA still does not mesh with his 3.72 xFIP and the K rate is strong at 24.2%. Gonsolin also generates a nice ground ball rate at 42.1% and just like Fried, the ceiling is hard to see for him. The Washington offense isn't very good but they will not strike out in their current form at 19.8%. They are one of three teams that do not whiff more than 20% of the time and as long as Juan Soto and Josh Bell are on the squad, that's not likely to change. Pitching is going to be difficult to navigate but I don't want to have to try and force five-digit salaries on top of it for very imperfect matchups, at least for GPP.
Mid-Range
Sean Manaea
I would be just stunned if he is not the chalk of the slate with the salaries involved and the matchup at hand. Detroit is in the bottom 10 of all of our offensive categories with the exception of OBP (12th) but they balance that out by ranking 29th in ISO. The K rate isn't super high at 21.7% and they do have four hitters with a wOBA over .400 when facing the slider so this is not a slam dunk spot. Manaea is using his sinker almost 63% of the time this season and that pitch has a .303 wOBA allowed with 60 of his 100 strikeouts. That has translated to a K rate just under 24% and a 3.93 xFIP but the 40.9% fly-ball rate is the second-highest rate of his career. Righties also have a .324 wOBA against him even though the K rate comes up to almost 25% and the BABIP is over .300. One of the issues on the surface is he uses that sinker and changeup basically 86% of the time and it's just tough to be using only two pitches. I really don't love Manaea but I'm preparing to play him in cash for sure.
Merrill Kelly
It may not be the fairest thing but Kelly and Miles Mikolas are pretty much the same guys to me. What I mean by that is they aren't fancy, they don't have the best stuff, but they are productive. The path to success is narrower because if they give up runs, they don't have the strikeout ability to fix it. The Giants are up to 13th in K rate when facing a righty and they sit between 12th and 14th in OPS, ISO, wOBA, and wRC+. The Giants are also coming off a sweep at the hands of the Dodgers and their season is slipping away, which is something to start paying attention to. It does have an effect on the players if management throws in the towel and Kelly does have a 43.4% ground ball rate. He also got the Giants for 19 DK in back-to-back starts right before the break and he's at home which is a bonus. Kelly has a 3.48 ERA, a .289 wOBA, the K rate jumps to 22.4%, and the xFIP dives down to 3.78. Across the board, those numbers are better and Kelly is well in play.
Honorable Mention
Corey Kluber is also fine but I never find myself going after him all that much. Baltimore did get to him right before the break and he has a 3.91 xFIP to go along with his 21.3% K rate. The fly-ball rate is over 42% and that's a concern, as is the fact he's been a little bit worse on the road. They aren't huge splits but it is across the board so I think he's in that 13-17 DK range tonight.
Jake Odorizzi could also bring some traction at this salary and matchup, but just remember he isn't a good pitcher this season. His xFIP of 4.54 is a run higher than his ERA with a K rate of just 18.3%. What is really fascinating is the HR/FB rate is only 4.8% compared to 10.4% of the career so baseballs are bound to leave the yard at some point. Maybe Oakland isn't the best venue for that but something has to give soon.
Punt Range
JT Brubaker
I'm not sold on him (a theme of the slate overall) but there is a path for him. Oddly, Brubaker is noticeably better on the road with a 26.4% K rate, a 3.52 xFIP, a 48.4% ground ball rate, and a .305 wOBA. These are all the best marks for him this season and his slider has a 39.6% whiff rate with a .298 wOBA allowed. Brubaker is also better when facing a righty and Chicago should have plenty of them while they are 16th against the slider. Overall, he has a swinging-strike rate of 11.7% and the Cubbies are 13th in OPS, 22nd in ISO, 16th in wRC+, and the whiff over 23% of the time. This really isn't the worst spot for him provided the weather is fine in Wrigley.
Keegan Thompson
It's going to be a recurring theme coming down the stretch that the Pirates lineup is a target since they're in the bottom five in wOBA, wRC+, OBP, and OPS to go along with their 25.1% K rate. Thompson does only have a 22% K rate but that's plenty for this salary and his groundball rate is just about 42%. Not only has he been slightly better against the left side of the plate, but his home metrics are also better with a 2.84 ERA, a .289 wOBA, a 3.80 xFIP, and the K rate jumps to 24.4%. It seems a little odd that the HR/9 is just 0.18 in Wrigley but it's not like the xFIP is crazy high and makes me worry. He's not throwing it much but his changeup looks like a weapon with a 32.1% whiff rate and a .126 wOBA allowed. I'm not entirely sure why it's only 5.8% but he is using it mostly when facing a lefty so that does help his appeal. We just need the wind to cooperate.
Missed The Cut
Nick Pivetta – We've kind of been waiting for Pivetta to come back down to Earth and that happened recently with a 13.50 ERA in 13.1 IP this month. He's been worse to lefties which could be an issue against Cleveland and the strikeouts aren't likely to be there either. With a 5.12 FIP and 4.93 xFIP against the left side, I may be looking to some Guardians exposure more than Pivetta.
Jacob Junis – He's back as a starter but I'm not sure what pitch count we're looking at and as a starter, the K rate is under 20% with a 1.42 HR/9 and a 4.38 FIP. Lefties have long been his weaker side and the D-Backs should throw almost exclusively lefties against him.
Noah Syndergaard – It's bad enough on this slate that I gave him a real look but there is just so little in the profile to like. The xFIP is 4.21, the K rate is under 19%, and he's been significantly worse on the road. I suppose Kansas City is bad enough to get him to 15 or so DK but I'd have very little faith there.
Stacks
Dodgers
Brewers/Rockies Game Stack Part II, Electric Boogaloo
Astros
Rays
Braves
Thank you for reading my MLB DFS: DraftKings and FanDuel Pitching 7/25 and make sure you follow me on Twitter at @bucn4life! Be sure to sign up for an ALL ACCESS GOLD ACCOUNT account here at Win Daily Sports. Gain access to our Projection Models and jump into our Discord where we will have our experts talking plays across every sport and slate!