MLB DFS: DraftKings and FanDuel Pitching 7/24
Published
2 months ago
on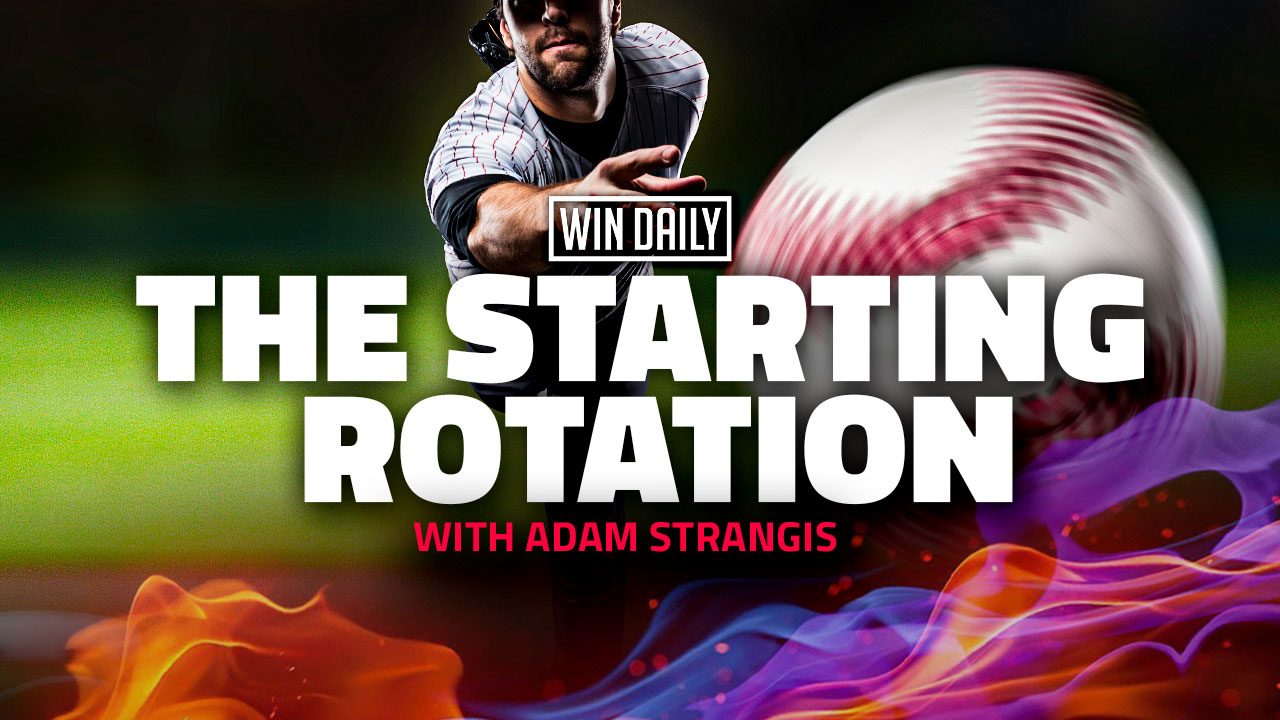 MLB DFS: DraftKings and FanDuel Pitching 7/24
We might only have nine games but this is a pretty loaded slate as far as pitching goes, even in the punt range where there are reasonable chances to take. The Ace tier isn't filled with a ton of players but every pitcher in that tier is in play and there are still some good offenses to target as well. Let's get to work in the MLB DFS: DraftKings and FanDuel Pitching 7/24 and find the players who can lead us to green!
Aces
Sandy Alcantara
I'm typically not that fond of paying up for Alcantara since his K rate is only 23.5% but if there's a spot for him to potentially go the distance, we're looking at it. This is the worst version of the Pittsburgh offense that we've seen all season and Alcantara has just a 0.39 HR/9 with a 2.72 FIP and a 1.76 ERA. The ground ball rate is massive at 56.4% and he still does have a 12.5% swinging-strike rate and that could pay off today. None of his pitches have allowed a wOBA over .282 on the season and he mixes everything very well. The changeup is the lead pitch but he only throws it 27% of the time but it still has a 38% whiff rate. Neither side of the plate is over a .249 wOBA and he should be able to cruise in a relatively easy fashion.
Dylan Cease
The matchup is more difficult for Cease but the K rate reward is a lot higher on paper as well since he's at a massive 34.4% K rate. His FIP and xFIP are better than Alcantara as well at 2.68 and 2.94 so the 11% walk rate can't really bother you much. It's difficult to square him up with a 25.4% hard-hit rate and the swinging-strike rate is near the top of the league at 16.3%, driven by his slider. Cease throws it 40% of the time and it has a 48.8% whiff rate with 85 of his 150 strikeouts. We know Cleveland doesn't give in on the strikeouts but Cease also got this offense for 30 DK just two turns ago with nine strikeouts. Even though lefties have a .300 wOBA, the BABIP is super high at .353 and the K rate is still 29.9% with a 2.72 FIP. I have no real concerns with Cease and anytime he's under $10,000, he's extra appealing. That upside should always be five digits.
Honorable Mention
I can tell you that my concentration will be on the first two but if you wanted to roll Shane Bieber, I can't say you're wrong. The White Sox lineup is really hurt by Luis Robert being on the IL and Bieber is up to a 24.9% K rate with a 3.20 xFIP. On paper, the amount of righties he could face isn't ideal since the K rate drops to under 23% and the xFIP is 3.32 but it's not like those are terrible. On top of that, we just saw the upside that Bieber can still achieve every now and again.
Mid-Range
Miles Mikolas
It probably sounds like a broken record with Mikolas but all he does is produce. I still feel like the second half could be a little shaky for him just because of what he's shown in his career and the 3.79 xFIP compared to the 2.54 ERA but he still has a 44.7% ground ball rate to go with a 27.4% hard-hit rate. Cincinnati is 12th in ground ball rate when facing a righty pitcher so that'll help Mikolas on the road and they are also sixth in K rate at 24%. The splits for Mikolas are about dead even for most of the way through and his K rate is slightly higher when facing righties, which should be a good chunk of the Reds lineup. With no pitch being used more than 27% of the time, Mikolas can throw anything at any time and no pitch has a wOBA over .280 that is thrown over 19% of the time. He's not going to wow you with stats but there are 20 DK points at the end of the start plenty of times.
Nestor Cortes
I wonder how the field treats him today between Cole letting everyone down last night as far as strikeouts go and the general volatility of Cortes in the past six weeks. Since the start of June, the ERA has jumped over 3.50 and the wOBA is over .300 with a K rate under 22% and an xFIP over 4.30. Those aren't great but Baltimore has represented an offense to pick on all year with lefties. They are 24th in wOBA, 23rd in wRC+, 19th in ISO, and 23rd in OPS, and they have the third-highest K rate at 25.2%. Cortes has been worse on the road with a 3.35 ERA, .313 wOBA, and a 3.96 xFIP so there is not any safety built in here. Still, the salary has come down and he can still go for 20+ DK in the spot, and his cutter/four-seam combo is still under a .280 wOBA allowed for both.
Punt Range
Sonny Gray
He has been demolished in his 13 innings pitched this month but his salary has fallen to the punt level and this is a spot that can cure a lot of issues. Detroit is almost an automatic check mark for pitchers as far as the matchup goes. Gray has been a lot better when facing the left side of the plate with a .256 wOBA, a 20% K rate, and a 3.12 FIP with a 0.99 WHIP. When he's facing a righty, the K rate jumps up to 23.2% and his four-seam has really been the only major issue. It has allowed a .327 wOBA while his sinker and curve are around 54% of the arsenal and they've been good with wOBA's under .270. Gray's game log is littered with tough starts but again, matchups can make fights and I think he's definitely got a shot at a strong fantasy game, especially at $7,100.
Ian Anderson
It's gross but there's no reason to think he can't handle this lineup and get a win today. There isn't a ton to love here but to be fair, his 4.79 ERA is inflated compared to a 4.28 xFIP and the K rate is fine at this level at 19.5%. The change and the curve are actually playing pretty well with whiff rates over 35.5% but the curve has allowed a .359 wOBA. What's curious is the xwOBA is just .249 so if that comes down to Earth, it can only help and it helps explain the .311 BABIP (his career mark is .279). If the Angels stick with the same lineup as yesterday with six lefties, that would be great because Anderson has held them to a .287 wOBA, a 0.40 HR/9, and a 3.74 FIP. With how putrid the Angels' offense is right now, I'll be interested with the salary involved.
Ross Stripling
I have to say I'm looking at him today as well. Rafael Devers has hit the IL, joining Trevor Story and J.D. Martinez is day to day. That drastically changes the Boston lineup and Stripling has been quietly solid all year through his 74.1 innings. The ERA is 3.03 with a 3.67 xFIP and his K rate is actually a notch higher than Anderson at 20.4%. Stripling is generating a 47.3% ground ball rate and a hard-hit rate under 32%, which help explain his logging quality innings. His changeup has the most strikeouts at 27 and a 32.8% whiff rate and he throws it against both sides, a nice bonus. Righties do get the better of him with a .304 wOBA but the FIP is just 3.33 and this Red Sox lineup could be pretty bad on paper for Sunday.
Missed The Cut
Eric Lauer – He's been strong on the surface metrics but he's also yet another pitcher that rode an other-worldly first bit of the season to his big numbers. Well, sort of because in fairness the month of July was really the only really bad month but the Rockies lineup is better against lefties. Even on the road, they are more around league average in our offensive categories and Kris Bryant will only help.
Mitch Keller – He's had some strong starts recently but every time I buy in, he burns me. His ERA is higher than his xFIP and he's getting a career-best 51.5% ground ball rate so the path is there. I'm just tired of getting hurt.
Stacks
Braves
Blue Jays
Yankees
Rockies
Brewers
Twins
Thank you for reading my MLB DFS: DraftKings and FanDuel Pitching 7/24 and make sure you follow me on Twitter at @bucn4life! Be sure to sign up for an ALL ACCESS GOLD ACCOUNT account here at Win Daily Sports. Gain access to our Projection Models and jump into our Discord where we will have our experts talking plays across every sport and slate!