MLB DFS: DraftKings and FanDuel Pitching 7/23
Published
2 months ago
on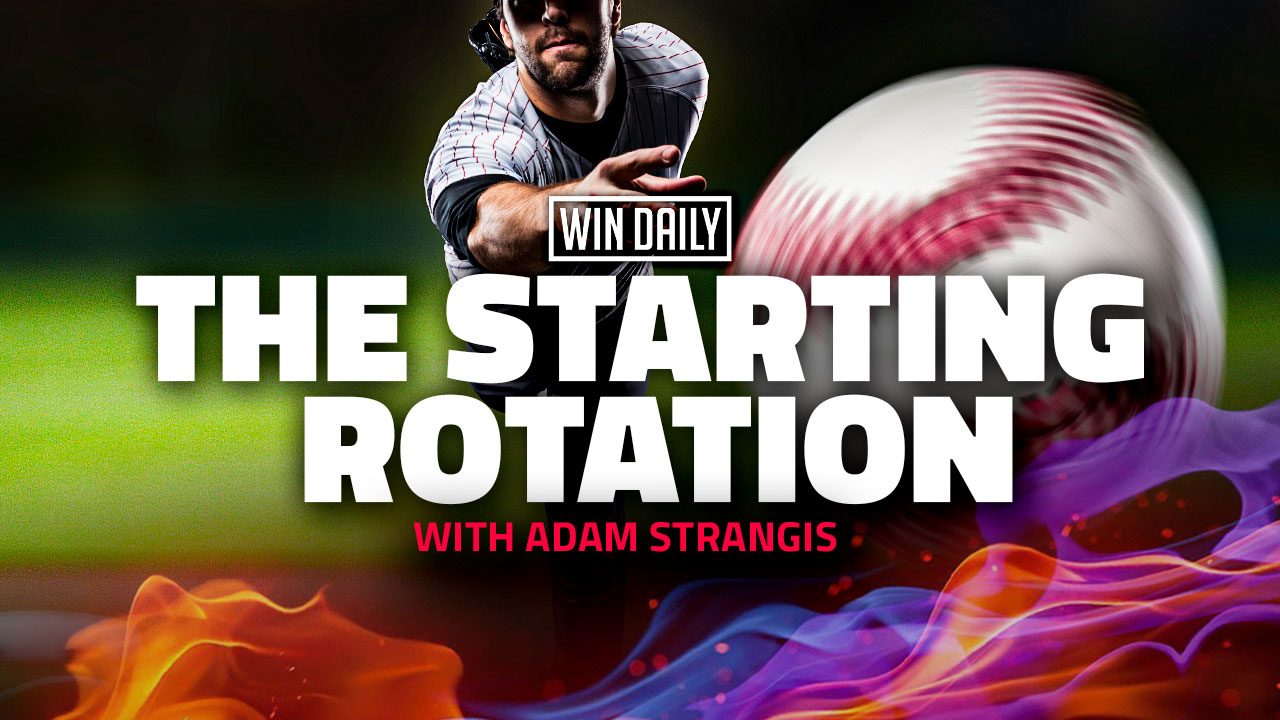 MLB DFS: DraftKings and FanDuel Pitching 7/23
It's a bit of an odd Saturday slate because it's an evening slate, which is not normal. There are 10 games tonight so it's a decent-sized slate on top of things and we once again have some solid pitching options. Let's get right to business and figure out who we like in the MLB DFS: DraftKings and FanDuel Pitching 7/23 to find green screens!
Aces
Gerrit Cole
I'm sure he's going to be pretty popular and he ended the first half on a high note with a massive 37 DK points and 12 strikeouts across seven innings. Baltimore is just 20th in wOBA, 21st in wRC+, 20th in OPS, and they strike out 22.8% of the time. I do have to grant they are 11th in ISO so that's always a way to get to Cole because his HR/9 of 1.35 is the second-highest since 2017. His K rate is still 32.9% so you take the power potential with a grain of salt and the swinging-strike rate is still 14.4%. The four-seam and the slider do all of the heavy lifting here with 127 of 147 strikeouts on the season and his four-seam has 83 with just a .277 wOBA allowed. With Baltimore ranking 27th against the fastball, that's a big boost for Cole and even with him being a little worse on the road, it's hard to turn away from him tonight with a mediocre (at best) offense on the other side of things.
Brandon Woodruff
Seeing as how the Rockies are still not in Coors Field, I'm interested here. He was fairly inefficient in the last start with five walks but the Brewers let Woodruff throw a massive 112 pitches in the last game and he's had plenty of rest. Probably the biggest concern here is the (likely) lack of lefties in the Rockies lineup. Despite a 30.2% K rate overall, it drops to 20.3% when he's facing a righty hitter and the FIP/xFIP jumps to over 4.60. Overall, Woodruff is also allowing a lot of fly-balls at over 44% against both sides and the right side doesn't see his changeup very much. Of the 209 he's thrown this year, only 42 have come against the right side of the plate and his slider is more in play against the right side but he's only used it 11.8% of the time. If the Rockies weren't so bad on the road when facing a righty I might not be interested but I'm curious to see what happens as far as the field goes. Last year, Woodruff had a 28.7% K rate against the right side so I don't think he's not playable, but it's been an oddball season for him so far.
Chris Bassitt
The salary isn't super comfortable and there might be up to give lefties against Bassitt, always a concern. His overall numbers are very strong at a 3.56 xFIP, a 46.6% ground ball rate, and a WHIP of 1.14 but we do need to pay attention to his splits as well. He's been better at home with a 3.12 ERA, a .273 wOBA, and a 3.41 xFIP although the K rate is dead identical at 24.9% across the board. I mean home or away, righty or lefty, it is 24.9% which is wild to see. Bassitt is worse when he's facing a lefty with a .351 wOBA but that is mostly driven by him getting hammered on the road with a .427 wOBA. It does freak me out a little bit to see a 5.14 FIP against the left side of the plate but he's brought the K rate up and the Padres offense isn't exactly one to fear.
Kyle Wright
I'm a little torn here because Wright has certainly reverted as the season has gone along and his K rate has been very average since the start of May, never clearing 22% in any month. That's not exactly the most appealing number at this salary but it's also the Angels without Mike Trout on the other side. Wright still has both sides of the plate under a .300 wOBA, and the right side is under a .300 xFIP. The lefties are higher and the Angels have lefties, but they don't have good lefties outside of a couple of hitters. His curveball is the only pitch in the arsenal that s over a 30% whiff rate and it is the main pitch at 32.9%, but I can't help but question the upside. I think I'd rather play him over Woodruff, but we'll see how the day develops there as well.
Mid-Range
I am not a fan of this range at all really. Blake Snell always seems to be popular and he can score 25 DK or more in any game but he can also score under 10 at any point and he has a 5.22 ERA (3.97 xFIP in fairness), a 29.5% K rate, and a massive 13.8% walk rate. With the Mets being top 10 in K rate when facing lefties at just 20.5%, it doesn't read as a spot for a good outcome for Snell. I'm not willing to go after Patrick Sandoval against the Braves or Alex Wood against the Dodgers so that drops us down to Brady Singer. I don't think the Rays' offense is special, but Singer is sporting a .365 wOBA, a 1.85 H/9, and a 5.14 FIP when facing a lefty hitter. Tampa had six lefties n the lineup last night and I can't get excited for him either. I don't think this is the range we should be focusing on tonight and we can look to either go double aces or use some punt options.
Punt Range
Jose Quintana
Note – Quintana was meant to start on Friday but nothing has changed with his matchup.
We don't have to go very far to find the next man on the list because Quintana is capable of exploiting the Marlins leading the league in K rate against lefties at 27.9%. They are also dead last in OBP, wOBA, OPS, and wRC+ while Quintana has a K rate of 21% and a ground ball rate of 44.2%. He's shown upside especially for this salary and both of his main pitches are under a .300 wOBA allowed with at least a 26% whiff rate. Those two pitches have been the four-seam and curve, both of which the Marlins are ranked 19th or worse. The right side of the plate has just an 18.8% K rate and if Quintana gets lucky enough to face a lefty, that's even better with a 32.3% K rate and a 1.58 FIP. As it stands, this is the style of matchup that Quintana could do very well in and he allows you to fit in bigger bats.
Max Meyer
He now has a first start under his belt and the lineup for the Pirates is simply not going to be good tonight. Bryan Reynolds is still not back yet and Dan Vogelbach was traded last night and those two are about the two best hitters for the Bucs. In the first start for Meyer, he was not shy about his slider as he threw it almost half the time with a 41.2% whiff rate. Even though he had an 8.44 ERA, his xFIP was 3.75 and the 11.4% swinging-strike rate was very solid. Meyer got left in the game a couple of hitters too long in that first start and he showed a lot of good signs for his future. Pittsburgh is 27th when facing the slider, they whiff over 25% of the time, and they rank 26th or worse in OPS, wOBA, OBP, and wRC+. This is the perfect landing spot for him to pay off this paltry salary.
Missed The Cut
Julio Urias – The Dodgers have started to loosen the reigns as far as pitch count goes, which is a positive. The matchup is not totally ideal since the Giants are seventh in wOBA, fourth in ISO, seventh in OPS, and 10th in OBP. His K rate is only 24.3% and I'm still not interested, just like yesterday.
German Marquez – I really thought about giving him a look outside of Coors but the xFIP and FIP are both over 4.30 and the K rate is down to 17.6%. Additionally, both sides of the plate are over a .300 wOBA so even though Milwaukee can be vulnerable, Marquez has been roundly awful this year.
Stacks
White Sox
Guardians (LHH priority)
D-Backs
Braves
Rays
Rangers/A's Game Stack
Thank you for reading my MLB DFS: DraftKings and FanDuel Pitching 7/23 and make sure you follow me on Twitter at @bucn4life! Be sure to sign up for an ALL ACCESS GOLD ACCOUNT account here at Win Daily Sports. Gain access to our Projection Models and jump into our Discord where we will have our experts talking plays across every sport and slate!