MLB DFS: DraftKings and FanDuel Pitching 7/22
Published
2 months ago
on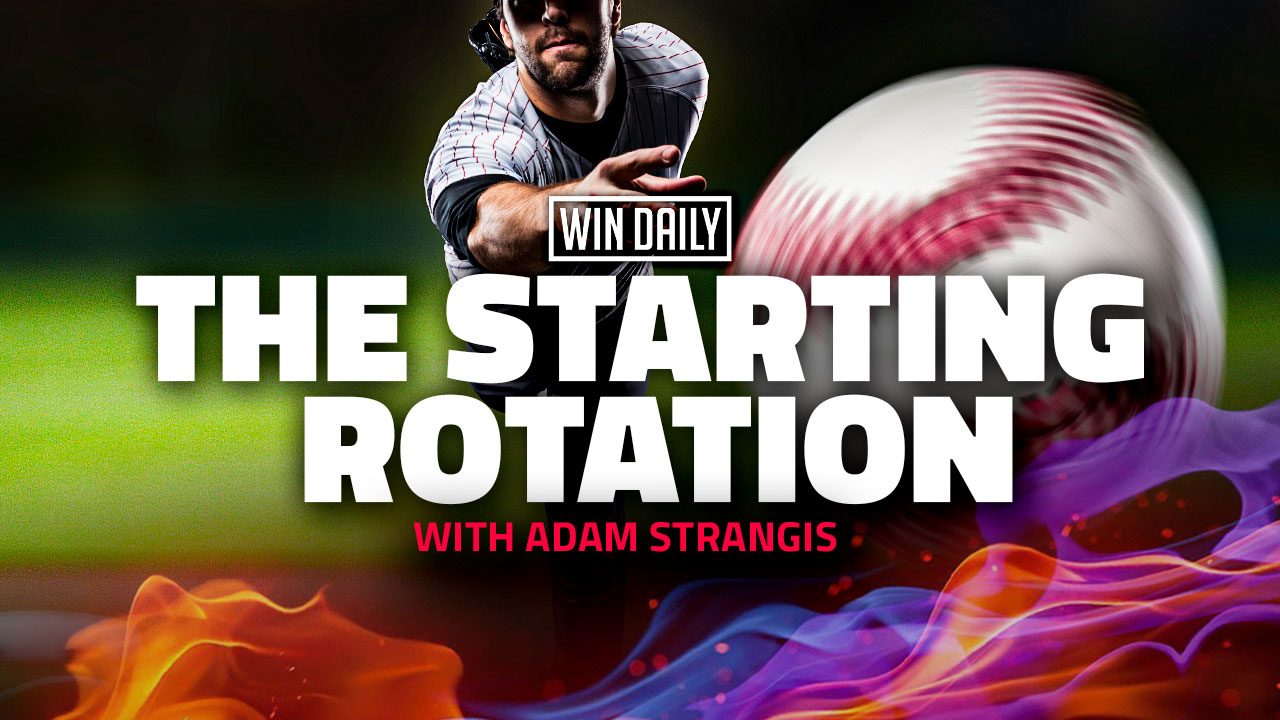 MLB DFS: DraftKings and FanDuel Pitching 7/22
We are back after the All-Star break and we have plenty of aces to choose from tonight as most teams have reset the rotation. Most of the league got a few days off even though we were approaching 90 All-Stars (and how ridiculous is that) and we'll need to keep an eye on lineups. Some teams may elect to give their stars a day off coming back and that could change things in the MLB DFS: DraftKings and FanDuel Pitching 7/22!
Aces
Corbin Burnes
It's a tough call as far as the favorite pitcher on the slate but Burnes is going to take that mark slightly. What pushes him to the top in my eyes is the Rockies away from Coors Field because when they face righty pitching in that scenario, they're among the worst offenses in baseball. Colorado ranks 29th in wRC+, wOBA, IOS, OPS, and they rank 27th in OBP with a K rate of 22.3%. They do rate well as far as facing the cutter (12th) and curve (first) but that's not enough to knock me off of Burnes tonight. He's sporting an xFIP/FIP combo under 2.95 with a 2.14 ERA, a 32.6% K rate, a WHIP of 0.90, and a swinging-strike rate of 16.4%. Only Shane McClanahan has a CSW higher than 33.1% for Burnes and he has both sides of the plate right about the same K rate and even though the right side is "better" as far as wOBA, the WHIP is lower and the xFIP is still only 3.17. While some metrics may point to Burnes not having a ceiling start, the Rockies are so inept on the road against righty pitching that I'm not worried about some slight warts.
Shohei Ohtani
His last four starts have produced 46 strikeouts, one earned run, seven walks, 13 hits, and 26.2 IP which frankly, is pretty absurd. Perhaps even more absurd is he is still just $9,000 on DK and I can't understand why that's still the case. I will say that he's had some softer matchups but he still stomped out the Astros in the last start before the break and this lineup sets up well for him. Atlanta will have six righties most likely and the offense strikes out 25% of the time. With their power comes a lot of whiffs and Ohtani has a .236 wOBA, a 37.3% K rate, a 0.91 WHIP, and a 1.85 FIP. Now, he's got the left side up to a 33.3% K rate which is an important improvement for him and his slider/splitter/curve all have a whiff rate over 42.3% and they have 97 of 123 strikeouts on the season. He's using the slider more when facing righties and the splitter/curve is more for the lefties but he's still not priced correctly. Atlanta can hit some bombs against anyone but I expect Ohtani to be super popular tonight.
Max Scherzer
He may be third on my list but we all know you can play Scherzer at any juncture and he might slice and dice this paltry San Diego offense. They ended the first half no higher than 18th in OPS, ISO, wOBA, and wRC+, and they strike out 21.9% of the time. His xFIP is 2.90, the FIP is 2.37, and the K rate is a massive 34% to this point. That's through 69 innings so it's not the largest sample of the year but Mad Max looks exactly as he always has and both sides of the plate are over a 31% K rate with lefties carrying a 3.75 xFIP. He's pretty much always been a guy who allows a big fly-ball rate and that's happening again but I can't say that it bothers me. We always want a lot of righties because it unleashes the slider with a 48.8% whiff rate, a .174 wOBA allowed, and 23 strikeouts. He only throws it when facing a righty which would help raise the ceiling but it's not like lefties are a deal-breaker by any stretch.
Honorable Mention
I don't fully trust Kevin Gausman but his salary is not reflective of the upside, even though finding said ceiling can be difficult. Overall, the K rate s still almost 27% with an xFIP of 2.85 and a FIP of just 1.84. In fact, Gausman leads the league among qualified starters in FIP and he just hammered this Boston lineup for 30+ DK points a couple of turns ago.
Mid-Range
Charlie Morton
If the trends continue from the first half, this is a great salary for Morton in a fantastic matchup. The seasonal metrics continued to get better because once June hit, Morton got to work. His ERA was under 3.50, the wOBA was under .285, and the K rate went through the roof at around 33% with an xFIP under 3.15. His curve started to do the heavy lifting with a whiff rate of 39.9% and the wOBA was .284. The xwOBA is .256 so it has regression to come and it has 59 of 114 strikeouts for Morton. On the Angels side, they continued to be the biggest strikeout offense in the league at 27.3% and for context, Pittsburgh is second at 25.1% when facing a righty. The Angels are 10th in ISO but they are also 25th in OBP and one of just six offenses to be under .300. The seasonal data looks rough for Morton but there is a much better pitcher in there and the salary is very appealing.
Lucas Giolito
He's still not over $8,000 and the last three starts have been very strong. Yes, I still remember him getting screwed by La Russa when he faced Detroit since he left in Giolito too long and if he hadn't, the strong of 24+ DK points would be three. The xFIP is still 3.66 and when that's compared to the 4.69 ERA, that's a strong start to seeing why Golito has been fairly unlucky. His BABIP is .338 and his career mark is .272 so that's a huge gap, which should get back in one in the second half. Even with his issues, the K rate is 27.1% and the swinging-strike rate is 12.6%, mostly driven by the changeup with a 39.7% whiff rate. His four-seam/changeup mix has 77 of 102 strikeouts and even though Cleveland refuses to strike out, Giolito just got them for 24 DK and five strikeouts through 6.1 IP. An outcome like that is well in play and I prefer pitchers against the Guardians to be nastier against the left side of the plate. Giolito checks that box with a .249 wOBA, a 36.4% K rate, and a 2.50 xFIP. He's still way too cheap even with his blowups noted.
Honorable Mention
I think Jameson Taillon is fine with his 3.75 xFIP, a 39% fly-ball rate, and a 3.86 ERA. Both sides of the plater are over a .300 wOBA and under a 21% K rate so generally, he doesn't have a ton of upside unless things go near perfectly for him. The Orioles aren't the best offense ever but I remain unconvinced I want to pay more for him than Giolito in general.
Punt Range
Braxton Garrett
The punt range is pretty interesting tonight and there are going to be a lot of routes to build. Garrett has thrown 41.1 innings this season and he's generated a 3.52 xFIP, a 45.8% ground ball rate, and a K rate of 22.9%. The WHIP isn't special at 1.23 but his 12.5% swinging-strike rate and that is impressive. He's using the slider as his main pitch (around 34%) and it has a 38.6% whiff rate and 25 of his 40 strikeouts. Not only are the Buccos 27th against the slider but they also whiff 26% when they face a lefty, the second-highest mark in baseball. He may wind up facing some lefties and the K rate jumps up to 25% in that scenario, while righties are still at 22%. He's cheap enough that there is an upside to chase and the Pirates will still be missing their best hitter in Bryan Reynolds.
Jose Quintana
We don't have to go very far to find the next man on the list because Quintana is capable of exploiting the Marlins leading the league in K rate against lefties at 27.9%. They are also dead last in OBP, wOBA, OPS, and wRC+ while Quintana has a K rate of 21% and a ground ball rate of 44.2%. He's shown upside especially for this salary and both of his main pitches are under a .300 wOBA allowed with at least a 26% whiff rate. Those two pitches have been the four-seam and curve, both of which the Marlins are ranked 19th or worse. The right side of the plate has just an 18.8% K rate and if Quintana gets lucky enough to face a lefty, that's even better with a 32.3% K rate and a 1.58 FIP. As it stands, this is the style of matchup that Quintana could do very well in and he allows you to fit in bigger bats.
Patrick Corbin
Let's get wild! Listen, I'm not here to tell you that Corbin has been good this season. He certainly hasn't BUT he's been unlucky as well. His 5.87 ERA looks ridiculous but the xFIP is down to just 4.05 and the BABIP is an absurd .363, which simply can't sustain and the career mark is .314. His strand rate is down to 64.8% and Corbin has shown in the right matchup, that he can be usable for DFS and that's certainly the case when he's under $6,000. His K rate is 19.4% so that's plenty solid and the Arizona matchup can bring out the best Corbin has to offer. They are 24th in OBP, 22nd in OPS, 17th in ISO, and 22nd in wOBA and wRC+. Additionally, they whiff 22.5% of the time and are in the negatives against the slider. Corbin's slider is still generating a 38.1% whiff rate so there is a chance Corbin can be a strong value tonight.
Honorable Mention
There is a path for Kyle Gibson to be a value as well with a 24.3% K rate against the right side of the plate and a 3.10 xFIP compared to an ERA over 4.30. He's been a little better at home as well so that helps him but just like Corbin, there is plenty of risks and the Cubs are 16th in wRC+ and 14th in wOBA.
Missed The Cut
Logan Webb – He hasn't been good enough to be the third-highest salary against the Dodgers even though he's been much better lately. The K rate of 21.4% isn't going to cut it and the Dodgers are under 22% for the K rate as a team, in addition to ranking first n OBP, OPS, wOBA, and wRC+ when facing righty pitching.
Julio Urias – The Dodgers have started to loosen the reigns as far as pitch count goes, which is a positive. The matchup is not totally ideal since the Giants are seventh in wOBA, fourth in ISO, seventh in OPS, and 10th in OBP. His K rate is only 24.3% so I would rather just eat the chalk (I suspect) of Ohtani.
Nathan Eovaldi – He's been pretty strong when he's been on the mound but he goes up some home runs (over 2.00 HR/9 against each side of the plate) and the K rate falls to 21.8% when he faces a righty. The Jays are very righty-heavy and in the top 10 in our offensive categories so this is a no-fly for me.
Justin Steele – The Phillies are top 10 in our offensive categories and they only strike out 22.1% of the time. I like Steele and think he has some potential but we need to pick our spots, and this one doesn't profile well for him.
Stacks
Brewers
Rangers
Astros
Rays
White Sox
Mariners
Thank you for reading my MLB DFS: DraftKings and FanDuel Pitching 7/22 and make sure you follow me on Twitter at @bucn4life! Be sure to sign up for an ALL ACCESS GOLD ACCOUNT account here at Win Daily Sports. Gain access to our Projection Models and jump into our Discord where we will have our experts talking plays across every sport and slate!