MLB DFS: DraftKings and FanDuel Pitching 7/17
Published
3 months ago
on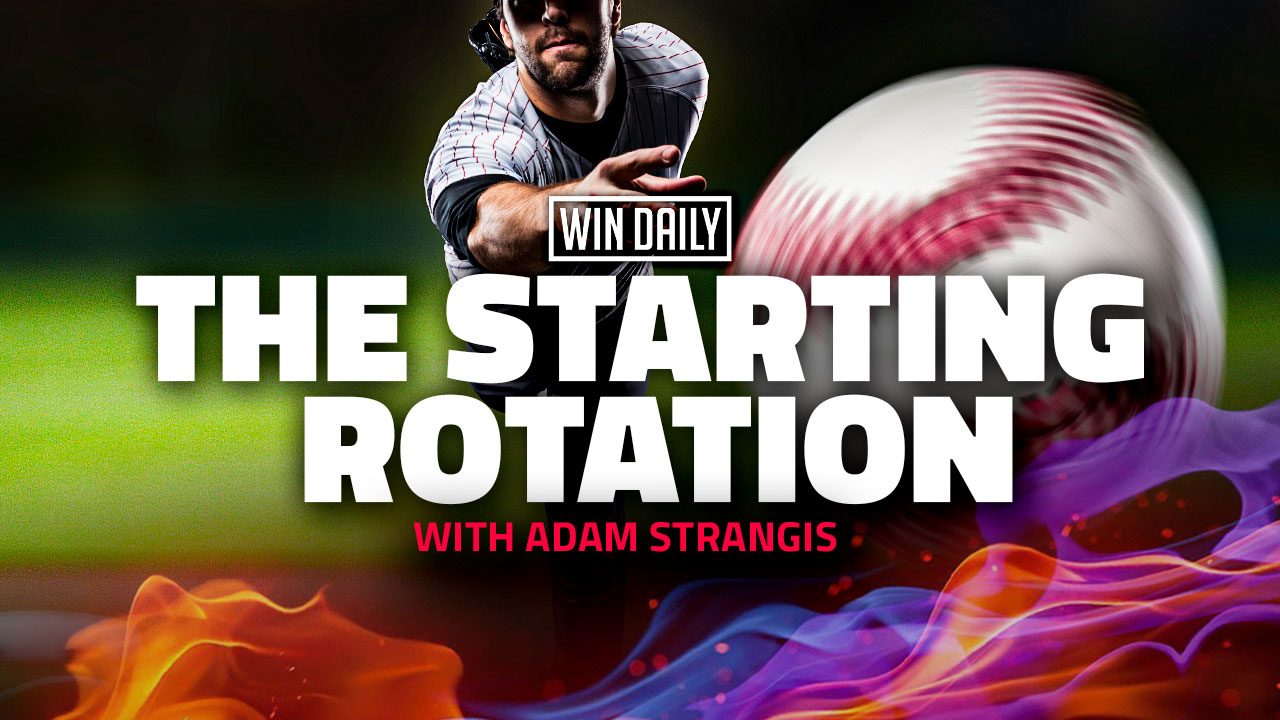 MLB DFS: DraftKings and FanDuel Pitching 7/17
It's the final day before the All-Star break so be sure to double-check those lineups today. For one, stars could be getting the day off before they go to the game and DraftKings has stopped caring about getting lineups into the app. We should never rely on them for information but it's really a pain to not have that setup. Regardless, let's figure out who we like in the MLB DFS: DraftKings and FanDuel Pitching 7/17 and find green screens!
Aces
Dylan Cease
It's always fun to open a slate and see a team that faces Cease sit in the bottom 10 against the slider as the Twins do. Cease uses that pitch and his four-seam right about 40% each and the slider has a 48.6% whiff rate, a .172 wOBA, and 79 strikeouts already. His 2.94 xFIP and 34.4% K rate are especially appealing and he backs that up with a 43.7% ground ball rate and a swinging-strike rate of 16.1%. He's practically the exact prototype of pitcher we want for DFS with strikeout upside and ground ball ability and even though the left side has a .309 wOBA, the BABIP of .369 isn't helping. Both sides of the plate whiff at least 30% of the time but we do want as many righties as possible at 38.1% and a 2.55 xFIP. When a pitcher can whiff nine Guardians, count me very interested against the Twins who whiff 22.2% of the time. This price tag on DK of $9,000 is a joke and he'll likely be my favorite option.
Spencer Strider
The past start wasn't a signature one but it still generated 19.3 DK points and eight strikeouts. It was more of the Mets driving up his pitch count and that is a concern with Washington seeing him for the second time. However, Strider has been so dominant that it's tough to get too worried at this point. His K rate is still 38.8% as a starter and the xFIP is 2.28 while the FIP is only 2.08. His slider and changeup only come out 31% of the time but when they do, they both have a whiff rate of at least 50% and the wOBA's are under .180 to go along with his wicked four-seam that has 72 strikeouts and a 28.7 whiff rate itself. Someone with this upside needs to be over $9,200 and he already killed the nationals for 33 DK points. I'm fascinated with him today as far as how the field treats him. Neither side of the plate exceeds a .250 wOBA and both sides whiff at least 35.1% of the time.
Aaron Nola
I'd say the largest argument against the next pitcher and Nola is salary because the Cease/Strider combo saves you some money and the ceilings for those two are just as high (if not a touch higher) than Nola's. Where Nola has the advantage is the matchup, because it is arguably the easiest of the bunch. Well, arguably isn't the right word because it IS the easiest and in the last 30 days, Miami is 28th in wRC+, wOBA, and OPS while they rank 29th in ISO and 27th in OBP. That's all coming with a 23.1% K rate and it's in Miami, something that should help Nola as well. The Fish are also just 21st against the curve and that's a nice bonus for Nola since that's his out pitch with 49 strikeouts, a .246 wOBA, and a 37.8% whiff rate. Both sides of the plate are under a .285 wOBA, and they both strike out at least 25.5% of the time so Nola is fine in all formats, even if there are two pitchers to like cheaper than he is.
Gerrit Cole
Cole is coming off a game where he whiffed 11 hitters and reminded us just how good he can be every fifth day, although the Red Sox are a tougher lineup to face than the Reds. His K rate is now 31.2% to go along with a 2.85 xFIP and a 14.2% swinging-strike rate, fueled by his four-seam and slider. Those pitches make up 72% of his arsenal and both have a whiff rate over 32% and a wOBA under .280 allowed. Cole has not fared well against Boston this year (in fairness, he faced them on Opening Day and a LOT of pitchers scuffled early) but he's totaled just nine innings, eight earned runs, 10 strikeouts, and four walks. That's far from what we're looking for but at the same time, Cole has both sides of the plate under .300 for the wOBA, and each side whiffs at least 28%. Let's see what else the slate offers but I can see being a little under the field on Cole today. It looks like we have plenty of options at the top of the grid so I don't think we're going to need to force Cole.
Honorable Mention
I'm not going to argue that you're wrong to play Shane Bieber because along with Nola, his matchup is the best one on the board at the top. He's been good this year with a 3.20 xFIP and the K rate is 24.9%. Bieber has been better against lefties so that's in his favor with a .242 wOBA, a 28.2% K rate, and a 2.56 FlIp so he should skate through this one pretty easily. Of course, we could have said the same thing two starts ago when he scored 8.8 DK.
Mid-Range
Note – Jake Odorizzi was written up on Friday and the Astros re-shuffled their rotation, so he starts today. The outlook hasn't exactly changed.
I could see Odorizzi being a little disappointing tonight since he has to face the A's for the second straight start, but it's very enticing to go against them as always. They're in the bottom three of our offensive categories but Odorizzi does have a 4.67 xFIP compared to a 3.38 ERA, a slight concern. His K rate is under 18% as well and this is typically a kind of pitcher that can wind up being a trap even against bad offenses. Of course, Oakland can make anyone look good but the 43.8% fly-ball rate doesn't help me feel better either. The decision point could come in the lineup construction because the righties have a 23% K rate, a 2.55 FIP, and a .265 wOBA while lefties are at a .298 wOBA, 5.79 xFIP, and just a 12.5% K rate. If he gets a lot of righties, I'd be more inclined to go here.
David Peterson
He's been very good in four of the past five starts and two of them have come against Texas and Atlanta, offenses that we fear when they face a lefty. He's been throwing the slider a little more and that is his best pitch with a 48.6% whiff rate, a .224 wOBA allowed, and it has 51 of 76 strikeouts. The Cubs are 11th against the pitch but in the negatives and they whiff at the ninth-highest rate in baseball against lefties. They are also 23rd in OBP so Peterson is starting to look pretty good here. His xFIP is 3.52 to go along with a 26.9% K rate and a 52.6% ground ball rate. For someone who used to be a target, Peterson has really figured some things out and the salary doesn't match his recent performance, especially if the slider keeps dominating. On top of that, he is the lowest I'm planning on spending because the punt range is non-existent today. On top of that, the amount of affordable aces makes this slate easier to not take chances down low.
Honorable Mention
I never really play him but Corey Kluber is on the table just like always and he's racked up over 24 DK in each of the past two starts. Both sides of the plate are under .300 for the wOBA and they both strike out over 21% of the time so he can be the SP2 in any format. He's just so boring to talk about and if things go wrong, they're going to go very wrong.
Missed The Cut
Jordan Lyles – He's been pitching well lately with a 1.86 ERA in July through 19.1 IP. The xFIP is 3.92 and he's fared worse on the road and against lefties, a bad mix in Tampa.
Stacks
Braves
Cardinals
Phillies
Rays
Mets
Mariners
Guardians
Thank you for reading my MLB DFS: DraftKings and FanDuel Pitching 7/17 and make sure you follow me on Twitter at @bucn4life! Be sure to sign up for an ALL ACCESS GOLD ACCOUNT account here at Win Daily Sports. Gain access to our Projection Models and jump into our Discord where we will have our experts talking plays across every sport and slate!