MLB DFS: DraftKings and FanDuel Pitching 7/16
Published
2 months ago
on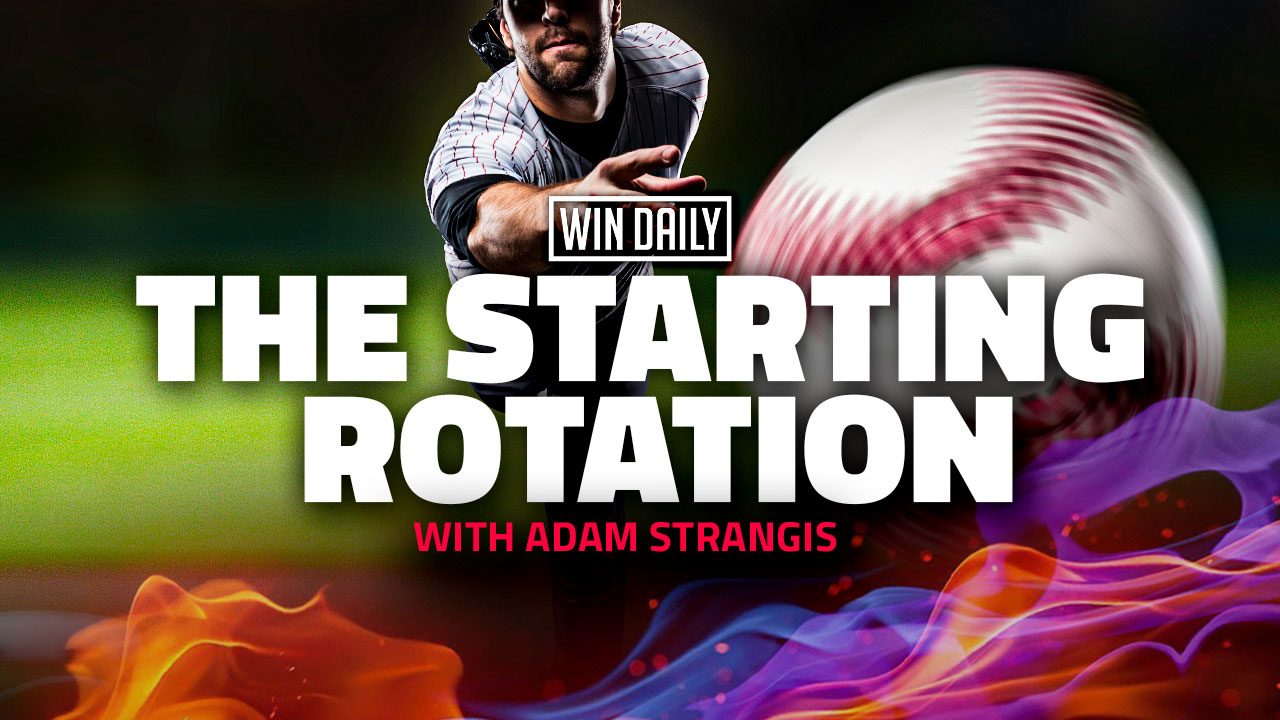 MLB DFS: DraftKings and FanDuel Pitching 7/16
DraftKings has thrown us a bit of a curveball as they canvassed the entire early slate today with 11 games. Why they decided this Saturday was suddenly different than any others is far beyond me, but that's not the first time we've questioned DK this year. Let's get busy talking about who we like on this slate and one very interesting rookie in the MLB DFS: DraftKings and FanDuel Pitching 7/16!
Aces
Logan Gilbert
I'm very hesitant to spend above the five-figure threshold on pitching for this slate outside of cash games. I feel like Justin Verlander is going to be popular but he's over $11,000. The Texas lineup could play right into what Gilbert does best and that mainly is getting lefties out at a high rate. He has held them to a .232 wOBA, 0.55 HR/9, a 26.3% K rate, a WHIP under 1.00, and a FIP of 2.72. Since the day he hit the majors, I've wanted him to throw more breaking/secondary stuff because he's still using the fastball 55% of the time and that's part of the reason his swinging-strike rate is still under 11% on the season. His four-seam also allows a .340 wOBA while none of his slider/curve/change is over .263. In fairness, the four-seam has 55 of 100 strikeouts but with how much he throws that, it should. The Rangers are much sketchier against righty pitching as they rank 23rd in wRC+, 26th in wOBA, 21st in ISO, and they strike out over 23% of the time. Lastly, they are only 25th against the fastball so that's a nice bump to Gilbert. If they throw out a bunch of lefties like normal, this is a really strong spot for Gilbert at an easier salary to live with.
Taijuan Walker
I'm just as surprised as you are to see him here but five of his past six starts have produced at least 18.9 DK points and four of them have been over 25 DK. One aspect that is noticeable is he's dropped his cutter usage in the past six and that's been his worst pitch with a wOBA over .400. Instead, it's been more four-seams and splitters and those pitches have 51 of 68 strikeouts and it's not a coincidence he's had nine, nine, 10, and seven whiffs in some of those starts. Walker has been better against righties with a .248 wOBA, an 18.4% K rate, and a 2.71 FIP but he's also generating a ground ball rate over 50%. That's big in Wrigley and he should face a bunch of righties, so I'm looking toward him as well today. Give me the savings with Gilbert and Walker over the pricier (albeit slightly more stable options).
Honorable Mention
As I mentioned earlier, I'll really never tell you to not play Verlander even though his 2.00 ERA is almost a run and a half lower than the xFIP. The K rate isn't even 25% this season so he can certainly dominate, but he needs such a big score at this salary that I think it's more efficient to spend elsewhere.
Mid-Range
Miles Mikolas
I'll admit I was wrong in his last start and he came on strong with 7.1 innings, five strikeouts, and only one run allowed. He's really put together a great first half of the season with a 2.62 ERA, a ground ball rate just under 44%, and a 0.95 HR/9. Now, the xFIP is a little higher than I'd like at 3.81 and the K rate is under 20% but he just has a knack for getting enough strikeouts to pay it off and he can go deep into games. Mikolas is a virtual lock for 95 pitches, if not a few more and he's better when facing a righty hitter. The wOBA is a touch higher at .271 but the K rate comes up to 21.1% and the xFIP is 3.66. He should face more righties than anything else and he mixes his pitches well with the slider leading but only at 27.3%. He's always a strong option with about as much as a floor as a pitcher can have.
Ranger Suarez
With a minimum stay on the IL, I think we have to look at Suarez to some extent between the salary and the fact that the Marlins have the highest K rate in the league against lefty pitching. His profile isn't outstanding with a 4.04 xFIP and a 4.33 ERA but he does get a 55.1% ground ball rate and has an 18.6% K rate. That's not a ton but that's enough at $7,700 and he's been a little unlucky when facing a righty. The BABIP is .320 but the K rate does come up and his sinker is the pitch he throws the most with a .290 wOBA. I'll be interested to see what the field does with him.
Honorable Mention
I didn't have Dean Kremer at $8,500 on the 2022 MLB bingo card this year, but he's been solid so far through 37.2 IP. He's definitely dodging some bullets as the xFIP of 4.65 doesn't match the 2.15 ERA at all, so that's a concern to be sure. He has been a lot better against the left side with a 25.7% K rate, a 3.05 FIP, and a .279 wOBA but I do feel like you're playing with fire at this salary.
Punt Range
Max Castillo
We're going to be in uncharted waters in this range today but Castillo looks interesting. He's only pitched 15.2 innings in the majors but has a 2.30 ERA and a 2.71 xFIP, so that's a good sign. He's not facing a major-league quality lineup, another plus. Castillo has generated a ground ball rate of 50% in the majors and that has been a calling card in AA and AAA with over 44%. His hard-hit rate is under 29% so the metrics behind Castillo look promising, even if there is no track record. Both sides of the plate are under a .300 wOBA and whiff at least 28% of the time, so I'm willing to continue attacking Kansas City (at least what's left of them). Castillo should be able to get up to 80 or so pitches today on top of everything else.
Max Meyer
A much-anticipated debut for the Marlins, Meyer has somewhat walked through AAA this season. In his nine starts that he wasn't impacted by an injury, he's totaled 45 IP, a 1.60 ERA, 53 strikeouts, and just one home run allowed and the righty has a K rate of 28.4%. We love ground ball pitchers that combine that skill with big strikeout potential and he has a 50% ground ball rate while Philly is at 22.6% for the K rate against righties this season. He's fortunate to get the Phils without Bryce Harper and this is an average lineup right now. In the past 14 days, they are below average in OPS, wOBA, and wRC+, and they are 28th in OBP with a K rate over 24%. As always, there's no telling how a debut will go but $5,000 is awfully fun to build with. Everyone regards him as a legit starting pitching prospect and we should too.
Honorable Mention
I'm starting to wane on my Lance Lynn love as far as playing him but his metrics do say he's not been quite THIS bad. He still has a .301 wOBA, 26.8% K rate, and a 2.86 FIP against the right side so let's see what the Twins put up against him. There's no doubt it's generally been a rough go for him so far though.
Missed The Cut
Max Fried – He's a very, very good pitcher but at this salary, ground balls just don't get the job done. Washington has a K rate of just 17.8% against lefties this season and I'm not convinced in the least this is the spot for a ceiling game, even though I think Fried has a strong real-life game.
Marcus Stroman – It's a revenge spot but he's not really the style of pitcher I want to try and test against the Mets. He doesn't have enough strikeout upside on paper to go after them.
Stacks
Pirates (chalky again)
Braves
Mariners
Orioles
Blue Jays
Cardinals
Thank you for reading my MLB DFS: DraftKings and FanDuel Pitching 7/16 and make sure you follow me on Twitter at @bucn4life! Be sure to sign up for an ALL ACCESS GOLD ACCOUNT account here at Win Daily Sports. Gain access to our Projection Models and jump into our Discord where we will have our experts talking plays across every sport and slate!