MLB DFS: DraftKings and FanDuel Pitching 7/15
Published
3 months ago
on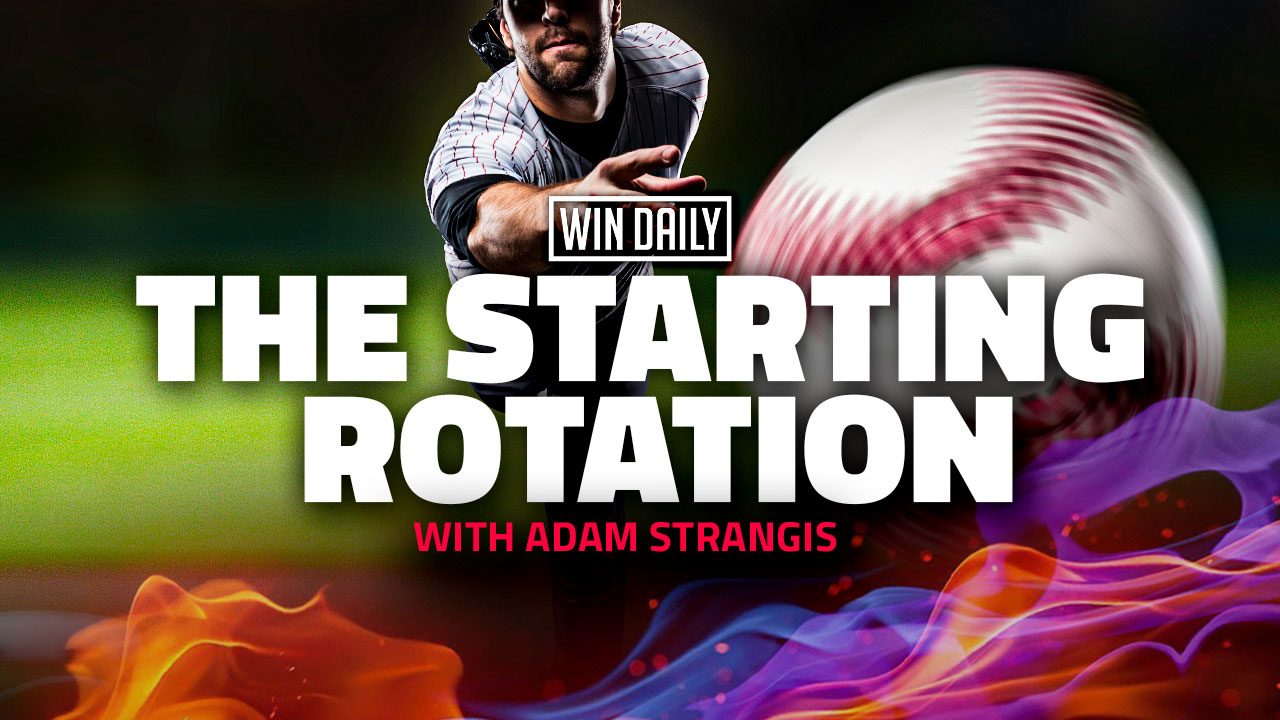 MLB DFS: DraftKings and FanDuel Pitching 7/15
The chickens are coming home to roost tonight since the aces have mostly pitched in the past couple of days, although there are a couple of clear-cut options at the top. Past that it might get a little rough but we'll find something to love somewhere along the line. Let's talk about the main ace target and then discuss who else we can find in the MLB DFS: DraftKings and FanDuel Pitching 7/15!
Note – Baseball Savant is not working well right now and the pitching data is a little light in this one.
Aces
Clayton Kershaw
It's not a good time for the Angels to see Kershaw as they continue to strike out at a torrid pace and Kershaw seems back in full swing. His past two starts have reminded us just how good he can be with a combined 14.2 IP, 18 strikeouts, one walk, and one earned run. Even if Mike Trout comes back tonight, the Angels have still been poor against lefties all year and they are fourth in K rate at 24.8%. Kershaw himself is up to a 27.6% K rate with a walk rate under 5% and he's backing that up with a 50% ground ball rate and 13.4% swinging-strike rate. Kershaw is using the slider as his primary pitch and even though the Angels are eighth against it this year, I'm not overly concerned. Righty hitters have a .241 wOBA, a 29% K rate, and a 2.74 xFIP so there is no reason to shy away from him tonight in any format and the fact he's only $9,400 likely makes him the chalk of the night.
Brandon Woodruff
The Giants aren't always the first team on my list to attack but the splits would heavily lean into Woodruff's strength. His changeup is used more when facing a lefty and that pitch is just not fair with a whiff rate over 50% and it's a big reason why lefties have a .246 wOBA, a whopping 43.3% K rate, a 1.70 xFIP, a 1.29 FIP, and a 0.93 WHIP. He's been utterly dominant against them even through some uneven portions of his season and he should see six or more tonight. In his three starts since an injury, he's racked up 17 IP, 27 K's, four walks, four earned runs and just 12 hits. I'm looking for him to continue that style tonight since San Francisco is 13th in K rate, 14th in ISO, and 15th in OPS when facing a righty this season. He's getting up there in pace but with the K upside he's shown in the last three games, I can't hate the salary.
Alek Manoah
Typically, a deciding factor for Manoah is just what style of the lineup he's going to face and if the Royals throw out the same lineup, he does get four lefties. That's normally scary but with the quality of the hitters that Kansas City is being forced to play, I don't care what side of the plate they hit from. Manoah has an absolute layup tonight and on the season, he has a 22.7% K rate, a 3.89 xFIP, and a very low 21.1% hard-hit rate. That's in the top five percent of the league and we know that he kills the right side of the plate with a 212 wOBA, a 19% K rate, and a 2.59 FIP. He has had a couple of shakier starts in the past few but this is the perfect spot for him to get right at a very affordable salary.
Mid-Range
Yu Darvish
Darvish is always one of those guys that is fine, but I'm never going to be in love with him because he has a habit of getting knocked around in weird spots. This doesn't profile as one that should go poorly since he's at home and Darvish has a 1.89 ERA, a .214 wOBA, a 25.1% K rate, and a 2.64 FIP and those are all strong improvements on the metrics on the road. Arizona is 22nd or worse in our categories this season when facing a righty except for ISO, where they are ninth. It's a big boom or bust spot because they strike out a ton at 23.2% and Darvish is better against lefty hitters, the majority of the D-Backs lineup. Am I likely to just spend a little more and get pitchers I like better? Sure, but that doesn't mean Darvish can't be played.
Alex Wood
I'm fairly annoyed that Wood wasn't on the main slate in his last start because he went bonkers for 33 DK points and I've been chasing him for a good portion of the season. His xFIP of just 3.23 has been yelling for regression for his 4.43 ERA for a while and the Padres got the brunt of it with seven innings and eight strikeouts. We talked about the Milwaukee struggles against lefties last night when Rodon pitched and Wood now gets the exact same matchup. Looking at the .335 wOBA against righties doesn't seem great for Wood but his BABIP is .349 and the K rate is still 22.1%. I would prefer him over Darvish, but both can exceed 20 DK with ease tonight (or disappoint, in fairness).
Jake Odorizzi
I could see Odorizzi being a little disappointing tonight since he has to face the A's for the second straight start, but it's very enticing to go against them as always. They're in the bottom three of our offensive categories but Odorizzi does have a 4.67 xFIP compared to a 3.38 ERA, a slight concern. His K rate is under 18% as well and this is typically a kind of pitcher that can wind up being a trap even against bad offenses. Of course, Oakland can make anyone look good but the 43.8% fly-ball rate doesn't help me feel better either. The decision point could come in the lineup construction because the righties have a 23% K rate, a 2.55 FIP, and a .265 wOBA while lefties are at a .298 wOBA, 5.79 xFIP, and just a 12.5% K rate. If he gets a lot of righties, I'd be more inclined to go here.
Patrick Sandoval
You have to be pretty wild to get to this play but I do think there is a path to get there because the Dodgers are a little worse when facing lefty pitching. Keep in mind, they aren't bad at 12th in wOBA, 11th in wRC+, ISO, OPS, 10th in OBP, and they strike out 22.2% of the time. Only four of their regulars have a wOBA over .350 this season while Sandoval is at a 25% K rate, a 3.00 FIP, a hard-hit rate under 30%, and a fly-ball rate under 34%. Even against the right side of the plate, he has a 45.2% ground ball rate and the FP is only 3.32. It's far from the easiest spot but nobody is going to get after him and if he can give you six strong at under 5%, that's a difference maker.
Punt Range
Madison Bumgarner
Let's get gross because this range has very little to offer on the surface. MadBum is doing his best Jon Lester in that his metrics don't look good at all, but he's managing to put together starts that can work at this salary. His K rate is under 17% but the Padres are 20th in wOBA, 17th in wRC+, 23rd in ISO, and 20th in OPS, and they strike out 21% of the time. His K rate does come up to over 18% against the right side and the WHIP drops to 1.30 and the Padres coming out of Coors Field is about the best time to attack an offense. He is NOT a main play, but there is some reward here.
Honorable Mention
The salary is very affordable for Hunter Greene but this is not the spot to test him, at least on paper. He's worse to the right side of the plate with a .375 wOBA, a 2.74 HR/9, and a 5.99 FIP which is going to be an issue against the Cardinals. It also doesn't help that they don't strike out, ranking 25th in K rate as a team. We could chase some home runs with righty hitters in GPP.
He gets a Detroit matchup but overall, there isn't a lot to like with Zach Plesac. He's worse against the left side of the plate and the FIP/xFIP combo matches at 5.72 with a K rate of just 10.9% and the Tigers normally claymore lefties than righties. That's tough to get behind.
Missed The Cut
Robbie Ray – Of the five ace pitchers tonight, Ray has the lowest floor in my view even with a 27.6% K rate. His fly-ball rate over 40% is always a worry and Texas leads the league in ISO against lefties while sitting in the top six in OPS, wOBA, and wRC+.
Ian Anderson – He should get a win but his profile is just not that interesting overall. He has a 4.27 xFIP, a K rate of 19.4%, and an 11% walk rate. The Nationals offense is far from good but there's virtually no upside so you're not going to get a big reward for the risk you're taking most of the time.
Stacks
Pirates – Chalky and cheap
Braves
White Sox
Mariners
Guardians
Rangers
Orioles
Thank you for reading my MLB DFS: DraftKings and FanDuel Pitching 7/15 and make sure you follow me on Twitter at @bucn4life! Be sure to sign up for an ALL ACCESS GOLD ACCOUNT account here at Win Daily Sports. Gain access to our Projection Models and jump into our Discord where we will have our experts talking plays across every sport and slate!